ROCK FALLS – When the Rockets are at their best, back-row players are diving all over the court and front-row players are turning those saves into points.
After a strong start on offense against Winnebago on Tuesday night, the Rock Falls defense was on full display in the second set, as the Rockets eventually took control in a 25-15, 25-19 Big Northern Conference victory at Tabor Gym.
"Our defense is like no other team I've ever seen," setter Denali Stonitsch said. "It makes everyone better. Our defense is top-notch, it's what makes us better as a team. Everybody was working hard back there tonight."
Five different players – Stonitsch, Carli Kobbeman, Sophia Moeller, Zoe Henson and Claire Bickett – had at least six digs for Rock Falls (17-2, 3-1 BNC), and no matter who was in the back row during a given rotation, chances are she dove to save a point at least once.
"We were really reactive today. I feel like we moved pretty fast for the balls, and we had a lot of great saves, even off deflections of the block," said Kobbeman, the libero. "It was a really great team effort, because even after one ball was saved off the ground, the next person has to open up and be ready to get the next one. It was really good teamwork today."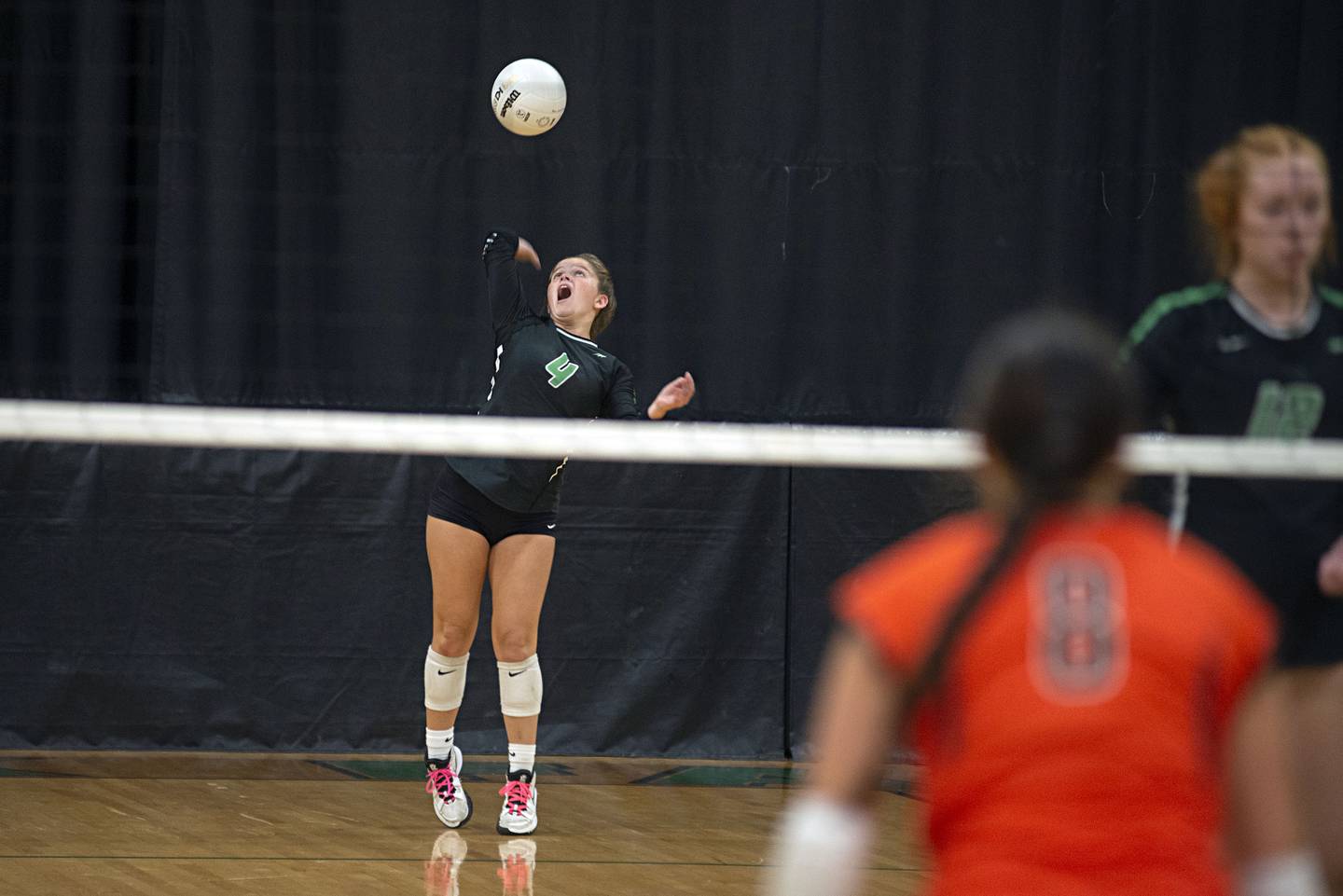 The first set was all Rock Falls form the start. Kobbeman served six straight points to start the match, two on aces, another on a Nicolette Udell kill, and yet another on an Emily Lego block. A block by Stonitsch and two Winnebago errors made it 9-1 Rockets.
"For me, it's more of trying to be aggressive and get a good serve in there, rather than trying to serve it soft over the net," Kobbeman said about her mindset during the opening service run. "I know I can get it in serving aggressively if I concentrate hard enough. The big thing is trying to stay out of my own head."
But the Indians battled back, as kills by Lindsay Alldritt and Ari Rodriguez and a few Rocket errors made it 10-6. But Lego stemmed that tide with a stuff block, then Bickett ripped two kills and stuffed a block in a five-point span before Cadence Williamson's block made it 16-8 Rock Falls.
Lego then took control down the stretch, spiking four kills and stuffing a block in a seven-point stretch to make it 23-12 Rockets. After an ace by Winnebago libero Morgan Leathers, Lego finished the first set with a kill.
"We started strong on offense and with our blocking, and that really got us going in the first set," Stonitsch said. "I think in the beginning of the second set, we weren't communicating as well, and then we started talking more and getting a lead, and then our hitting was on point again at the end. I think that contributed to us winning the second set too."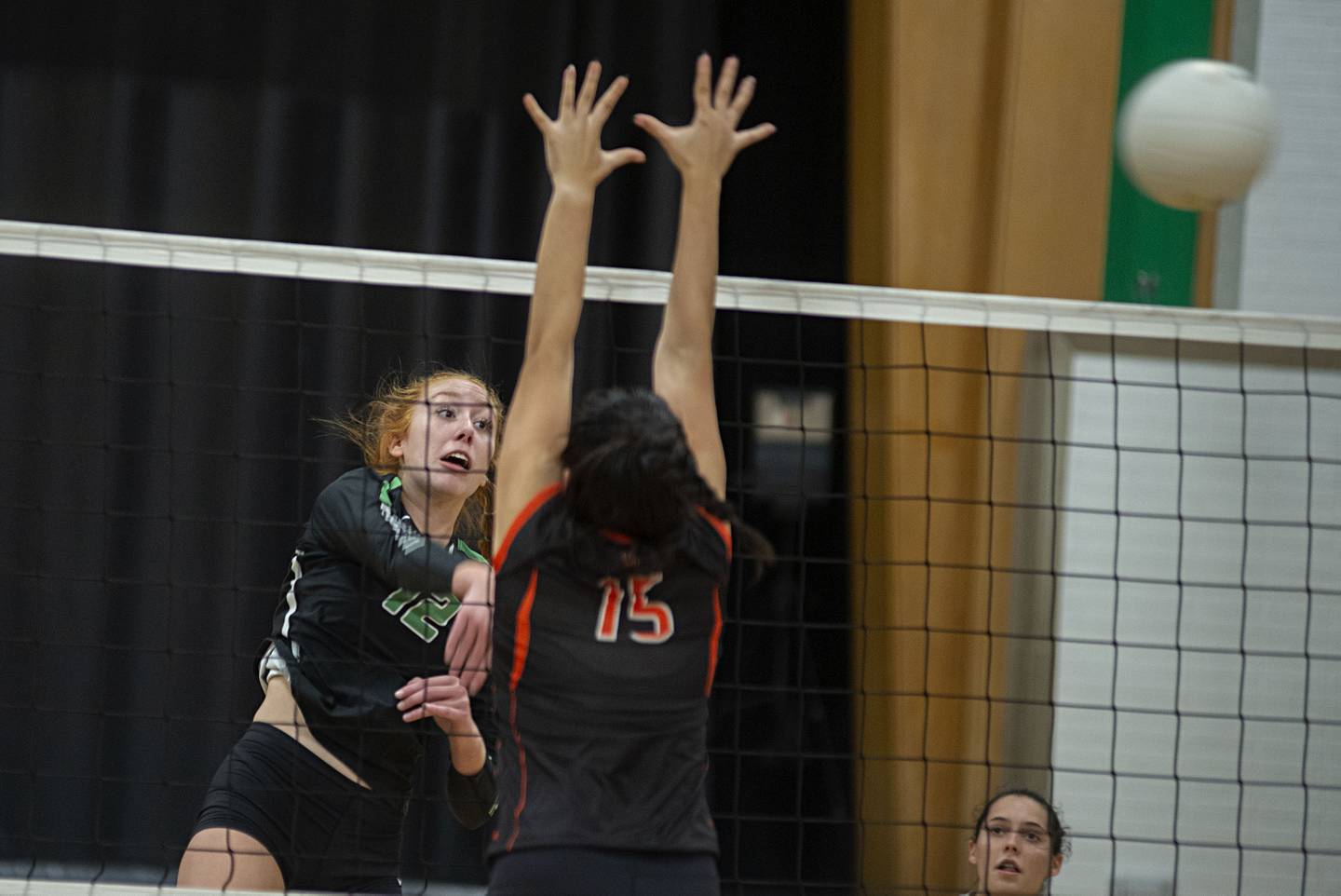 That set was much tighter, with Winnebago leading 2-1, 3-2 and 4-3, and Rock Falls taking a 6-4 lead on a Bickett block and a Zoe Henson ace before the Indians rallied to take an 8-6 edge on back-to-back kills by Olivia Johnson.
But a kill and an ace by Bickett tied the score, then a kill by Udell, an ace by Ellisa Russell, and another block by Stonitsch gave the Rockets a 12-9 lead.
Winnebago came back to tie the score at 12-all, then again at 13-13 on Riley Starkey's dump kill. But back-to-back errors by Winnebago gave Rock Falls the lead, then a Kill by Taylor Reyna and an ace by Sophia Moeller stretched it to 17-13. Bickett slammed back-to-back kills and Lego stuffed another block to make it 21-14.
The Indians got two kills from Amanda Gustafson and an ace by Mikayla Gray to cut the deficit to 22-18, but a tip-kill by Stonitsch and a Winnebago error got it to match point, and Udell finished it with a kill to answer a Gustafson spike.
"We play really great, we always come out and show up in the first set. Then the second set, we have to learn to keep that pace going," Kobbeman said. "A lot of times we end up digging ourselves in a hole and having to come back from it. But I think we did pretty good today."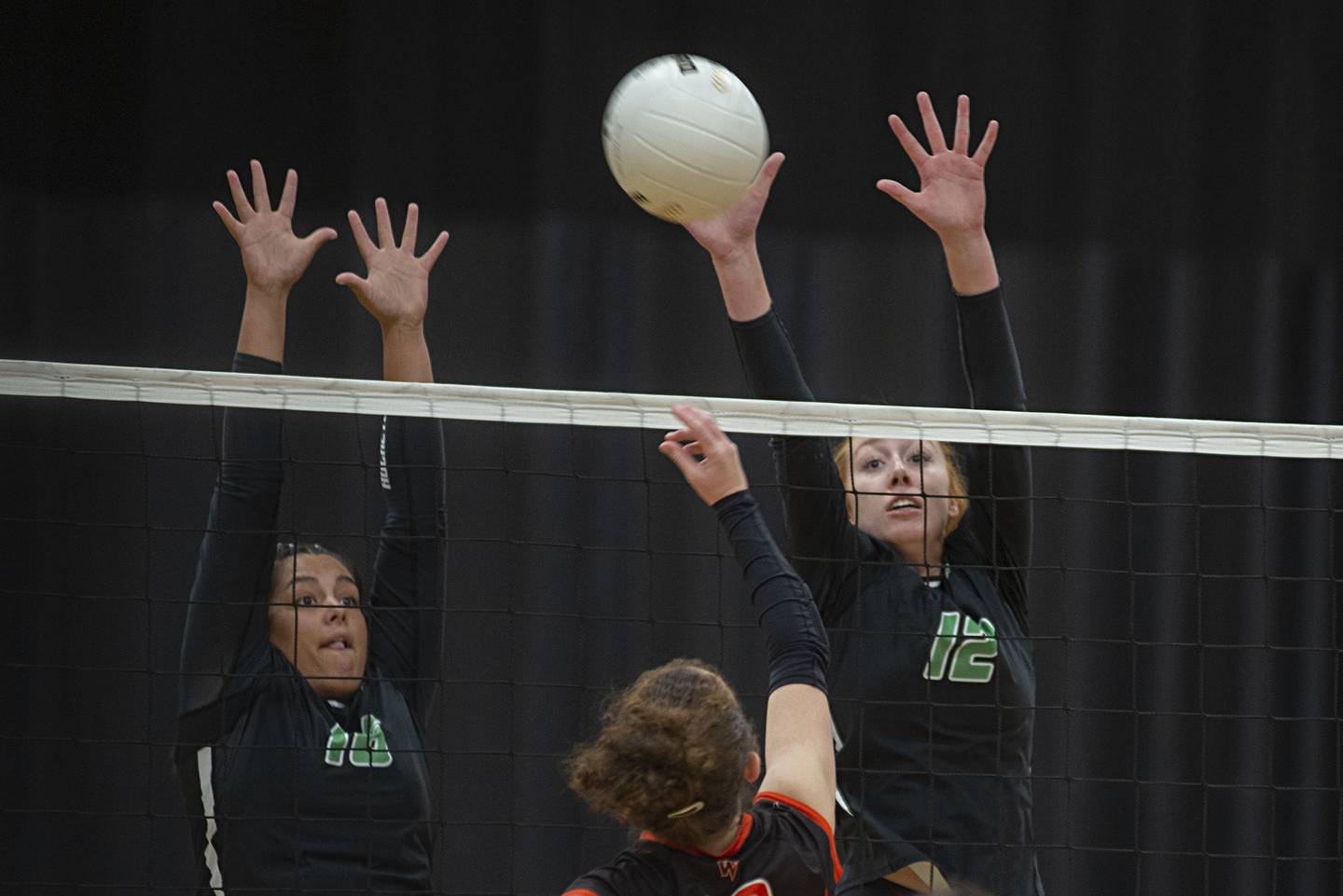 In the end, it was the hustle plays that turned the tide in the second set, and Stonitsch credited that with firing up the Rockets and helping them push through to pull out the victory.
"Oh yeah, we get riled up about those plays where people are diving and saving points," Stonitsch said. "Those are things you maybe don't expect, so it's probably even more exciting than an awesome kill. You're thinking, 'What just happened?' and if we get the point after a play like that, it's amazing because we probably wouldn't have had the opportunity to score it if someone didn't pursue the ball."
Udell, Lego and Bickett all spiked five kills, with Lego stuffing four blocks and Bickett adding two blocks and nine digs. Stonitsch had 12 assists, two blocks and nine digs, Moeller added six points and seven digs, Henson had six digs, and Kobbeman finished with 11 points, six digs and two aces.
Starkey dished 14 assists and had two kills, Gustafson and Jocelyn Harms each had four kills, and Johnson added three kills for Winnebago. Rodriguez had two kills, and Gray and Leathers both had five points and an ace, while Gray also stuffed a block. Alldritt chipped in a kill and a block for the Indians.