STERLING – The Galesburg Silver Streaks trailed the Sterling Golden Warriors, 22-18, in the first set, but showed their resolve over the next several minutes, scoring seven of the last eight points to secure a 25-23 victory. In the second set, they replicated that result with a 25-23 win to take the Western Big 6 match Thursday night at Musgrove Fieldhouse.
The first set was back-and-forth up until the very end, when Galesburg scored three straight points to secure the win. The Silver Streaks pulled ahead 7-4 early as Syriah Boyd scored four of the first seven points. Sterling got the lead at 10-9 after an Emma Smith ace, and held it until a 14-14 tie.
[ Photos from Sterling vs. Galesburg volleyball ]
From there, the Golden Warriors heated up, taking a 15-14 lead on a Katie Dittmar kill, then a 19-16 lead after a couple of Silver Streak hitting errors. A Delali Amankwa ace serve stretched it to 22-18, but Galesburg closed the gap quickly. With the help of Sterling hitting errors and a Kiarra Kilgore ace, the Silver Streaks knotted the game at 22-22. Back-to-back kills by Boyd and Abbott Matthews closed out the win at 25-23.
"Through a timeout, through a couple formation changes, we tried to serve-receive, and we couldn't generate an offensive swing very well out of that serve-receive rotation," Sterling coach Dale Dykeman said of the late-set momentum swing. "So we just got caught in a rotation we couldn't get out of."
In the second set, Sterling came out sluggish, falling into a 9-3 hole, then trailing 16-7 after committing several hitting errors.
But the Warriors would not go down easily. After a seven-point run trimmed the deficit to 16-13, Sterling had new life.
Back-to-back kills by Kate Rowzee and Olivia Melcher punctuated the momentum swing, then three more runs ensued.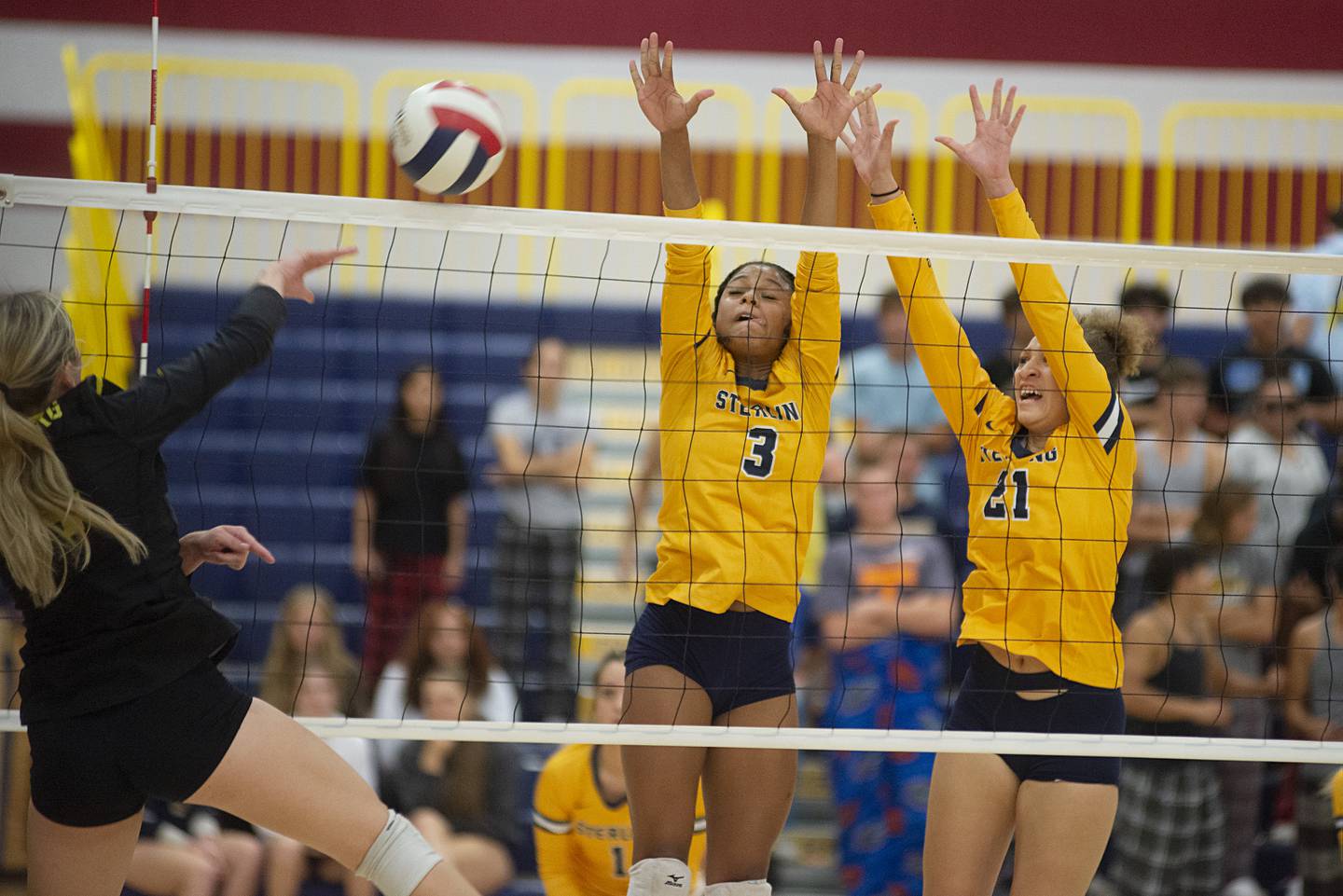 Capre Ferguson spiked a ball for a 20-15 Galesburg lead, but the Warriors battled back to a 23-23 tie on an emphatic Katie Dittmar kill.
Just when it seemed Sterling might force a third set, Tayler Raska and Kilgore answered with back-to-back kills, sealing the match with a 25-23 win.
"Our energy was very good, because we have been working on keeping our energy high all the time. So I think that winning the first set helped us going into the second set," Galesburg coach Mindy Matthews said. "But we do like to keep it interesting, because that's kind of how we play, is the up-and-down, so we let them kind of creep back, but we were hitting really well today. Our passes, probably some of the best passes that we've had for us, and our hitters were just hitting really aggressive. And I think our blocks, we got a lot of hands on blocks. So that's something we've been really focusing on in practices as well."
Leaders for Sterling were Smith with 10 digs and three assists, Amankwa with eight assists and three digs, and Melcher with three kills and five digs. Kirra Gibson, Rowzee and Dittmar totaled three kills apiece, while Aubri Menchaca tallied seven digs and Julia Thormeyer chipped in six digs.
"I just think it was a little bit of composure. We didn't pass real well, we didn't win some 50/50 balls due to slower reactions than what we typically have been seeing lately. We just didn't play well enough in spurts," Dykeman said. "We played well enough a little bit, but we didn't maintain that level of play consistently enough to compete."