Seasons can be special for lots of reasons. For the Rock Falls and Sterling volleyball teams, that term took on completely different definitions in 2021.
The Rockets won a school-record 37 matches and their first sectional title since 2012, claiming a berth in the Class 2A Elite Eight. It closed out a setllar four-year varsity career for Maya Sands and her fellow seniors, who won 124 matches, two regional titles, and four regular-season Big Northern titles.
The Golden Warriors measured their success by the strides they made throughout the season. Losing three Division I players in the 2021 graduating class, they knew it was going to be tough to defend their Class 3A state championships in 2018 and 2019. But led by junior Grace Egan, Sterling won nine of its final 11 matches and claimed its eighth straight regional crown.
For their talent on the court, and their leadership on and off of it, Egan and Sands are the 2021 SVM Co-Players of the Year.
•••
Leadership is something that can evolve naturally or be thrust upon someone. Both players of the year took up the mantle a bit differently.
For Maya Sands, it was a natural progression. The UNLV signee played with her older sister Maddie's class her first two years on varsity and made a name for herself playing all over the court and doing little things to help win matches.
Coming into the 2020 season, she knew it was her time to step up and take over as a team leader. Even when the season got pushed back to the spring of 2021 because of the pandemic, Sands was ready to carry on the leadership role she learned from her sister.
"I think it helped that I've played with a bunch of older girls when I came in as a freshman, because I've been on varsity so long," Sands said. "Now that I got to play with girls my own age, I feel like I could actually relate to and develop friendships with them. I feel like I related to them a lot more because we were the same age. I just made sure that we all included each other. I had a lot of connecting with the group and making sure we were all connected throughout the season."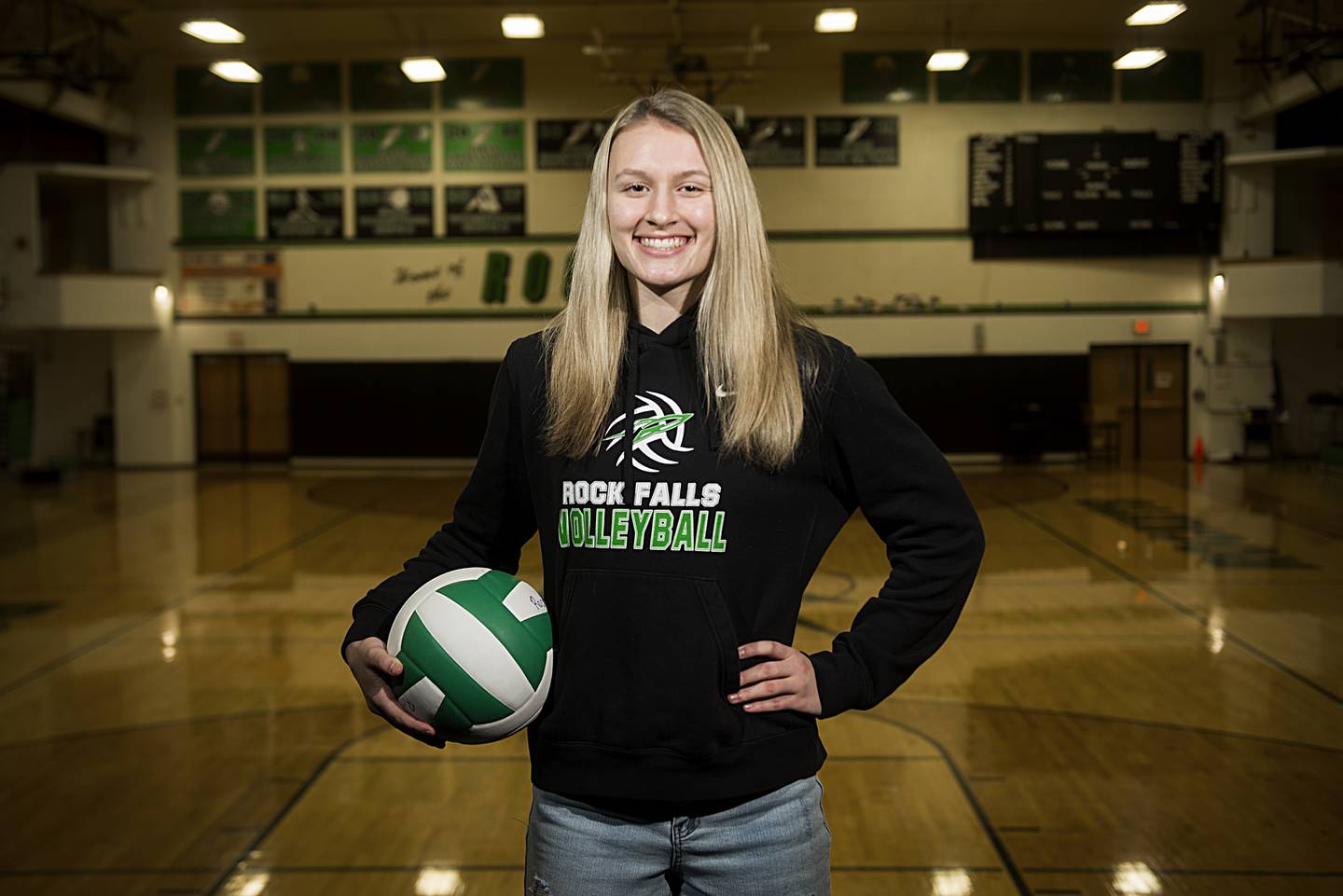 But that season didn't go quite like Sands had hoped, aside from the COVID adjustments. Early in the abbreviated season, she felt pain in her left foot. A doctor's visit confirmed some bad news: she suffered a break and would miss the rest of the high school season.
Even through all of that, Rock Falls coach Sheila Pillars saw Sands step up as the leader she always knew Sands could be.
"I just love to watch her flourish, because I was so excited to watch her play her junior year without her sister and that crew from 2019, to be able to now take that leadership role, which I always knew she had," Pillars said. "She was way more vocal, way more 'Let's do this,' or 'Hey Coach, what do you think about this.' I love when players can give me feedback without feeling like they can't step on my toes.
"But that's what it's all about being successful, and for her to be able to do that even during the COVID season when she found out she had that broken foot, she was still on the sideline coaching and pushing her teammates, taking stats and being a part of the team. I'm talking to somebody in the huddle, she's talking to somebody else. She was doing all the things that a player needed to do, that a leader needs to be, even though she was not participating on the court. With her coming back [in the fall], obviously I knew that was something special. She was ready and raring to go."
That turned out to be prophetic. As Sands recovered and got back to 100% toward the end of club season, she was able to play in some national tournaments and then play full-strength at several recruiting camps. She used that as a springboard into the fall season.
She was the Rockets' best all-around player, finishing second on the team in kills (278) and digs (321) while leading the way with an area-best 62 aces, and adding 24 blocks.
And it was the still-fresh memories of how tough it was to sit on the sidelines and watch instead of being part of the action that propelled her to excel.
"Oh my gosh, it was awful. Especially during COVID, with remote learning, we were at home all the time, and coming to practice and getting to play volleyball was the one thing every day that I really looked forward to," Sands said. "So when I got hurt, it was painful sitting on the sideline having to just shag balls and watch my team. Once I recovered and played during the summer, I went to a lot of camps and just worked a lot on trying to recover and get my skills back. Coming into the season, I really wanted to play my last season the best I could and go out with the best season possible."
•••
Grace Egan's leadership role was a bit more abrupt. Going from the second option behind Division I players to the star of the show overnight can be a daunting task.
Not for Egan, it turns out. Learning from natural leaders like Lexi Rodriguez and Bree and Brooklyn Borum – who carried on the mantle from the likes of Kaylee Martin and Josi Borum – she knew what it took to be a leader, and prepared herself prior to the season to take over.
"I knew it was going to be hard to carry over that big leadership from Brooklyn, Bree, Lexi," Egan said. "But they taught me so much. Before Lexi left [for Nebraska], she even helped me be more of a louder leader. They just taught me how to carry it on, so when they left it would be way easier of a job."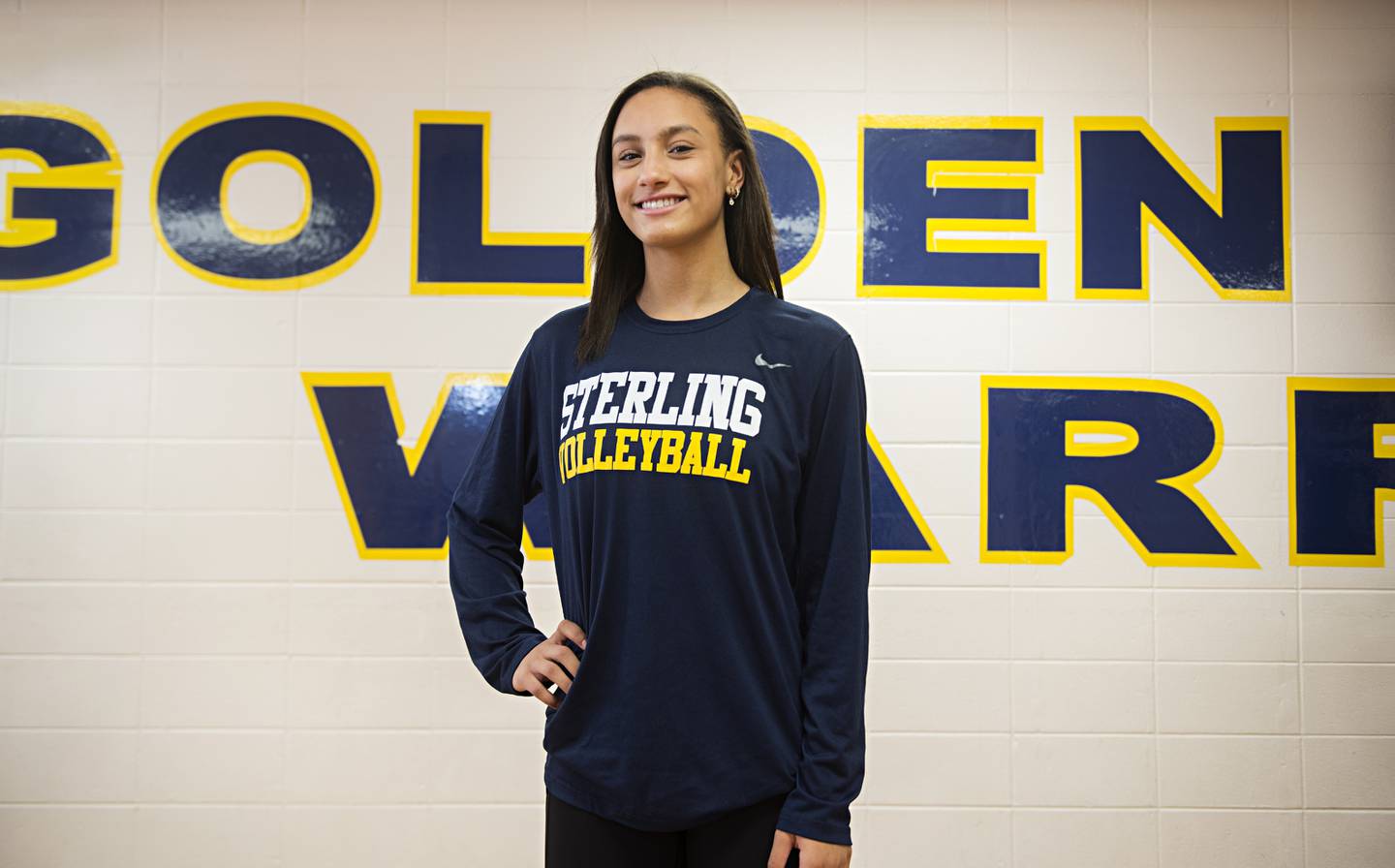 Egan, an Ohio State commit, knew she couldn't lead the same way as others before her, so she didn't try. Instead, she found her own way of doing things.
"It came smoothly in some parts, involving my teammates, teaching them how to get louder when they need to, then get louder myself when everyone needs help on the court. That's kind of the leadership I took, and if anyone needed help with that, or me carrying a ball or getting a kill for them," she said.
Sterling coach Dale Dykeman knew what Egan was capable of, and wasn't at all surprised in the way she went about leading the team.
"It just seemed anytime we asked her to do something, she was eagerly willing to try to do it. That's the type of leader she was," Dykeman said. "Anytime we needed a big point, a big pass, a big anything, it seemed like Grace was always ready to answer the bell and step up and do whatever the team needed to be able to win the match."
Like Sands, the fact that she was playing with her own classmates was helpful. Sterling had just one senior on the roster, so Egan was able to find her voice with girls her own age or younger.
"A lot of them are my best friends, so playing with them, it's like having a lot of fun with it too," she said. "We know each other, we hang out with each other, so it's easier to trust each other because we're close. I'd definitely say it was easier because we're closer in age."
•••
The season shaped up very differently for the Rockets and Golden Warriors. In Rock Falls, wins came immediately for a team that already had experience playing together at the varsity level.
Even while sitting out her junior season, Sands saw that any preseason fears she had about living up to expectations were unfounded.
"I was kind of iffy about how the team would be coming from my sophomore year, because I knew we had a talented group of girls and I didn't know if we were going to live up to that expectation," she said. "But I think it really helped that we actually brought up a lot of younger girls during my junior season, because we actually got really, really close, even off the court. And we were really successful last season, and I think we knew this year was going to be about the same competition, and we were doing really well.
"I think right at the start of the season, we were winning games pretty easily off the bat, and just with our drive and commitment, that's when I knew we were fully committed to wanting to be successful."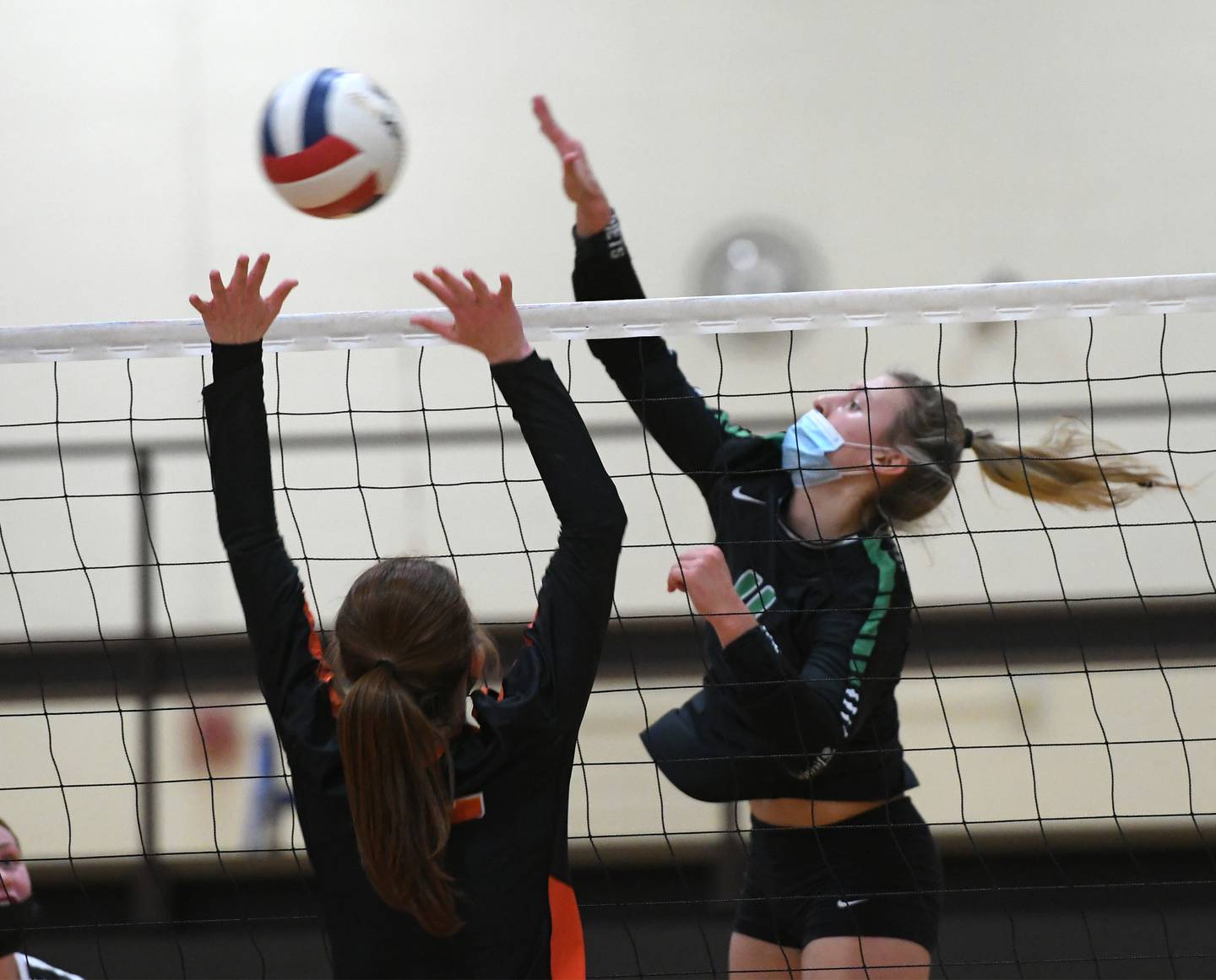 That drive came from a devastating end to her sophomore season, as well as the pain of missing out on her junior year. A loss to Rockford Lutheran in the sectional semifinal in 2019 – a team that Rock Falls had swept in straight sets during the regular season – left a desire in Sands that burned with ferocity.
"It was really crushing when we lost to Rockford Lutheran my sophomore season, because I felt we really had the opportunity to make it to state that year – and they ended up going to the state finals," she said. "I knew that I never wanted to feel like that again. I've always had that drive to just want to win and be successful, I'm really dedicated and determined, and the rest of the team was the same way."
A businesslike attitude and intense focus helped the wins pile up. But just when the season entered the doldrums, another loss to Lutheran – this time after Rock Falls cruised through the opening set, only to see the Crusaders rally to win the next two – helped reignite the spark that had driven the Rockets early in the season.
Sands credited her coach with providing the necessary push.
"Sometimes in-season, we get to the middle point where everybody is just exhausted and just trying to push forward. Sheila was really good with trying to keep us focused," Sands said. "Everyday we would come to practice and she would ask us what our goals were. If we weren't doing so well or if we weren't focused, she would bring us in and tell us to think about what we wanted to accomplish at the end of the season, and we can't take time off now if we want to actually get to where we say we wanted to go. I think toward the end of the season, every practice we came to, we were very serious the whole time and just pushed forward even if we were tired or not feeling it that day."
She also knows it was the group of teammates she had that made the run to the supersectional possible – and not just their talents on the court, but their relationship off of it.
"They're just an amazing group of girls," Sands said. "All of us had each other's backs, even if somebody was not having a great day, we picked them up, and we honestly just had a lot of fun outside of volleyball, too; we would have team dinners, we'd hang out with each other on the weekends and things like that. I think it was just amazing to have a big group of girls that I could be friends with."
•••
In Sterling, the early season was a struggle for a team trying to find its way together. With Egan as the only player with extensive varsity experience, and Karmen Weinrich as the only senior, there was a lot of learning how to mesh.
But if absence makes the heart grow fonder, togetherness provides for some ultra-tight bonds.
"I feel like the more time we spent together, team bonding and everyone getting used to each other on the court, getting to know everyone's skills, was a very helpful to carry on throughout the season," Egan said. "It was pretty much a new team playing varsity, and we were all in the same boat. We knew we had to play for each other, because we're all doing the same thing and we're in it together.
"We got on a pretty good roll when we won a few games and started getting more confident. We started to know that we could win matches if we had energy and played together. The only way we could win is if we all knew we could win."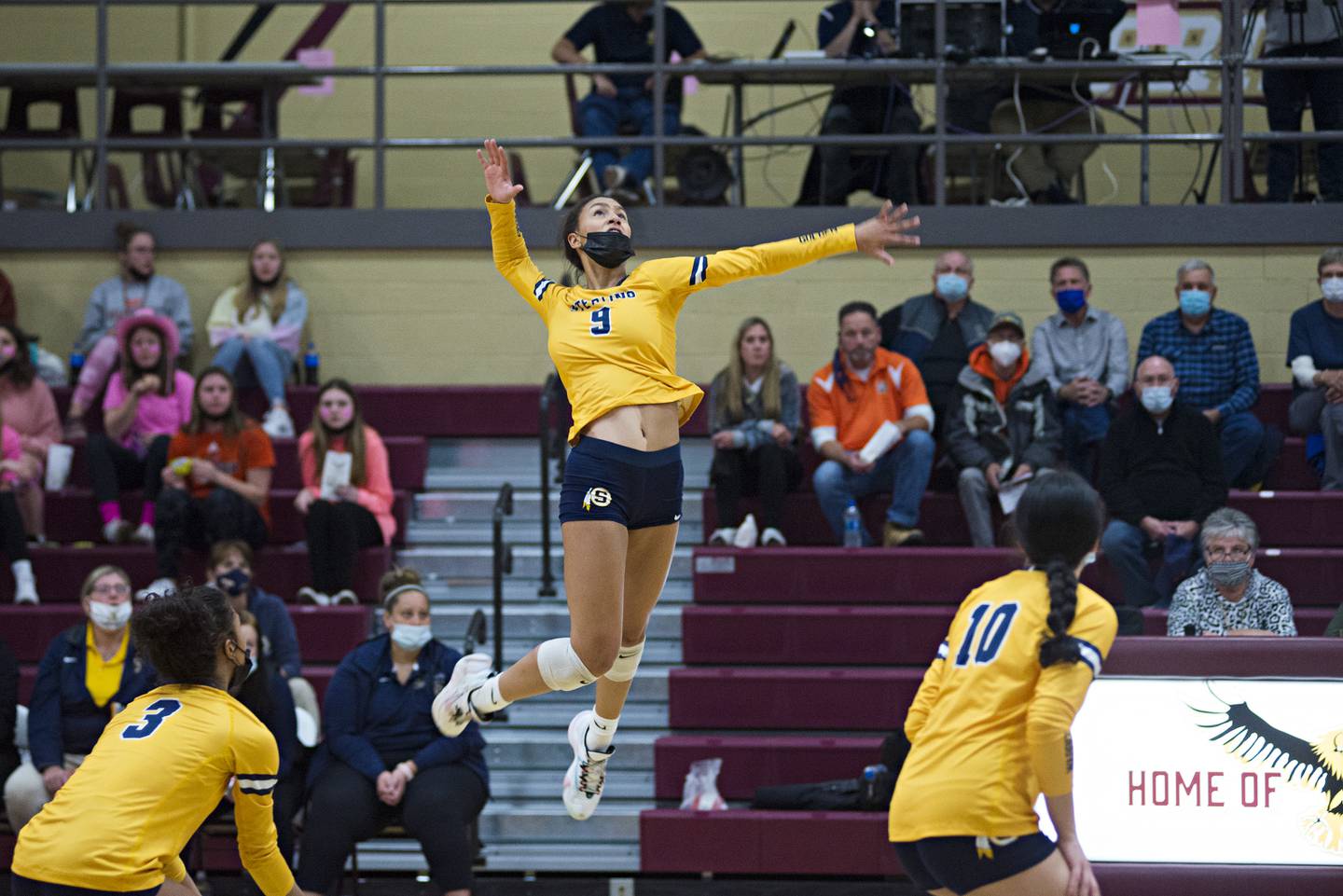 Egan played a big part in that. She led the Warriors in kills in every match this season, and led the team in kills (an area-high 471), digs (263) and aces (35) for the season, and was second in blocks (39). The most impressive part: every team Sterling played knew Egan was the focal point of the offense, and thus she became the focal point of every opposing defense.
"Not only did we know that Grace was going to get more swings, but the other teams knew that as well, when she was such a focal point both offensively and defensively," Dykeman said. "Offensively, you knew going into every match that they were going to game-plan to try to stop her and keep the ball away from her, and the same thing on defense; they were going to not let her touch as many balls as possible, just because she's so good at her serve receive and her system defense."
But Egan handled it with well. She worked on improving different parts of her game, and she also learned to trust her teammates as they got more comfortable and confident in their roles.
"I kind of felt a little pressure, especially with knowing the ball is going to come to me and I pretty much know that the other team knows that," Egan said. "So I can already hear them say, 'It's going outside, block cross, block line,' but I definitely focused more on hearing what they were saying, or have Karmen or someone say 'Your line's open,' or something like that, or even Dykeman calling out the open spots. It's a little bit of pressure, but it helped me a lot to know that people had my back."
Individually, it was her ability to terminate in different situations that became her biggest area of growth. If a set wasn't perfect, or if there was a free ball, or if she was in the back row, Egan learned how to get a kill from wherever she was whenever her team needed it.
"Before the match, I'll think to myself, 'I have to be ready, I've got to be energetic,' and know that there's different parts of the court that I need to hit. So when I'm playing, I know that if they serve it to me, I can trust myself and trust my skill to get that good pass to get a good set," she said. "It's a big role to take out-of-system hits, so I think I improved a lot with the out-of-system stuff. If we didn't get a good pass and the ball was just lobbed to me, I knew I would have to find a way to get a kill. I knew I'd have to be way smarter with my shots, and that's definitely what I learned in the season."
It was her teammates feeding off of Egan's energy and complementing her ability with their own improving skills that led to the late-season surge and another regional title, this time on the Warriors' home court.
"That was just everybody kind of coming together and finding their roles," Dykeman said. "When you bring back one kid with varsity experience and you only bring back one senior, and those two kids are different kids, there's a major leadership void, there's a major experience void. Going from the sophomore level to the varsity level in any sport, the speed increases, and the kids just had to live it, experience it.
"In the second half of our schedule, you saw major improvements in the team. Grace was a big part of that, and it was just everybody buying into their roles, figuring out what they needed to do, and doing it to the best of their ability."
•••
While Egan will be back for one more season in Sterling, Sands is ready to start the next chapter. She'll head out to Las Vegas in the summer to start her college career, and knows she'll miss playing with her teammates and friends.
But she also knows that because of her high school experience and her natural attitude toward the game, she's much more confident and comfortable in being who she is on the court.
"Definitely just getting the opportunity to play on varsity my whole high school career, I think it really has built me to be stronger and independent and kind of a leader as a person," Sands said "It was great getting to play under Sheila, because she can definitely make you build tough skin while she's helping you get better, and just play for yourself, but also for the team.
"I'd describe my style as focused, serious. I have fun, but I'm always thinking, 'Here's what I need to do to help my teammates.' If I'm having an off game, I try to make sure to help my teammates pick up the slack and that they're doing their part too, however I can. I think I have good leadership ability, so I think that will benefit me in college and in life."