It's not often that coaches know exactly what they're going to get from a team before the season even starts.
Sheila Pillars knew what she had in this year's Rock Falls volleyball team before last season even ended.
"I knew two years in the making," said Pillars, the 2021 SVM Coach of the Year after her Rockets won a school-record 37 matches and the program's first sectional title and Elite Eight appearance since 2012. "I knew literally after 2019 season, with the girls that I graduated and I knew who we had coming back. I knew what was coming, and it was a season to remember for me. I loved it."
While she knew after the 2019 season – a team that set the record of 36 wins that this year's squad broke – it wasn't until the COVID season in the spring of 2021 that she felt the stars had really aligned.
After losing a stellar group of seniors from the 2019 team, Pillars and the Rockets were hoping to not miss a beat in 2020. But COVID reared its ugly head, and things took an unexpected turn from there.
"What happened last COVID season was I had a lot of seniors that didn't come out, and that gave me the opportunity to play those younger kids, where that wouldn't have panned out otherwise," Pillars said. "I think if we would've had a 2020 season, I think we would've been phenomenal even then, but the reality of them not coming out, I had to shuffle everything in the spring, and it just ended up working out to our benefit. Then with those juniors now coming back as seniors, just that growth that they had in the spring to lead this team, I knew right away that we were going to be super tough."
That toughness started in the COVID season. Pillars had half as many players in the entire program than usual, and the girls she did have were forced to be fluid in their roles and attitudes on a daily basis.
"Everyday we walked in, somebody was out in quarantine, somebody had COVID, somebody was hurt," Pillars said. "We were always reshuffling, and the girls were like magic. They did whatever I asked them to do – like Cara Goff, who was supposed to be my libero, and she had to turn around and become an outside hitter, she played weak side, she played everywhere – and girls just picked up certain roles. So coming back, if all the pieces fit together, it was going to be something special."
One of those pieces that was missing in the spring was star hitter Maya Sands. The UNLV recruit suffered a broken left foot early in the season, and was relegated to being an assistant coach of sorts, pushing and encouraging her teammates from the sideline.
But with the smaller group of players and all the things going on outside the program, it helped the Rockets become more close-knit in their volleyball bubble. With that closeness and team chemistry came success, and with that success came confidence – and a distinct lack of drama.
"A lot of times, you hear people moaning and groaning at the end of the bench and drama starts, but we really never had any of that," Pillars said. "I had girls approach me asking what they needed to do to get better, to get on the court, what they could do to help the team. That attitude is important to success, and this team had a lot of it."
With each player focused on doing what they could to help the team, roles were filled and a lineup coalesced early on. That consistency became a key ingredient throughout the season.
"I made one little flip between Claire [Bickett] and Maya front row-back row, otherwise my lineup was the same the whole entire year," Pillars said. "Everybody took to their role – we talked about role playing right away in the beginning of the year, what does it mean to be a role player, what do you think your role is. I think everybody adjusted extremely well.
"And I tell them everyday, we're only as good as the people that we practice against day in and day out, so even though some of the girls didn't get a lot of playing time, they really pushed the girls that did. That makes a huge difference, because they didn't get a lot of the glory, but they were a huge part of the success as well."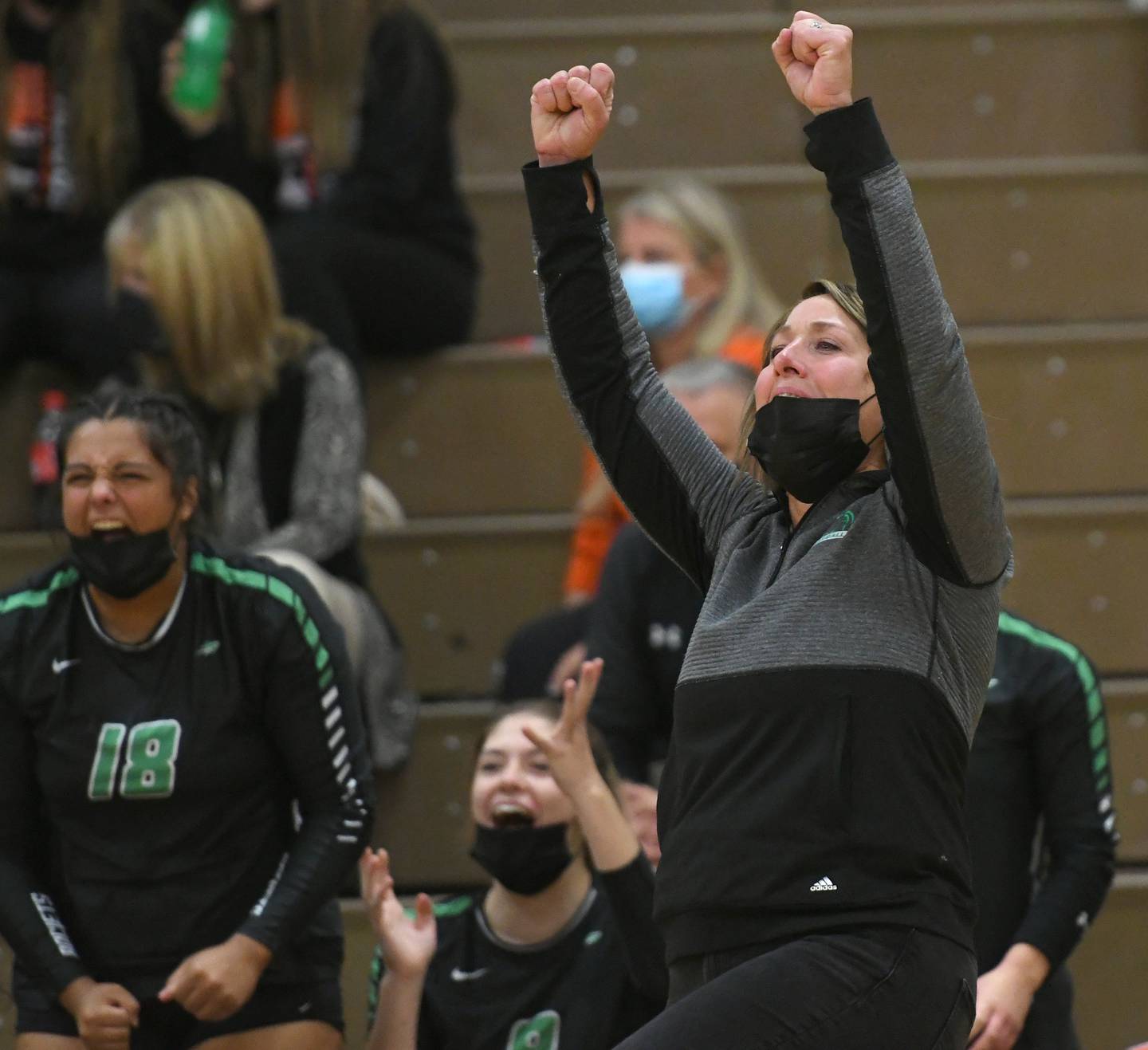 It was a smooth ride for most of the season – Rock Falls won 34 matches in straight sets – but there were a few bumps along the way, as there always are. The biggest came against Rockford Lutheran, which as become a rivalry in recent seasons.
It was the Crusaders who ended the Rockets' run in 2019 in the sectional semifinal – after Rock Falls won the regular-season matchup in straight sets. Then last season, after the Rockets went through the Big Northern regular season undefeated, Lutheran again ended their season with a win in the championship match of the conference tournament.
This time around, it was Lutheran rallying for a regular-season win after dropping the first set to the Rockets – but Pillars felt that was maybe a good thing, in retrospect.
"We started the season hot, then all of a sudden we hit kind of a lull. We were winning, but we were not playing our kind of ball," Pillars said. "We lost to Lutheran, who has kind of been our nemesis, and that kind of made us refocus and get back on track. Those little hurtful things that happen during the year happen for a reason, and I'm just do grateful that we were able to make that run. One game short [of state], but I'm not taking anything away from Montini; they were phenomenal and ended up winning state. But this was just a special group."
It was a group that matched Pillars' own personality. The competitiveness, the desire to get better, the single-minded focus on doing whatever it takes to win – this team had it in spades.
"Sheila's very competitive, but I think some of the groups she's had – this year, and 2019 for sure – we all brought that into the season too," Sands said. "We really wanted to excel, because we've never been to the state finals. We knew we wanted to get far in postseason. My sophomore year and this past year, even my junior year during COVID, we just came to practice focused every day and had a goal for what we wanted to accomplish throughout the season."
It was that determination and drive that played a key role in the season that was to come. Several times throughout the fall, Pillars would talk about her team "putting their nose to the grindstone," and she credited her team's senior leaders – Sands, Goff, Mallory Pinske and Cadence Stonitsch – with making sure that businesslike attitude was in place every time the Rockets took the court.
"The leadership from my seniors really set the tone immediately this season," Pillars said. "I have a lot of leaders in my sophomore group too, so they kind of took care of some of my underclassmen. So overall, between little leaders here and there taking on different roles, that really was the key. Between Maya, Mallory, Cara, Cadence, they really set that tone, 'This is my last year and I know we're good, so let's get after it.' I'm proud of them."
Sands said a lot of that attitude came from a comfort level with Pillars. Not only did the players want to make the most of their senior seasons, but they didn't want to let their coach down, either.
A big part of turning that potential into reality, Sands said, was because their coach never let them settle for anything less than giving their all.
"Sheila definitely has such a strong personality, and she really wants the best for us and she wants to see us excel," Sands said. "She really gets on us so that we can work our hardest, because she knows we have that potential. She just brings the best out in us.
"You don't want to make Sheila mad, but when she gets on us, you know where she's coming from when she's coaching you, and I think that really helps."