DIXON – The No. 4-ranked Sauk Valley Community College volleyball team had a fight on its hands on Wednesday.
Highland battled the Skyhawks through four close sets, and even had the lead late in a pair of sets the Skyhawks won before Sauk pulled out the 25-16, 25-22, 22-25, 28-26 win.
In the fourth and final set, neither team could establish much of a lead, with the teams fighting through 14 ties and neither team ever leading by more than three points.
"They've seen us play a lot and they know pretty much where we're going with the ball," Sauk coach Jay Howell said. "I thought they just did a great job of blocking. Their outsides were hurting us. Their outsides were going cross early, and we tried adjusting and they'd go down lines. My hat's off to Highland. They played really well."
The Cougars had set point in the fourth, up 24-23 after a Madilyn Schultz kill, before Sauk bounced back with a kill from Kiley Sanders. The teams swapped miscues, with Sauk getting to match point only to lose it to a bad serve to tie the score at 25-25. After Highland's Abby Barr tied things at 26-26, Sauk's Michal Willman topped a kill and Highland followed that with a hitting error to end the match.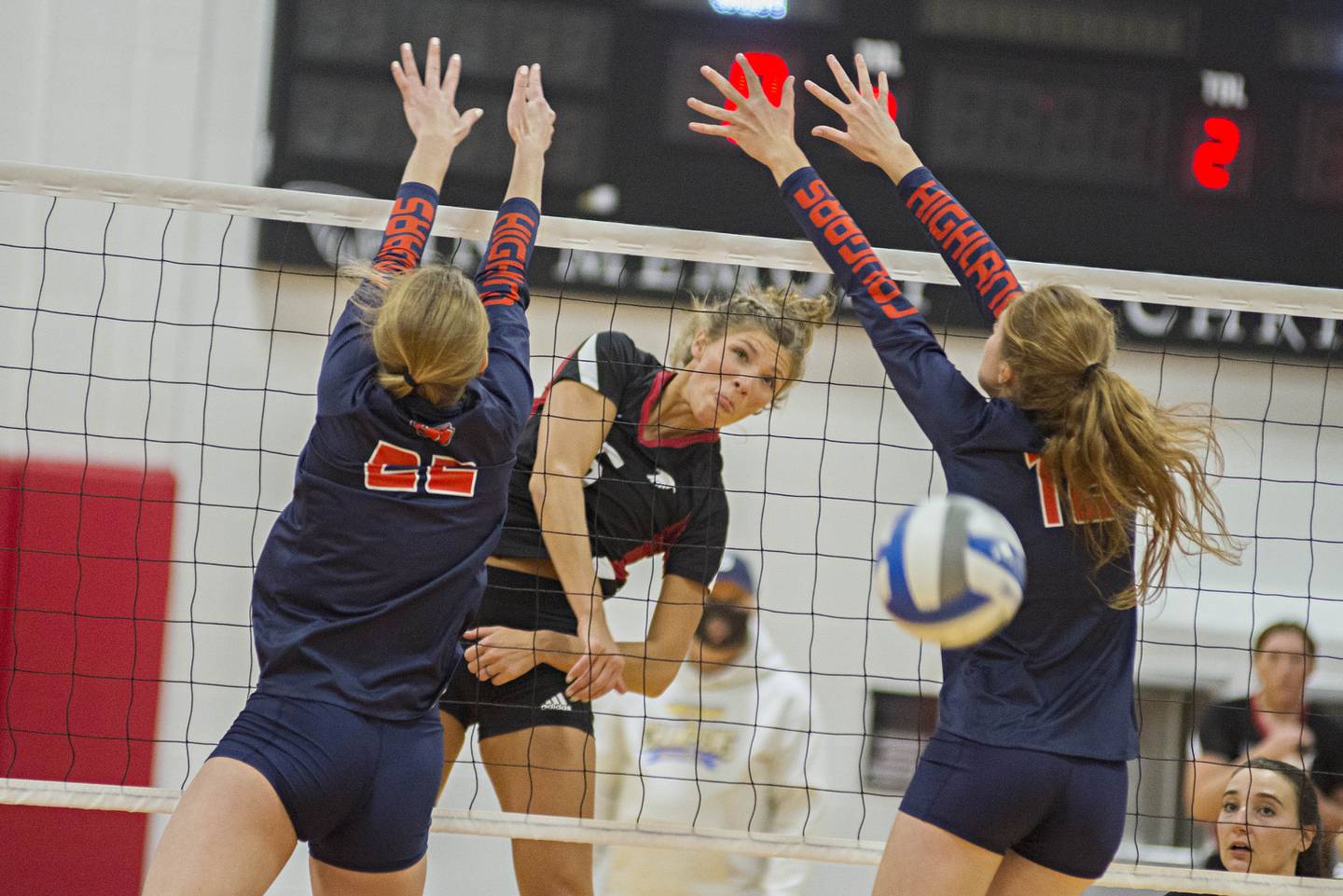 "We had to stick together and just put the ball away, get our passes up," Sauk setter Gabby Jones said. "Once we connect to our hitters, everything goes well for us."
Willman was able to get some of her typical thunderous kills at times, but at other times Highland's defense was able to come through with Paige Middendorf and Maddie Hildebrand throwing up an effective block. Willman (23 kills, 4 blocks, 4 aces) went to tips more later in the match, but Cougars libero Alyssa Ostendorf was able to get a hand under several of those.
"We worked on defending the outside attack in our practice yesterday," Highland coach Lindsay Stodden said. "They were where they needed to be. The block was up and big, kept our hands in. They did their jobs."
Sauk also turned to other options in the attack, including Sanders (14 kills, 18 digs) and Juliana Rotella (5 kills).
"We definitely had to use our other two options, and usually they're pretty good at putting the ball away, but when they're stuck on her, we all need to stay together," said Jones, who finished with 25 assists.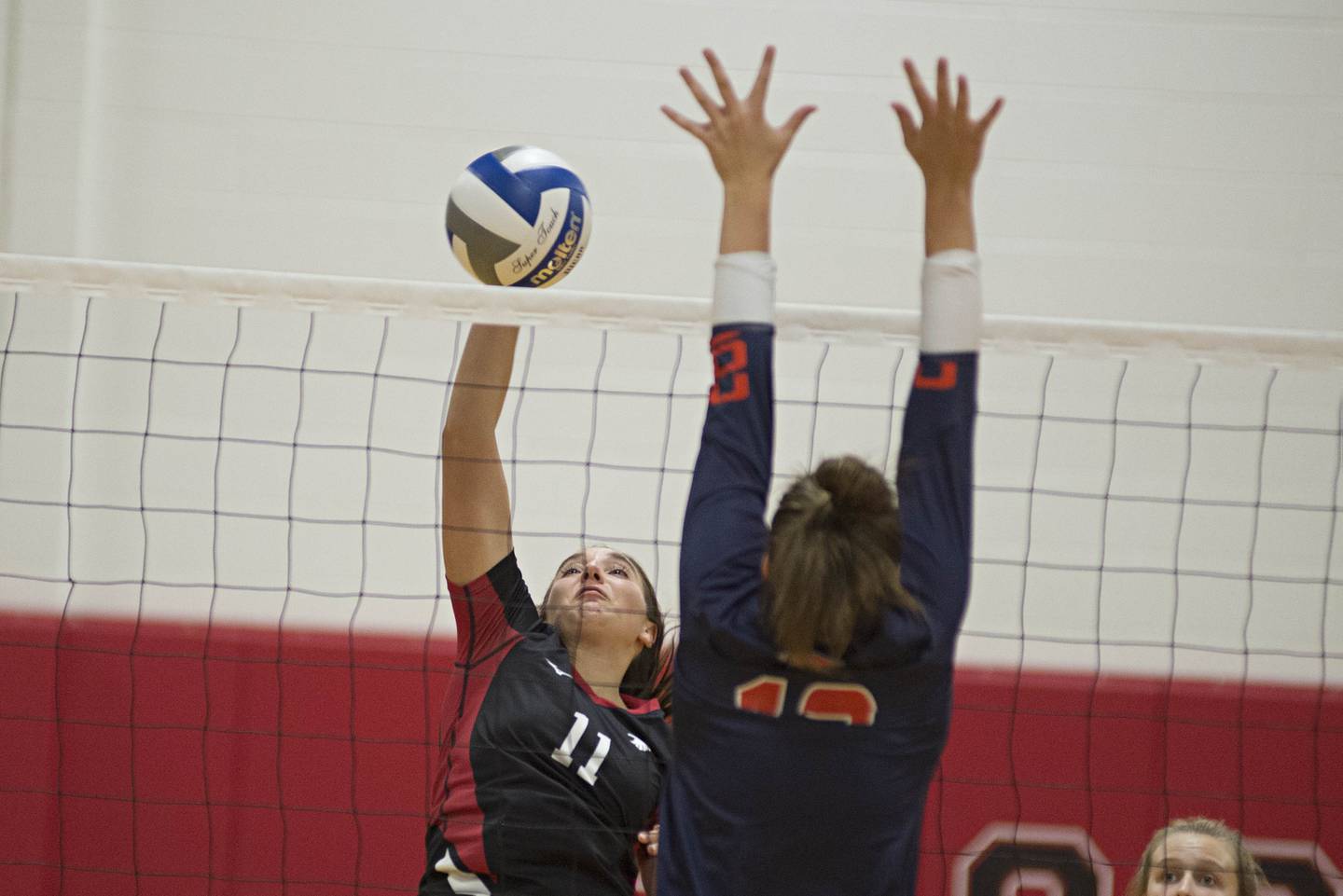 Sauk seemingly was in charge in set 3 with a chance to close things out before Highland came roaring back. The Skyhawks at one point led 15-9 with kills from Tiana Tichler (12 kills), Sanders and Willman pacing the fast start, but the Cougars took nine of the next 10 points to take the lead, getting a pair of kills from Karlie Krogman to spark the comeback.
"She is a player that is not afraid to swing when the game is tight," Stodden said. "She did that. She swings hard. She knows where the holes are and she goes for those deep corners."
The Cougars' lead grew to 24-20 before kills from Sanders and Willman kept things going. Schultz tooled a block for Highland, however, to close the set.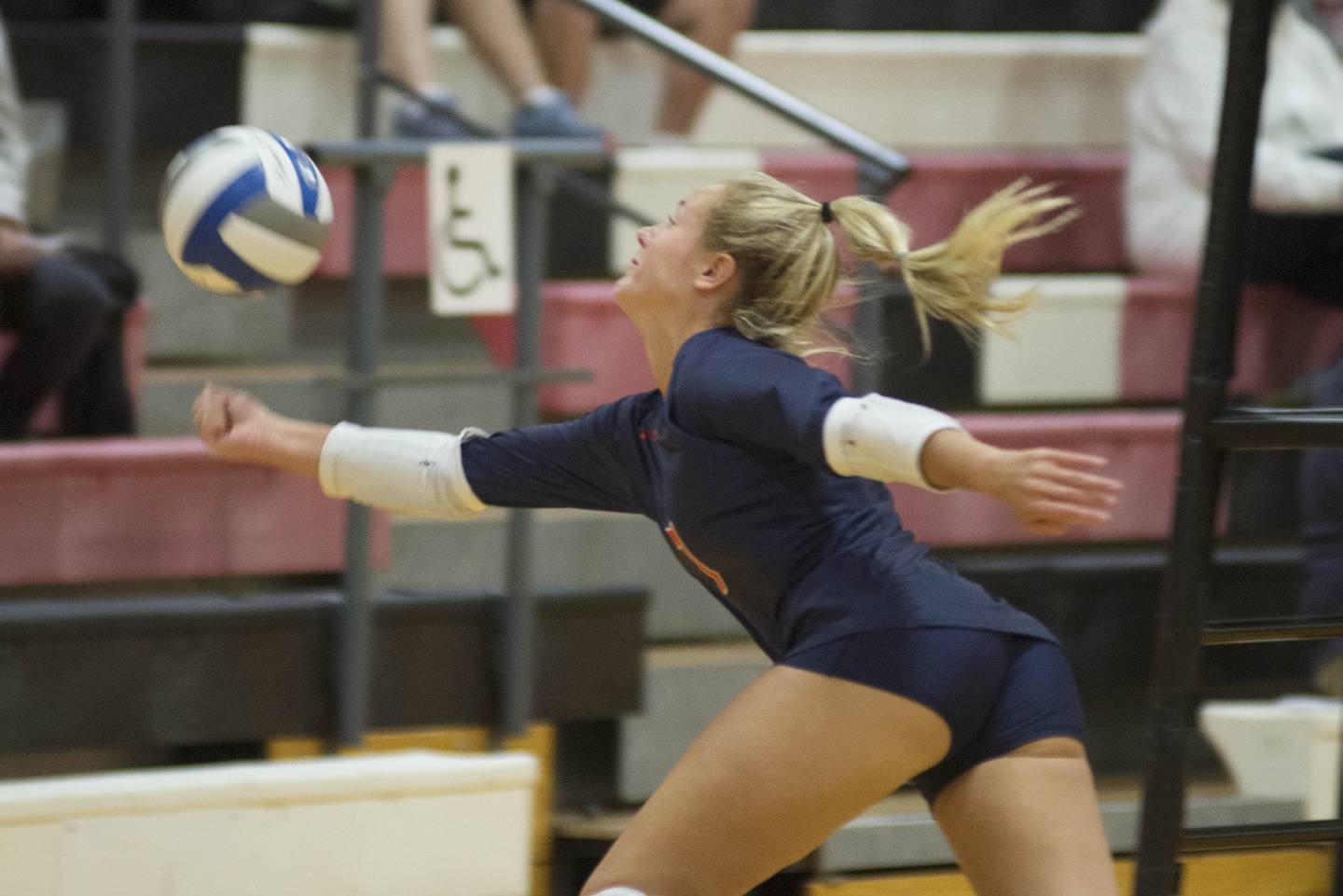 "We saw that we were in a deficit, but we didn't let that affect us," Krogman said. "We just kept playing and eventually got on a serving run, which our serving is really aggressive and that helps us. So once we got on a serving run we were able to come back."
The third set, with Sauk in control early and Highland rallying for the win, was a mirror image of the second set, where Highland built an early lead only to see the Skyhawks rally. Highland led 7-3 early thanks to a block and kill by Kassidy Humphrey. Sauk kept chipping away. Sanders got a kill and followed that with an ace, but Schultz answered with a kill to swing momentum back to the Cougars.
Willman then stepped in, getting a pair of kills to cut the Cougars' lead to 9-8, but Krogman answered with a kill.
Sauk didn't regain the lead until Willman came up with a tipped kill and a block on back-to-back points to make it 18-17.
Even then, Highland seemed on the verge of putting the set away, as Middendorf ran off a three-point run with a kill and back-to-back blocks to put Highland ahead 21-19.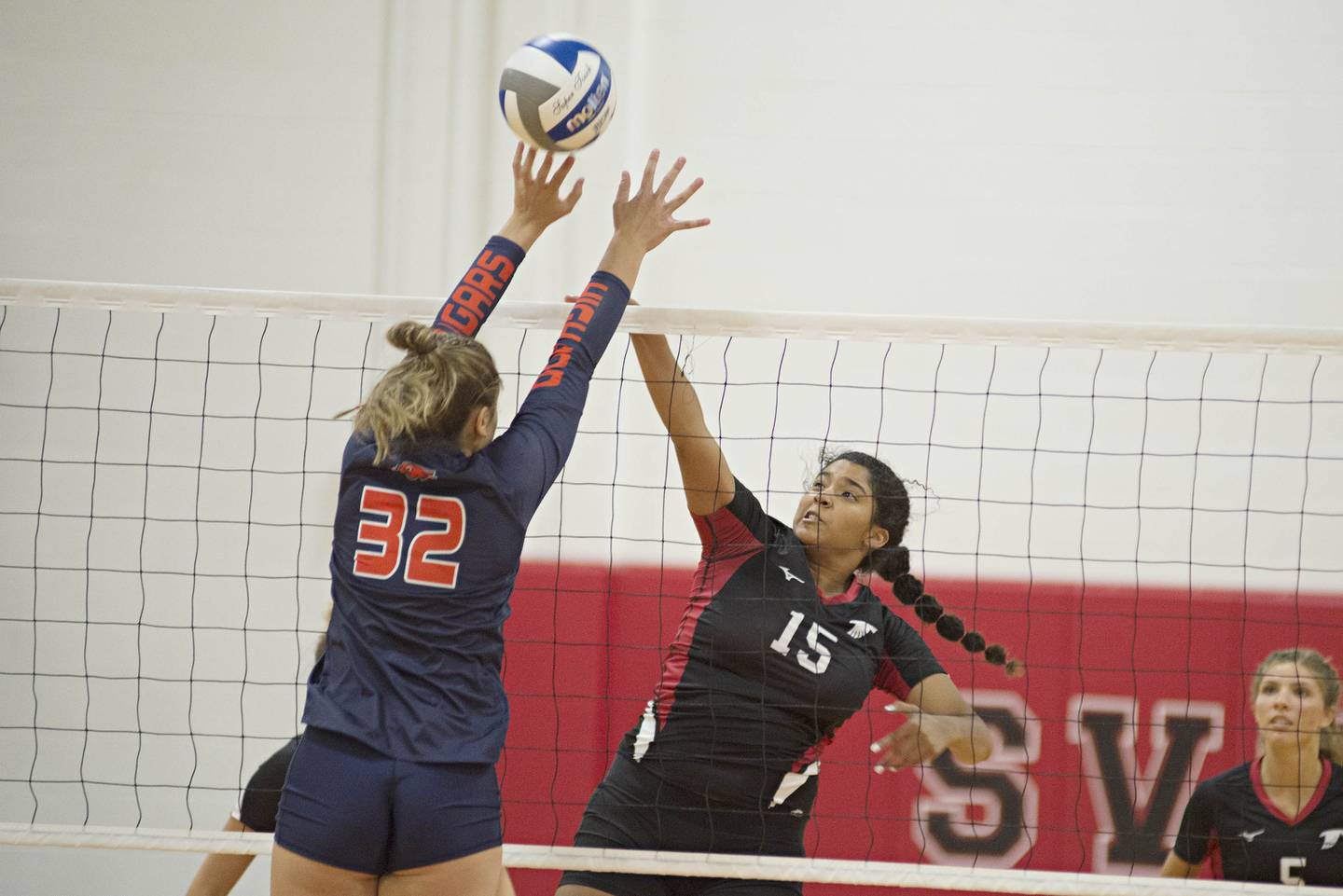 Sauk (20-1, 3-0 Arrowhead) responded, getting a kill from Tichler, an ace from Jones, and finally ending it with a cross-court shot from Sanders.
"Our serve receive, we needed to pick that up a bit and just execute a little better," Howell said. "These types of games having close matches like this is really good for us. Our conference is as strong as it's ever been. We're going to get this night in and night out."
Highland (13-10, 1-2 Arrowhead) led 14-10 in the first set following an ace from Barr, but Sauk rallied. A Tichler kill was followed by an ace from Willman and a kill and a block from Sanders on back-to-back points, putting the Skyhawks in the lead 15-14.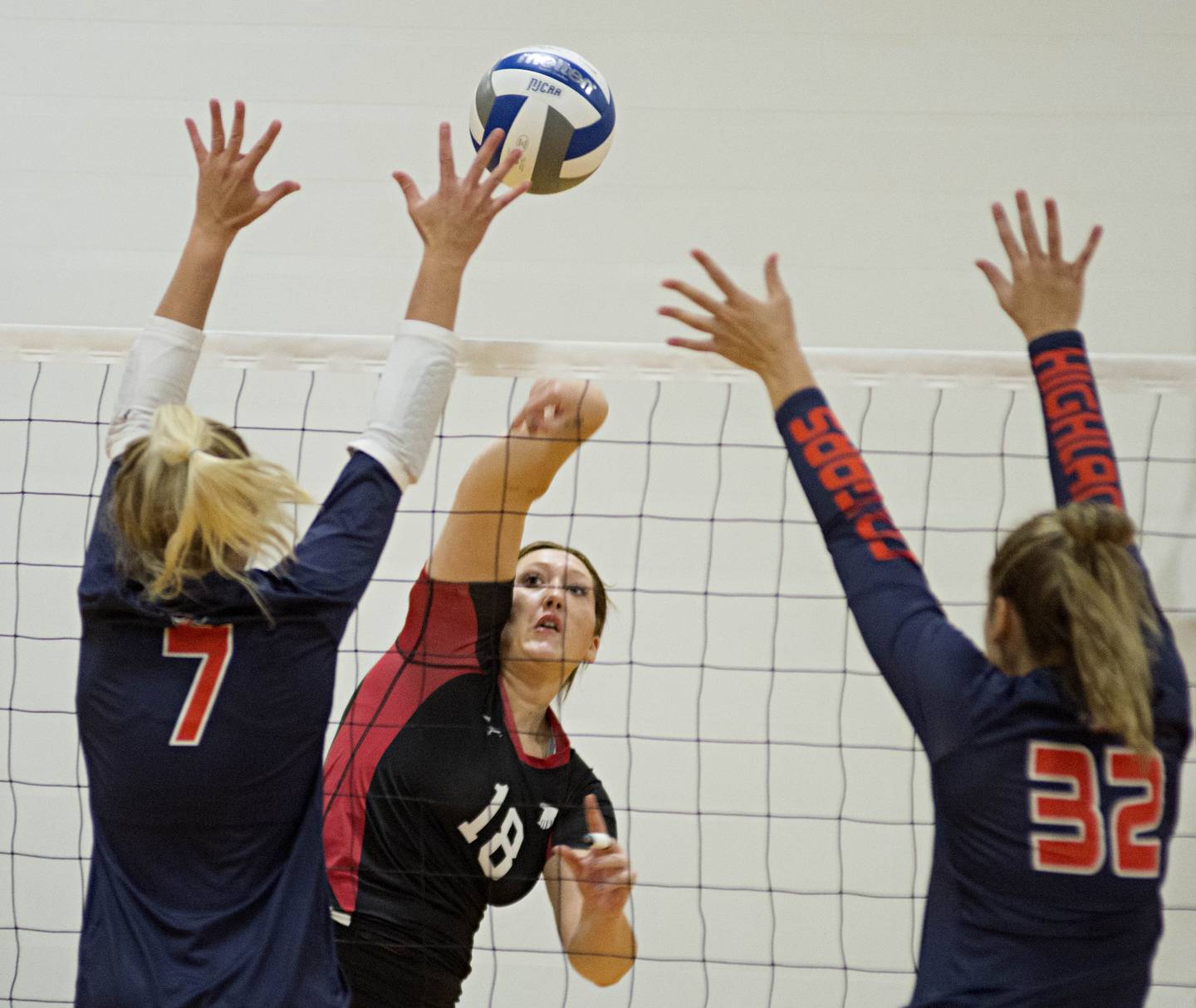 After an ace from Maddie Sands (27 digs) and a kill from Audra Goff (25 assists, 13 digs) put Sauk ahead 20-15, Hildebrand responded with a kill for the Cougars, but Sauk took the next five points, with a Jaelyn Fitzgerald kill off of an overpass ending the set.
Schultz had 13 kills and 13 digs for the Cougars. Barr had 23 assists.
"They're ranked fourth in the nation, so if we can take them to four sets and each set is close, we know we can compete with all the best teams in the country," Krogman said.