ROCK FALLS – Coming into Saturday's volleyball invitational at Rock Falls, the host Rockets, Newman and Princeton were all unbeaten.
Only one could come away with the tournament championship, and that's what Rock Falls did after beating Newman 25-13, 25-18 in the title match at Tabor Gymnasium.
Princeton defeated Riverdale 25-19, 25-23 in the third-place match.
The championship win was the Rockets' second of the day over Newman, after a 20-9, 20-10 victory in pool play. Rock Falls more than doubled up on its win total in a few short hours and exited the weekend at 9-0.
"At the beginning, we started off a little rough and weren't playing our best, but we were really connected [later], and it's a start to a great season," Rocket sophomore hitter Nicolette Udell said. "After working hard throughout our other games, we just got pumped up and we were ready to win."
After a tie at 5-5 in the first set of the championship match, the Comets made three miscues in a row to give the Rockets an 8-5 edge. Rock Falls held the lead the rest of the set, but not before the Comets came back within one at 8-7 after a Paige Grennan ace, and 9-8 after a Molly Olson kill.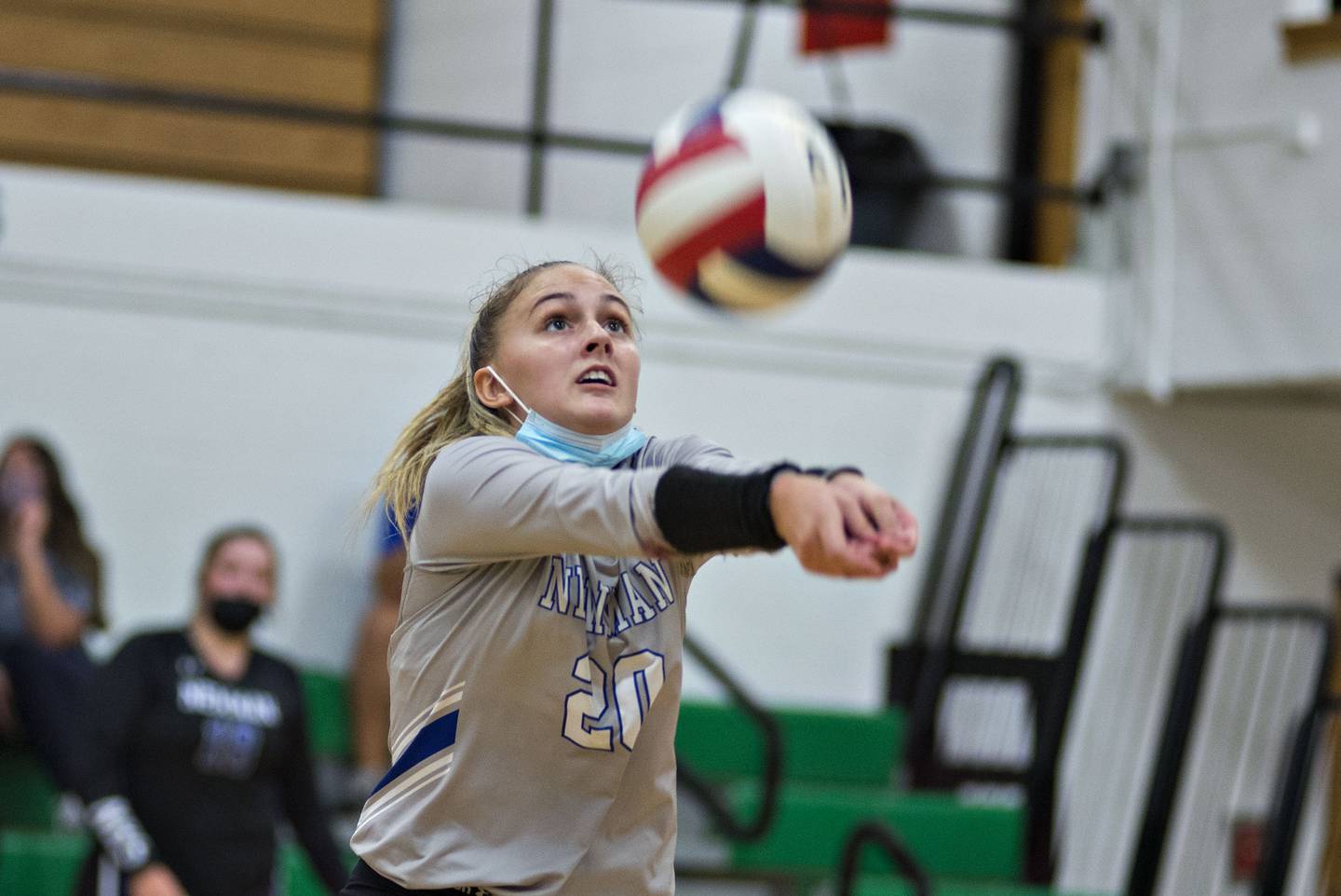 Claire Bickett's tip kill from the right corner made it 10-8, and began a run of nine points that the Rockets strung together to pull away. Maya Sands had a pair of kills in that run, Udell and Cadence Stonitsch each tallied a kill, and Bickett served up an ace. Carli Kobbeman ended the set with the Rockets' second ace.
Trailing 6-5 in the second set, Udell put together a good run at the middle of the net over the Rockets' next few points: her kill tied it at 6-6, she teamed with Bickett for a block to take the lead, and had two more kills between a Denali Stonitsch ace for a 10-6 lead.
"I felt really connected with the volley," Udell said. "We just had a strong connection where the energy was really good."
Kennedy Rowzee notched a kill for the Comets to make it 10-7 before another Rocket spurt of points pushed them once again to control the set. Like the previous string, it ended with a double-digit lead at 17-7 with three aces and a kill from Bickett, another kill from Sands, and a block from Udell.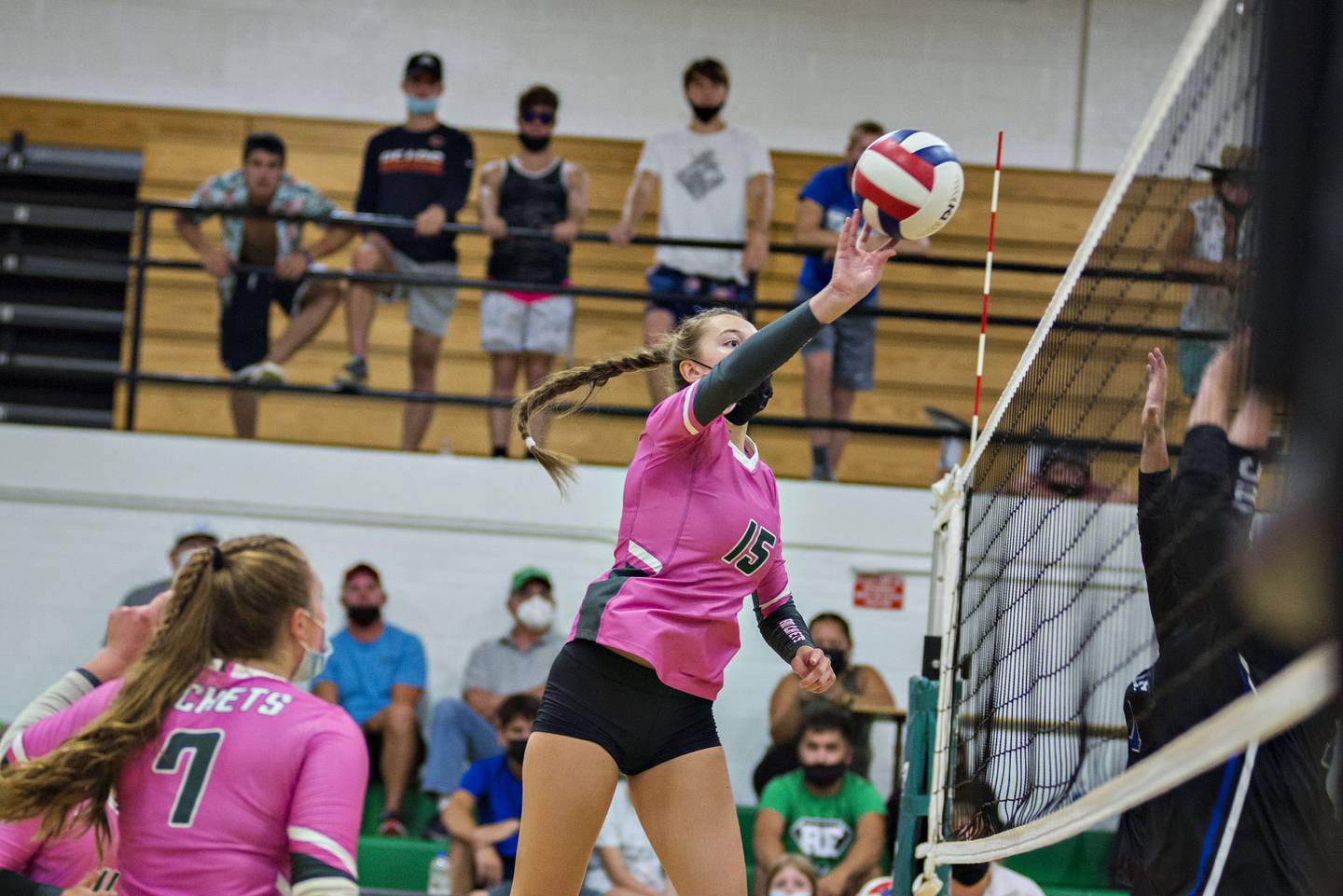 Jessalin Johns' kill ended the run and Shae McNeill served back-to-back aces to close the deficit to 17-10, but the Comets couldn't close the gap any more the rest of the way. The Comets went on a 6-3 run after Rock Falls hit 20 points, but a short serve gave the Rockets match point, and Emily Lego ended it with a block at the middle of the net.
"Kudos to them. Rock Falls is just a solid team all the way around," Comets coach Debbi Kelly said. "I'm proud of my girls, they kept their heads in this time and kept playing through. It's always really good when you play good teams, it shows you things you have to work on, and it's early enough in the season for us to know there are some areas we have to work on. But it was nice to have a Rock Falls-Newman championship game."
Sands led the Rockets with six kills in the title match, and Udell finished with four; Bickett had three kills, three aces and two blocks.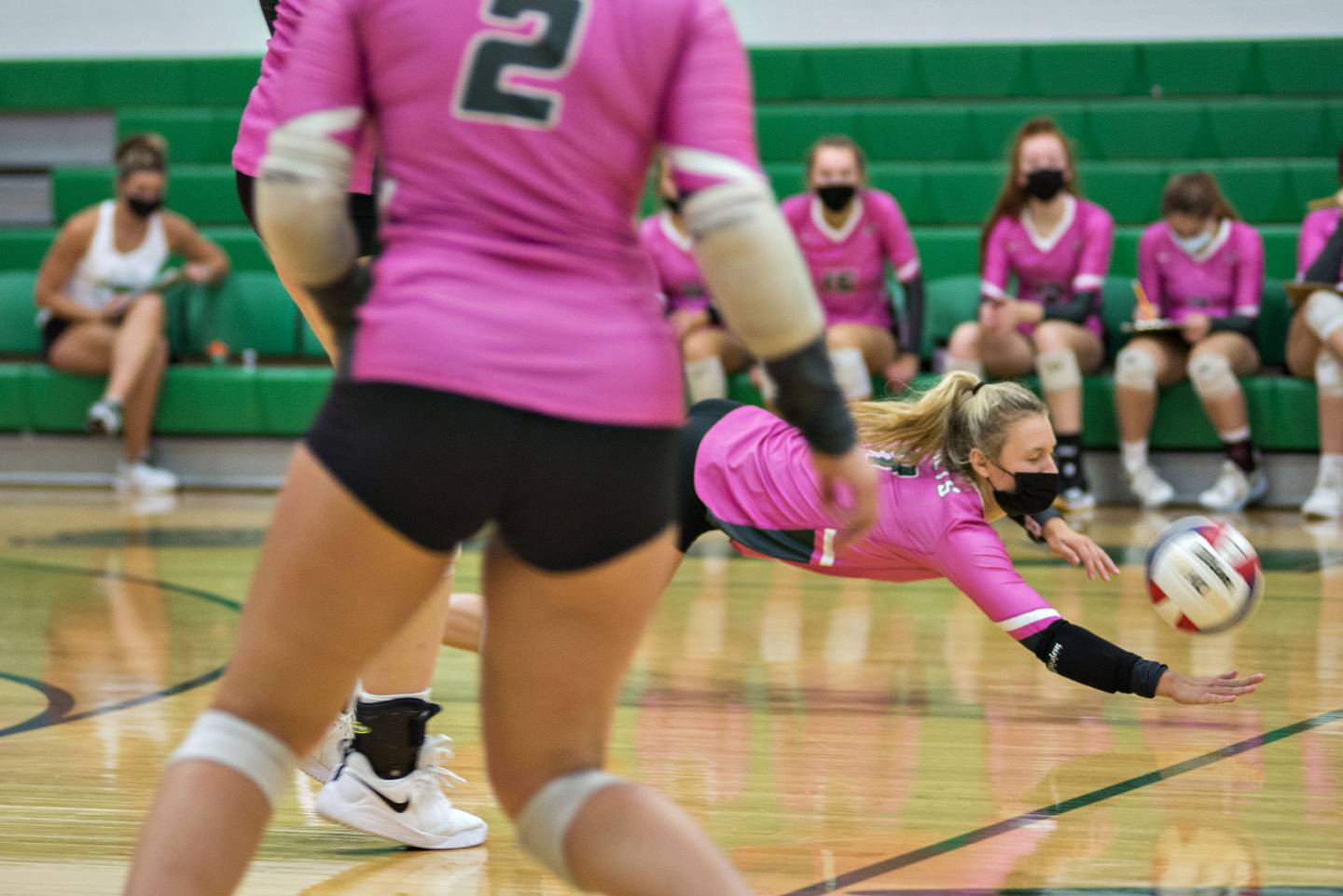 After relatively easy wins to open pool play, Rockets coach Sheila Pillars liked how her team was more fluid during and after the first match with the Comets.
"When we first saw Newman in pool play, we started moving a lot better, and in the afternoon I really thought we came in to run," Pillars said. "I'm super proud of them."
Rowzee led the Comets with seven kills, Ally Clevenger added five more, and McNeill had two aces.
"The second game, we definitely came up and competed," Rowzee said. "Our first two games weren't that intense, and we probably weren't ready for that type of game [against the Rockets in pool play]. Once we got to our second game, we were a little more acclimated, and that really helped."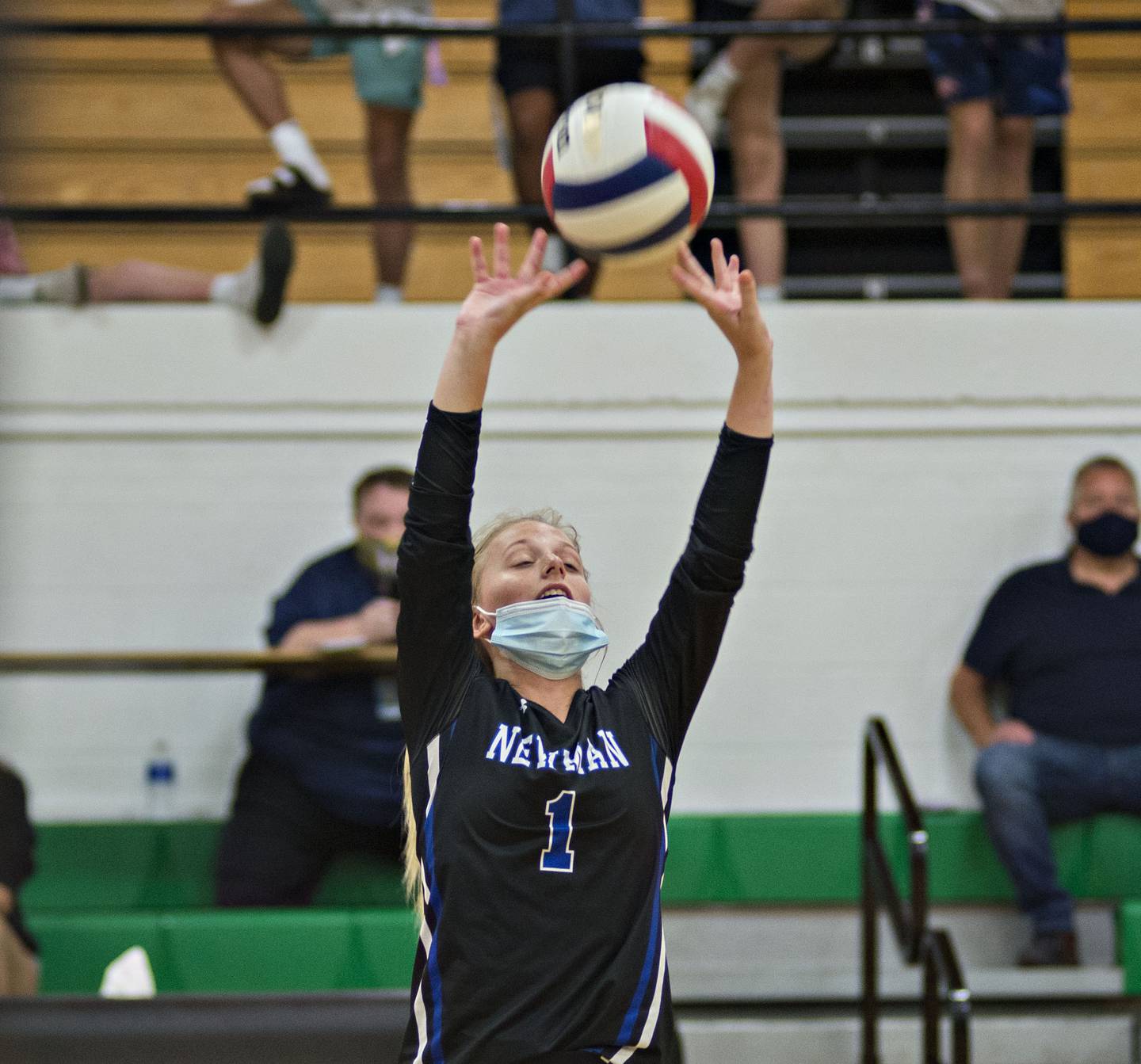 The Rockets' lone match next week is back at Tabor Gym against Western Big 6 conference power Moline.
"It's super exciting, especially beating Newman; it feels awesome since they're our rivals," Rockets senior libero Cara Goff said. "Us playing hard against them just pushed us, and hopefully will push us in the future."
Throughout the day, Sands led the Rockets with 35 kills and 22 digs. Denali Stonitsch had 50 assists, and Cadence Stonitsch added 34 assists, and led her team with 11 aces and 43 service points. Bickett added 22 kills, 16 digs and six aces, Pinske has 25 kills and five blocks, and Udell tallied 13 kills.
"We've been conditioning a lot," Pillars said. "I got a lot of people in and out, and rested a lot of starters, so it was a total team effort today. Everybody came in and did something, and that we need to do."
Newman (8-2) came into Saturday having not lost a set in five matches. The Comets handed Princeton (7-1) its first loss in the semifinals, winning 21-25, 28-26. Clevenger led the Comets with 23 kills, 24 digs and seven aces, Rowzee led with 15 blocks and added 22 kills, and Johns had 20 kills and 13 digs. Paige Grennan had 38 digs, McNeill had 46 assists and 11 digs, and Katie Grennan had 26 assists and eight digs. The Comets' other two wins came against Bureau Valley (20-6, 20-8) and Morrison (20-5, 20-15).
"We all came together for that semifinal game," Clevenger said. "We were really scrappy, picking up tips – that's something we really did well."
Dixon finished in fifth place with a 2-2 showing, falling to Princeton 12-20, 13-20, and Riverdale 16-20, 17-20 to begin pool play, but bounced back with a 20-16, 20-12 win over Amboy and a 25-16, 25-23 win over Bureau Valley.
Mallory Coley had 22 kills to lead the Duchesses (4-3), and Sam Tourtillott had 12 kills. Holli Miller had 28 assists, Hanna Lengquist had 23 assists and three aces, Elena Castillo-Wetzell had 25 digs, and Ella Govig had eight kills and six blocks.
Morrison's lone win came in a 25-15, 25-19 match over Amboy (0-8) for seventh place, and it was the Fillies' first victory in nine matches. Bureau Valley's one win, its first in eight matches so far, was over the Fillies, 20-11, 20-11.