ROCK FALLS – With almost everyone back from last season, the Rock Falls Rockets are poised to be even better than their 18-3 showing in the spring.
Even with a wealth of experience, the first match always shows teams what they need to work on in a game situation, and that was no different for this year's team after a 25-17, 25-18 win Tuesday over the Geneseo Maple Leafs in a sweltering Tabor Gymnasium.
Rock Falls overcame a trio of Maple Leaf aces early in the first set to finish it strong, and overcame an early deficit in the second to kick off the year with a win.
"We have a lot to improve on," Rocket senior Maya Sands said, "but as we go on through the season, we're going to be a lot stronger than what we are now."
Sands, who only played played half of the spring season due to injury, led the Rockets with eight kills and a pair of aces. The UNLV recruit highlighted a Rocket surge to win the first set after the Leafs had fought back within two.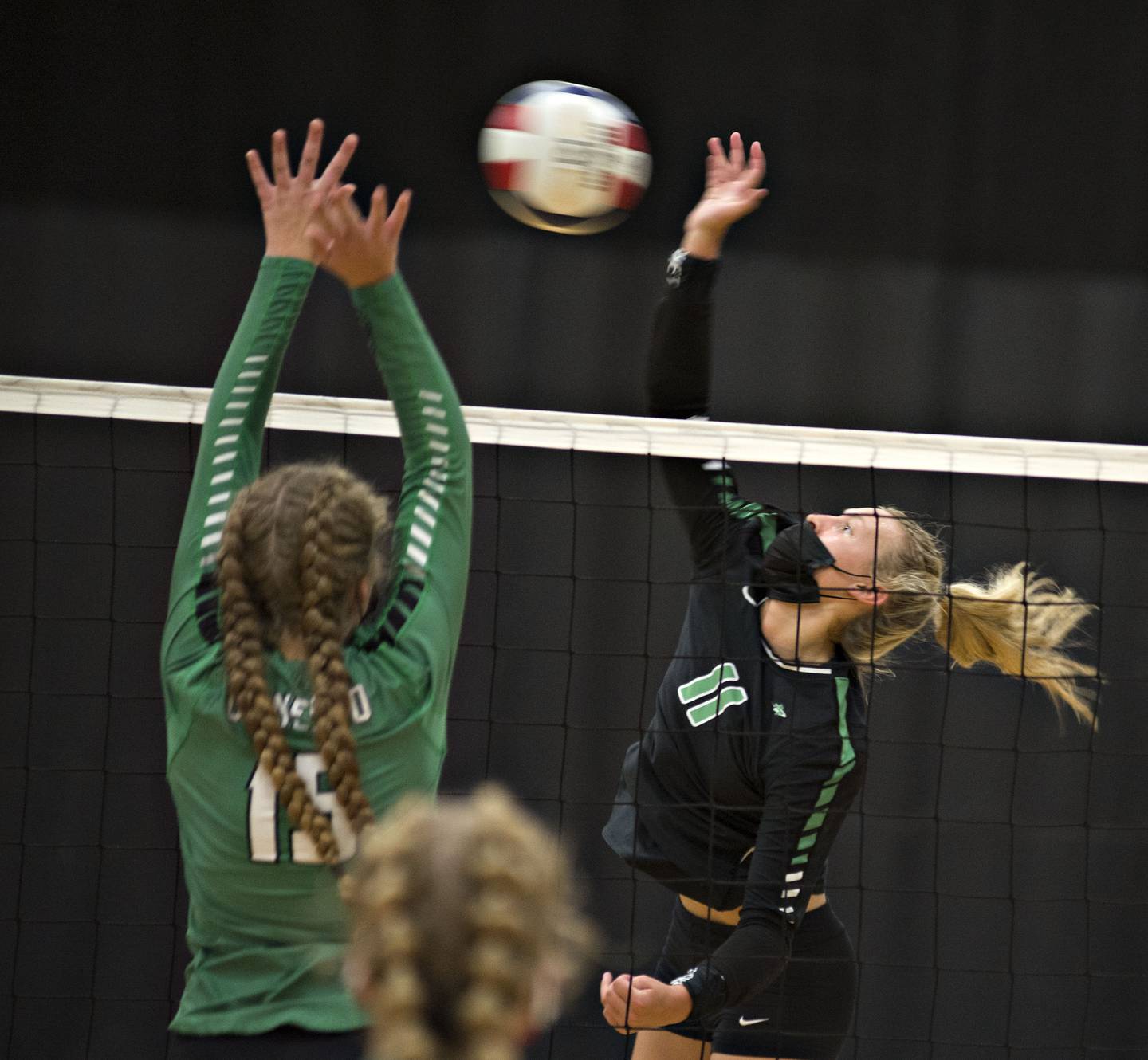 Rock Falls (1-0) cruised to a 6-0 lead, and led 8-4 before back-to-back kills on a Claire Bickett from the left pin and a Mallory Pinske kill from mid-court upped the Rockets lead to seven. Bickett's first kill in that pair was a thunderous cross-court slam, and the second was a short tip that proved tough for the Maple Leaf players to defend at the corner.
However, the Maple Leafs (0-1) narrowed the Rocket lead to two at 14-12 after Lauren Johnson served up her team's third ace; Delainey VanRycke and Alysia Perez had Geneseo's other perfect serves.
Rockets coach Sheila Pillars called a timeout after Johnson's ace to get her team back on track, and it worked, as the Rockets outscored the Maple Leafs 11-5 to end the set.
"I just told them that they've got to control what they can do, you've got to put the ball away, and we've got to communicate a little more and get the job done," Pillars said. "They were just kind of skating by because we had a little bit of a lead. I just kind of got on them a little bit, and try to hold them up to the expectations they we set in the beginning of the year."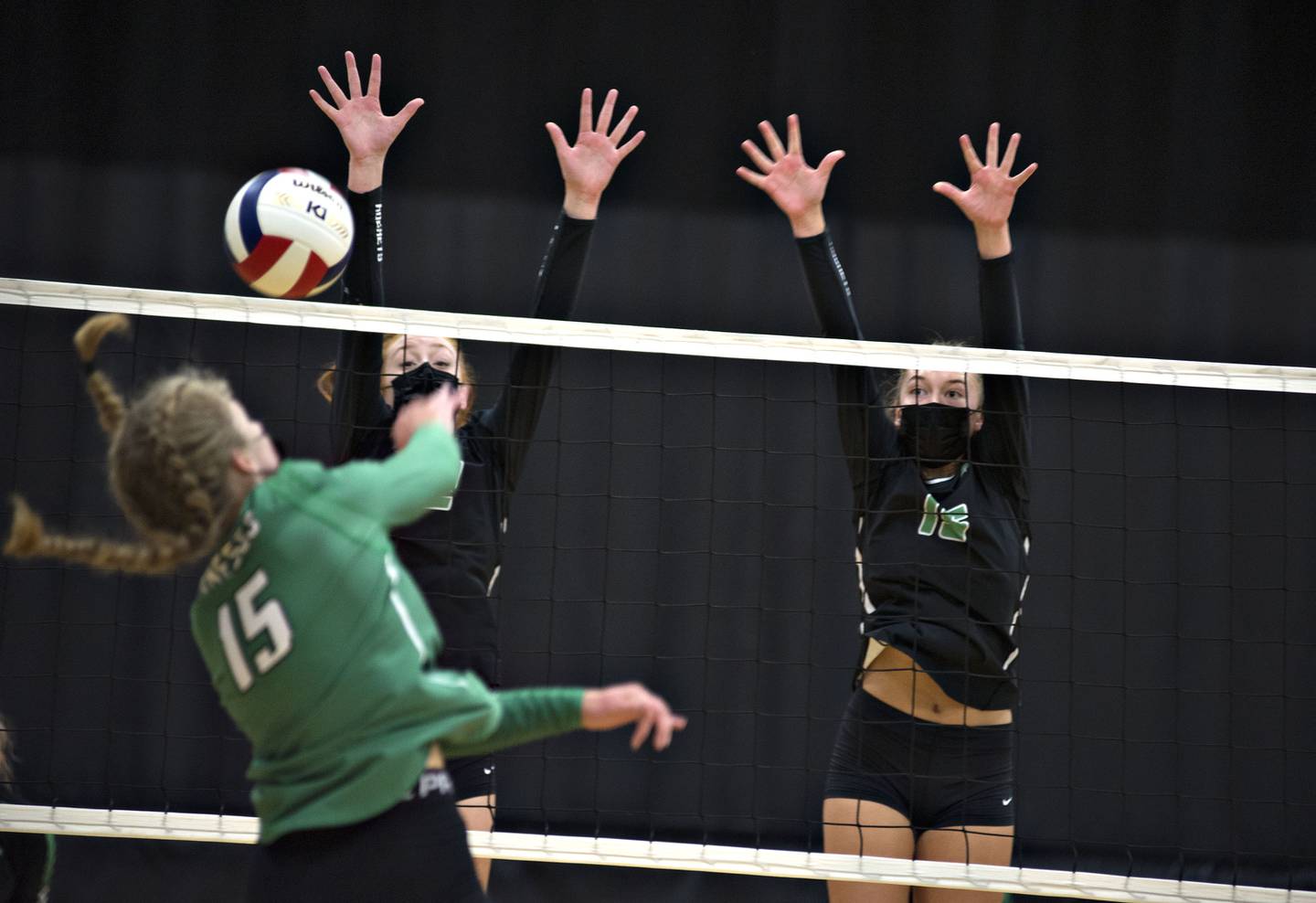 Sands immediately responded with a slam from the left corner for a three-point lead, and after the teams traded a few points, she fired her first ace perfectly inside the far left corner for a 17-13 lead. After that, Rockets libero Cara Goff added a kill of her own from just short of the dividing line for a five-point lead to build up a string of points. After Sands' second ace, and then another round of back-to-back kills from Pinske and Bickett, the Rockets had regained control and led 22-13.
"We knew at that moment that it's not how we usually play," Sands said. "We knew we had to pick it up. I know everyone had a lot of nerves at that time, but we came together and tried to keep each other calm, cool and collected, and also have that same urgency to win."
Both teams traded leads in the second set up until a Pinske tip put the Rockets ahead 13-12. Rock Falls never trailed after that, as Pinske established a two-point lead with another kill for a 15-13 lead, then an ace from Sophia Moeller gave her team a four-point advantage at 17-13.
Sands, whose kill to open the second set drew a chant of "Drop the hammer" from the Rockets' student second, ended the match with another slam that the Maple Leafs couldn't control at the net.
"We know what we can improve on now since we haven't played [a game] for a while," Sands said. "I think we could have communicated a little more, and we were a little quiet but picked it up toward the end."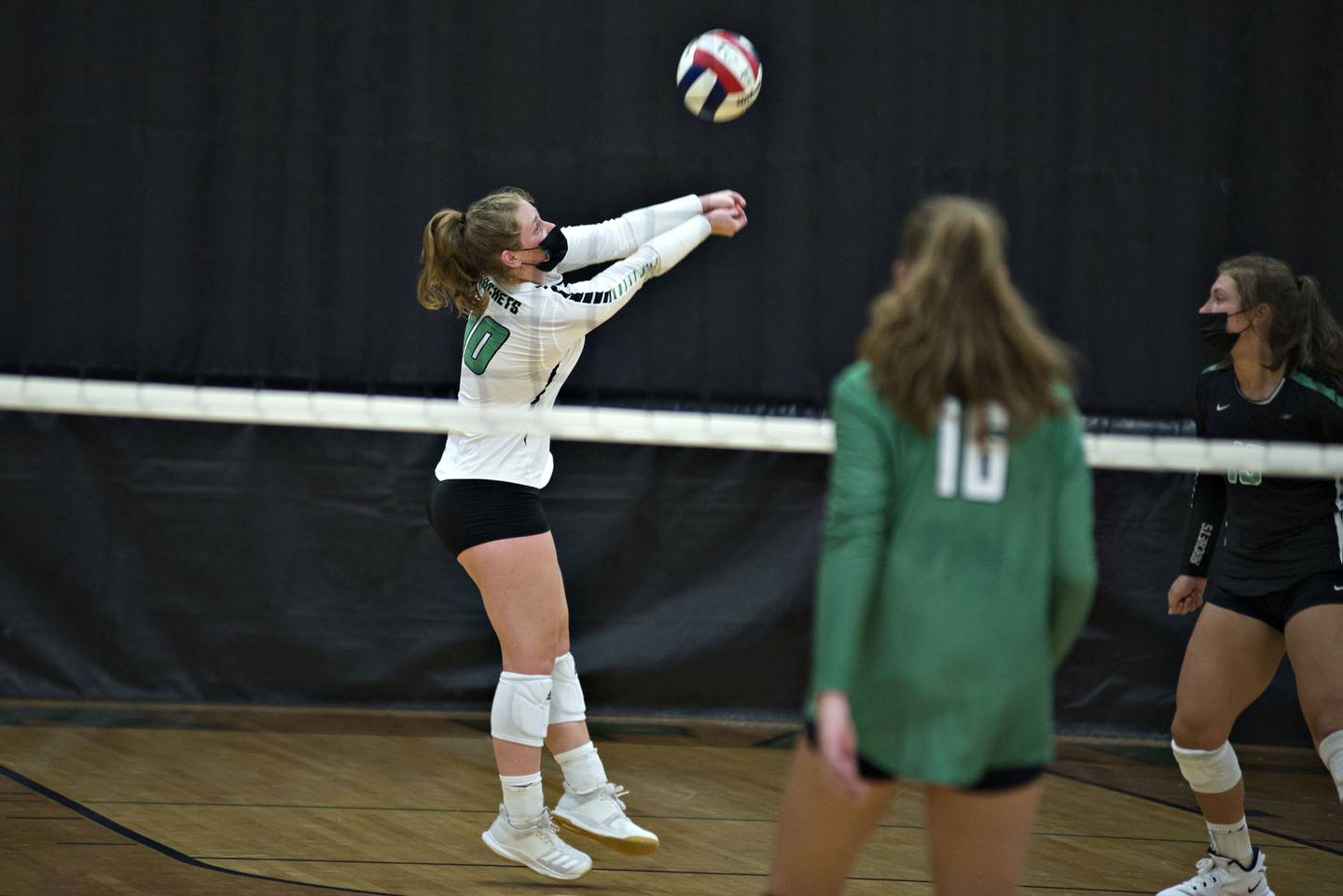 Cadence Stonitsch led the Rockets with 13 assists, and Sands also led with five digs. Bickett and Pinske each finished with five kills.
Hannah Copeland paced the Maple Leafs with six kills.
"With it being as hot as it was, and just starting out, I thought we did very well," Pinske said. "We'll be working out the little kinks, working on our communication, and definitely playing together will help us in the future."
Volleyball
Rock Falls def. Geneseo 25-17, 25-18
Star of the match: Maya Sands, Rock Falls, 8 kills, 5 digs, 2 aces
Key performers: Hannah Copeland, Geneseo, 6 kills, block; Claire Bickett, Rock Falls, 5 kills, 2 ace blocks; Mallory Pinske, Rock Falls, 5 kills
Up next: Rock Falls at Dunlap, 7 p.m. Thursday