There was a time when the triple jump wasn't really on Alice Sotelo's radar. But then Sterling assistant track & field coach Jason Fargher stepped in and changed that.
Three years later, the Golden Warriors junior was celebrating a Class 2A state championship in the event.
Sotelo saved her best for last at the IHSA State Track & Field Finals on May 21, leaping 11.36 meters (32 feet, 4 1/2 inches) on her final jump of the season to win the title by .06 meters (2.3 inches) and notch her fourth school-record-breaking leap in a month.
She wasn't the only local who excelled in Charleston that weekend. Oregon senior Jenae Bothe won the state title in the Class 1A shot put with a throw of 13.17 meters (10 feet, 5 inches); Amboy sophomore Elly Jones qualified for state in four events and earned a pair of medals, finishing seventh in the 1A 100 hurdles and ninth in the 1A triple jump; and Fulton senior Lauren Mahoney also qualified in four events and won two medals, placing seventh in the 1A 100 and teaming with Abbi Thyne, Annaka Hackett and Mikayla Gazo to finish 5th in the 1A 4x200.
But for her stellar junior season, Sotelo is the 2022 Sauk Valley Media Girls Track & Field Athlete of the Year.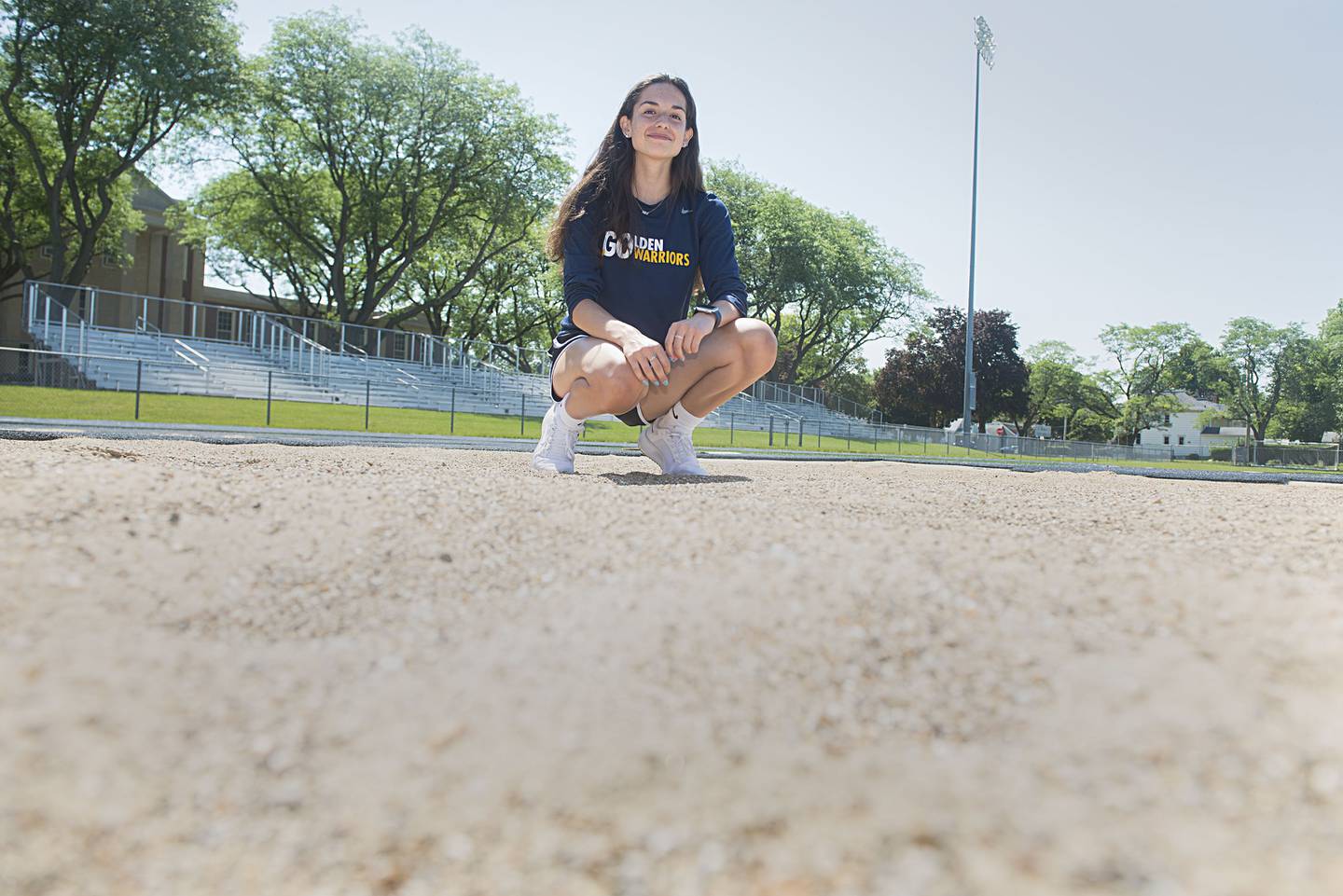 •••
Back in eighth grade, Sotelo was new to the sport of track & field, and was sticking to the basics. She started with long jump and the sprints, but soon realized that there might be something better for her out there.
"Long jump was less technical, so it was easy for me, and I wasn't as fast as I am now in the sprints, so I was willing to try something new," Sotelo remembered. "It was actually Fargher that got me into the triple jump; at first, I thought 'Oh, I don't know if I can do it,' but on the first day, I knew that I was going to be pretty decent at it.
"I was only in eighth grade, and I was jumping almost better that what our best jumper was at the time, so it was a no-brainer for me, and I knew this is what I wanted to do."
It was Sotelo's athleticism and background that first intrigued Fargher, though, not her past track experience.
"I've been a dancer my entire life, and he was telling me how it's usually dancers that are best at triple jump," Sotelo explained. "If you see in pictures how my legs are so spread out when I jump; in dancing, that's literally what you do.
"So Fargher said he thought I could be good in the triple jump, so I tried it – and I really liked it, and here we are."
Fargher's foresight and eye for talent is something that Tyler Gaumer, Sterling's head girls track coach, encourages and appreciates in his assistants.
"I like to give my assistant coaches autonomy to recruit athletes for their events," Gaumer said. "I like them to tell kids, 'Hey, I think you'd be good at this, why don't you give it a try?' I trust them to make those decisions, because when you've got 50 kids out for track, you've got to figure out how each one can help the team. Jason Fargher, Greg Hendrix, Chris Palmer, they'll come to me and say, 'Can I have so and so to do this event,' and I trust their ability to assess talent.
"Credit to Jason for seeing that in Alice. The two of them have clearly figured it out, and I'm very happy about that."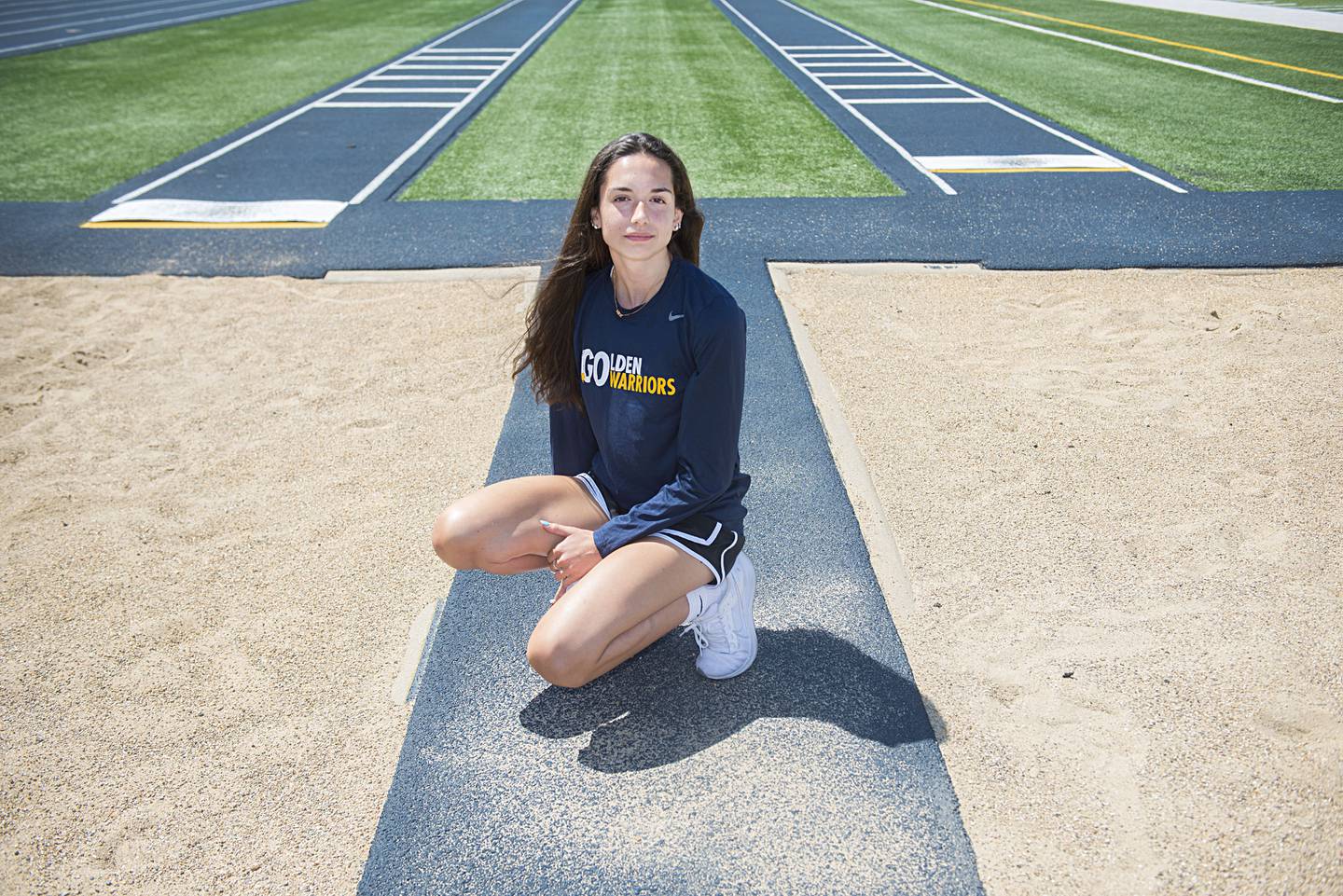 •••
The first sign Sotelo had it figured out came on April 21 at a meet in Geneseo. After jumping in the 34-feet range several times earlier in the season, she broke out big-time with a leap of 36 feet, 2 1/4 inch (11.03 meters) to not only win the event, but break the Sterling record of 36-2 originally set by Tori Gaumer – Tyler's younger sister – in 2001.
But even then, the immediate elation quickly turned into the next goal for the uber-focused Sotelo.
"I never settle for anything," she said. "When I first jumped 36 and broke the record, it was exciting, but at the same time, I thought, 'OK, I know I can hit 36, now let's go for 37.'
"I completely skipped jumping 35 feet, because I was consistently jumping 34, then all of a sudden I go to Geneseo and pop a 36. So I just felt that if I can do that, then I can do so much better."
Her drive and determination to keep getting better served her well over the next four weeks. She broke her own record eight days later at the Sterling Night Relays with a leap of 11.09 meters (36-4) on April 29, then set it again May 11 when she jumped 11.24 meters (36-10 1/2) at the 2A sectional – again in Geneseo.
"Every meet from that first one on, even if I would jump 36-1, I'd think, 'Oh, that's not good enough,'" Sotelo said. "It's funny because it would be better than I had ever done up to then other than that one jump at Geneseo, and now it's not good enough. I just never settled for anything."
That sectional leap tied her for the top seed going into state, and her top jump of 11.13 meters (36-6) in the prelims put her second behind Lincoln's Reese McCuan (11.18).
On her first jump of the finals, Sotelo popped a jump of 11.22 meters (36-9 3/4) to take the lead, and she held it until McCuan leaped 11.30 meters (37-1) on her second attempt.
But again, Sotelo rose to the challenge. She covered 11.36 meters (37-3 1/4) on her final jump, then watched as McCuan scratched on her last jump to give the Sterling junior the state title.
The fourth record-breaking leap, a month to the day of her first school-record jump, didn't surprise Gaumer or Fargher in the least – nor did Sotelo's ability to outdo herself so often in such a short span of time.
"I don't feel surprised, because Jason, to his credit, said that once she gets it, she's going to figure things out quickly and do big things," Gaumer said. "It's just as important in track & field to have the confidence to go out and do it, then once you've done it, can you do it a second time, and a third time, and keep doing it. She was consistently a 34-foot jumper, then she hits one jump at 36 and all of a sudden this is who she is."
And never willing to settle, Sotelo already has another goal she's aiming for in the event that has now made her part of the Sterling girls track & field pantheon.
"It was so progressively smooth and quote-unquote easy for me to break it, so the thought of it being that smooth for someone else just kind of burst my bubble a little bit," she said with a smile. "So I have one year left to make it good enough to where no one will ever break my record."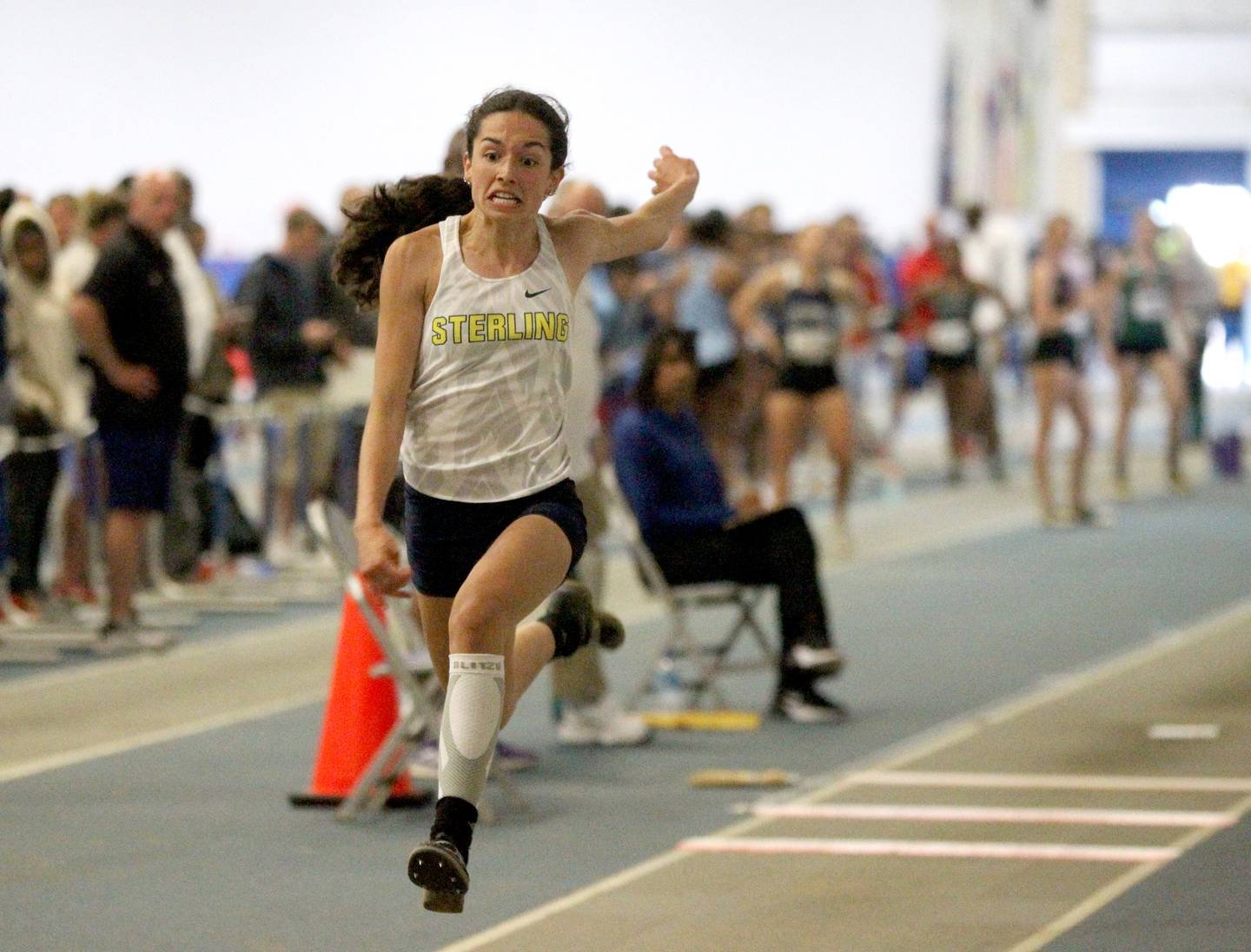 •••
For Sotelo, the state title was her reward for the hard work she has put in on a daily basis over the last calendar year.
From her experience at the state meet her sophomore season – she qualified in her first year of high school track in 2021 after her freshman season was canceled because of COVID-19 – she knew she had so much more to give. She placed 18th at state with a then-personal best leap of 9.87 meters (32 feet, 4 1/2 inches), but it was her mentality about it that got under her own skin.
"It was definitely at state last year where I realized that I want to be on top, and I don't like sitting lower than everyone else," Sotelo said. "I knew I wasn't going to do very well at state last year, because my only goal then was to make it to state, and it seemed that once I qualified for state, it felt like now I could stop trying because that was my only goal. It was kind of frustrating knowing that I did that to myself, and made it my goal only to make it there and not to place or do anything better than just qualify."
That frustration with herself and her mental approach led Sotelo to push herself harder than she ever had before – and with that came the realization that it wasn't just in the meets where she loved the triple jump.
"I started training all last year throughout the summer with Kel Bond and Fargher. I love training, first of all. That's one part of it; I loved knowing that I was getting better. So it kind of just clicked in my head that I want to be the best," she said. "I do it everywhere, just do drills and work on each part of the jump. You can do it anywhere – the sidewalk, the driveway, even at school; I would just be in the hallway at school, and I would just start jumping, and kids would be looking at me funny."
When the season started this spring, she ramped things up even more. While meets were few and far between to start the season because of cold and inclement weather, Sotelo made the most out of every practice session she got, and worked diligently on each piece of the puzzle that makes up the triple jump.
"She continued to refine things throughout the season, just work on a lot of little nuance things; she's super consistent on the board, her run is great, just perfecting all the little pieces to it," Gaumer said. "I don't worry about anything she does, because I know that whatever she's doing, it's going to help her and the team get better."
For a former athlete with a strong competitive streak himself, Sotelo's focus, drive and determination stand out to Gaumer. The intangibles his rising senior brings to the table, both individually and for the team, aren't something you can coach – and they're the mark of a special athlete.
"There's no question her internal engine drives that motivation. We don't need to do anything extrinsic for her to get her going. I don't know where that comes from – it's something her parents probably instilled in her – but she's got that internal motivation. She knows what she wants, and she does what it takes to get it," he said. "She puts in extra time; long before we even start as a team, she's working and preparing for the next season. She didn't have a freshman season, or really much of a sophomore season, and that would've been helpful for her, but she didn't shy away from taking her personal time to work to get better, and the results speak for themselves.
"Everything you see about her, it's what she wants for herself, and she really motivates herself."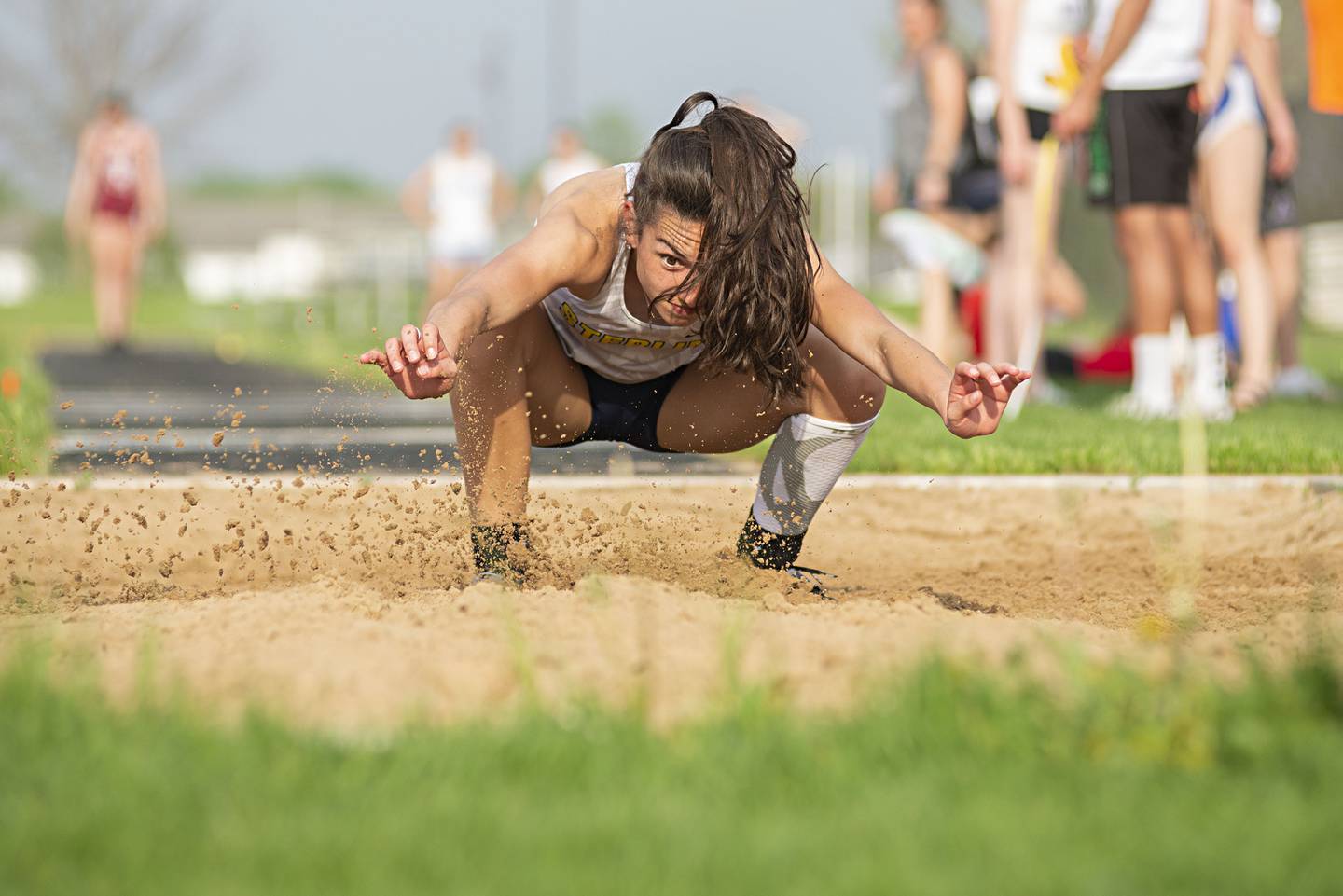 •••
Already a team leader by example, Sotelo was one of the athletes who took the reins as a vocal leader on a young Sterling track & field team this past season. Confident in herself and her abilities, there's nothing cocky about the way Sotelo carries herself; instead, it's more just a matter-of-fact attitude and a businesslike way she has of doing things.
Such confidence, paired with an outgoing personality and strong work ethic, makes Sotelo the perfect person for Gaumer to rely on as a team leader during her senior season in 2023.
"She's a great kid to have in the program, because she does such a great job working on her own and with her teammates, and there's spillover for everybody to come along with her," he said. "A rising tide lifts all boats, and I love her energy.
"The thing we'll look for from her next year is that leadership, and continuing to be that example for the team. People are going to look at her differently now that she's a state champion, and how do we harness that energy and that leadership and that talent to help make the team better while she's getting better."
For her part, there's no reason to think that having a target on her back will faze Sotelo in the least. After being the chaser this past spring, she knows now that she'll be the one everybody in Class 2A is chasing next year – and she's hardly resting on her laurels.
Less than 11 months out from her final state meet, she's already embracing the challenge.
"I'll start training harder now than I was last year, so it's just getting started again – and I'm ready to beat the Alice that was last year," she said.