CHARLESTON – Sauk Valley athletes won 11 medals in nine different events in Saturday's finals at the IHSA Girls State Track & Field Meet at O'Brien Field on the campus of Eastern Illinois University.
Sterling junior Alice Sotelo won the state championship in the Class 2A triple jump, while Oregon senior Jenae Bothe took the state title in the 1A shot put.
But several other locals brought home hardware for finishing in the top nine, while a few others just missed medals.
Fulton's 4x200 relay team of Abbi Thyne, Annaka Hackett, Mikayla Gazo and Lauren Mahoney finished fifth in Class 1A in a school-record time of 1:45.96, improving on their seed time of 1:47.93 from Thursday's prelims.
That time just missed the quartet's own record of 1:43.6, but they were able to surpass it on their final run together; Thyne, Gazo and Mahoney are all seniors.
The Steamers started in Lane 9, meaning they got the furthest stagger and were out in front when the gun sounded. Thyne tried her best to keep that margin in the leadoff leg.
"I was the first runner, and my thought process was since I started farther down in Lane 9, I knew I was going to have to run farther, and I just wanted to be really quick out of the blocks," Thyne said. "The entire time my thought process was telling myself 'I know you can move your legs faster than this, so do it, do it, do it.' It was a pretty good start, and I'm proud of the race we ran."
Hackett said her only thought was to keep anyone from passing her during the second leg.
"When Abbi handed off to me, it was a really good handoff, and I just started running. I could hear someone behind me, but I could not let them beat me, so I just kept running and pushed myself to push the ground away with every step," Hackett said. "I just could not let her beat me, that was my mindset. And then when I handed off, it was really good and I knew it was going to be a good race."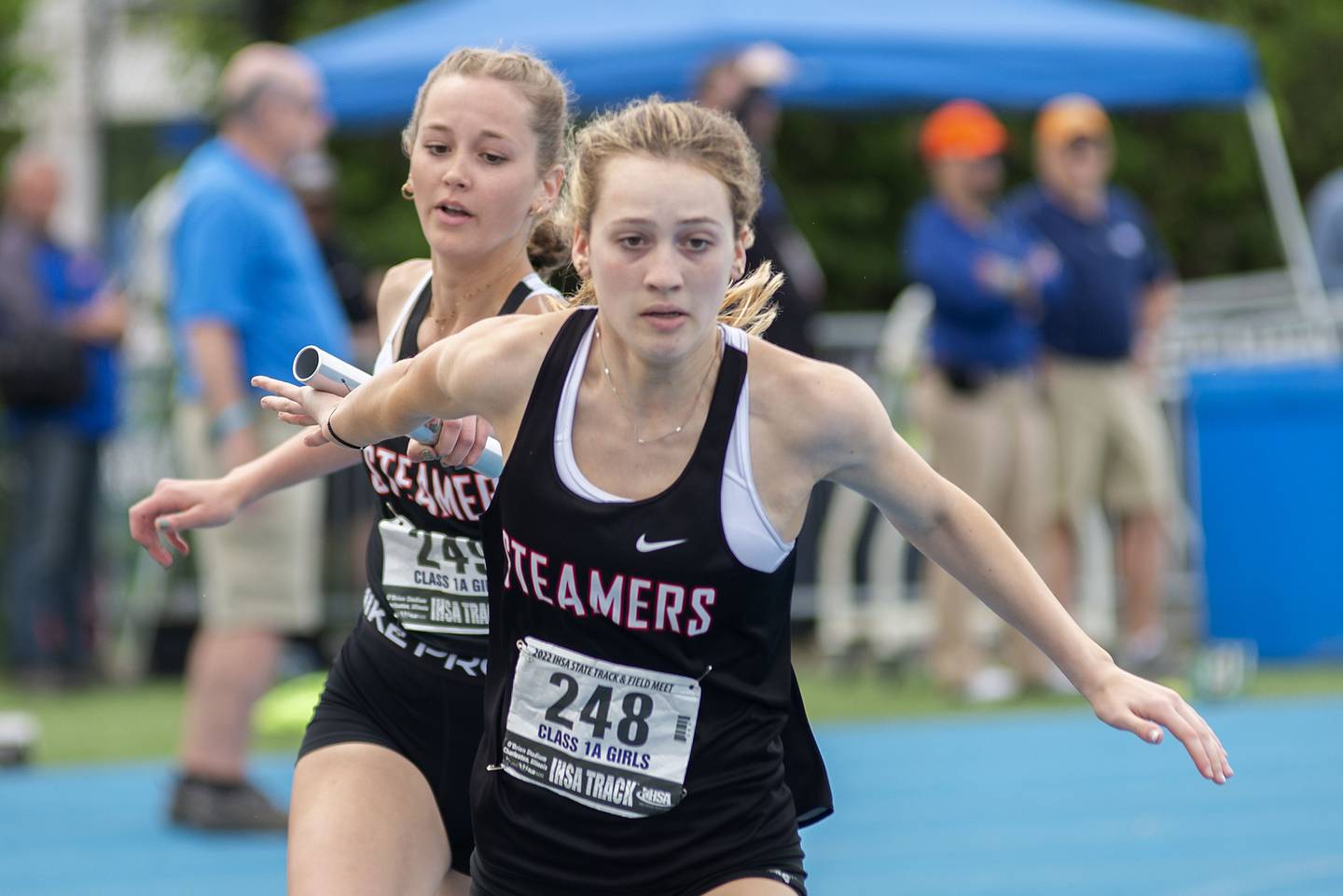 Hackett gave the baton to Gazo, who had made a minor adjustment to her start of the third leg, and it paid dividends.
"I changed my steps to 6 to 10 – it was 7 to 13 – and I was really nervous with that," Gazo said. "So when I saw Annaka coming in, I knew the steps were right because she got it to me perfectly. My thought process was just to get the good steps and we can get it."
Mahoney got the baton and Fulton was still in the hunt, and they ended up improving on their No. 8 seed by three spots.
"Going into it, it was a lot of pressure with the school record as our goal, but we got it," Mahoney said. "Being in the ninth lane is kind of nerve-wracking, because obviously we have the lead right away and you're out in front. But coming around the curve, I was really confident, and it looked like I was getting there fast. The last 100 went really well for me.
"Overall, I think Mikayla really stepped up today, and Abbi started strong, and Annaka is who usually gets us the lead. I was just watching her, trying not to focus on what place we were in when I was running, but I was really confident, for sure."
Mahoney already had a strong run under her belt, as she placed seventh in the 100 just a few races earlier. She ran it in 13.09 seconds, improving on her finals seed by two spots.
Forreston-Polo's Sydni Badertscher tied for fifth in the 1A shot put, as her top prelim throw of 11.37 meters (37 feeet, 3 3/4 inches) carried over and turned out to be her best on the weekend. She credited a loud cheering section for her and Bothe as propelling her effort.
"Actually, I thought I was going to be a lot more nervous; I was definitely more nervous at sectionals, just because I wanted to get down here. Actually throwing down here was less stressful and took the pressure off," the sophomore said. "And just having everyone supporting me was really great; even Jenae's family was cheering me on, which I thought was amazing.
"I'm happy with how I threw, but not in the finals, I think I could've done a lot better. I'll take this experience to next year."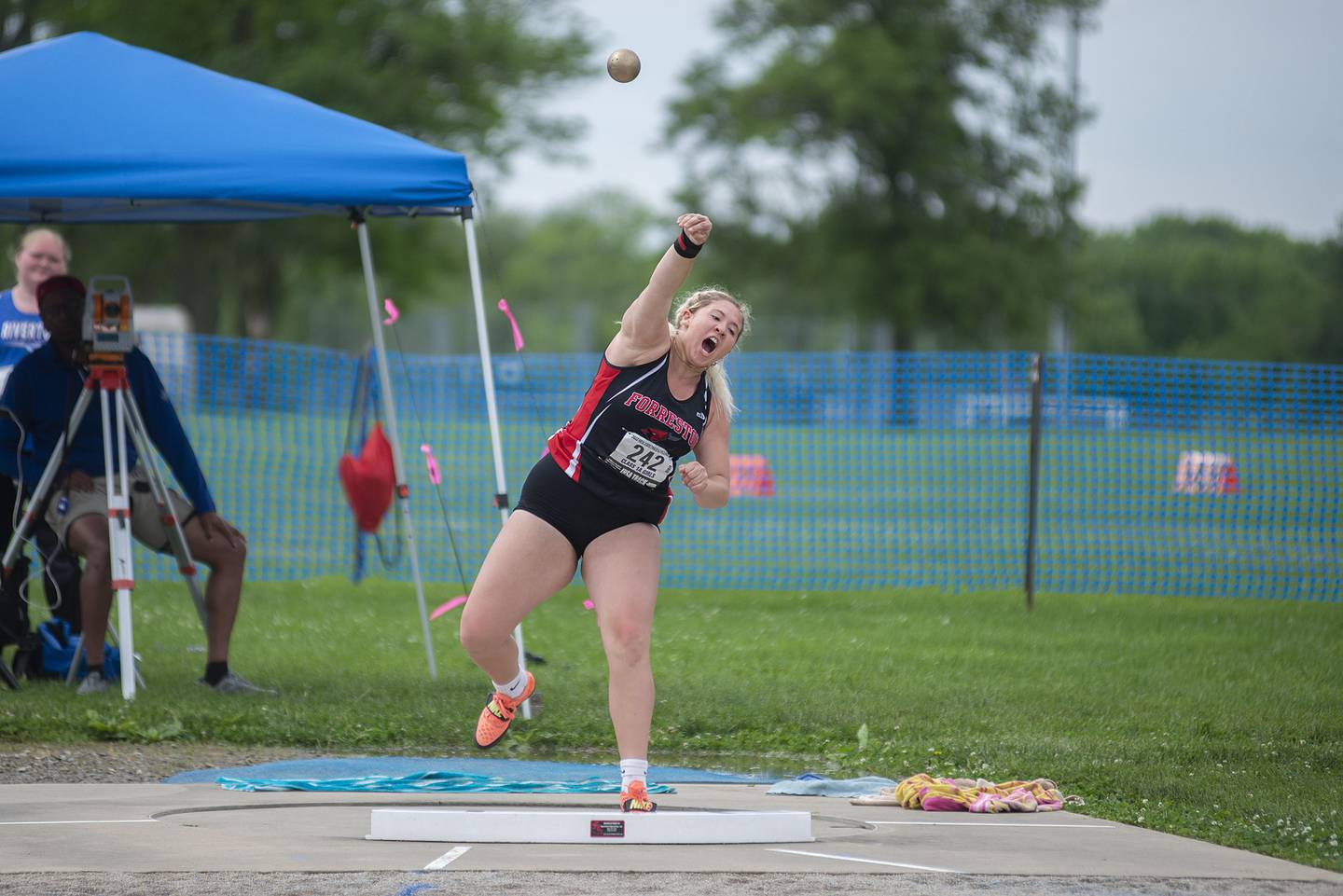 Her Cardinals teammate Letrese Buisker tied for sixth in the 1A high jump, which was moved indoors to Lantz Fieldhouse, adjacent to O'Brien Field. The high jump, long jump, triple jump and pole vault were held inside due to inclement weather.
Buisker was one of 12 high jumpers who all cleared 1.55 meters (5 feet, 1 inch) to qualify for the finals. She then hit her first four heights on Saturday with only one miss, clearing 1.57 meters (5-1 3/4) before bowing out with three misses at 1.60 meters (5-3).
"I did a good job, and it was a good day to jump for me," the sophomore said. "I'm very happy, it's a great experience, and I'm ready for next year. I know what to expect, and I know that I can place higher, and I'm just ready to get back here."
West Carroll freshman Emma Randecker took sixth in the 1A 200 dash, clocking a 26.48 to beat her prelim time by 0.16 seconds.
Amboy co-op sophomore Elly Jones won a pair of medals, placing seventh in the 1A 100 hurdles and ninth in the 1A triple jump.
She ran the hurdles in 15.80 seconds, improving on her seed time by .07 seconds and moving up two spots after qualifying for finals in ninth. She improved on her top prelim triple jump by .02 meters to 10.35 (33-11 1/2), but did not move up from her finals seed.
"I definitely did run a better race; with the competition, it just helps," Jones said. "I just think I was really excited for today, and just did the best that I could.
"Ninth in the triple jump is not what I hoped, but I still have two more years, and I'm definitely going to work on that."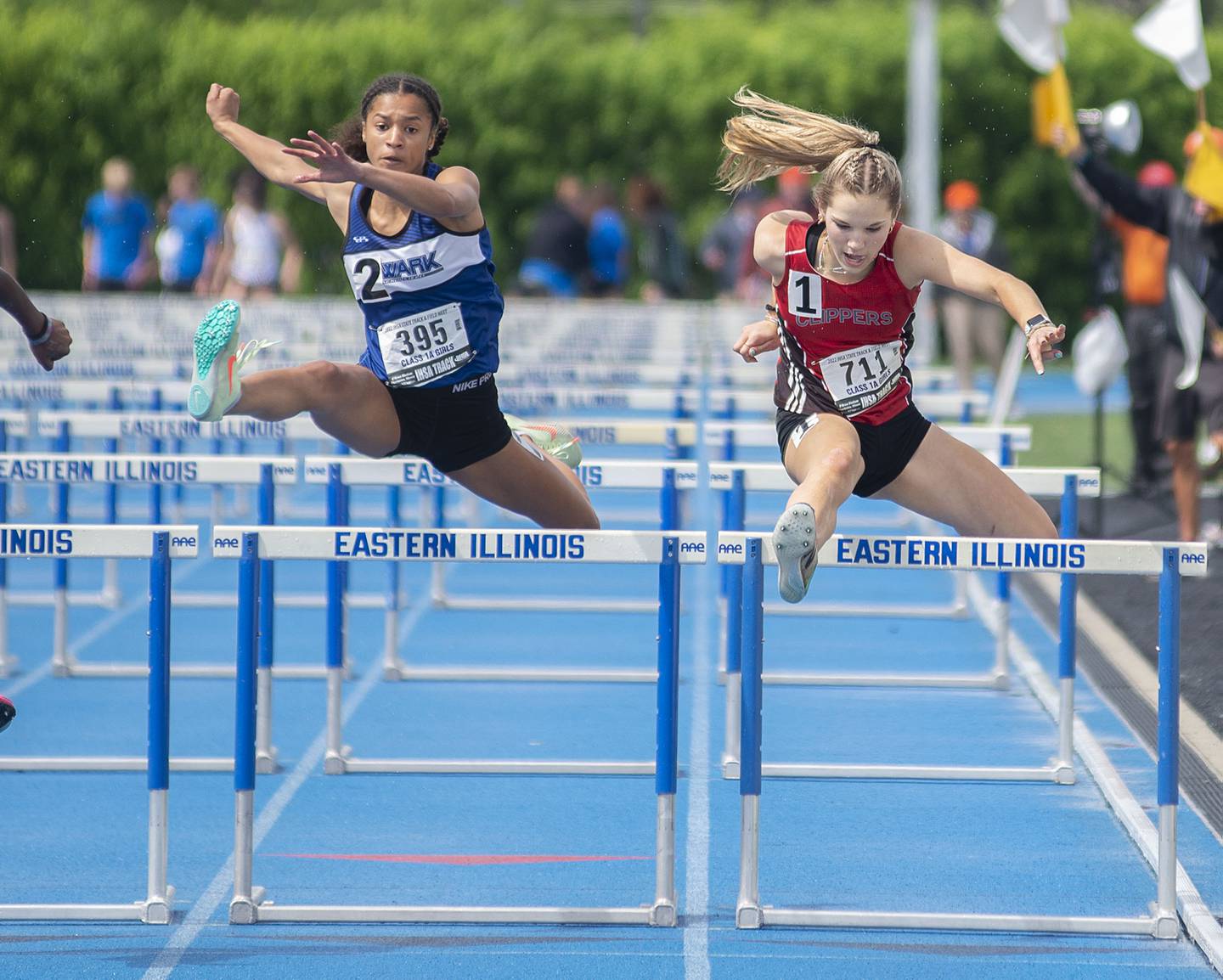 Her Clippers teammate and first cousin Lauren Althaus improved on her finals seed by two spots to finish seventh in the 1A 400, clocking a 1:00.66 to break the school record she just set in Thursday's prelims – she ran a 1:00.83 in that race to break the school record of 1:00.9 she previously shared with her older sister Ashley.
The senior, who will attend St. Ambrose next year but does not plan on running track, was able to soak in the moment during and after her final run on EIU's blue track.
"That's the last time I'll ever run that 400-meter dash, and I gave it everything I had toward the end," Althaus said. "The crowd was screaming, hollering, I know I've got so much support behind me. I've just got to give it my all, I don't want to let myself down, I don't want to let the town down. It's a hard thing to uphold, but I try my best to give it all I've got and push, push, push.
"My dad always says one second, whoosh, that's all, so make the most of it. I gave it my all, everything I had, I left it all on that track for the last time in my entire life. Left it all on Big Blue."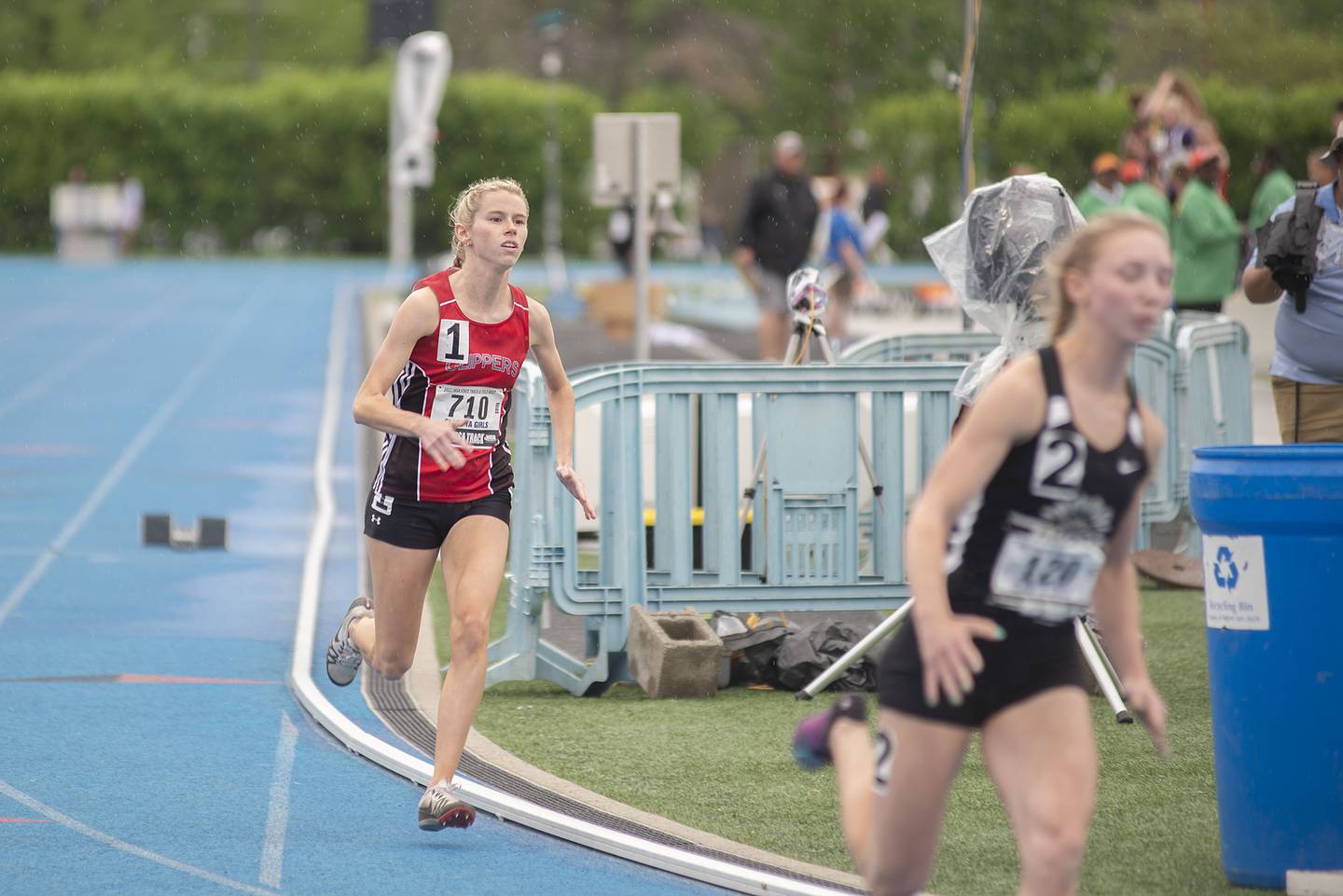 Erie-Prophetstown's Riley Packer finished 10th in the 1A 800, just missing out on a medal by one place and 0.33 seconds. Her time of 2:22.14 was a PR, and moved her up two spots from her 12th seed after prelims. She ran a 2:25.93 in that race.
She led for most of the first lap, only to see a large group pass her right as she got back to the line to start her second lap. Still, the senior was pleased with her performance to close out her Panthers career.
"I usually try in other times I've run this race to get out in front, because it's easier to have people try to catch you when you're in front than staying back and then try to get around them later. So that's what I tried to keep in mind," Packer said. "I think I just realized that pace wasn't fast enough when more people were catching up to me, but I felt really good, so I didn't really expect it.
"I think this is probably the best state experience I've had in my high school career, so the whole experience has been really good."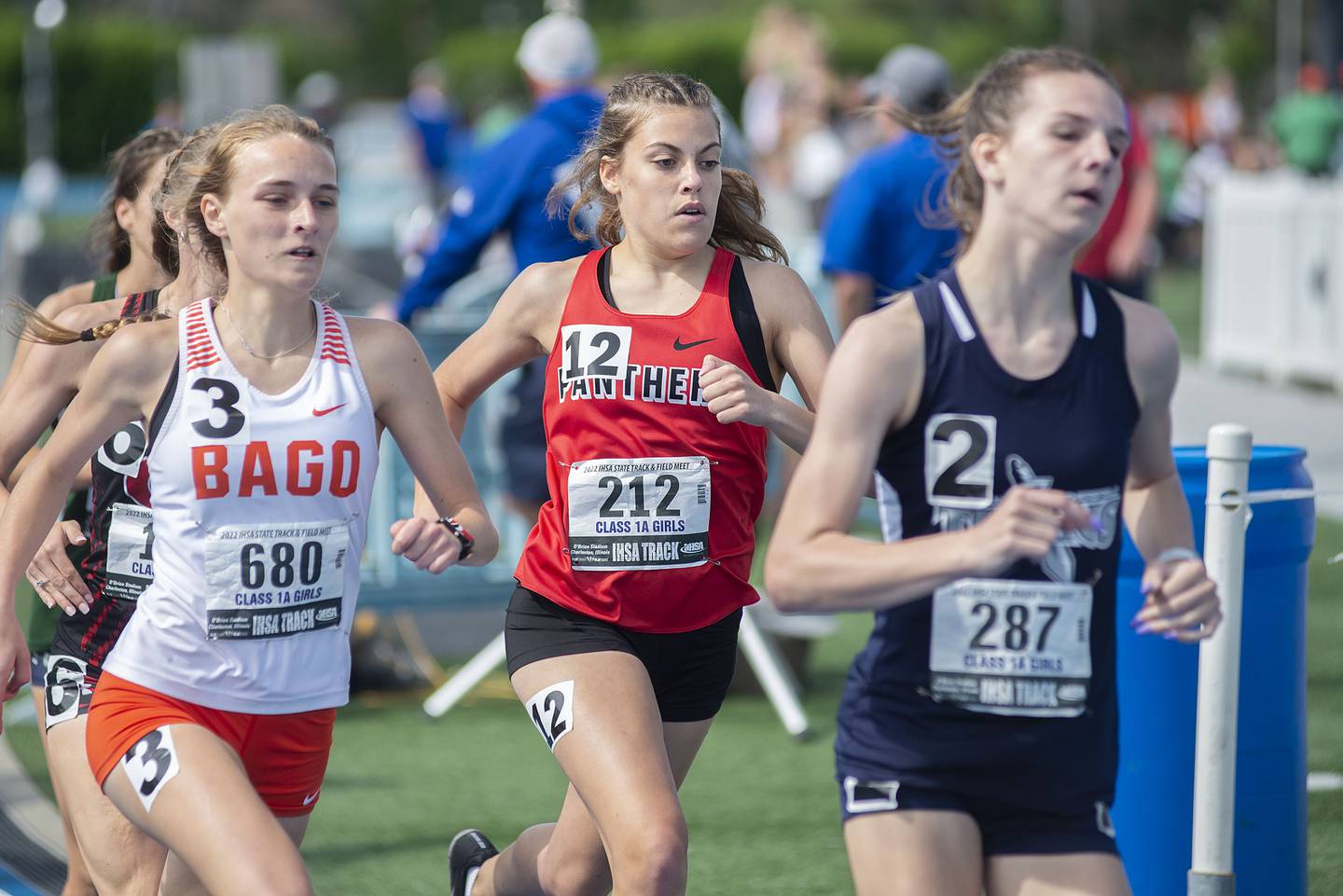 Dixon's 4x800 relay team of Hannah Steinmeyer, Emma Smith, Keeley Mick and Kait Knipple brought home the eighth-place medal with a time of 9:56.91, a new PR. They were seeded fifth coming into the finals, and dropped three spots despite knocking 5.36 seconds off their prelim time of 10:02.27.
Steinmeyer led off for the Duchesses and settled into the lead pack, using a different tactic than when she went all the way to the front and held the lead for the first lap during prelims.
"I had talked to my coach about that, just taking off and getting in a good spot, just not first right off the start, and then making a move in the last 300," the junior said. "I thought that worked out pretty well."
Smith was able to maintain a spot in the top five for the second leg, and fellow sophomore Mick stayed there until the very end of her third leg. That's when several other teams made their moves.
"A lot of girls passed me when I was finishing [my leg], and I'm not really pleased with that, but I think we did all good," Mick said. "I don't really know what happened; I was trying to push, but there was nothing really there. So I just thought 'Finish strong, it is what it is.'
"I think it was a great effort from all of us. We've got next year, so hopefully we come back stronger."
Smith also liked the Duchesses' effort, and pointed out that the place didn't necessarily reflect how well each girl ran.
"It was a good race. For our times all year, that was really good for us as a team, so we were all happy," she said. "I think three out of the four people got a PR, so that's good."
Knipple closed things out by keeping Dixon comfortably in a medal spot, and was happy with how well the foursome stuck to the game plan and ran their best time.
"I was pleased. We PR'd as a team, and we all did what we were supposed to do, which was just compete, and focus less on time and more on pushing with the people around us, and I think we did just that," the junior said. "I feel like it's really a good look into next year, and how much more we can expect to improve, not only training-wise, but we already have the feel of how we all run together. So I definitely feel like it's making next year look very promising to hopefully place even better."
Steinmeyer and Smith were also looking ahead after missing out on medals in their individual races.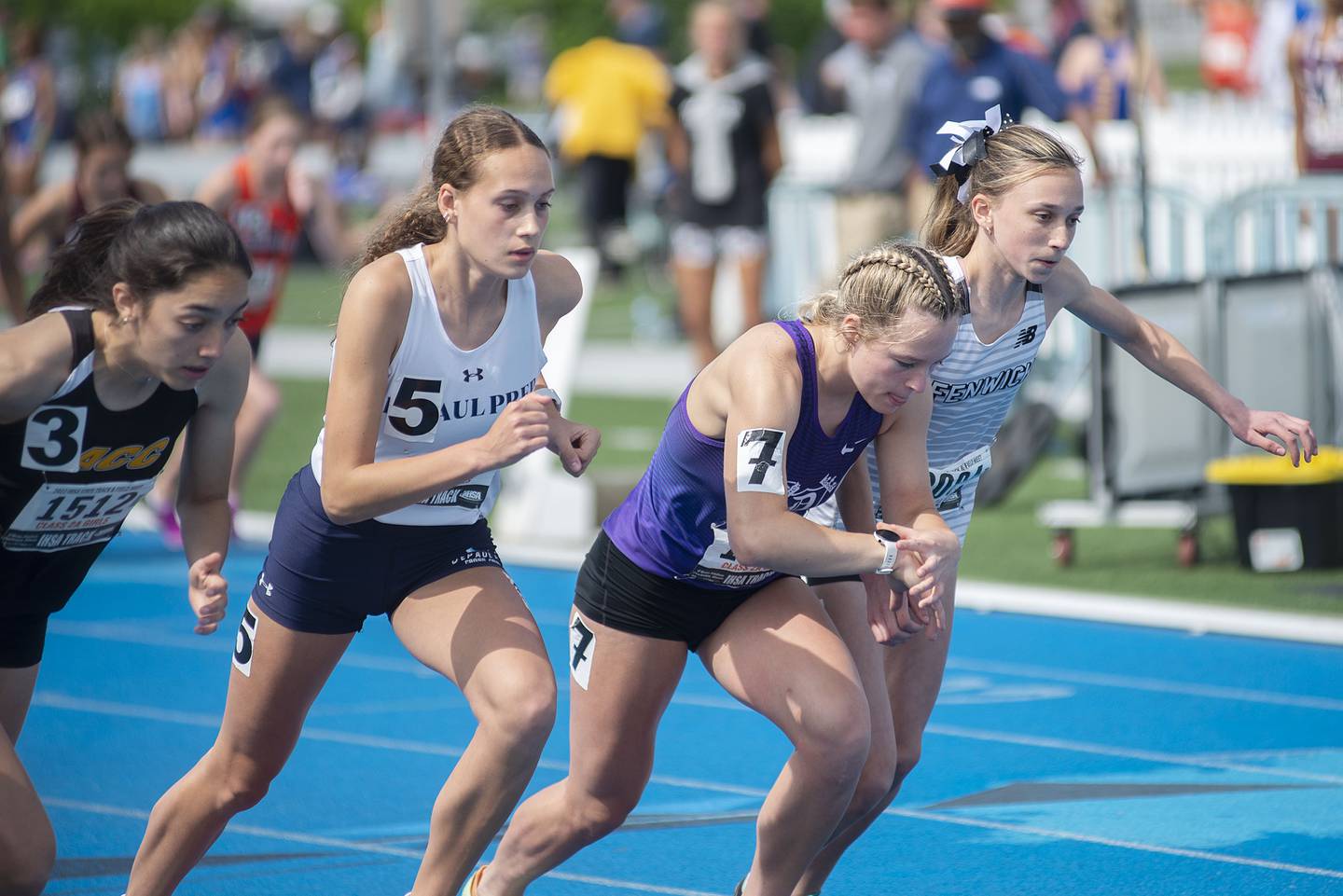 Steinmeyer was initially devastated after taking 11th in the 800; she entered with the seventh seed. But her finals time of 2:23.87 was a PR, and 0.31 seconds faster than her prelim time of 2:24.18, and she was able to put things into perspective after she cooled down.
"It was really good competition, which was really nice. I think just the fourth race in a matter of two days really got to me, I guess," she said. "But it definitely makes me want to get back next year and hopefully finish even better."
Smith was more analytical following her run in the 1600, where she finished 11th in 5:11.93. She came in seeded 12th after a 5:19.42 in prelims, and proceeded to stick right behind the main pack for a couple of laps, and sit in fifth place through the third before being passed by the pack that was behind her.
The experience of the weekend left her looking forward, as well.
"That was probably one of my PRs in the 400, so it was definitely a really fast start," she said. "I felt strong through the third lap, and then all of a sudden it just fell off. So I'm still going to work hard for next year, and hopefully I'll get a medal."