MANLIUS – Going into Wednesday's Class 1A Bureau Valley Sectional, Newman sophomore Jess Johns hadn't been able to compete in too many track meets. In fact, the four-sport athlete hasn't even been able to practice a lot, with all the makeup games for the softball team the last few weeks.
But working on some little things at her most recent practice turned into a big result, as she qualified for next week's state meet in Charleston with a second-place finish in the high jump by clearing 1.47 meters.
"I was looking at the rankings and I was thinking it as going to be pretty close, but I didn't honestly think about qualifying," Johns said. "At the one practice I did go to, we re-measured steps and my approach. At the earlier meets when I wasn't jumping well, I started slowing down before I got to the bar, so I fixed that. We also worked on going up and over the bar instead of into the bar, because my momentum would finish the rest for me.
"We just worked on a couple small things, and they worked."
[ Photos from the girls track & field Class 1A Bureau Valley Sectional ]
Johns was one of several Sauk Valley area athletes to advance to state. She'll be joined in Charleston by a duo from Amboy-LaMoille-Ohio-AFC, and large contingents from Erie-Prophetstown and Fulton.
The Panthers placed second (83.75 points) and the Steamers took third (79) behind sectional champion Annawan-Wethersfield (125), while Indian Creek (60) and the Clippers (57.75) rounded out the top five in the team standings.
Amboy's Elly Jones qualified for state in all four of her events. She won the 100 hurdles (16.23 seconds), 300 hurdles (50.40 seconds) and long jump (5.06 meters), and she took third in the triple jump. The top two in each event advance, as does anyone who meets the state qualifying mark in that event; Jones surpassed that mark in the triple jump by leaping 10.47 meters.
Having so much success with such a full schedule is a point of pride for the Clipper, and her concerns about her last event of the day turned out to be unfounded. She finished the curve in the 300 hurdles in fourth place, but passed up everyone else down the home stretch to take the sectional crown.
"It's really cool. It's a good experience making it to state in all these events, especially since I'm so young. I'm only a sophomore, so I have two more years," she said. "It's really hard to focus on one event at a time. At long jump, I was thinking about the 300 hurdles, and that was on my mind all day, because that's the one I was most worried about.
"But it's awesome to get to state. I just want to go down there and have fun, maybe get a few medals, and make everyone proud."
Teammate Lauren Althaus will join Jones in Charleston after winning the 200 (26.61 seconds) and taking second in the 400 (1:01.24). The senior was pleased with her finishes, because she wasn't ready for her high school track career to be over just yet.
"I knew what I had to do, because I knew it was going to be a close race, and I left it all on the track, gave it my all. I knew this was not going to be my last race, because I want to leave it all on the big blue track," she said. "It was a very good experience. I knew I had to give it my all to get another week.
"It's taken a lot of hard work and dedication to get where I'm at today. I've been doing this for the past eight years, so it's a physical and mental game, for sure. … I'm ready to take on the challenge, and get down to Charleston and give them what I've got."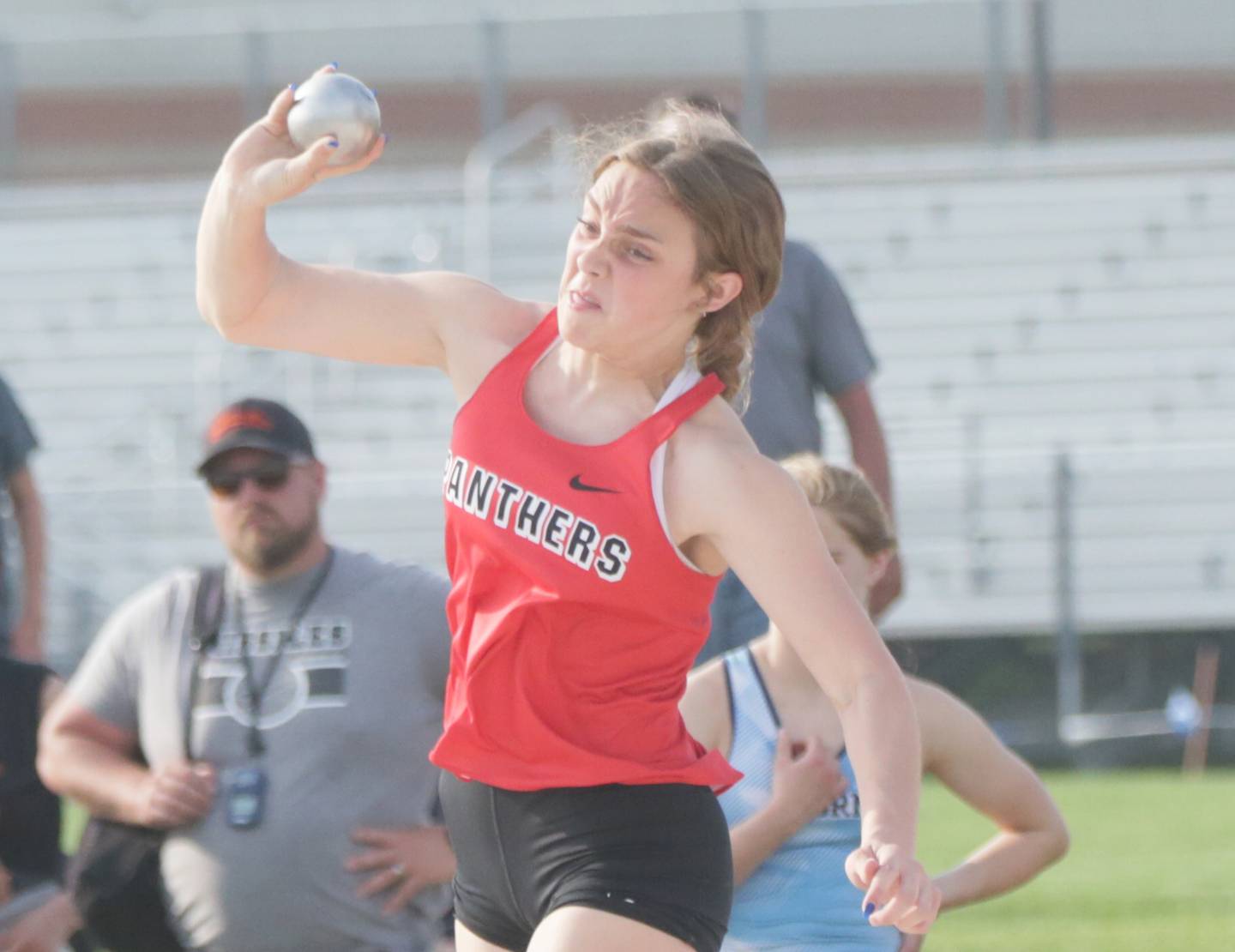 Erie-Prophetstown will send eight athletes to compete at state in seven individual events and a relay. Kennedy Buck led the charge with second-place finishes in the shot put (10.70 meters) and 200 (26.93 seconds), and she matched the state qualifying time in the 400 (1:02.04) with her third-place finish.
"It's going to be good and busy next week," she said. "The goal would be definitely medaling, but a PR would be good too, knowing that I have a lot more competition, and I didn't see a lot of that this season.
"I feel like we all performed really well, even though it was super hot; last week, we were covering up under umbrellas for rain and cold, and now it's for the blazing-hot sun."
Brianna Neumiller won the discus with a toss of 34.92 meters, and Dylan Chandler, Jade Nickerson, Jillian Norman and Riley Packer teamed up to take the 4x800 title (10:59.05), living up to their top seed in the event and winning it by 32.75 seconds.
'We knew we were ranked first, and we had really high expectations for that team, but we just wanted to all focus on our own race and run well," Packer said. "Once I got the baton, I knew that we had a big enough lead – I didn't want to look behind me and see, but I could kind of tell from where we were at that we were in good shape. My coach was even telling me to slow down by the second lap, because I still had my open 800 to worry about, and she didn't want me to kill myself for that one."
She left plenty in the tank for the 800, taking second in 2:27.22 to advance to Charleston in that event as well.
"I was super nervous and super anxious, but the race itself went really well," Packer said. I knew my biggest competition was probably Kennady Anderson [from Annawan-Wethersfield]; she's really good. But the race went really well, and I was super happy with myself, and I feel like I ran hard and just focused on running my own race the way I'm supposed to run it, and didn't let the competition get to me too much, so I was really happy with that."
The Titans' Anderson swept the distance races, as she took the 800 (2:23.21), the 1600 (5:36.25) and the 3200 (11:55.67).
Hayley Wuebben and Olivia Purvis rounded out the group of state qualifiers for the Panthers, finishing 2-3 in the pole vault. Wuebben cleared 2.90 meters, and Purvis matched the state qualifying mark at 2.74 meters.
Those two have been placing first and second at meets all year long, and Purvis believes that's what pushed both of them to fare so well Wednesday.
"I think that using each other to challenge ourselves was a big part of that," she said. "We were neck-and-neck in a lot of meets this year, and I think that really helped just pushing us."
Both Panther vaulters are looking forward to soaking in the experience at the state meet together.
"It's super exciting, especially since last year it was a shortened meet, so this year she'll get the full experience and I'll get the full experience for my last year," Wuebben said. "Having another person down there with you kind of cools your nerves a little bit."
"It's really nice," Purvis added. "There are so many people down there, and waiting around for everything, it releases a lot of the anxiety having someone there with you."
Having looked forward to the state meet her entire senior year, Wuebben isn't putting any extra pressure on herself by thinking about a particular finish in Charleston.
"I definitely want to PR down at state. Today, I almost got a PR, but the standards were in the wrong positioning," she said. "But I'm hoping to clear 10 feet at least down at state, and honestly just have a good time, one last hurrah before I'm done."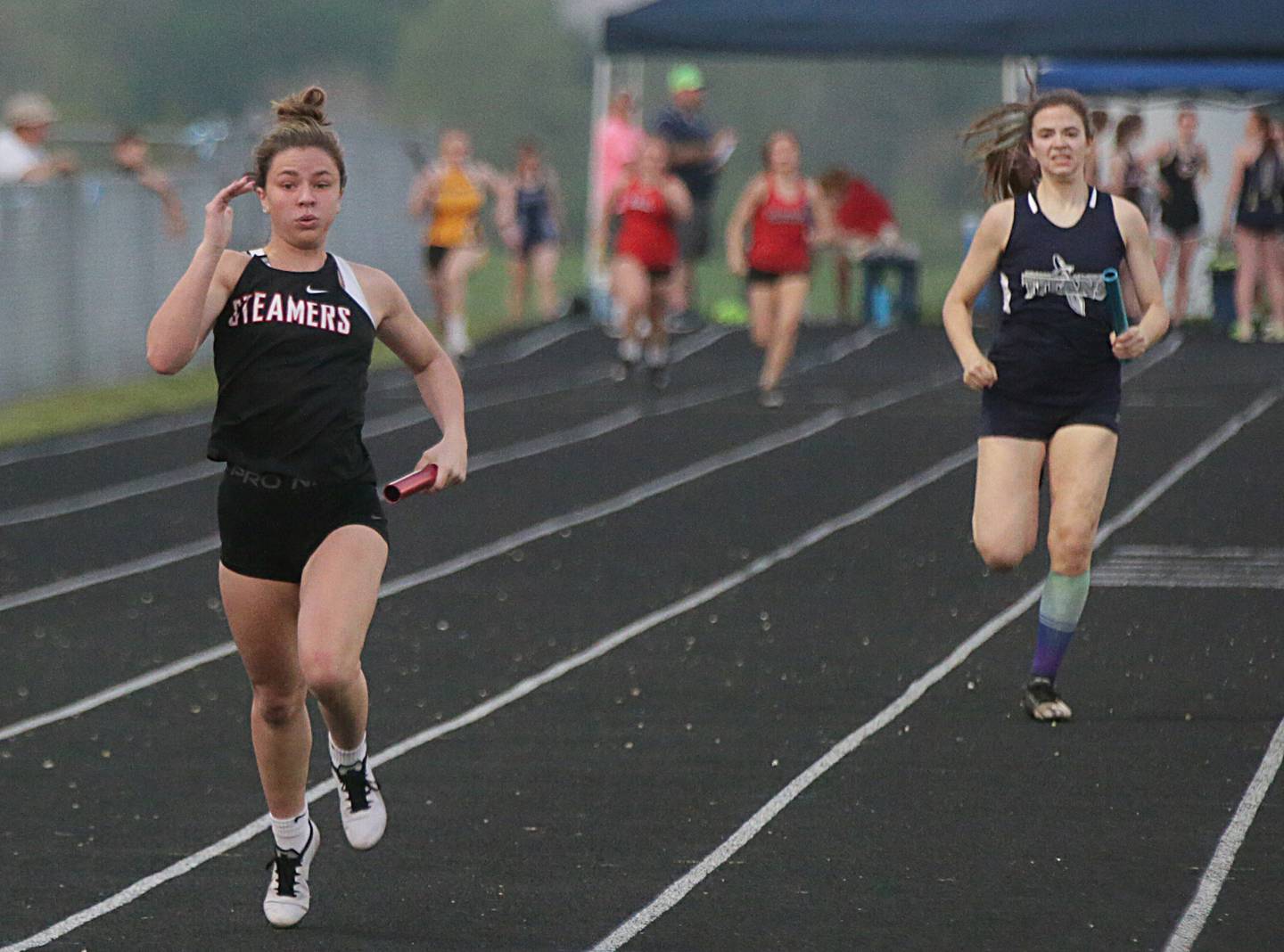 Fulton also has a lot of athletes looking forward to next week's final hurrah for the 2022 season. Lauren Mahoney won the 100 in 12.74 seconds, and was on three of the four relays the Steamers will send to O'Brien Field.
She teamed with Abbigail Thyne, Annaka Hackett and Mikayla Gazo to win the 4x200 (1:49.58), then joined Brooklyn Brennan, Miraya Pessman and Gazo to close out the meet with a come-from-behind win in the 4x400 (4:16.79).
"Qualifying in four events, it's really weird to think about that," Mahoney said. "Going into this, I had a lot of confidence because of the weather being so much nicer. This is my senior year, and I was hurt freshman and junior year, and sophomore year we didn't have track because of COVID. So it was a lot of pressure, especially my individual race; that was my main goal, to qualify in that, because I had a lot of confidence in the relays."
The 4x400 held a bit more pressure than usual for the Steamers, according to Gazo. After qualifying in the first three relay races of the meet, she and her teammates wanted to finish off the 4-for-4 performance. She took advantage of the lead her teammates had forged through the first three legs, and held off Annawan-Wethersfield in the anchor leg as Fulton won by 0.67 seconds.
"I was so nervous for that last race. This will be the first time in a while that all four relays will go to state, and it's kind of exciting to know we're the first team in a while to do this. Being part of it is just amazing," she said. "It's nerve-wracking watching it all happen. You see your teammate pass someone, then they get passed and you have to move back from the front of the line while you're waiting for the baton.
"It's that moment when you're inching forward and thinking, 'Oh my goodness, I'm getting closer to running this.' And I just went out and ran as fast and hard as I could for that final lap."
Gazo and Mahoney also took part in the runner-up 4x100 (50.98 seconds), teaming with Pessman and Thyne. The quartet of Kali Brewer, Aliya Bueno, Olivia Knott and Jasmine Moreland added a second in the 4x800 (11:31.80).
Bureau Valley placed seventh with 18 points, led by third-place finishes in the 4x100 (53.66 seconds) and 4x200 (1:56.16). Ashley Nordstrom added a fourth in the shot put (10.03 meters).
Milledgeville-Eastland was ninth with 15 points. Quinc Haverland took third in the discus (31.10 meters), while Skyler Hartman (3200, 14:20.45) and Lynn Stringini (300 hurdles, 51.31 seconds) both finished fourth.
Newman tied with Hall for 10th with 13 points, and Morrison finished 14th (5 points). Erika King's fourth place in the 400 (1:05.90) led the Fillies.