STERLING – As the shadows lengthened and the lights finally popped on, as their teammates watched intently, Dixon's Chloe Coil and Sterling's Ellie Aitken kept on playing.
After Coil won a tiebreaker to finish a first set that took an hour and a half, she took that momentum into the second set for a win at No. 1 singles, giving the Duchesses a 3-2 victory over the Golden Warriors on Thursday evening in Sterling.
"It was so fun," Coil said of the match that lasted more than two hours. "I'm definitely not as experienced as her, but one thing I definitely am not is a quitter. I just kept going as much as I could."
"It gets tiring after a while, when the ball keeps coming back over the net, but she's a good player for sure," Aitken said.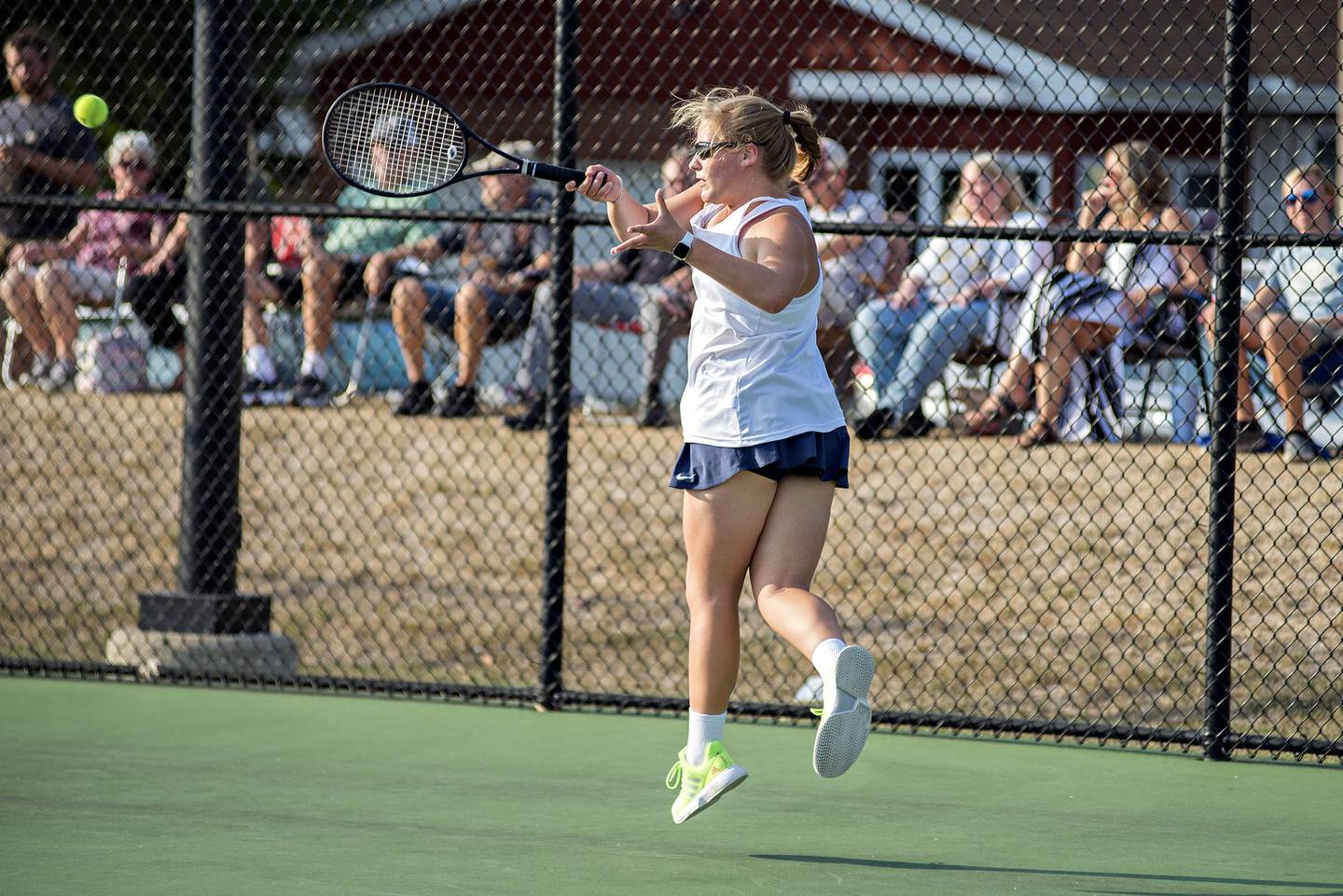 Coil trailed 4-0 in the first set before rallying. She then trailed 4-3 in the tiebreaker before scoring four of the final five points to win it 7-5.
"I'm never a shouter, but after I won the tiebreaker, something went over me and I was just so happy," Coil said.
She then finished it off in the second set, winning the final four games for a 7-6 (5), 6-1 victory that gave Dixon the team win.
"I played with confidence in the second set that I definitely didn't have in the first set," Coil said. "When I was down 0-4, I thought, 'Well, this is the meet, I don't think I can get back from this.' But then I thought, 'When have I ever quit down 0-4, until it's 0-6. I'm not going to quit.'"
While the loss was a disappointing one for Aitken, she chalked it up as another learning experience in a freshman season spent at No. 1 singles.
"I think she hit more shots with more power in the second set, and I think that gave her more confidence. I think I got tired and worn out from the first set," Aitken said. "It's a challenge, but it's not always about winning, it's about doing the best you can. Your freshman year is a learning experience, and I'm just trying to learn to adapt my strategies from playing new people."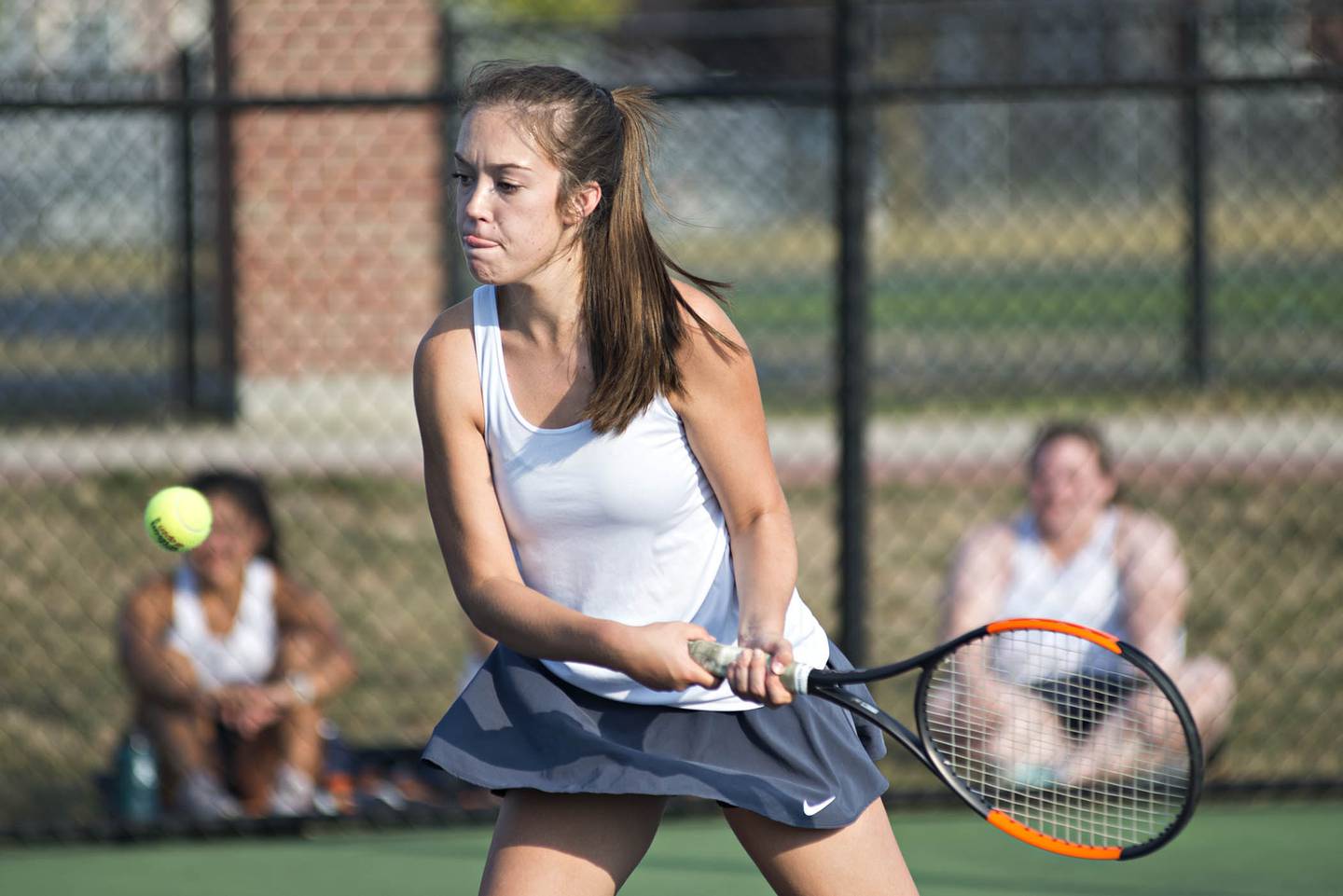 On Senior Night, Sterling's Jenica Francis had her No. 2 singles match against Miriya Jones livestreamed on the Golden Warriors network. She said it was a bit of an adjustment playing on the main court, as it were, but she was in control the whole way for a 6-2, 6-1 victory. That tied the meet 2-2.
"Honestly, it was definitely nerve-wracking at some points, because I would say my score and then I would hear it quietly repeated by Jim Spencer behind me. I'd forget that he was there, and then I remembered as soon as I was ready to play," Francis said. "But it ended up being perfectly fine. The points that I won, I would hit the ball away from where she would be standing. She was very good at returning my shots, so I knew that if I wanted to win the point, I'd have to hit it hard and away from her."
The first match completed was at No. 3 doubles, where Sterling's Tori Arduini and Ireen Hilty defeated Dixon's Leah Stees and Siena Kemmeren 6-1, 6-1.
Shortly after that, the Duchesses' No. 1 doubles team of Leah Kuehl and Grace Ferguson downed Anna Meltzer and Layla Tablante 6-3, 6-1 to tie the dual at 1-1.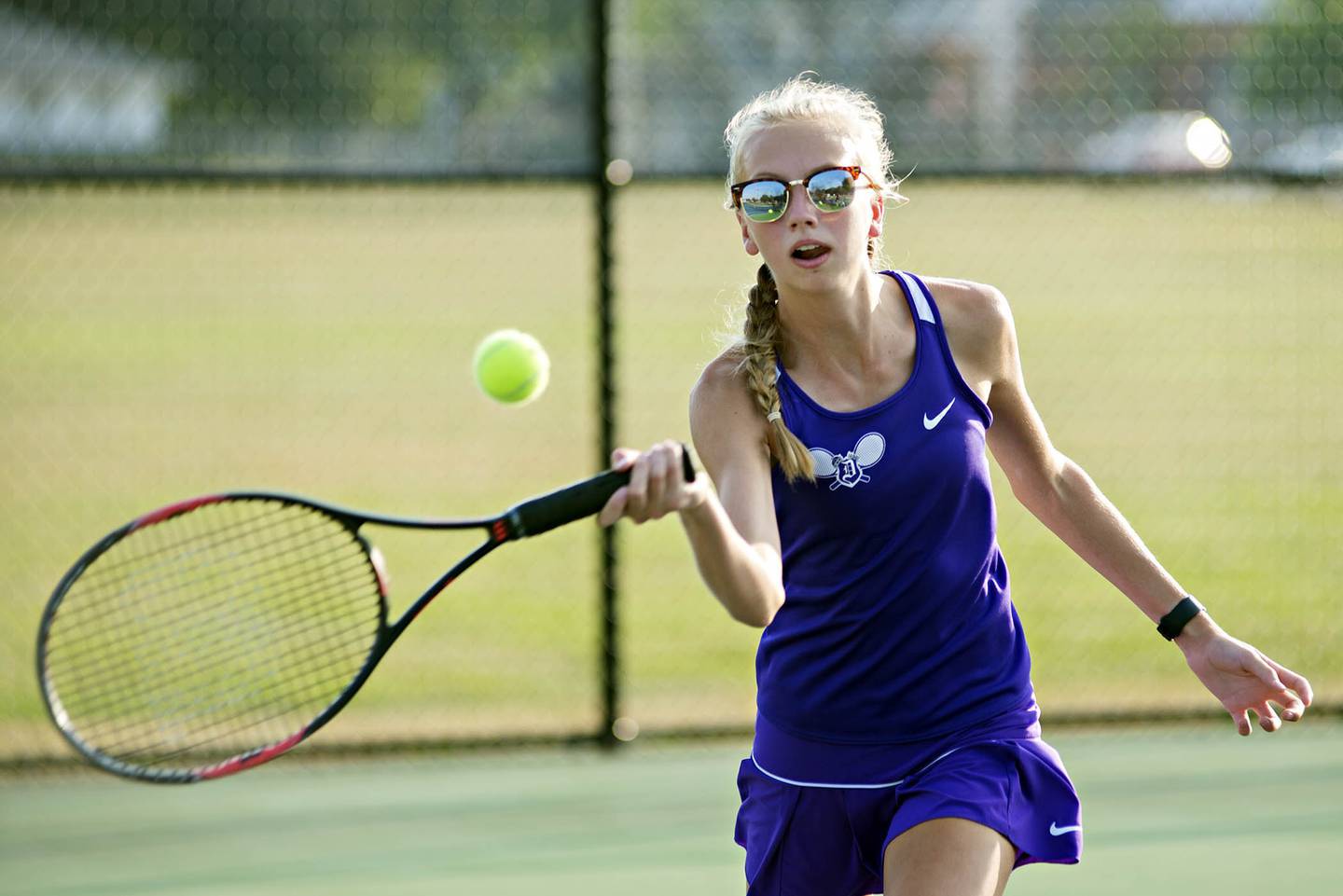 Dixon then took a 2-1 lead when Addison Arjes and Kyarra McGlown beat Sterling's Madison Hubbs and Sam Feather 6-4, 6-1 at No. 2 doubles.
Arjes pointed to a couple of key elements that helped the Duchesses duo prevail.
"Our angles on our net shots was what we really focused on, and getting our first serves in was a big key," she said. "We hit a lot of lobs, too, because they'd both come up to the net, so we'd lob it over them so they couldn't get to it."
McGlown, a senior, has enjoyed being partnered with the freshman Arjes, and the two have become very comfortable on the court together in a short span of time. She credits the complementary styles of the two players as being the main reason for the strong partnership.
"I feel like I'm a bit better at the net, because Addison will go for harder shots, and I more just try to place it where the other team isn't. And Addison is really consistent at the back, and my backhand isn't the strongest, so she covers for that," McGlown said. "It makes the game a lot easier, because you can focus on what you're good at instead of trying to do everything. What you're not as good at, your teammate can get it for you."