DIXON – The Newman girls tennis team blanked Galesburg 5-0 on Monday afternoon at Sauk Valley Community College, but the Comets found different ways to win matches on their way to the sweep.
Sarah Tunink and Marisel Schalck won easily in singles play, but two of Newman's doubles teams had to work a little harder to win their matches, prevailing in third-set tiebreakers.
The longest match of the day had everybody from both teams watching at the end. Newman's Lilliana Campbell and Julia Rhodes won a close first set, then lost the second set before pushing through a tiebreaker to claim a 7-5, 3-6, 10-7 victory.
"It was really just focusing on winning each point [in the tiebreaker]," Rhodes said. "I really rely on Lilliana; she's definitely my strength during the games. We just focused on every point and brushed off the ones we lost. We just had to forget the games we already played, rely on our strengths, and try hard to pull out each point. We know it'll be over soon. so we know we have to just fight through it."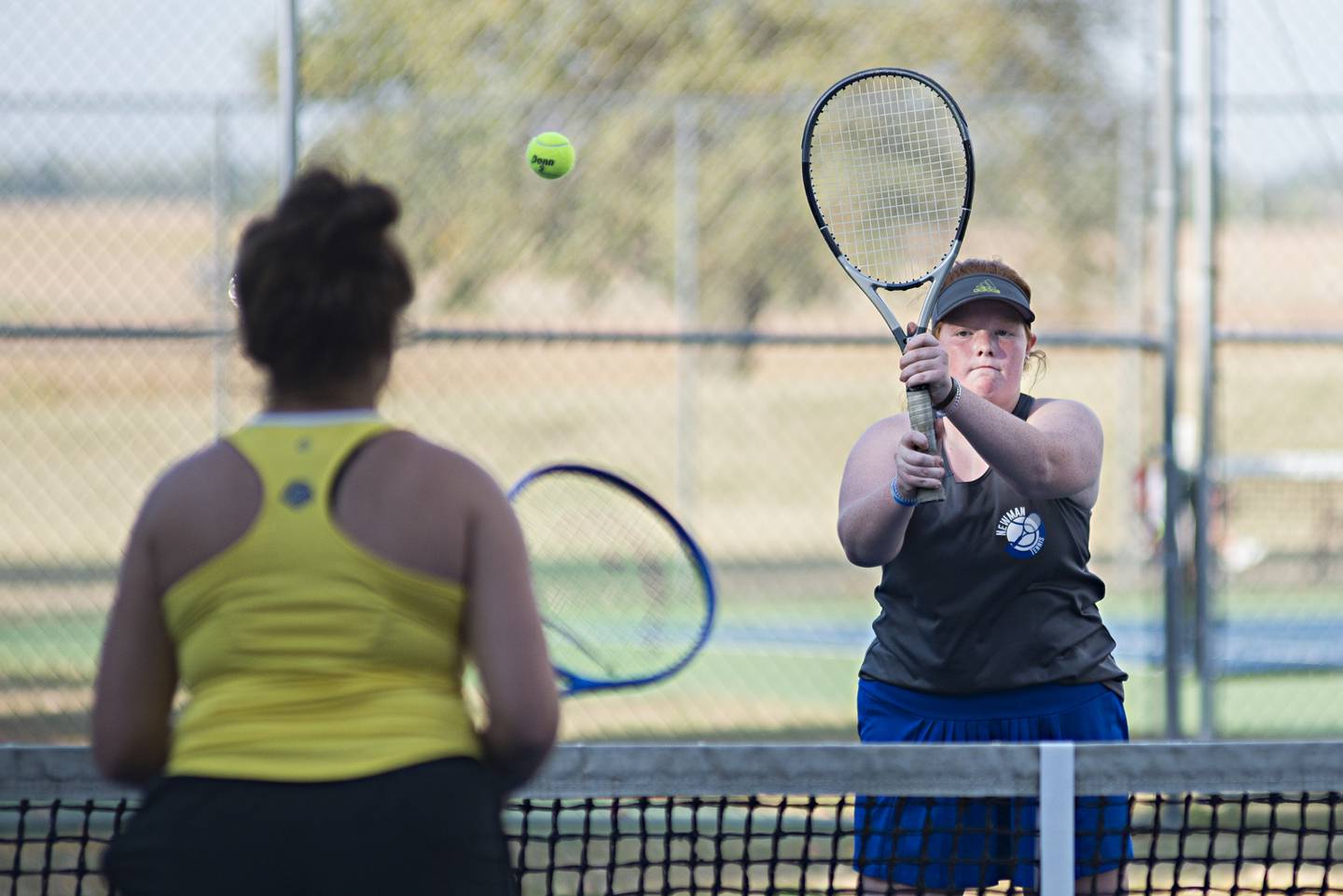 Newman never trailed in the tiebreaker, but it was close throughout. The Comets led 3-1 on Campbell's overhead shot at the net, then Galesburg's Kaidence Wilson and Sariah Simmons battled back to tie it 3-3. A Rhodes ace and a Galesburg hit out of bounds gave Newman a 5-3 lead, then another Galesburg misfire made it 6-4.
After a Newman error, Simmons hit a winner to tie the score 6-6, but a Galesburg miscue and another Campbell winner at the net made it 8-6 Newman. A double fault by Galesburg put the Comets at match point, and a Silver Streaks return shot then went long to give Newman the victory.
"We've both been playing for a while, and we're a really good team together, so just the fact that we're really close friends helped us get through the tiebreaker," Campbell said. "It was those long rallies we had to fight to win, and everyone did really good, but I think in total, we did super good today.
"We had some really good shots at the net where we slammed it down and kept them from getting to it. And I think just working together, talking to each other, that helped a lot."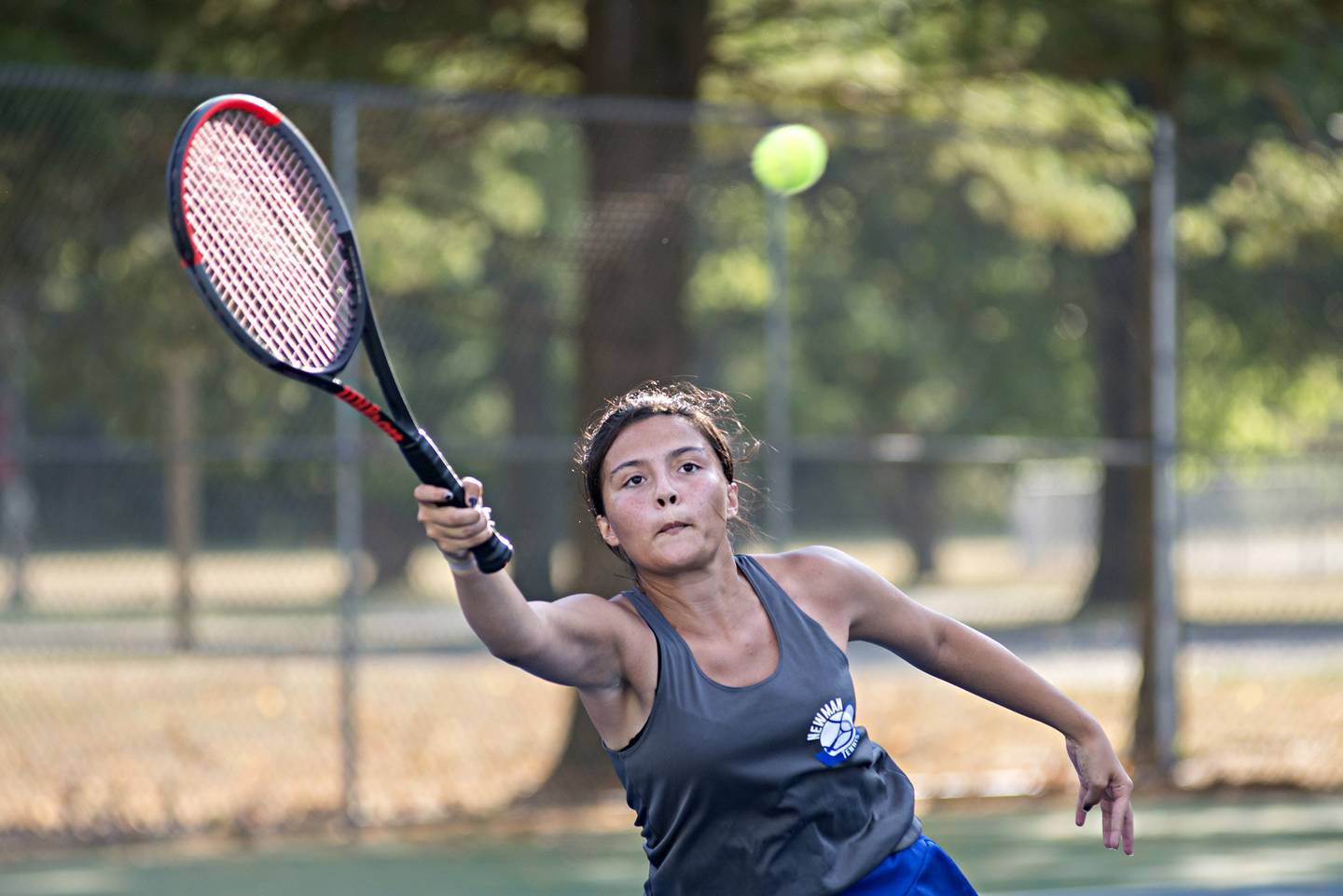 Rhodes also pointed to the duo's communication and tight-knit relationship as the keys when things got tight at the end.
"We like to talk a lot, so I think we just communicate really well together," she said. "We're best friends, and that really helps. It worked out for us."
The Comets also won a third-set tiebreaker 10-7 at No. 3 doubles to pick up that victory. Sarah Murray and Emma Oswalt defeated Galesburg's Abigail Springer and Divine Diasilua 6-4, 5-7, 10-7, regrouping well after that close lost in the second set to pull out the win.
Joy Zigler and Cecilia Sagel had a bit easier time of it at No. 2 doubles, defeating Jamirah Morris and Sofia Garza 6-2, 6-4.
The singles matches were less stressful for the Comets, as Tunink and Schalck combined to lose just three games on their way to victory.
Schalck cruised at No. 2, downing Brigid Leahy 6-0, 6-1. When the Newman senior wasn't hitting winners, her consistent return shots forced Leahy to move around the court and into mistakes.
"I just tried to hit a lot of down-the-line shots, and that seemed to work pretty well," said Schalck, who performed well back in her usual spot after filling in for Tunink at No. 1 singles Saturday at the Sterling Invite and placing second. "We were a little stressed out at first because we haven't played Galesburg this season and didn't know anything about them, but after we got into the matches, things went well."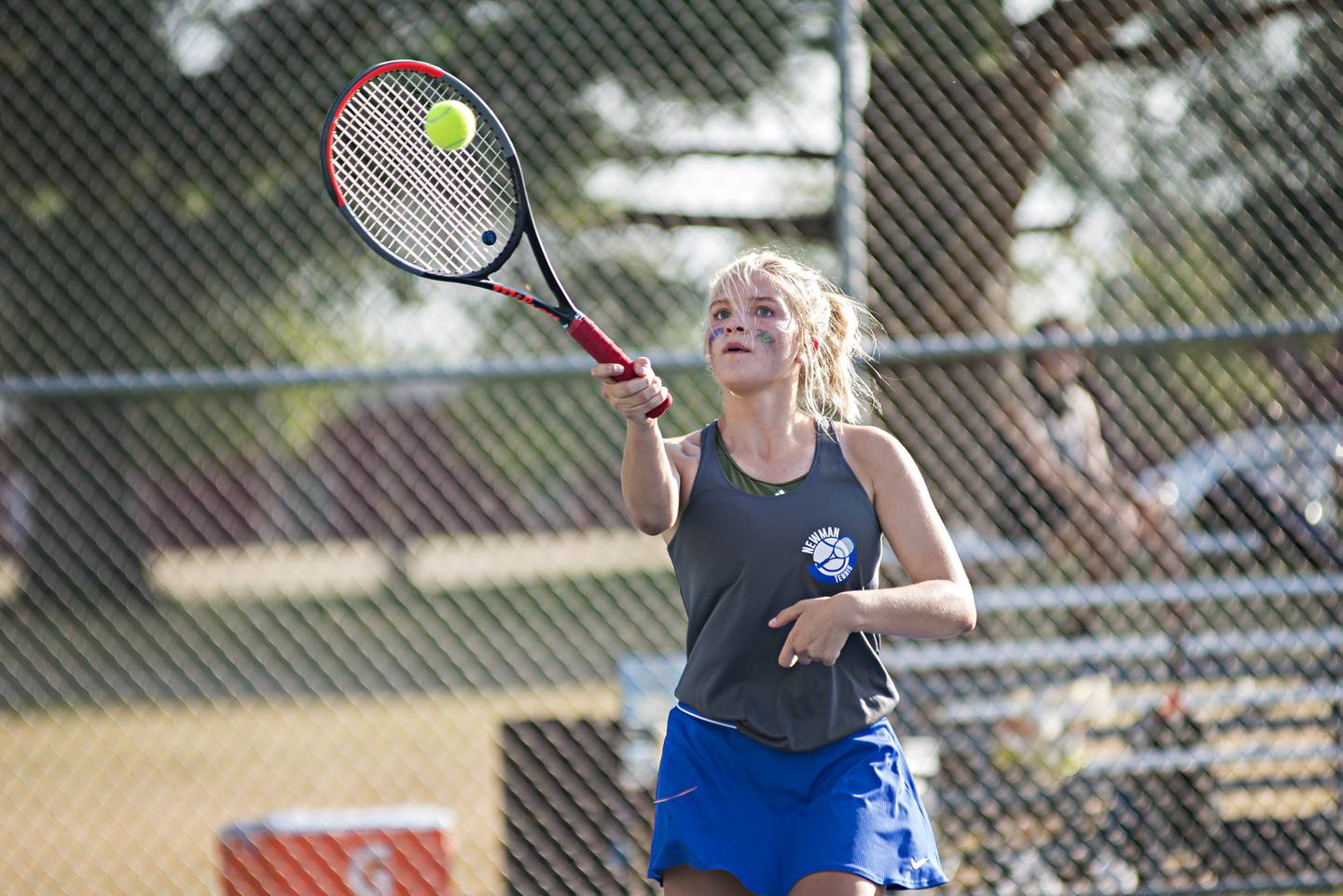 Tunink battled through a bit of an upset stomach in a 6-1, 6-1 win over Abbie McCartney, using her serve as her main weapon. In one game during the second set, Tunink won all four points with aces; it's something she's been working hard on after a rough start to the season at the service line.
"The first few weeks of the season, I couldn't get a serve in – no joke. I was double faulting whole games. It was really bad," Tunink said. "So my main focus in practices has been serving, changing up my serves, doing a lot of slice serves, just figuring out something that goes in bounds consistently."
Tunink jumped out to a 5-0 lead in the first set, and led 4-0 in the second set while relying on her mental fortitude to fight through some leg cramps and a slight illness.
"Coming out, I was not feeling the best – maybe I ate something bad, I don't know – but I just had to overcome that. Even though I wasn't playing the best, it was all about focusing on every point, just getting all the points I could get and making each shot worth it, trying hard no matter how I felt," she said. "It's nice to win when I wasn't playing my best – it's nicer when you feel like you played well – but I'm proud of what I did today."