BYRON – After dominating the six-team UT Sprint Invite on Saturday, the Sterling girls swimming team came back with a solid performance Wednesday night at the Byron triangular, led by strong individual efforts from Madison Austin and Sammie Knox.
The Golden Warriors took second place with 67 points, trailing Byron's 89. Morrison came in third with 23.
Austin was a double winner individually, swimming a 1:58.01 to pace the 200-yard freestyle field, and a 1:03.84 to win the 100 backstroke. In the 400 freestyle relay, she helped teammates Kate Austin, Hazel Pham and Knox to a first-place finish with a 3:57.89.
In the 200 freestyle relay, Madison Austin, Payton Purdy, Knox and Pham took second, clocking a 1:46.85.
"I was working on these races this season, and I just need more technique, so that's what I've been working on," Madison Austin said. "My goal this season was to go under two minutes, like at the beginning, and that's what I did today.
"I think we did very good [in relays]. We have been working on the relays and our starts. We just all worked together as a team today, and that's what we needed."
Knox was a double runner-up individually in the 100 butterfly with a 1:08.1, and the 200 individual medley with a 2:27.3. Pham was a close third in the 100 butterfly, swimming a 1:08.13.
"I was really tired from hard practices, but I was just focusing on the details and the little stuff, just to get as far as I can and use what I'm really good at to my advantage," Knox said. "I think my team was really good, and we were all trying our hardest after really hard practices. I feel pretty proud. I was just trying to focus on details, as well as trying to go fast. So I think as a whole, we all did great."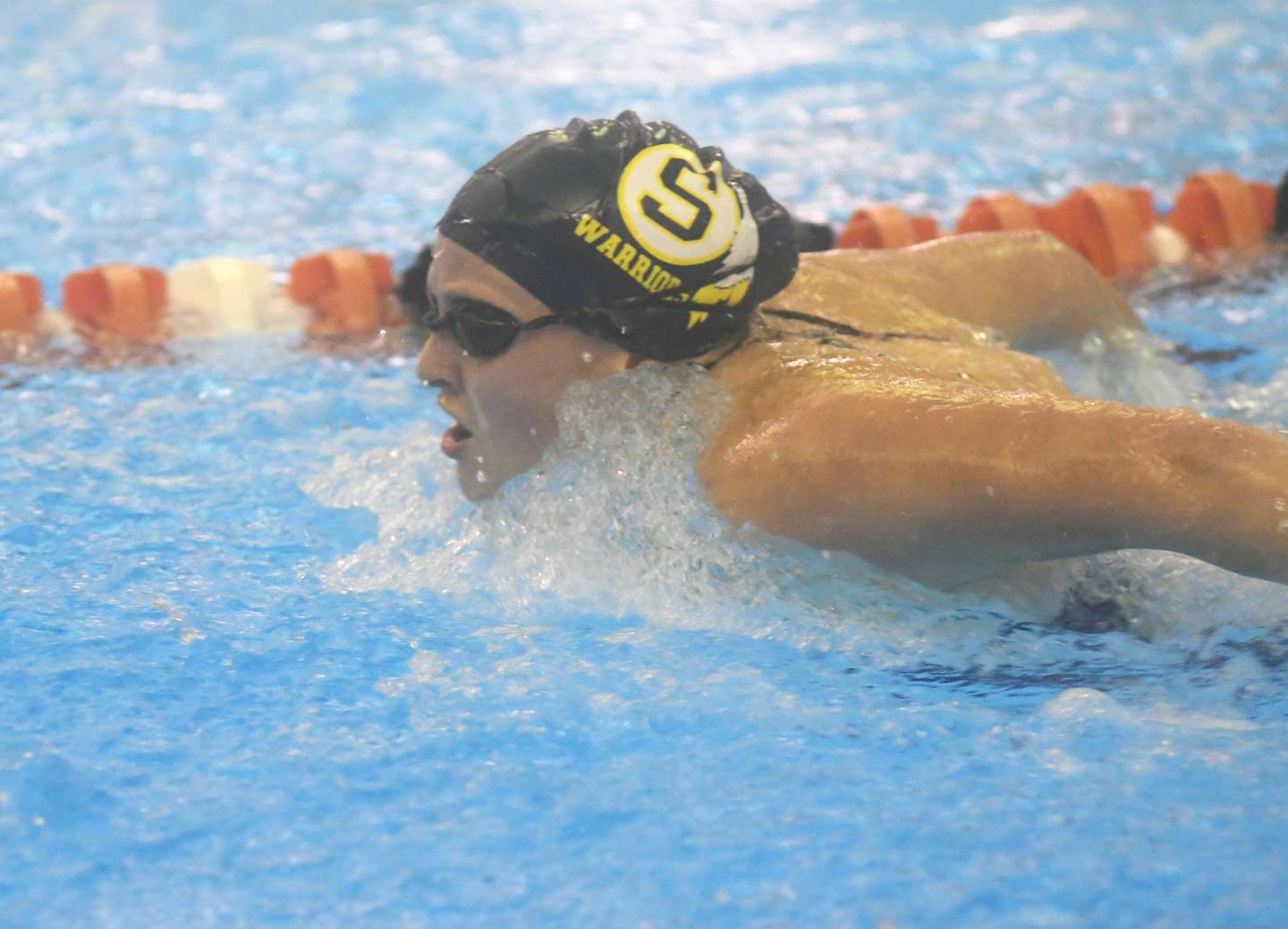 Kate Austin was the second-place swimmer in the 500 freestyle, clocking a 5:56.26, while Purdy was the runner-up in the 50 freestyle, recording a 27.82.
Morrison's Schyon Drolema was the leading swimmer for her team, winning the 200 IM in 2:24.42, and taking third in the 100 breaststroke with a 1:17.89.
"My 200 IM's looking pretty good. I've been training all season for it. It was my first time doing the breaststroke, actually," Drolema said. "We switched up all of the events tonight just to give all of our teammates a different try at what they wanted to swim. We're a smaller team this year. We're kind of struggling, but we're pushing through practice super good and we're all training super good all together. It's like a family, so I really love the team right now."
Landri Harmon had a third-place finish for the Fillies in the 200 freestyle, swimming a 2:17.41.