ROCHELLE – The Rockford Boylan girls soccer team came out firing Tuesday in its Class 2A Rochelle Regional semifinal against Sterling and never looked back in an 8-0 victory.
The Golden Warriors (1-22-2) fell behind 6-0 less than 20 minutes in, but kept battling until the end, not allowing a goal in the 20-minute second half.
Sterling goalkeeper Rene Garza made 16 saves as the Titans fired 35 shots, 25 of them on target.
"I think because we knew they were a good team, it kind of put a lot of pressure on us. But as soon as we got out there and started playing, we kind of got used to it a little bit and it got easier," Garza said. "It was a little scary with them having so many attackers, but it was not that bad overall."
Top-seeded Boylan (16-1) opened the scoring in the second minute, when Emma Ambrose fired a free kick into the box, and Vivian Campa put it away just 1:06 into the game. The second goal came 59 seconds later, when Izze Fritz launched a corner kick right in front of the goal and Ella Maier headed it in for a 2-0 lead just 2:05 into the contest.
"We kind of knew coming in that we wanted to score early, but then we did want to get some good quality reps in of our possession game, building play up from the back all the way up forward," Boylan coach Taylor Meyers said. "That's our goal, and I think in the first half, we did a decent job of that."
In the seventh minute, Maggie Schmidt made a run up the left side and centered a pass that connected with Kyra Cruickshank, who kicked it low past Garza for a 3-0 lead with 33:56 left in the first half. Schmidt then scored on an assist from Campa, again on a run up the left and a cross to the middle, this time with 29:59 left in the half.
Cruickshank corralled a goal kick and shot it past Garza about three minutes later for her second score, then Schmidt notched her second goal on a breakaway, beating Garza 1-on-1 with 21:17 left until halftime.
"That's kind of been the story of our season. We have a few girls who have quite a few goals, but we really do like to spread the wealth," Meyers said. "We have a lot of talent and a lot of dangerous goal-scorers, so it's a really positive thing, especially now that we're getting into the postseason."
Fritz scored the final two goals for Boylan, hitting her first from about 40 yards out with 13:07 to play, then lofting a 30-yarder over a leaping Garza with 3:51 left in the first half. The Titans went into the break with a 27-0 advantage in shots, and an 18-0 edge on target.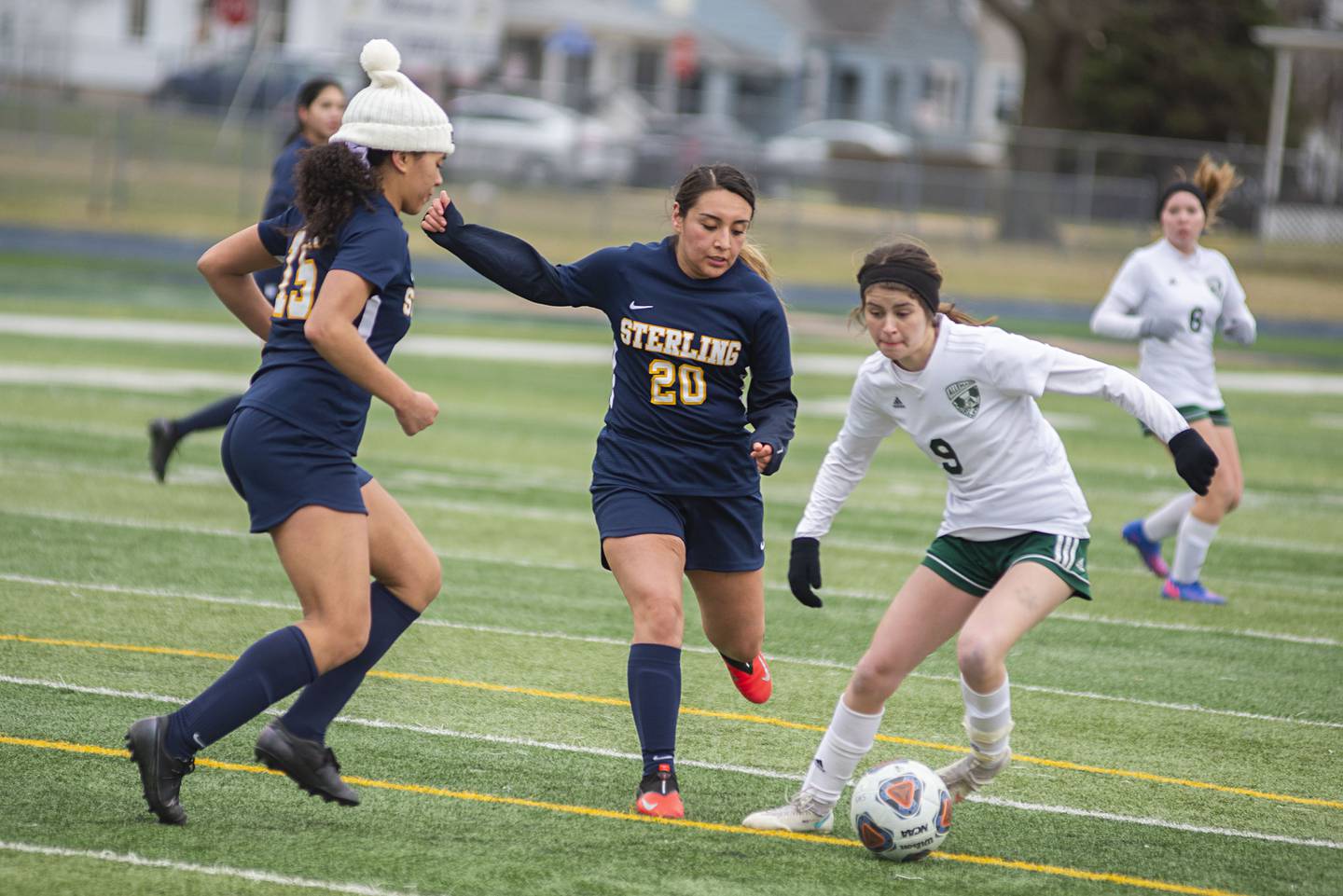 After a team huddle at halftime, Sterling came out determined to keep things right where they were in the second half, which was cut in half due the mercy rule.
"We just talked about how it's our last game and we're going to put our all into it," Garza said of the halftime discussion. "For the seniors, too, it's their last game, and we just wanted to keep trying, keep playing hard even though we were down 8-0."
With Boylan playing a possession game and not going on the offensive too much, the Warriors were able to steal a few passes and put a little pressure on the Boylan defense. And even though Sterling didn't get any shots off, it did make several forays into Titan territory after the break.
Warriors coach Raul Sanchez was proud of the team's effort and how it never wavered even after falling behind so early.
"From the start of the season, I always emphasized to the girls that I could teach them soccer, but I can't them heart; you either have it or you don't. Seeing the girls fight to the end, I get a little emotional over it, the way they kept on fighting," he said. "Even throughout this game, you saw them slowly improving; we talked about marking players that we know can score, and reading where the ball is going to go, and we started doing that a little better. We got some turnovers in the second half and tried to counterattack on that a little bit."
That improvement has been a focus all season for a Sterling team with several seniors, but also plenty of younger players getting their first taste of varsity soccer.
"A big emphasis for us was improving, because we're not just building for this year, we're building for next year, with this being my first year coaching," Sanchez said. "We have basically half underclassmen and half seniors on our starting roster right now, and I think the improvement is there, and we saw it all through the season."