DIXON – When the Dixon Duchesses play at their own pace, they're tough to beat, especially at home.
The Duchesses took the lead midway through the first quarter Wednesday night and never trailed again, defeating Big Northern Conference rival Rock Falls 41-24 at Lancaster Gym.
[ Photos from Dixon vs. Rock Falls girls basketball ]
Dixon (22-5, 7-1 BNC) forced the game to be played at their preferred tempo instead of the Rockets', limiting Rock Falls ' ability to get out and run and find open shots or layups in transition or in half-court sets.
"That's always the goal, to have the game at our speed and not at theirs. We want to play how we like to instead of being rushed or being put into different situations that we don't necessarily like to play into," senior forward Ella Govig said. "It's all about controlling the tempo and playing how we normally do, as five together offensively and defensively, because we know that they're a very strong team and they can work the floor very well. So we knew what we had to do to take that away."
As usual, Dixon relied on its defense to set the tone against the Rockets (15-12, 5-3 BNC). The Duchesses forced 22 Rock Falls turnovers and limited the Rockets to just 21 shots for the game.
"Defense is always something that we take pride in, and we always work well together on every kind of defense – but man-to-man, we especially just work so well together," senior guard Hannah Steinmeyer said. "We just kind of found more confidence and focused in on things, especially our defense, and then we added in a new offense, which was pretty cool. We definitely really focused on taking it at our own pace and working the ball around, playing patient."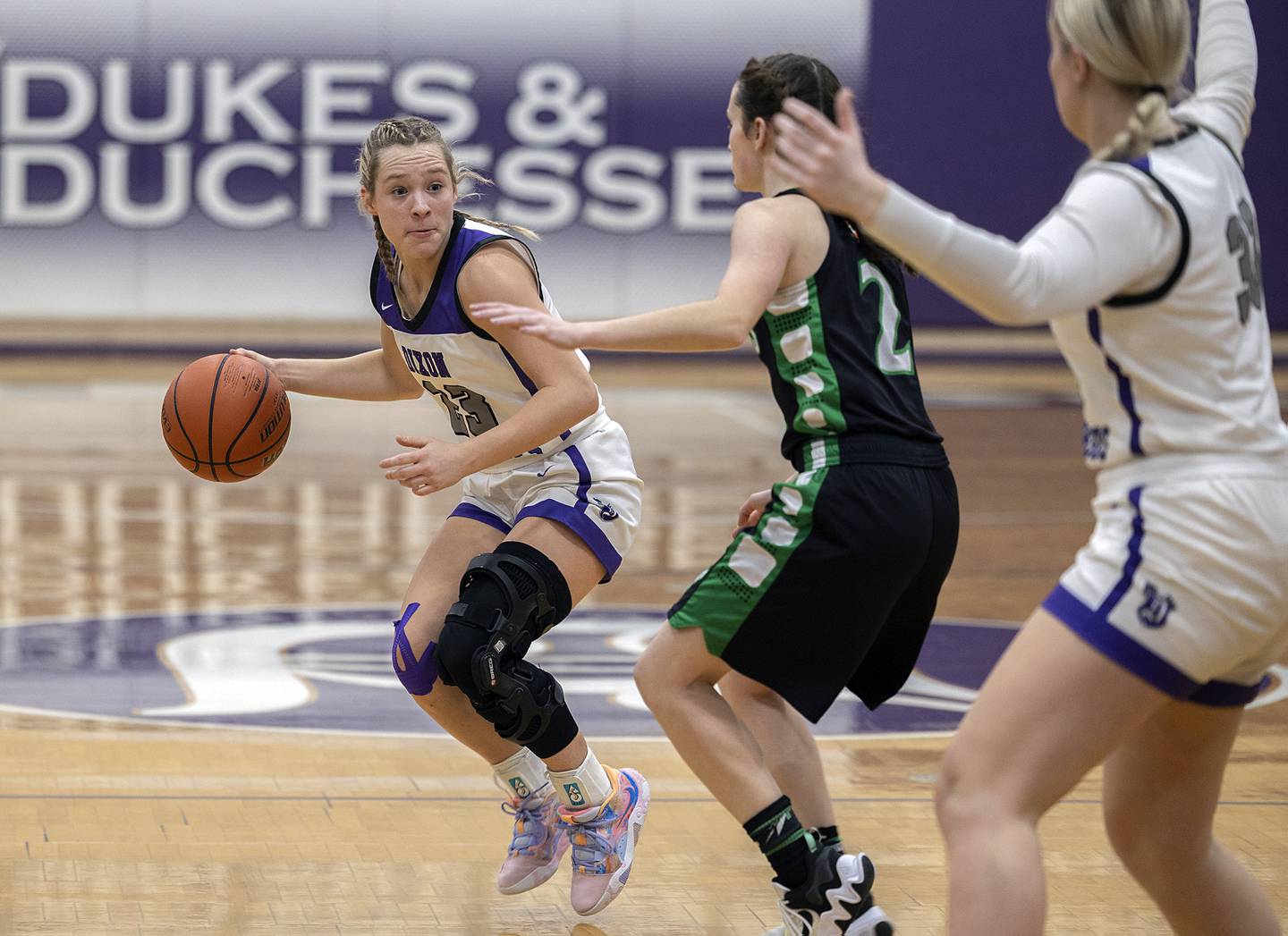 After falling behind 7-4 in the first half of the first quarter, the Duchesses closed the period on a 13-2 run. Govig kicked off the surge with a three-point play inside, then lobbed a pass to Abby Knipple for a layup before Harvest Day scored on a baseline drive.
Govig later scored a fast-break layup off a feed from Day, then Day went coast-to-coast off another steal for a 17-9 lead with 13 seconds left in the first quarter.
The second quarter was a low-scoring affair, as Day and Kait Knipple scored for Dixon and Taylor Reyna and Emily Lego scored for Rock Falls in a 4-4 period. Reyna hit a 3-pointer at the halftime buzzer to cut the Rockets' deficit to 21-16 going into halftime.
"We knew in the first quarter, obviously our defense was not good, so we knew that we needed to pick up our defense in the second quarter," Reyna said. "We did a good job of that, but when we went in at halftime, I feel like we just said we need to do what we know we can do, or just play how we normally play, because we obviously weren't doing that in the first couple of quarters."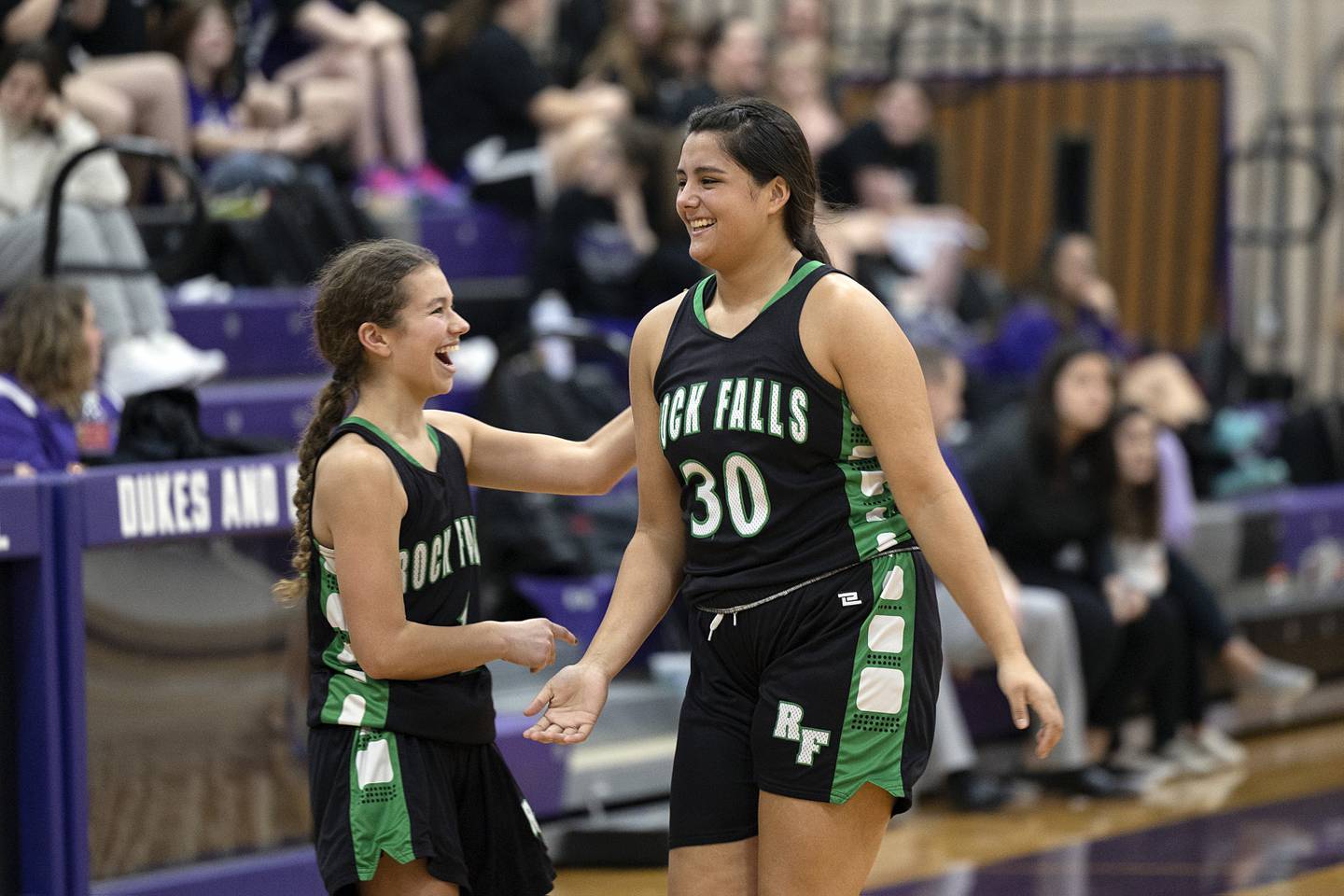 While Rock Falls was hoping to build on that momentum, Dixon was getting a halftime speech from coach Luke Ravlin about not letting that happen.
"Going into the locker room, we were winning but we knew we needed to step it up, and we needed to do better. Rav kind of harped on us in the locker room and said that we need to step it up or else we were going to lose this game," Day said. "We just knew that if we were going to step it up, that doesn't come from our offense, it comes from our defense. We knew that every stop would lead to patience on offense and a good finish.
"Every single game we need to progress, and that's what he just kind of wrapped up with in the locker room. I think we all took that in and we showed it on the court."
Steinmeyer made sure Rock Falls didn't keep the momentum for long. She converted a three-point play on a putback, then hit two free throws after being fouled in the low post to stretch the lead back to 26-16 in the first 2:12 of the third quarter.
Reyna scored on a drive to the basket, but Govig split a pair of free throws before Abby Knipple found her twin sister Kait wide open for a 3, then Govig fed Steinmeyer for a 32-21 lead going into the fourth quarter.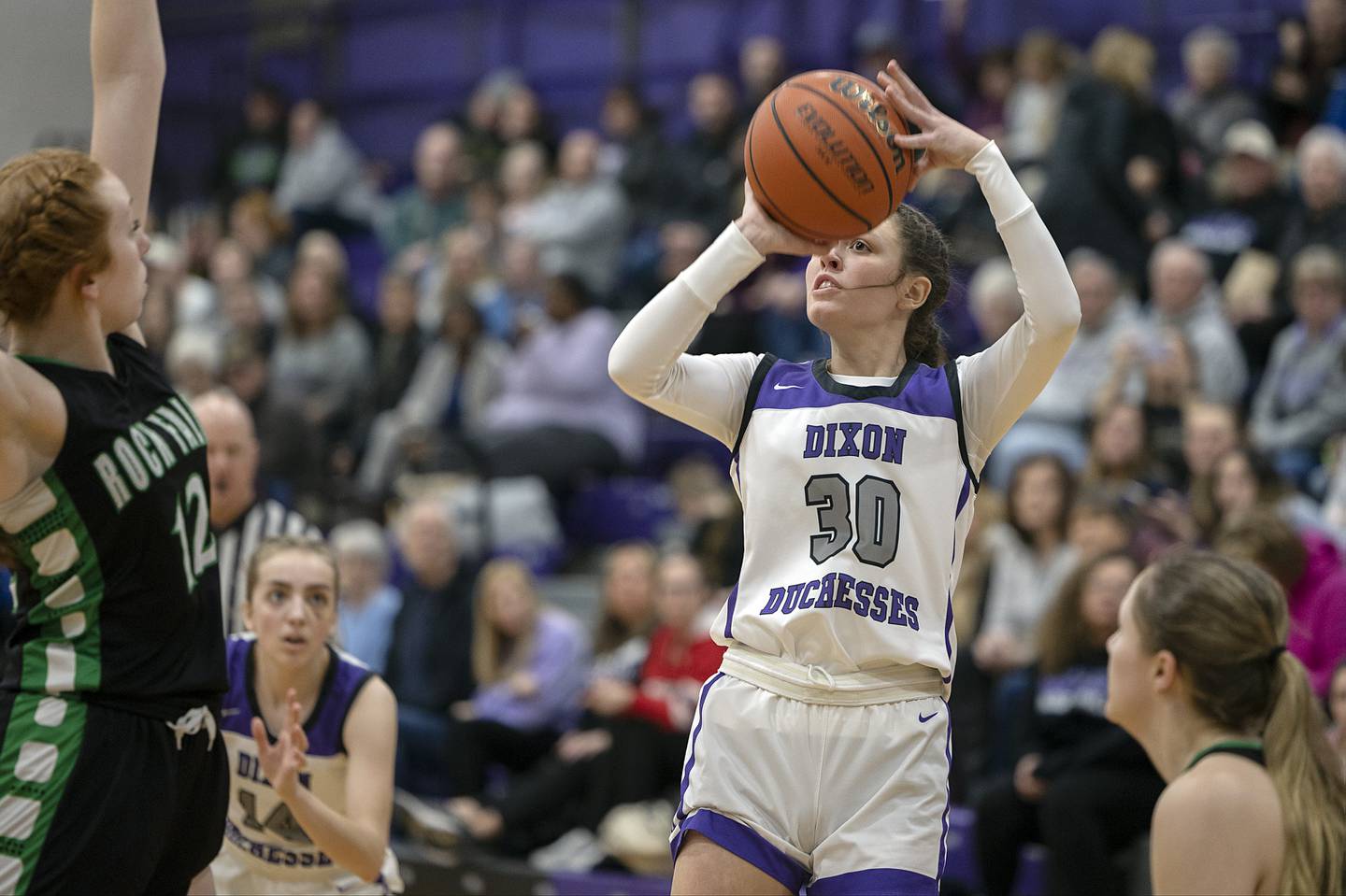 "The game was most definitely played at their pace, and that's a tribute to their half-court defense. We could not get a whole lot going on, and they dictated what we had to do and we got away from what we wanted to do," Rock Falls coach Daniel Herrera said. "Then we're playing from behind not only in the score, but also on the defensive side, where we were a little off tonight.
"We thought we'd match up well with them, but they're a tough matchup with posts who can play on the perimeter and guards who can rebound hard. They're physical, a good Dixon team, and it was a good win for them."
Steinmeyer hit two free throws to open the fourth, then Day scored back-to-back baskets before assisting on Jessie Pitman's bucket to make it 40-21 with 2:25 to play.
Day had 12 points, three rebounds, three steals and two assists for the Duchesses, and Steinmeyer finished with 11 points, eight rebounds and three steals. Govig stuffed the stat sheet six points, four rebounds, three assists, three steals and two blocks, Kait Knipple had five points and two steals, and Abby Knipple chipped in four points and four rebounds for Dixon.
The Duchesses turned the ball over just seven times – five times in the second quarter – and outscored Rock Falls 12-5 in second-chance points while grabbing 13 offensive rebounds to the Rockets' three.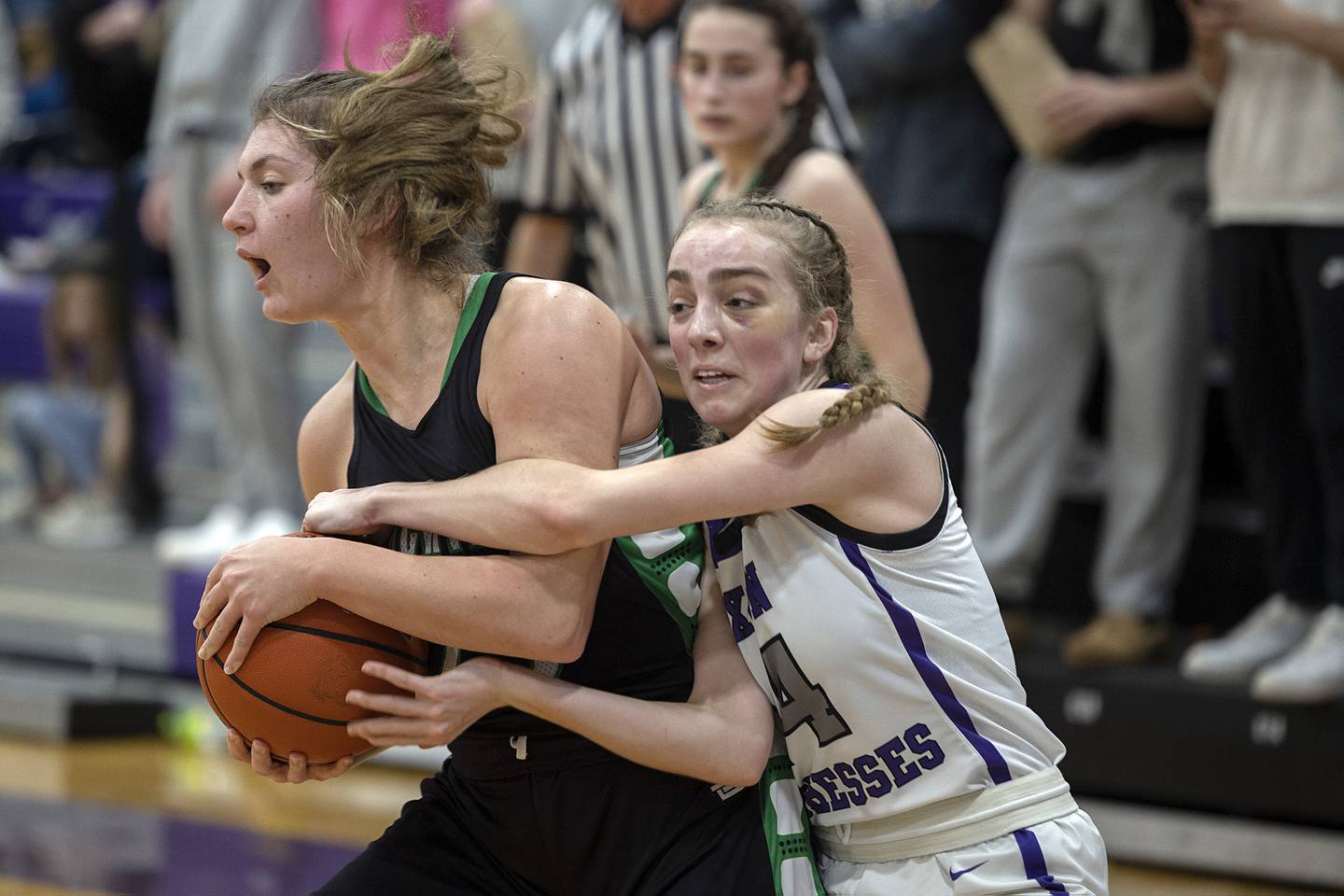 Reyna led Rock Falls with seven points and five rebounds, while Rylee Johnson scored four points. Brooke Howard had three points, four rebounds and two steals, and Claire Bickett and Katie Thatcher both added three points and three rebounds.
Dixon held the Rockets to eight total points in the second half, double-teaming the Rock Falls ball-handlers off of screens and recovering quickly on the help-side. The open looks from 3-point range or in the low post that the Rockets usually get from their offensive action just weren't there, as it seemed like everywhere they turned, the Duchesses were waiting.
"We just didn't make the adjustments ball-handling wise, realizing that when Coach Ravlin yells 'Blitz!' that they're going to jump the ball-handler," Herrera said. "We didn't slip the screens and get open off of those double-teams, or do a good enough job with the ball and keeping our dribble alive to make something happen."
"They definitely knew how we played. They covered us well," Reyna added. "I also feel like we didn't necessarily play as a team. We weren't very aggressive, like we have been in the last couple games, and I feel like we just came out very timid. It just wasn't our night."