DIXON – A hot first half turned into a frigid third quarter for the Dixon Duchesses on Wednesday night.
But they seemed to solve Ottawa's defense to start the fourth quarter, and they found their rhythm again to pull away for a 43-34 win over the Pirates in a nonconference game at Lancaster Gym.
[ Photos from Dixon vs. Ottawa girls basketball ]
"I think we all know that we were just not playing up to our potential [in the third quarter] and that we needed to show ourselves that we're better than that," senior forward Harvest Day said. "We have so much good competition ahead, and this was a tough team, so we know that we've just got to keep fighting and play our hardest to win."
After being outscored 13-2 in the third quarter and seeing a 13-point lead shrink to 28-26 heading into the final eight minutes, Dixon (6-0) got a couple of open looks to kick-start its final surge.
On the first possession of the fourth quarter, Abby Knipple drove to the basket and snapped a kick-out pass to twin sister Kait, who nailed a wide-open 3-pointer to stretch the lead back to 31-26.
Day then nabbed a steal on Ottawa's ensuing possession and went coast to coast for a layup and a 33-26 lead just 1:18 into the fourth.
"It felt nice hitting the 3, and then just coming together again," Kait Knipple said. "We knew we were making some mistakes [in the third quarter], but then we got things to jive again. It kind of started with the 3, and then everyone else was hitting and it just felt really good."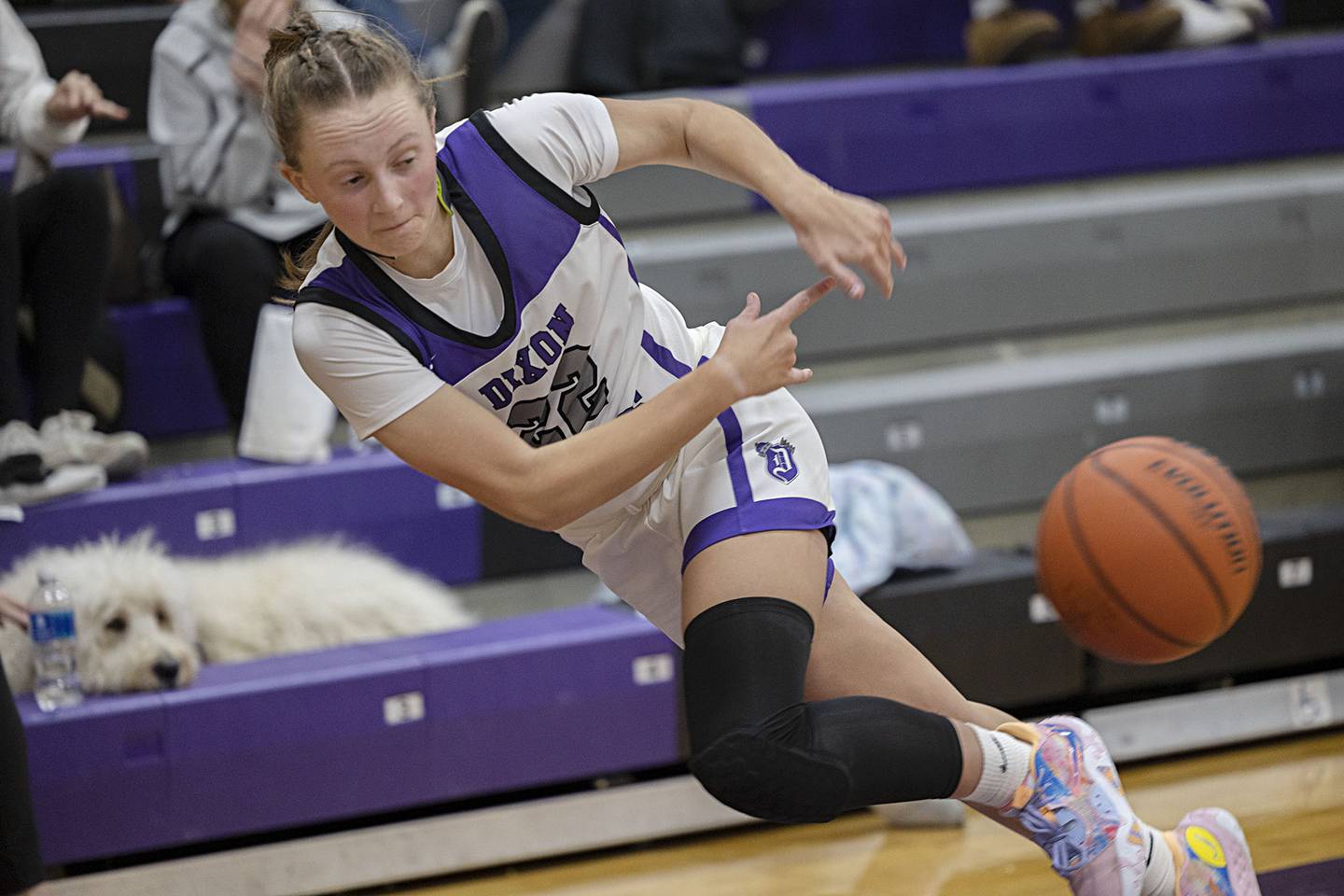 Kait Knipple then fed Ella Govig in the low post for a layup about two minutes later before Govig and Katie Drew hooked up on a pretty give-and-go play at the top of the key. Drew handed off to Govig, then curled around toward the basket on a back-door cut and Govig hit her in stride for a layup and a 37-26 lead with 3:45 remaining.
"I think that when we executed our sets and our plays perfectly, we kind of felt like we were in our rhythm. And we did it all together, so we all played our part perfectly, and I think that's what led us to win tonight," Govig said. "We all worked really well together, we meshed together. We haven't played in so long, and we've practiced for a long time since our last game, so we've been putting in a lot of work, and we came out tonight and proved it on the court."
In their first game in since winning the Oregon tournament title game Nov. 19, the Duchesses relied on defense and offensive execution – as per usual – to take control early on.
Day scored the game's first six points, then after Ottawa (4-2) tied it, Dixon closed the first period on a 9-2 run, then outscored the Pirates 11-5 in the second quarter to take a 26-13 lead into halftime.
From the 2:42 mark of the first quarter until the 1:50 mark of the second, the Duchesses went on an 18-4 run, with many of the baskets coming on open looks or layups. Dixon assisted on eight of its 11 baskets in the first half, and shot 11 for 16 from the field.
"We move the ball around, and it touches every teammate's hands before we get a shot so everyone feels included, and it gets us hyped up and lets us know that it's possible to just get a basket and get going," Day said. "It's a nice feeling when we run our offense and get easy baskets."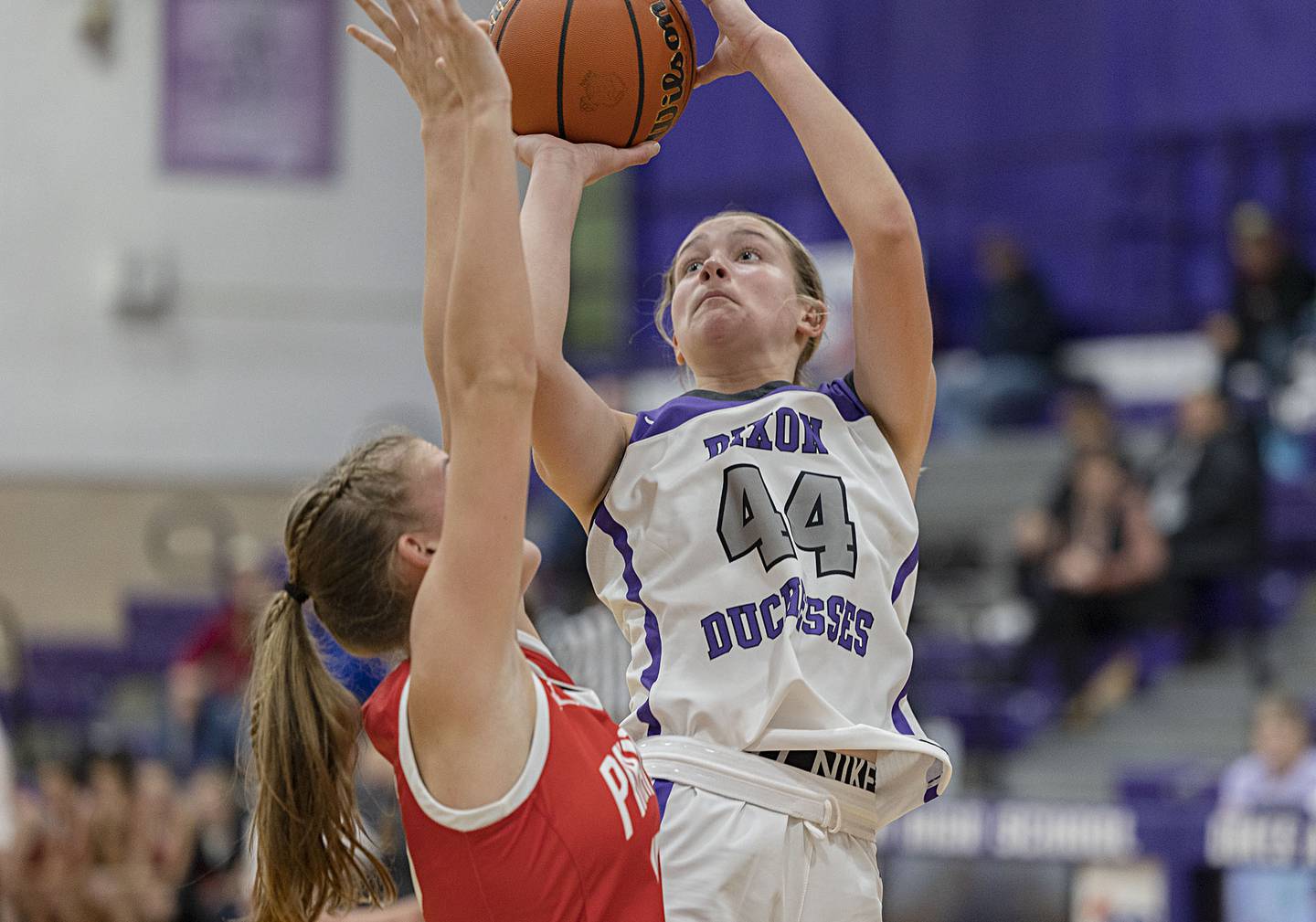 The defense was also a big key. Ottawa shot just 6 for 18 in the first half, including 1 for 8 from 3-point range, as Dixon kept up constant pressure on the ball both on the perimeter and on drives to the basket.
"Our main focus is guarding as a team, and we did really good with that. We've been working with ball screens, and we just always come prepared," Kait Knipple said. "We worked hard this week in practice, and our plan is to always be prepared and work together, and that really paid off today.
"We tried to target what we know they're best at, and we knew that they had shooters on their team, so if we could lock them down there, then everything else would fall together, because our defense in the paint is always solid."
The third quarter was a much different ballgame. The Duchesses were outscored 13-2, and the easy looks were nowhere to be found. Kendall Lowery, Marlie Orlandi and Ella Schmitz all hit 3-pointers in the Pirates' surge, as they trimmed the 13-point halftime deficit to two with eight minutes to play.
"We came out knowing that we were down in a hole and had to dig ourselves out," said Orlandi, who led Ottawa with 14 points and seven rebounds, and also dished three assists. "So we came out with high energy, lots of confidence, and knowing what we had to do after a long locker room talk. We came out, we did what we had to do, and it gave us more energy."
But Kait Knipple's 3 to open the fourth quarter ignited the Duchesses' final spurt, and they pulled away down the stretch.
Kait Knipple hit a layup off a feed from Hannah Steinmeyer to make it 39-28 with 2:21 to go, then after Ottawa baskets by Orlandi and Hailey Larsen, Kait Knipple and Drew both hit both ends of one-and-one opportunities at the free-throw line in the final 30 seconds to seal the deal.
"Our game plan on the board is that everyone knows that their offense runs through Day and Govig, and if we can contain them and control the glass, we can live and die with them hitting a floor-spaced 3 here and there, as long as we execute," Ottawa coach Brent Moore said. "But the problem is when you bury yourself in a hole and then all of a sudden they hit that one floor-spaced 3, the deficit is back to 5 after you've just worked your way so hard to get back to where it was."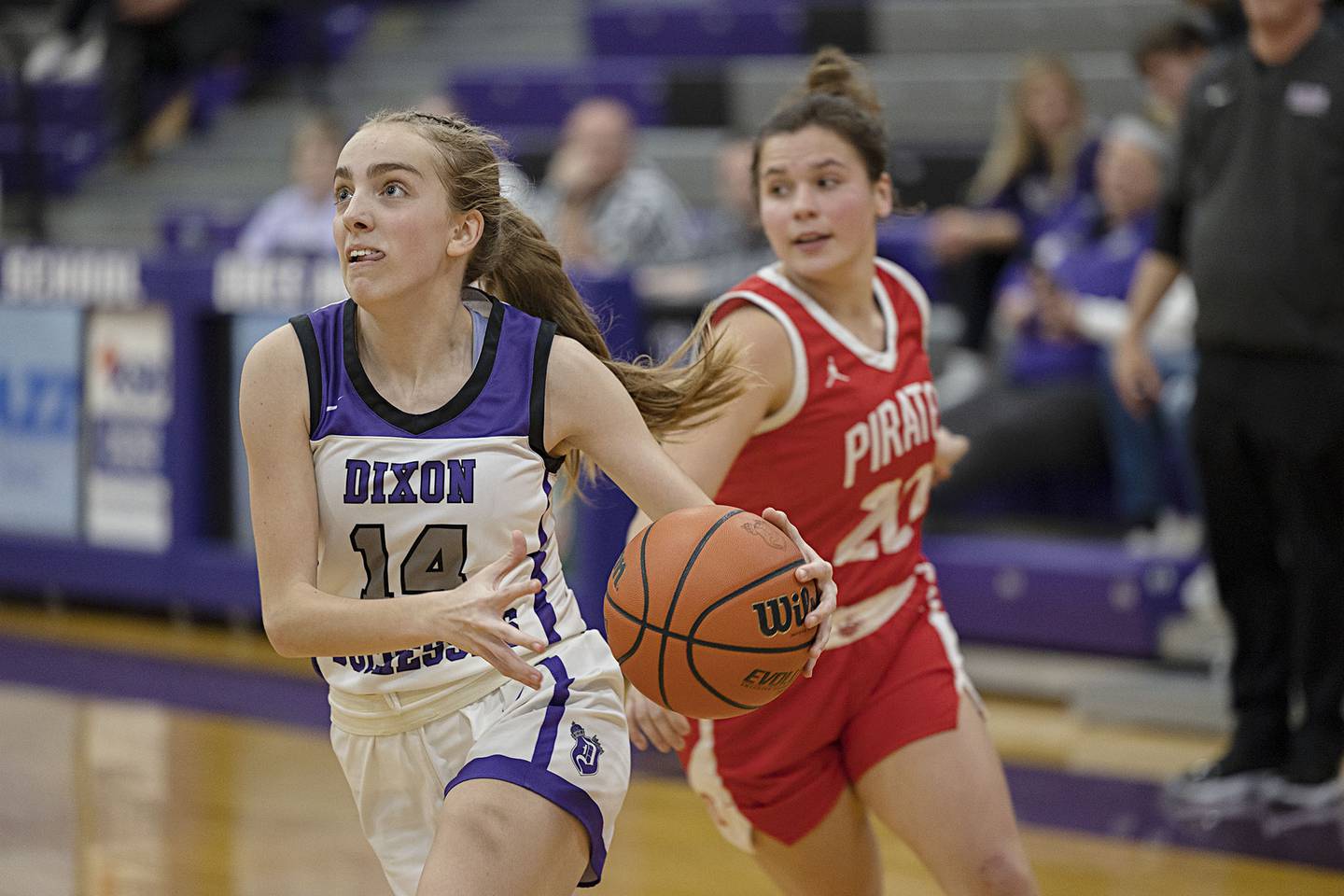 Day led the way with 14 points, seven rebounds and five steals for Dixon, and Govig finished with eight points, six rebounds, two assists, two steals and a blocked shot. Kait Knipple had 10 points and two assists, and Drew added six points, four assists, three rebounds and two steals.
Abby Knipple hit a 3 and added two assists and a block, and Steinmeyer finished with two points and two assists as the Duchesses recorded 13 assists on 17 baskets, and shot 50% from the field (17 for 34) despite going 1 for 11 in the third quarter.
On the flip side, they held Ottawa to 38.5% shooting (15 for 39), including just 26.7% (4 for 15) from 3-point range
"I think that our defense was awesome tonight," Govig said. "They're a really good team, they have a lot of different players who can create shots for themselves, but I think that we were able to stay calm, and even though we weren't doing what we wanted to on the offensive side [in the third quarter], if we stayed locked in on our defense, we knew we could pull it out in the end."
Larsen finished with eight points, four rebounds and two blocks, and Schmitz and Lowery both had five points; Lowery nabbed four steals and dished three assists, and Schmitz grabbed four rebounds and added three steals. Grace Carroll only had two points, but she handed out a team-high four assists.
"I'm proud of our girls. We've got a lot of youth on our team, and we came on the road and fought against a very good, experienced, well-coached Dixon team," Moore said. "We battled, we competed, and that's a good sign for us going forward."