STERLING – Aggressiveness might be the buzzword for the Sterling girls basketball team this season.
That trait was on full display in the Golden Warriors' season-opening 60-34 win over Illinois Valley Central on Monday night at Musgrove Fieldhouse, as Sterling nabbed 24 steals and forced 29 turnovers by the Grey Ghosts.
The game was part of the Geneseo Thanksgiving Tournament.
[ Photos from Sterling vs. IVC girls basketball ]
After two weeks of going head-to-head with each other in preseason practice, the Warriors (1-0) were really looking forward to turning that attacking defense on someone else for a change – and it showed.
"During practice, we work on pressing, we work on being aggressive all the time," junior forward Olivia Melcher said. "After going against your own teammates, I feel like it's better to take it out on another actual team."
Melcher came off the bench midway through the first quarter and provided an instant spark for Sterling, as she had baskets to tie the score at 4-4 and 6-6. The second bucket ignited a 12-3 run to close the first period, and she added a runout layup and assisted on Taah Liberty's fast-break layup on consecutive possessions late the in the quarter.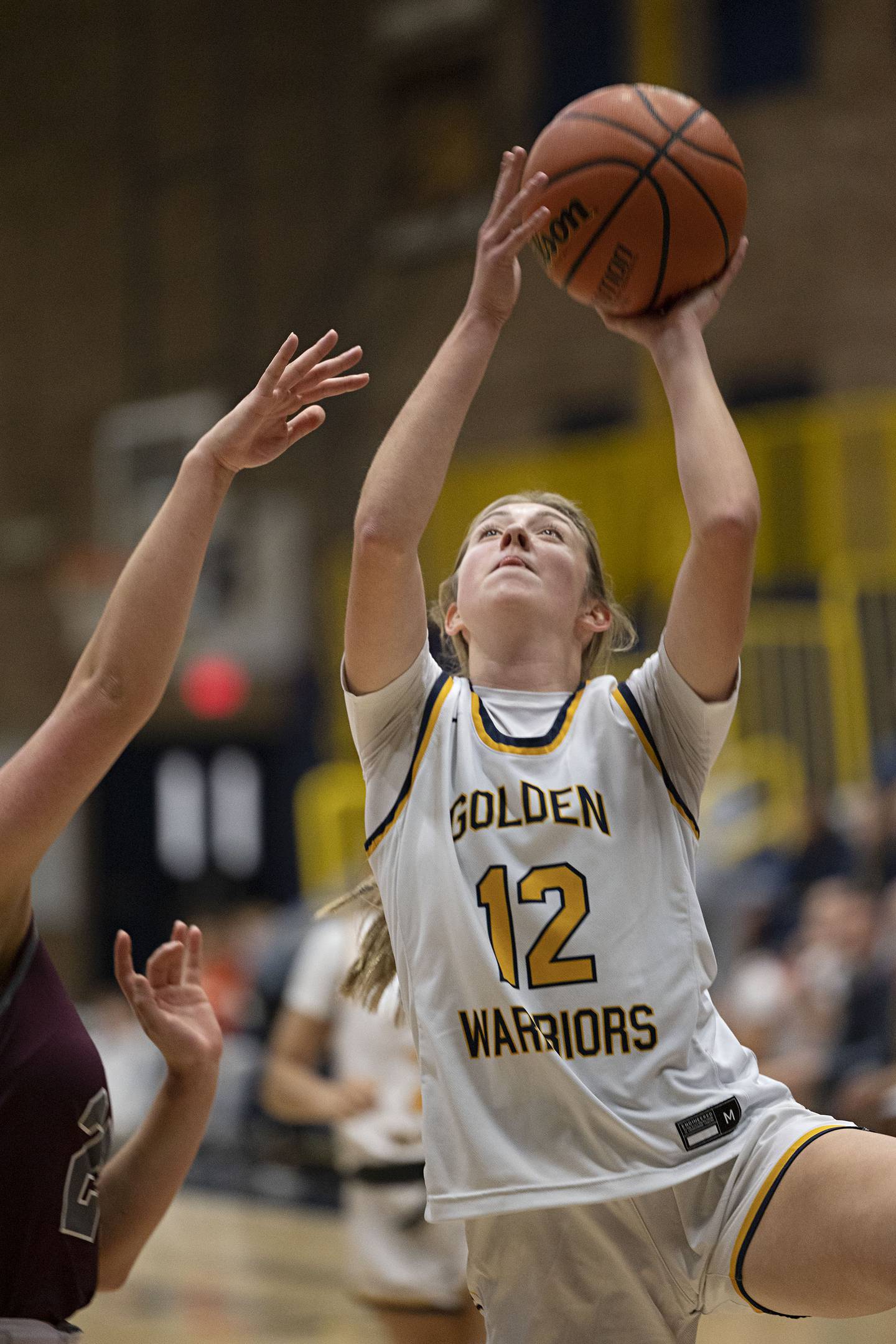 Senior post Kathryn Rowzee scored off a loose ball and then hit a jumper from the elbow early in the second quarter, then Melcher scored on a putback and banked in a 3-pointer. A 3-pointer by IVC's Alivia Reese cut the deficit to 22-19, then Caitlyn Gillette banked in a 3 to answer Melcher's banker to make it 25-22 Sterling with 2:35 left in the first half.
But Rowzee scored on an inbounds play, then Sterling got free throws from Jae James, Olivia Turner and Rowzee to close the half with the last seven points and stretch the lead to 32-22 at halftime.
"I think we really passed better, we were taking better shots, and our rebounding was better," Melcher said of the first-half surge.
Fouls became a bit of an issue in the second half – Sterling committed 26 for the game – but with all 13 players getting some time on the court, the Warriors were able to keep up their defensive pressure and intensity for the full 32 minutes.
"I feel like we had good ball movement, and honestly, our defense was good despite the fouls," senior guard Addie McCombs said. "I feel like we played good defense overall."
McCombs keyed a third-quarter spurt that put the game away. She scored 11 of Sterling's 14 points in the period, hitting three 3s and finishing off the 14-4 run with a putback of her own miss to give the Warriors a 46-30 lead going into the fourth.
"We've been working on running down and getting spot up, and the shot just felt good," McCombs said. "It wasn't rushed or anything, so it was really good."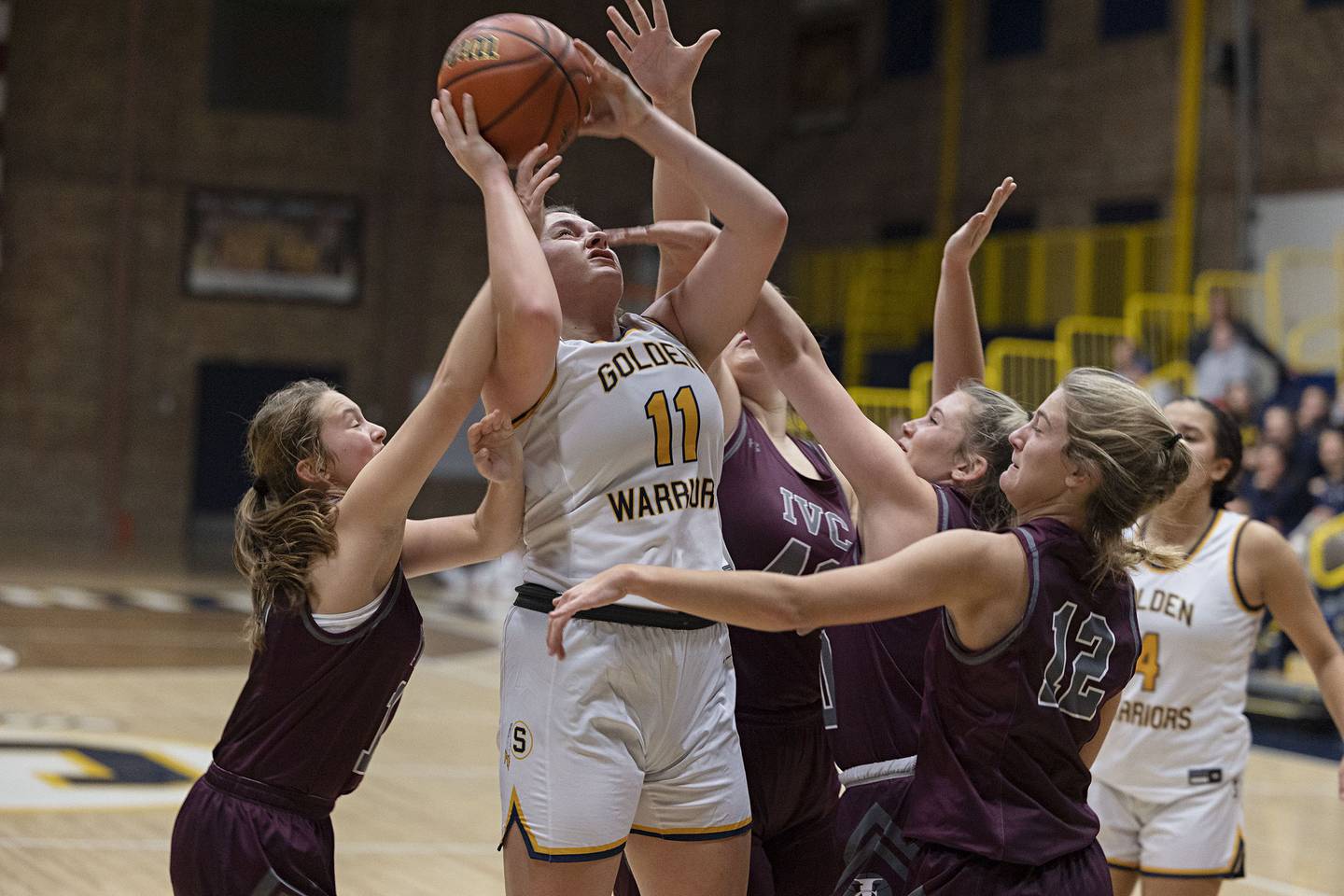 The transition game was a big part of helping the Warriors build the lead in the first half, then increasing the margin after the break. Sterling was equally effective running after turnovers and missed shots by IVC.
"Running in transition helped us, because I feel like we have a lot of athleticism, and that's just going to help us keep moving forward and getting better," Rowzee said.
Rowzee scored six of Sterling's first eight points in the fourth quarter, including another elbow jumper, and Turner scored off a pretty pass from Kaydence Weeks. McCombs' final 3 stretched the margin to 57-32 with 3:02 to play, and the teams emptied their benches.
"It was really big for us to be able to come out and do that," McCombs said. 'We had a really rough season last year, and playing like this was just really good for us, and is good encouragement for the rest of the season."
Rowzee had 18 points and four rebounds, McCombs finished with 14 points and four rebounds, and Melcher had 12 points, nine rebounds, two assists and two steals. Turner had four points, five steals and two assists, Liberty had four points and three steals, and Kirra Gibson pulled down nine rebounds and nabbed four steals. Delali Amankwa dished five assists, and Weeks chipped in four steals for Sterling.
"It's amazing to see this, because a lot of us haven't played in a while, so coming out strong definitely gives us a lot to build on, and a lot of confidence," Rowzee said.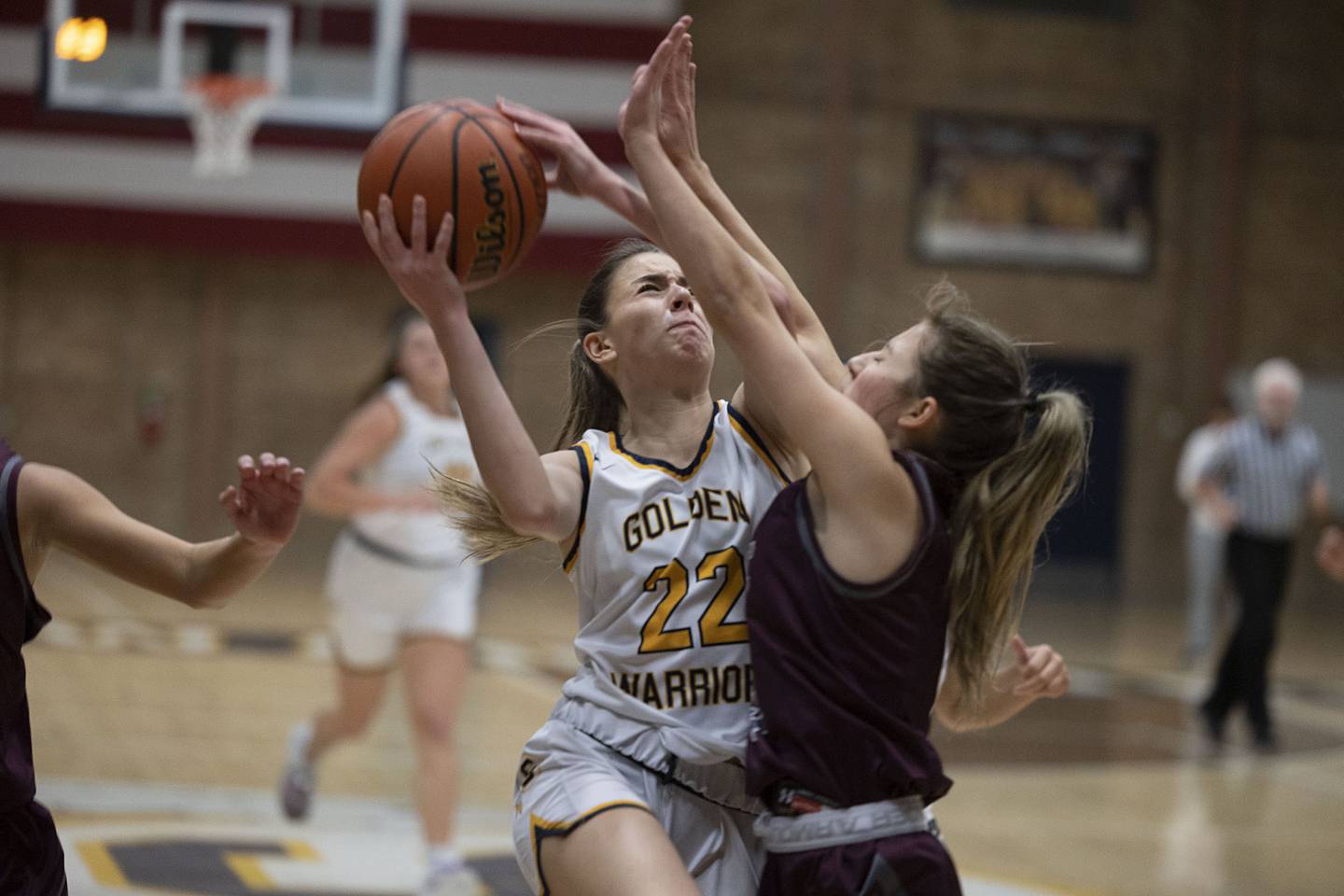 Alyvia Fager led IVC with nine points, three assists and two steals, and Reese finished with seven points and three rebounds. Mackenzie Mercer stuffed the stat sheet with six points, nine rebounds, three assists and two steals, Mary Zerfass finished with four points and nine rebounds, and Gillette also scored four points.
"The effort was there, the heart was there, and we played hard. But we've got a lot to work on in practice just to be ready," IVC coach Alisha Morrow said. "We were a little overwhelmed tonight. We haven't had a full squad at all at practice yet – we had a player coming in from volleyball, and a lot of sickness going on at the beginning – so I was a little nervous for the girls coming into it. But we did some good things in the first half we can build from. It's the beginning of our season, and I told the girls, 'These are growing pains, we're going to see where we can go from here.'
"Sterling is a good team, they've got great hustle, and I like that they can sub in as much as they could; I'd love to have that. That was a good win for them, I just wish we could've given them more effort in that second half. But hopefully we'll grow and learn from it."