LANARK – As usual, things went down to the wire in an Amboy-Eastland girls basketball game. This time, though, the Clippers were able to hold off a late Cougar charge.
Amboy led by as many as 13 points late in the third quarter, only to see Eastland come back and briefly take the lead thanks to a 3-point barrage by Annika Myre. But free throws in the final minute sent the Clippers to a 41-39 victory Wednesday night, putting them in first place by themselves in the NUIC South.
"It's just really tough every time we play them," Amboy senior Olivia Dinges said. "It's a really big win for us, though, and we're No. 1 in our conference right now because of it."
"Every year, I swear, every single year," Myre said. "This time it didn't work out the way it has in the past, but it's just a big rivalry, and both teams really fight to win these games."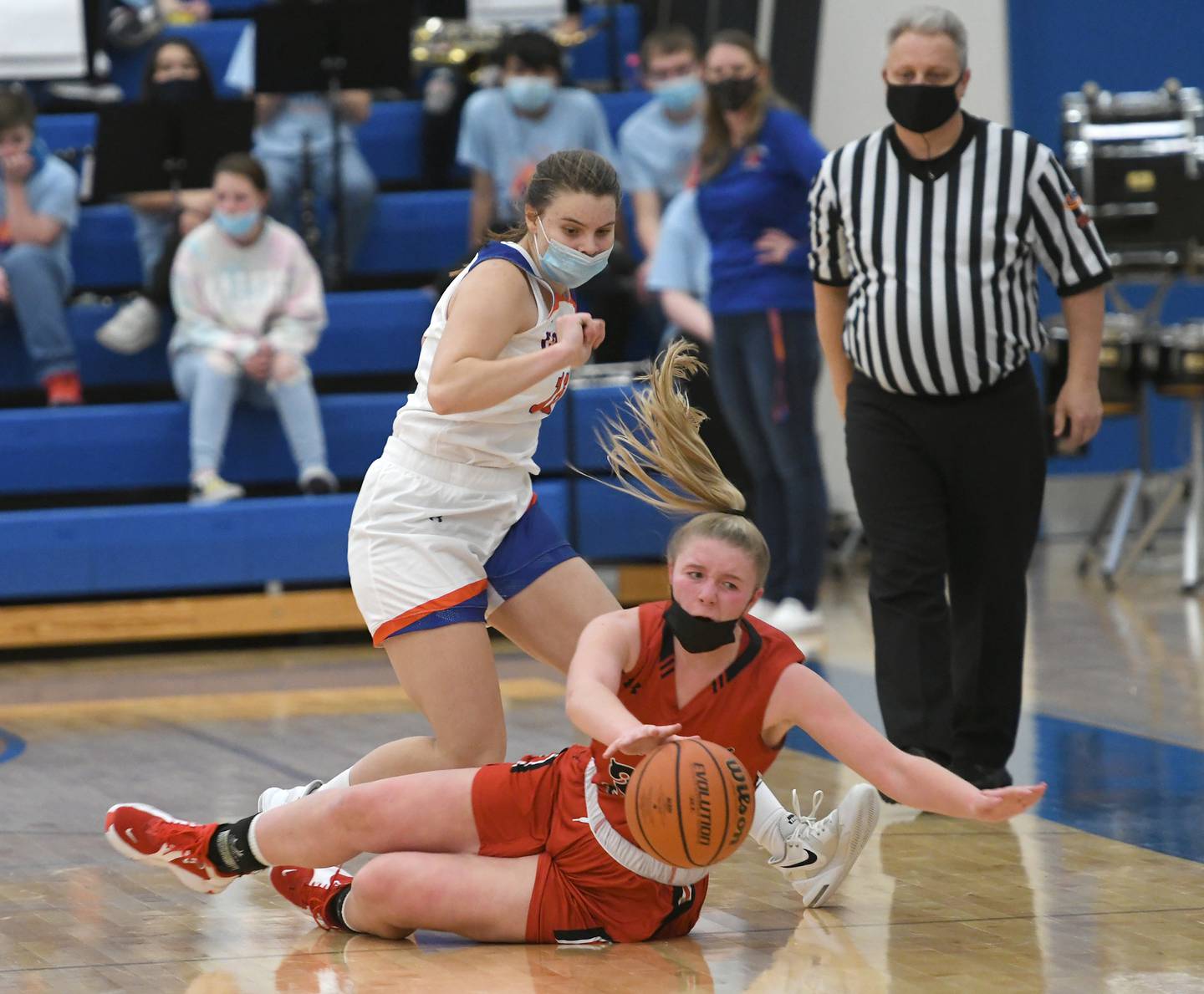 After Eastland rallied to win the Class 1A sectional final between the teams at the end of the 2019-20 season, the Cougars also had a come-from-behind win last season. It looked like lightning was going to strike thrice thanks to Myre.
Amboy (13-6, 4-0 NUIC South) led 28-15 with 58 seconds left in the third quarter after Dinges put back her own miss, then kicked out from the post to Olivia Miller for a baseline jumper on the next possession.
Chloe Sweitzer ended the third with a drive down the lane for Eastland (8-10, 4-1), but Dinges hit a free throw to open the fourth for a 29-17 lead. Myre hit a 3-pointer with 6:25 to play, but Dinges took a pass from Elly Jones and found an open Maeve Larson for a jumper and a 31-20 lead with 6:12 remaining.
"We hit a lot of shots that we needed to hit early on, and that got us the lead," Dinges said.
"We definitely work best when we play as a unit. We all hit our shots more when we talk, when we move the ball," Larson added. "We all talk, we all yell, we all support each other, and that really just helps everybody."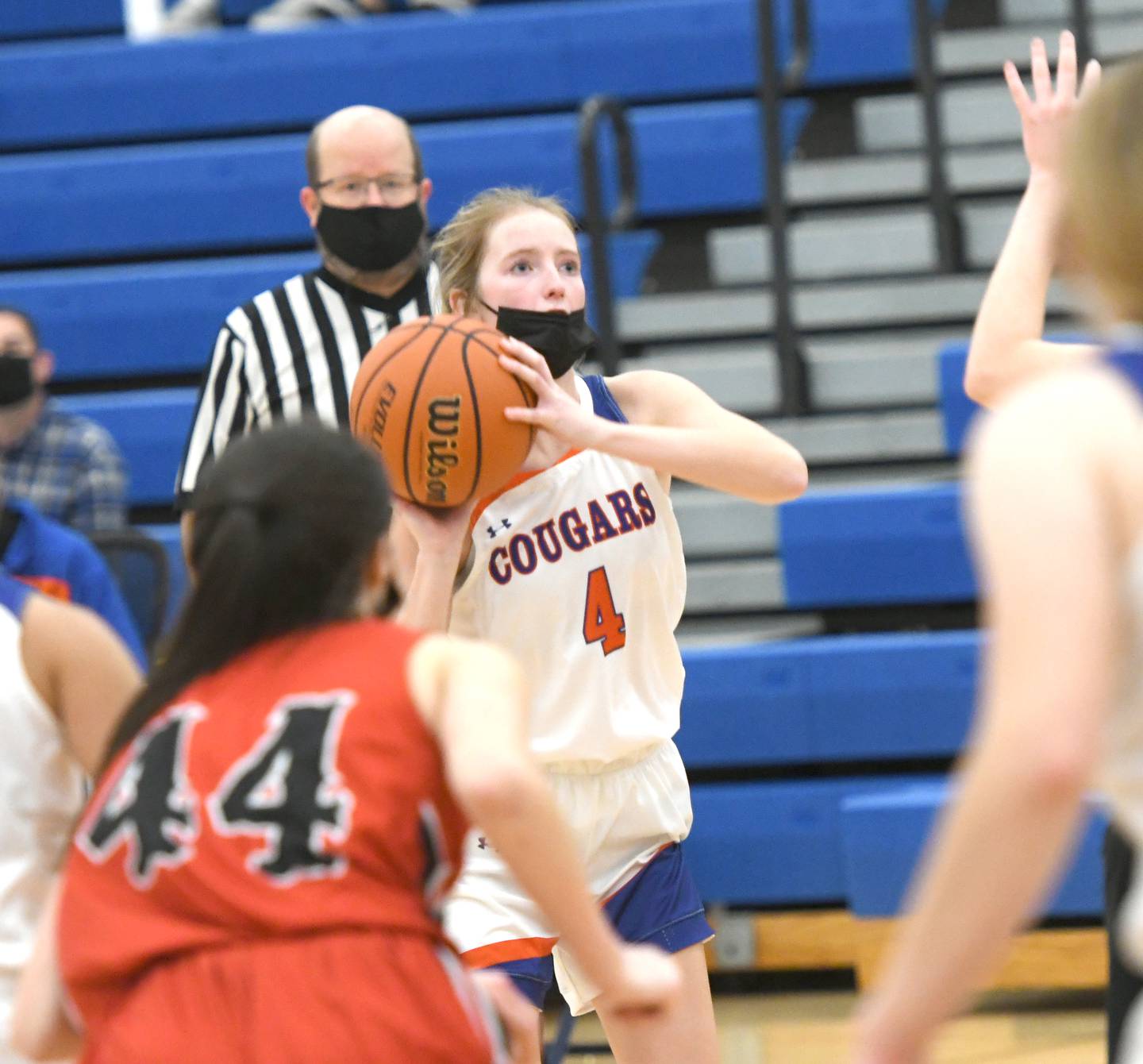 But the Cougars turned to Myre, and the senior guard delivered – to the tune of six fourth-quarter 3s.
And that was after she left the game midway through the third quarter when she hit her head on the court, coming down hard after jumping up to try and steal the ball from behind as Dinges held it over her head.
She returned with a vengeance. Myre hit a 3 with 4:52 to play, then hit another 22 seconds later after an Amboy turnover to cut Eastland's deficit to 31-26. Amboy stretched the lead back to 33-26 on a Jones drive to the basket, but Addison Burkholder hit a free throw, then Myre hit her fourth 3 with 2:32 left to make it 33-30.
Courtney Ortgiesen hit two free throws for Amboy, but a post-to-post pass from Quinc Haverland to Sarah Kempel turned into a three-point play for Eastland, and suddenly Amboy's lead was 35-33.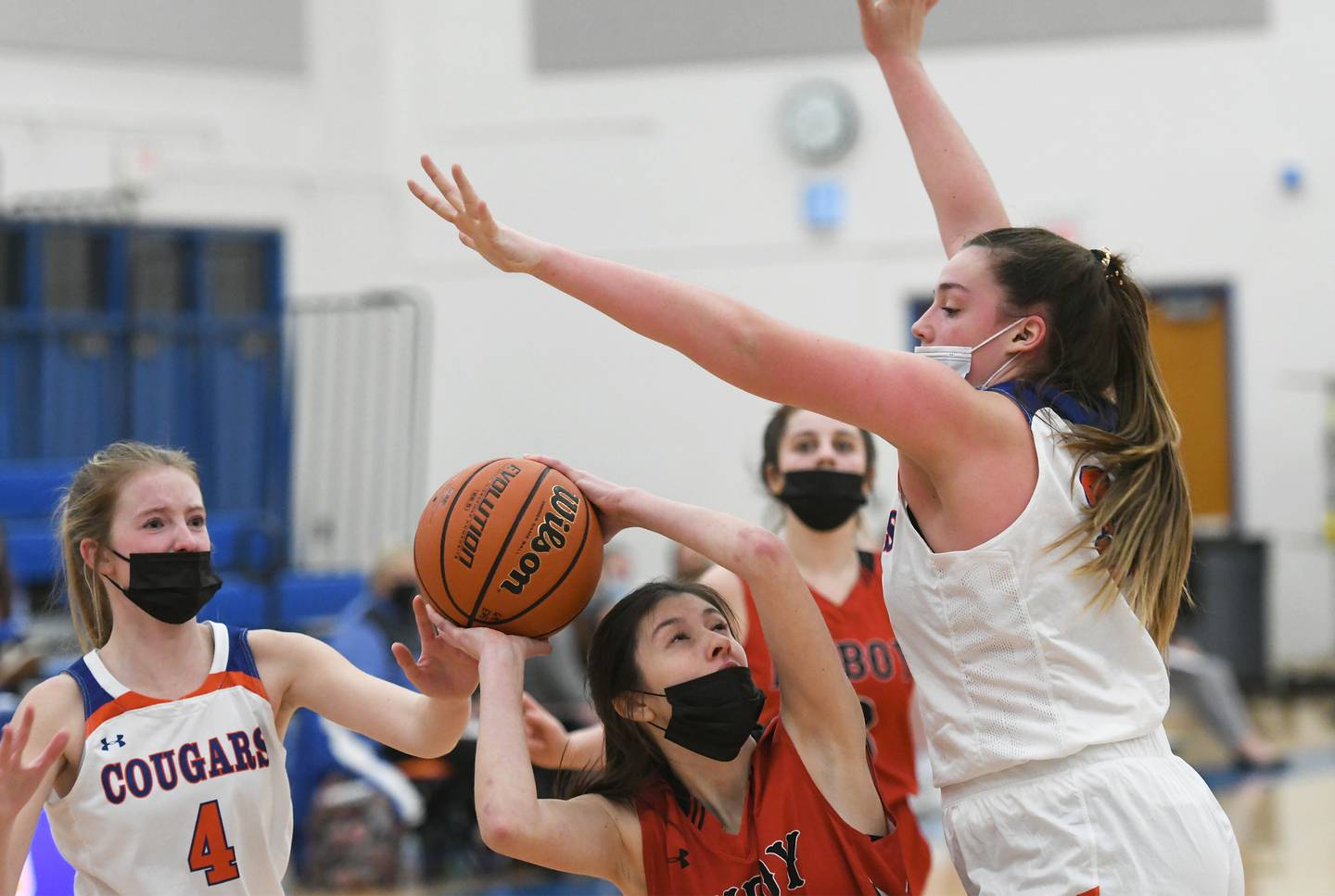 The Cougars credited their defense with the late surge, as they forced 12 Amboy turnovers in the final quarter.
"It was not looking good in the first half, but we picked it up offensively, and we picked it up defensively, and that turns into offense," Myre said. "We score a lot off of our defense, and that gives us some motivation.
"That's who we are. We're a defensive team mostly, and we get a lot of steals and turn them into offense. We thrive off of that, and it's a big part of our game. It brings us a lot of energy, and we need that, and it just pushes us to the end."
Larson hit a free throw to make it 36-33 Amboy, but Myre nailed another 3 to tie the score with 1:28 remaining. Jones gave Amboy the lead back with two free throws four seconds later after a foul in the backcourt, but Myre rained in her final 3 with 59 seconds to play to give Eastland its first lead since midway through the second quarter, 39-38.
"We have a couple plays that we've been working on in practice that get a shooter open, whoever's hot with whatever's going on, and I guess that was me tonight," Myre said. "The shots started going in, so everybody said, 'Let's work with it and try to figure it out.'"
"I was frustrated that we weren't getting to her, and she kept making shots," Dinges said. "But we just had to keep building on our end, answering her shots and scoring, and trying to stay ahead."
Jones again came through at the free-throw line, hitting two with 46.3 seconds left as Amboy retook the lead at 40-39. The teams then traded turnovers, with Amboy getting the ball back and getting it up the court, where Larson was fouled with 3.1 seconds to play. She hit the second one for a two-point lead, and Burkholder was forced to heave a long 3 at the buzzer that came up short.
"I was so nervous, and then when the first one didn't go in, that made me even more nervous," Larson said of the late free throws. "But I think I did better under the pressure.
"It was crazy, because we've been there so many times in past years, but as a team we knew that we could do it," she added. "We've been thinking about this, we really needed to work together, and we did."
The teams traded leads in the early going. Haverland's putback at the buzzer to end the first quarter broke a 6-6 tie, then Paige Joiner hit a jumper to open the second quarter for a 10-6 lead. A basket by Ortgiesen and two free throws by Dinges gave Amboy a 12-11 lead midway through the second, but Sweitzer's floater in the lane made it 13-12 Eastland with 2:55 left in the first half.
Dinges hit a pair 3-pointers about a minute apart to give the Clippers an 18-13 lead, but Sweitzer hit two free throws with 24.5 seconds left to make it 18-15 at halftime.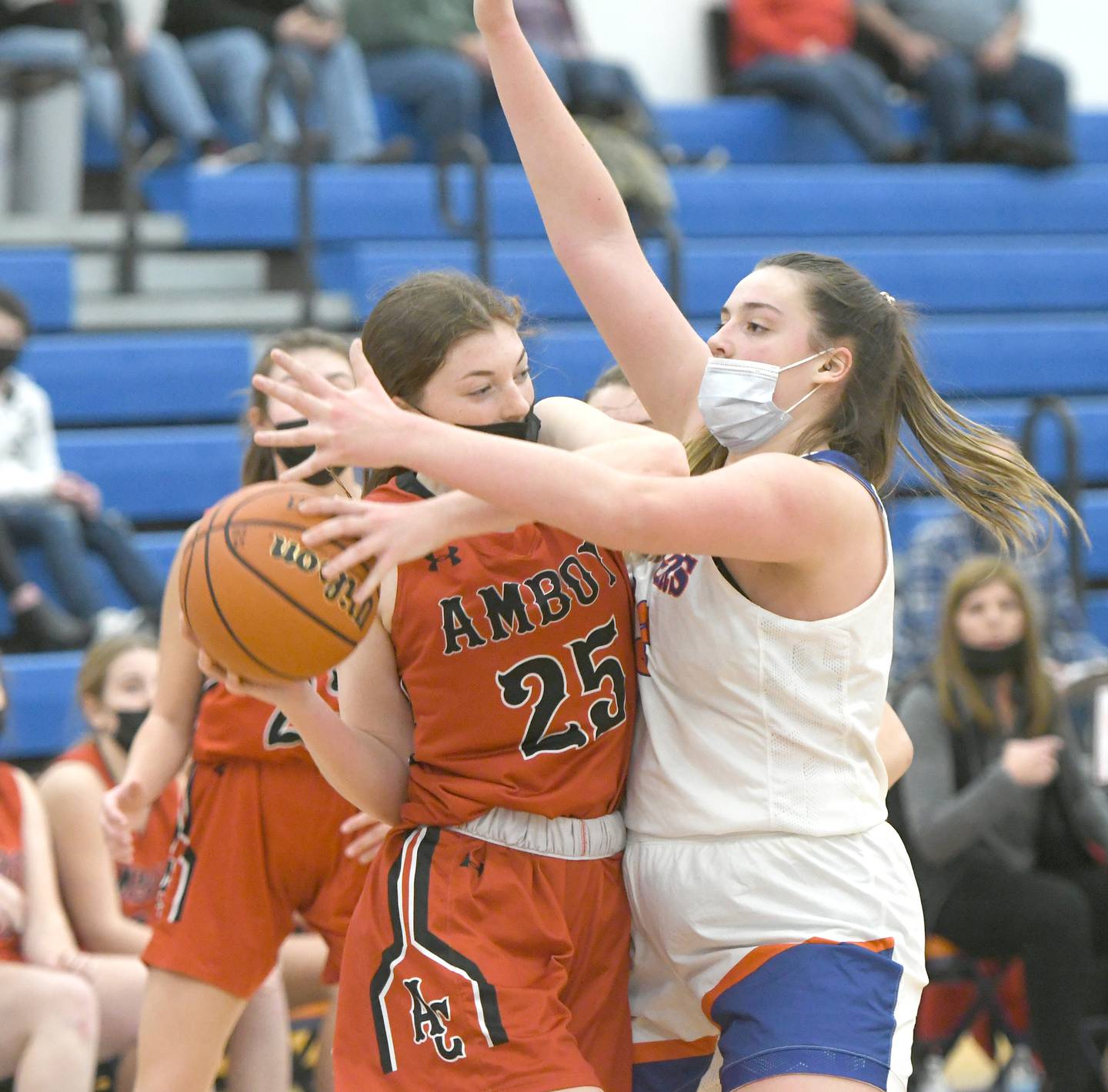 Amboy took control in the third quarter, scoring the first 10 points of the period. Ortgiesen scored on an inbounds play, then Larson hit a jumper for a 22-15 lead just 2:08 into the third. Dinges' drive down the lane with 3:31 left in the quarter gave Amboy a 24-15 lead, then her putback and assist to Miller a couple of minutes later made it a 13-point margin.
Like Eastland, the Clippers felt it was their play on the defensive end that made the difference in building that lead.
"We talked really well, we worked really hard on bumping, we communicated on the court and every time we were on the bench," Larson said. "We figured out what we needed to do, and we all just worked together."
"We've really stepped up our defense throughout the year, and we know how to bump well and rotate and talk," Dinges added. "It's always important to talk out there, especially in a big game like this."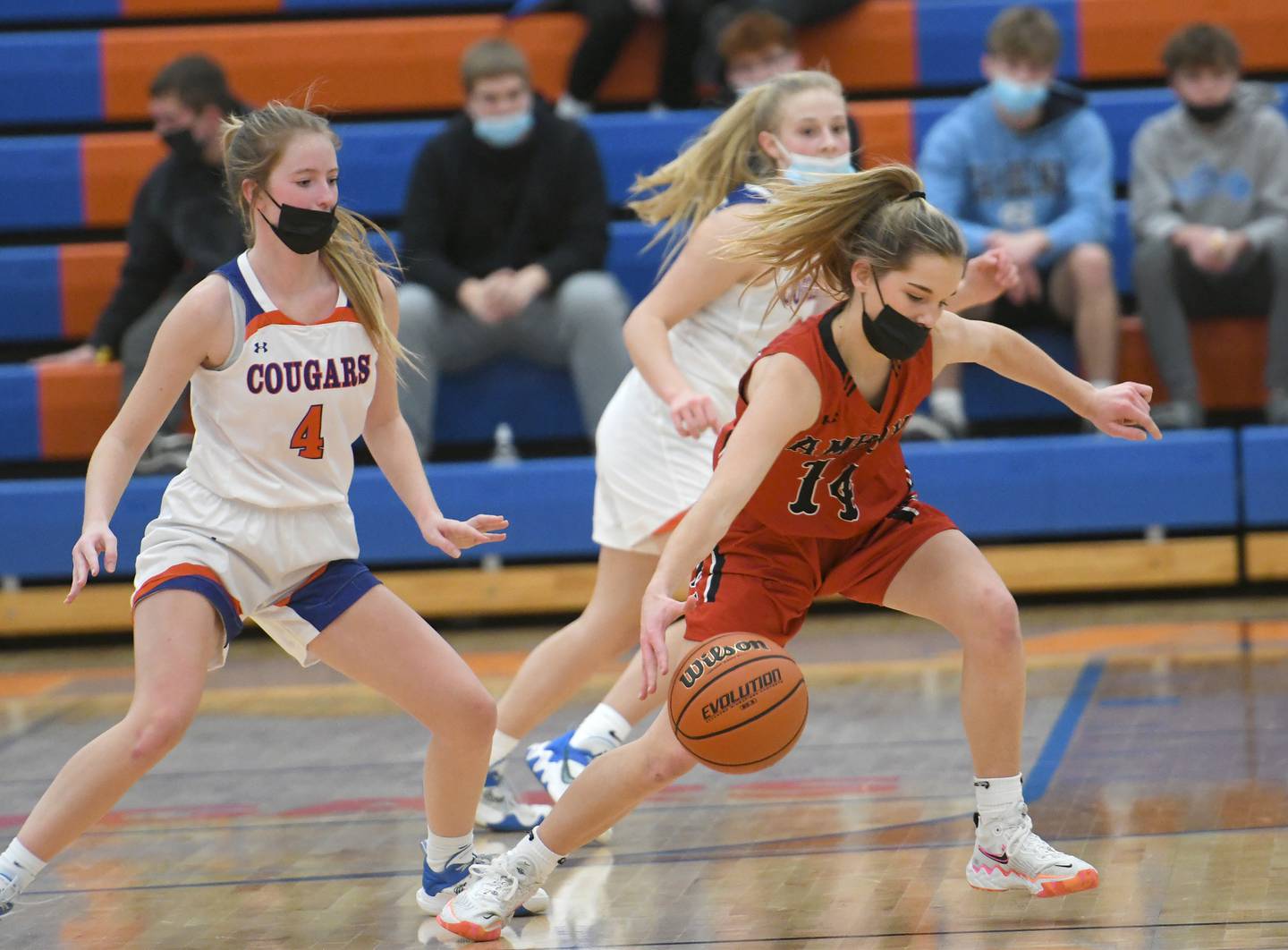 Dinges led Amboy with 16 points, seven rebounds, two assists and two blocks, and Larson had 11 points, four rebounds and five steals. Jones and Ortgiesen both finished six points and two assists, with Ortgiesen adding seven rebounds and two blocks, and Jones nabbing four steals.
Myre scored all of her game-high 18 points in the final 6:25, and she also had four rebounds for the Cougars. Sweitzer added eight points, Kempel finished with four points and six rebounds, and Joiner added four points and two steals. Burkholder chipped in six assists and four steals, Haverland had two points, three rebounds, three steals and two assists, and Delana Erbsen added two points and four rebounds.
Eastland coach Nicole Brinker was pleased with what she saw in her team's comeback, but wished she would have seen it for the whole game.
"Really what it came down to is that we played with some intensity [down the stretch], and defensively we made some things happen," she said. "Annika was obviously the huge spark in that quarter, but I thought we just decided to play defense. That was the big deal.
"And when we play with that sense of urgency, and we play with that passion, those are the things we can do. If we played that way in the other three quarters, it's a different game."