DIXON – Trailing for most of the game against the No. 1 team in Class 2A, the Dixon girls basketball team hung tough and made a run late in the third quarter.
But Winnebago's half-court trapping defense proved to be too much down the stretch for the Duchesses in a 55-41 loss Tuesday night at Lancaster Gym.
The Indians (20-0, 3-0 Big Northern) made 11 of 12 free throws over the final two minutes and forced Dixon (19-4, 3-2) into a few empty possessions to pull away for the win.
"That's huge to hit free throws, but the defense was the key. Defense is definitely one of our strong suits, and we always use it to contribute to our offense," Winnebago senior Miyah Brown said. "We're especially strong at our '4′ defense, which is that last trapping zone that we played. We definitely used that when we needed it tonight."
Winnebago needed that at the end because of Dixon's scrappiness through the first three quarters. Every time the Indians pulled away a little bit, the Duchesses had the answer and tightened the score again.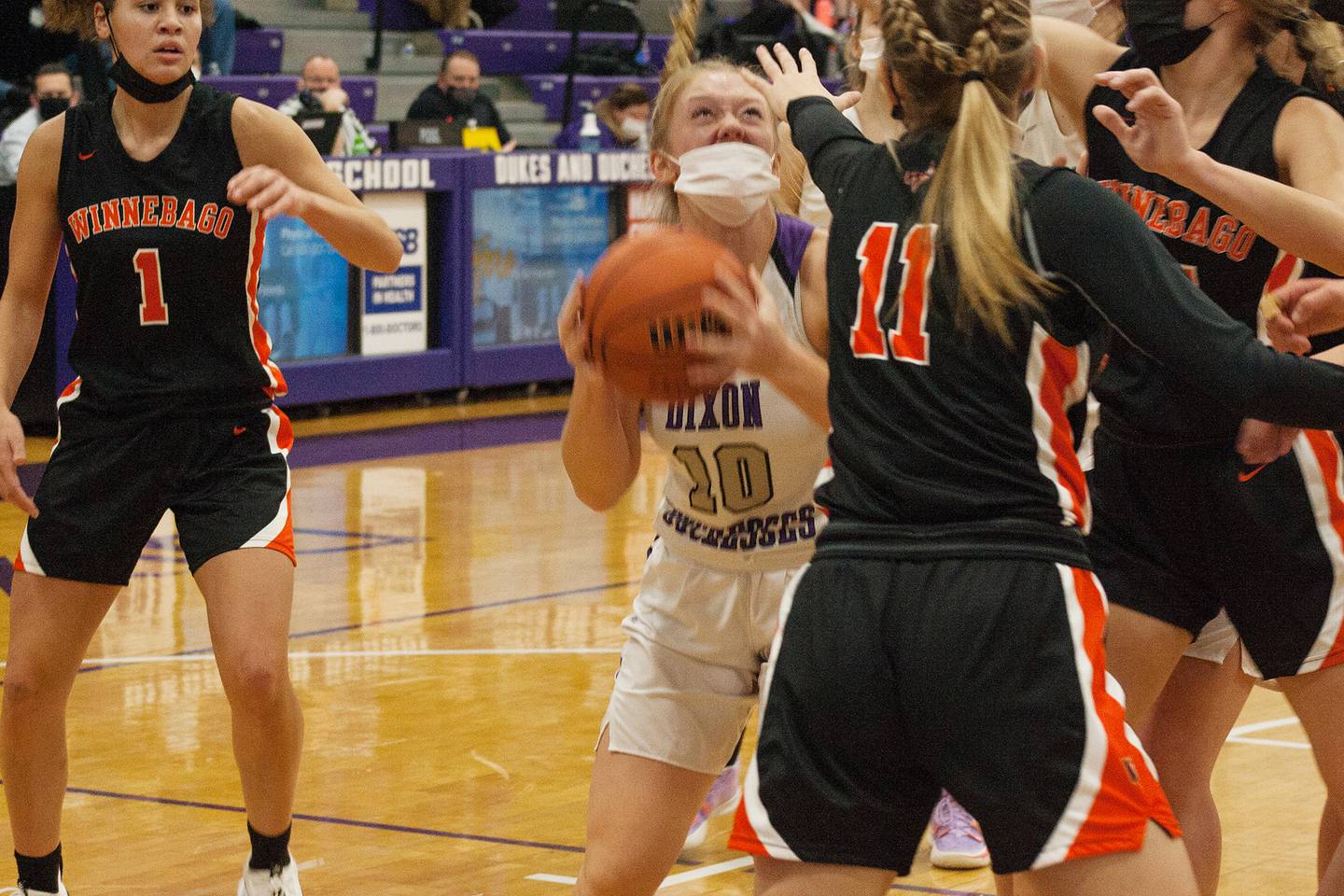 The last of those instances came late in the third quarter. Trailing 33-25 after a Brown basket with 4:20 to play in the period, Sam Tourtillott nailed a 3-pointer. Sarah Seger scored in the post for 'Bago, but Tourtillott nailed another 3, then Harvest Day drove the baseline for a layup to get the Duchesses within 35-33.
The next sequence was a wild one. After a stop on defense, the Duchesses ran through their offense, then had the ball tipped a couple of times by Winnebago. The last deflection sent the ball into the backcourt, but Dixon tracked it down and Tourtillott drove back the other way, going right down the lane before kicking it to Jessie Pitman for a wide-open baseline jumper and a 35-35 tie with 1:24 left in the third.
"I think the drive to just want to go out there and win was in us all," Day said. "We were down in the Lena-Winslow game, but we made a comeback, and we just always know that there's the chance that we can come back and win. It didn't happen tonight, but we know it can happen in the future."
Brown then scored the basket that put 'Bago up for good. After Dixon tied the game, 'Bago ran through its offense and got the ball to Brown on the right side, and she drove the baseline and hit a reverse layup for a 37-35 lead with 38 seconds left in the third.
"That's just what the team needed," Brown said. "We just needed to keep scoring. Sometimes we go through those little dry spots of not scoring, but we just need to put it in the basket to break out of that. We know ourselves, and we have to spread the love, pass the ball. Everyone was engaged, everyone was contributing, so that always helps."
Renee Rittmeyer's pull-up jumper to open the fourth quarter made it 39-35 'Bago. Pitman saved the ball from going out of bounds on Dixon's next possession, and her pass back into the lane was tapped by Tourtillott to a wide-open Rylee Pfoutz for a layup to make it a two-point game.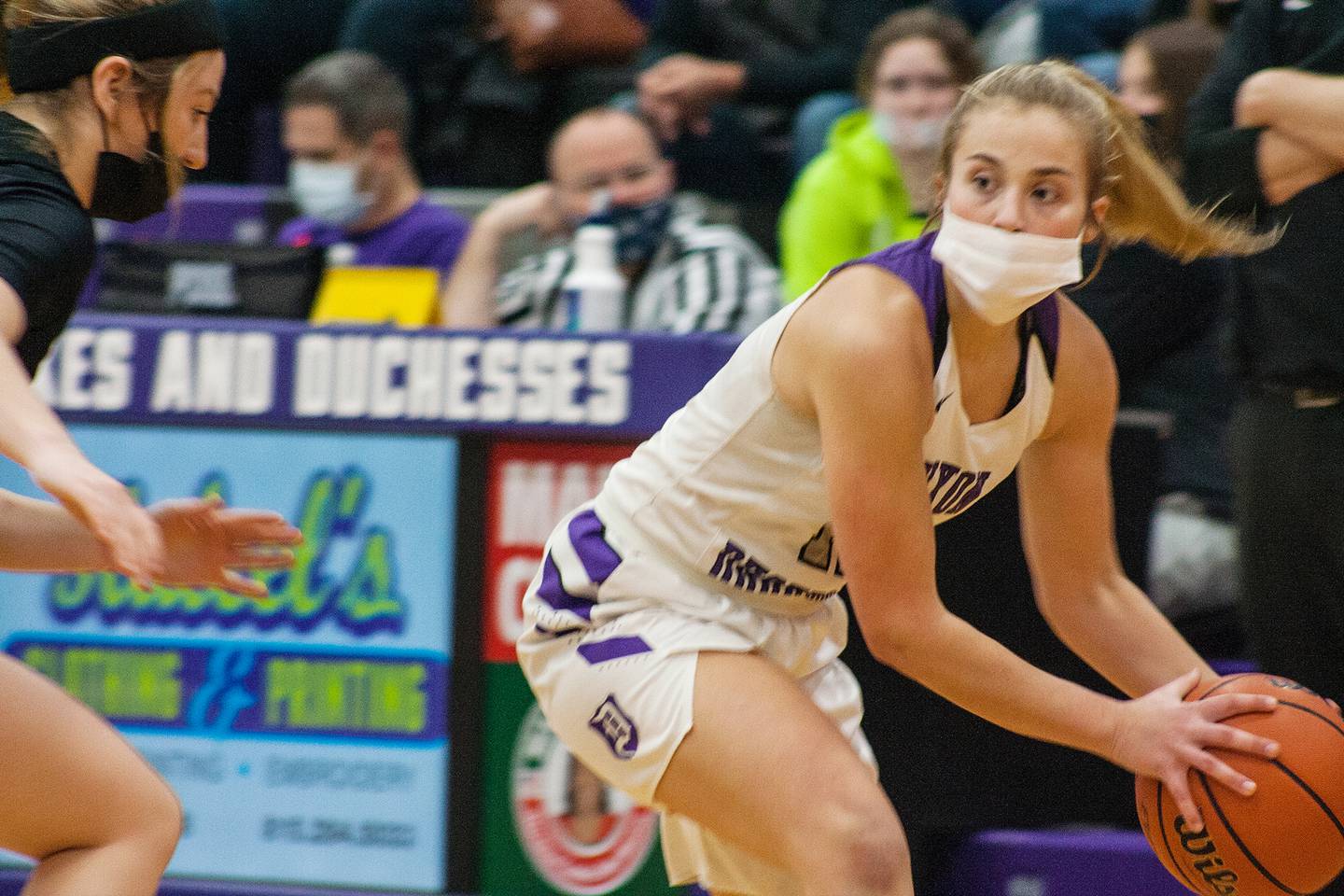 But Brown hit a floater on the other end, then after the Indians got a stop, Jocelyn Harms knocked down a 3 for a 44-37 'Bago lead.
"That's the way this group has worked all year," Winnebago coach Judy Krause said. "I'm proud of the fact that they don't fall apart, they just regroup. And I think that's what they did in the fourth quarter tonight."
After the Indians switched to the half-court trap, the empty possessions started to mount for the Duchesses. They committed six of their 15 turnovers in the fourth quarter, and it seemed like every time Dixon had a possession that resulted in no points, Winnebago capitalized on the other end.
"I feel like we got a little flustered there at the end," Day said. "Their change in defense kind of got us, and they're all really athletic."
"We've had success against that defense all year, and so it was tough to see that," Dixon coach Luke Ravlin added. "But the thing is, Winnebago really brings a unique skill set in that particular setup."
Dixon was on the comeback trail all game long. Down 11-2 midway through the first quarter, Pfoutz hit a 3 and Day scored on a putback before Tourtillott fed Elle Jarrett for a post bucket to get Dixon within 14-9. Day hit a free throw to make it 14-10 at the end of the first, then Tourtillott took a handoff from Day at the top of the key and drove down the lane for a layup to make it 14-12 just 38 seconds into the second period.
Day scored another putback, hit a free throw, then nailed a 3 to tie the score 18-18. Day then answered Brown's three-point play with another 3 to tie the game at 21-21 with 3:24 left in the second. Brown scored a layup on a hard cut and pretty pass by Seger, but Day answered with a pair of free throws to make it 23-23.
Harms hit a 3 for 'Bago, and Tourtillott responded with another drive to the basket, but Brown scored off another Seger assist to give the Indians a 28-25 lead at halftime. A Rittmeyer putback and a driving layup by Brown gave Winnebago a 33-25 lead with 4:20 left in the third before Dixon's final rally.
"Our kids have worked really hard to get to a place where they're confident enough to do that type of thing," Ravlin said about battling back. "I think the hard work showed in those moments. Kudos to Winnebago; that's a really good team, and they're going to do good things. It's a great learning experience for our kids, and kind of shows us, 'OK, this is what we need to be working on, this is what we need to be doing.' Every day in practice, we've got to try to go a little bit harder and get a little bit better."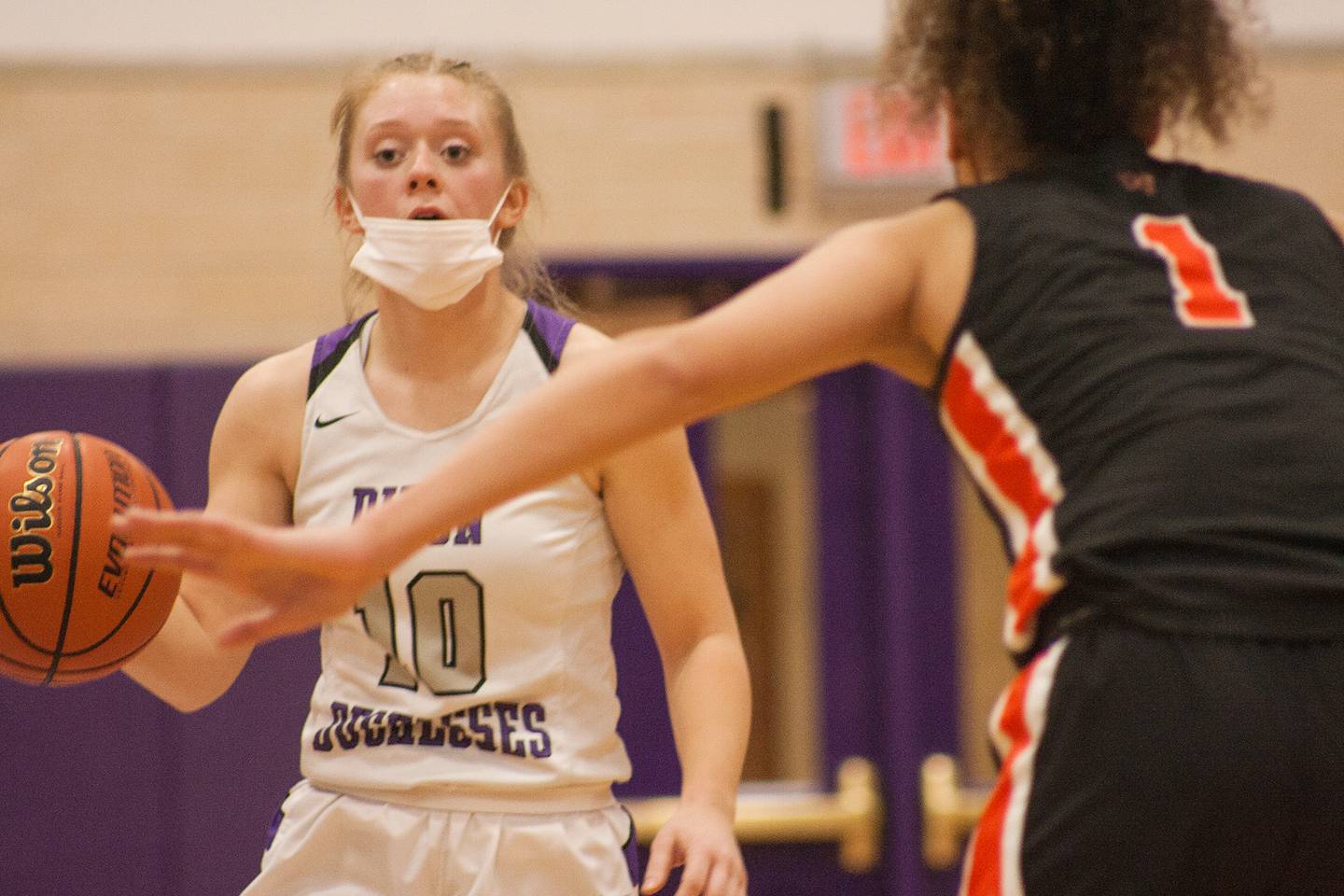 Brown credited her team's experience for the ability to fend off the repeated Dixon attacks.
"We always try to keep our defense tight, and keep our composure on offense and defense," said Brown, who will play at Bellarmine University in Louisville, Kentucky next year. "We wanted to keep our energy high, we didn't want to go in a slump. Dixon's a good team, so you always have to be ready for anything."
Brown led 'Bago with 17 points, eight rebounds and two blocks, and Rittmeyer and Campbell Schrank scored 13 points apiece; Rittmeyer also had seven rebounds, four steals and two assists, and Schrank added four rebounds and two assists. Harms had the two 3s for six points, Seger finished with three points, five rebounds and four assists, and Annika Bielskis chipped in three points, four rebounds, three steals and two assists for the Indians.
"We don't depend on just one or two players. We've got a bunch of girls that can contribute," Winnebago coach Judy Krause said. "They were playing loose, just playing the game, and once thinking gets involved, then all of a sudden mistakes start happening a little bit more. But they were able to get it going again at the end."
Day scored 16 of her game-high 18 points in the first half, and she finished off a double-double with 11 rebounds, two steals and a block. Tourtillott had 10 points, four assists and two steals, Pfoutz finished with five points, five rebounds and two steals, and Jarrett scored four points and grabbed five rebounds. Pitman blocked a pair of shots for the Duchesses.
"Being able to play well against a good team like that, it just shows us how good we are, how good we can be, and where we can go," Day said. "I really think we can do it all now. Even though it's a loss, it's just a lesson learned in our books."