DIXON – When the Dixon girls basketball team builds a lead, they're pretty good at thwarting any comeback attempts.
The Duchesses led by double-digits early in the second quarter of their Big Northern Conference opener Friday night against Genoa-Kingston, and used a stingy defense to stifle the Cogs from there in a 51-37 victory at Lancaster Gym.
"I feel like we all just went out and wanted to dominate this game on defense," junior forward Harvest Day said. "We wanted to show everyone what we're made of, and that comes from our defense first. We just get really energized, and then it goes into our offense."
Day and fellow junior post Ella Govig were the workhorses for Dixon (7-0, 1-0 BNC), as they controlled the boards and scored both inside and outside. Govig finished with 21 points and 10 rebounds, and Day had seven points, 11 rebounds, five steals and four assists.
"We love to play like that. We work on trying to get the ball into the post, and that helps us get the guards open for their shots, which they were hitting tonight," Govig said. "I think our offense was good and we were hitting our shots. I think it was a really fun game overall, and we all played amazing."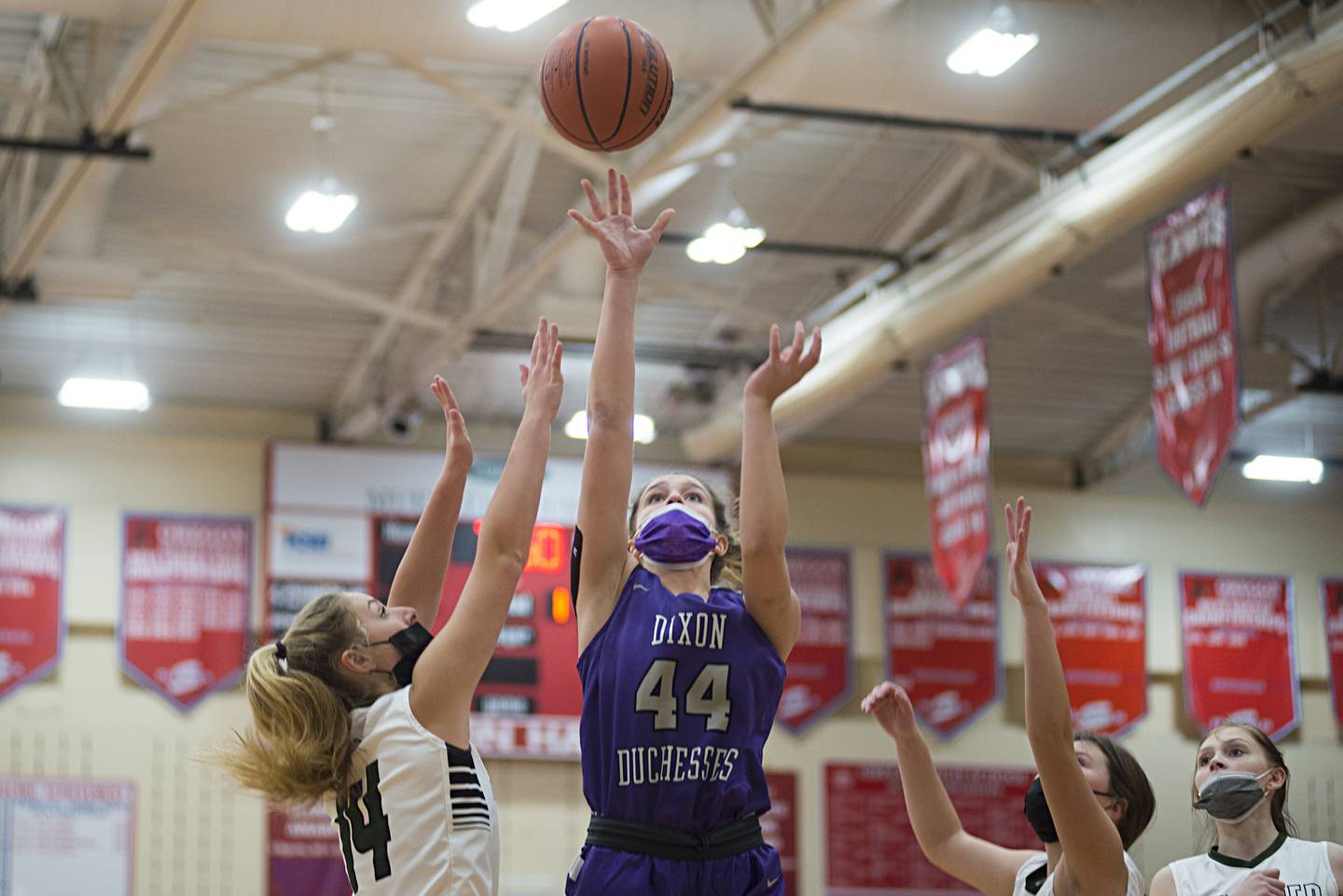 Day, Govig and Hannah Steinmeyer all scored inside, and Kait Knipple nailed a 3-pointer as Dixon opened the game with a 15-2 run over the first 8 minutes, 29 seconds. Sam Tourtillott hit four free throws in the stretch as well; the Duchesses hit 14 of their first 16 free throws in the game, and finished 15-for-23 from the line as they drew fouls with aggressive drives to the basket and strong entry passes into the post.
"We just had patience," Day said. "After we built the lead, we knew we could slow it down, get better shots and run better offense.
"We all build off each other's energy, so it's not just one of us, it's all of us. We work really well together."
Genoa-Kingston (6-4, 0-1) answered with 3-pointers from Emily Gilbert and Avery Walters, then Emily Trzynka and Cortlyn Tetzloff scored runout layups off passes from Gilbert and Ally Poegel to cut the deficit to 17-12.
But Dixon outscored the Cogs 8-4 over the final 2:33 of first half, as Govig and Tourtillott completed three-point plays before Jessie Pitman and Abby Knipple hit free throws to counteract baskets from Trzynka and Tetzloff.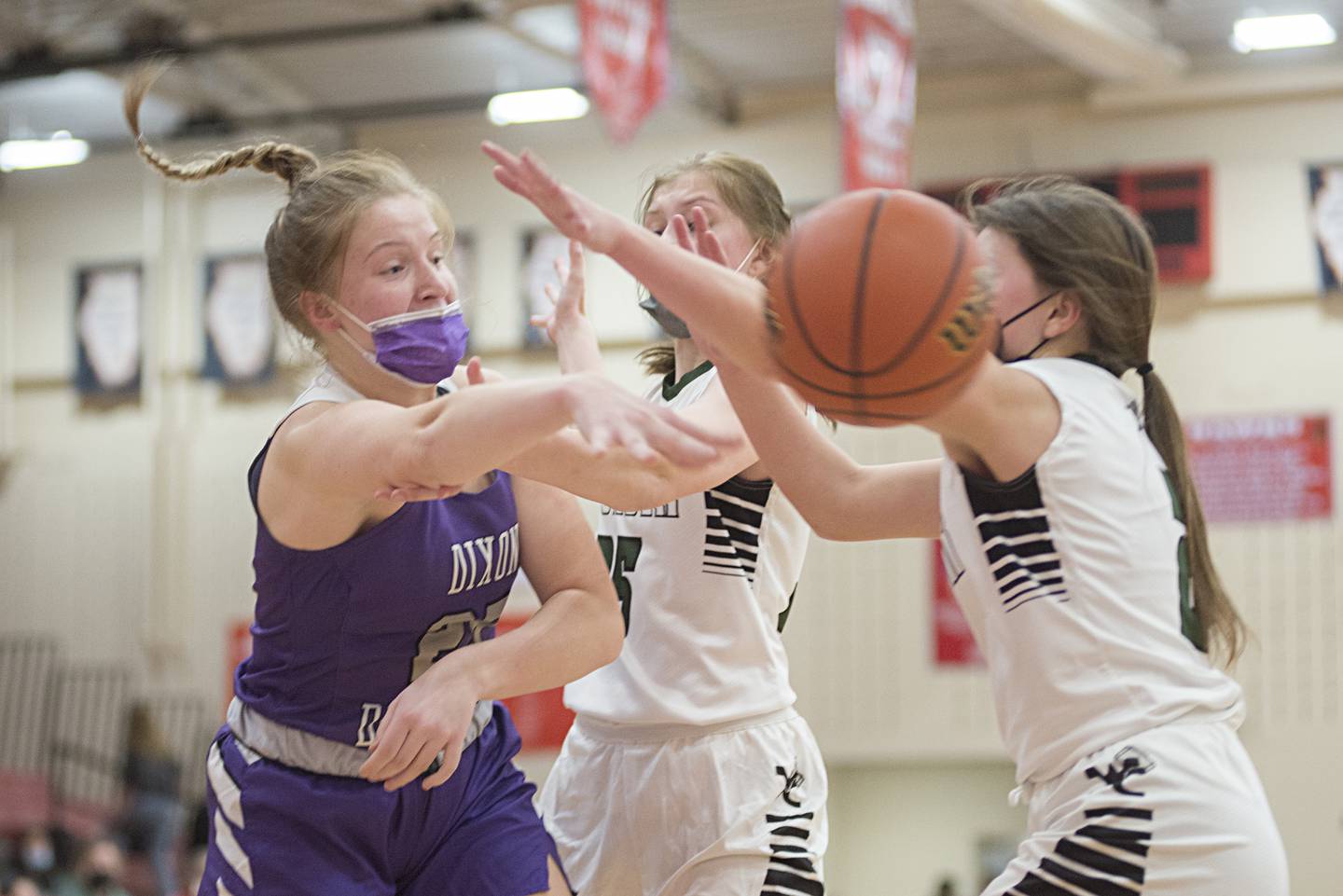 The key for the Duchesses was to close off the lane and force Genoa-Kingston's ball-handlers to stop their drives and pass the ball, or put up difficult shots in the paint. The Cogs shot 33.3% from the field (15-for-45), including 36.4% from 3-point range (4-for-11), and turned the ball over 17 times as Dixon nabbed 14 steals.
"We changed our whole offensive system this year, so the girls are still learning," G-K coach Brendan Royalty said. "And Dixon does a great job of shutting down the lane; that's what they pride themselves on, is at the defensive end and slowing it down and controlling the pace, and they did a great job of that tonight.
"Some nights the shots fall and some nights they don't. You've just got to move forward and learn from it, and keep building."
The third quarter saw another Duchesses run, as they got two free throws and a putback from Govig and a fast-break layup from Tourtillott after Rylee Pfoutz stole the ball in the backcourt and found her fellow senior guard with a pretty pass.
After Gilbert's bucket in the lane, Day and Gilbert traded 3s before Day and Tourtillott drove to the hoop for layups to close the third with Dixon leading 38-23. Pfoutz then opened the fourth period with a free throw and a coast-to-coast layup on another steal, and Govig hit a 3 to answer a Tetzloff layup for a 44-27 lead.
Trzynka's take to the basket and Bryce Boylen's bucket in the paint off a pretty feed from Walters cut the Cogs' deficit to 44-31, but Govig scored on a pick-&-roll with Pfoutz, then hit another 3 to stretch the lead back out to 49-32 with 2:37 to play.
Steinmeyer added a layup off a Govig pass for Dixon's final points with 58.5 seconds to play, then G-K's Kaitlyn Jerbi closed the scoring with a 3 with 29 seconds remaining.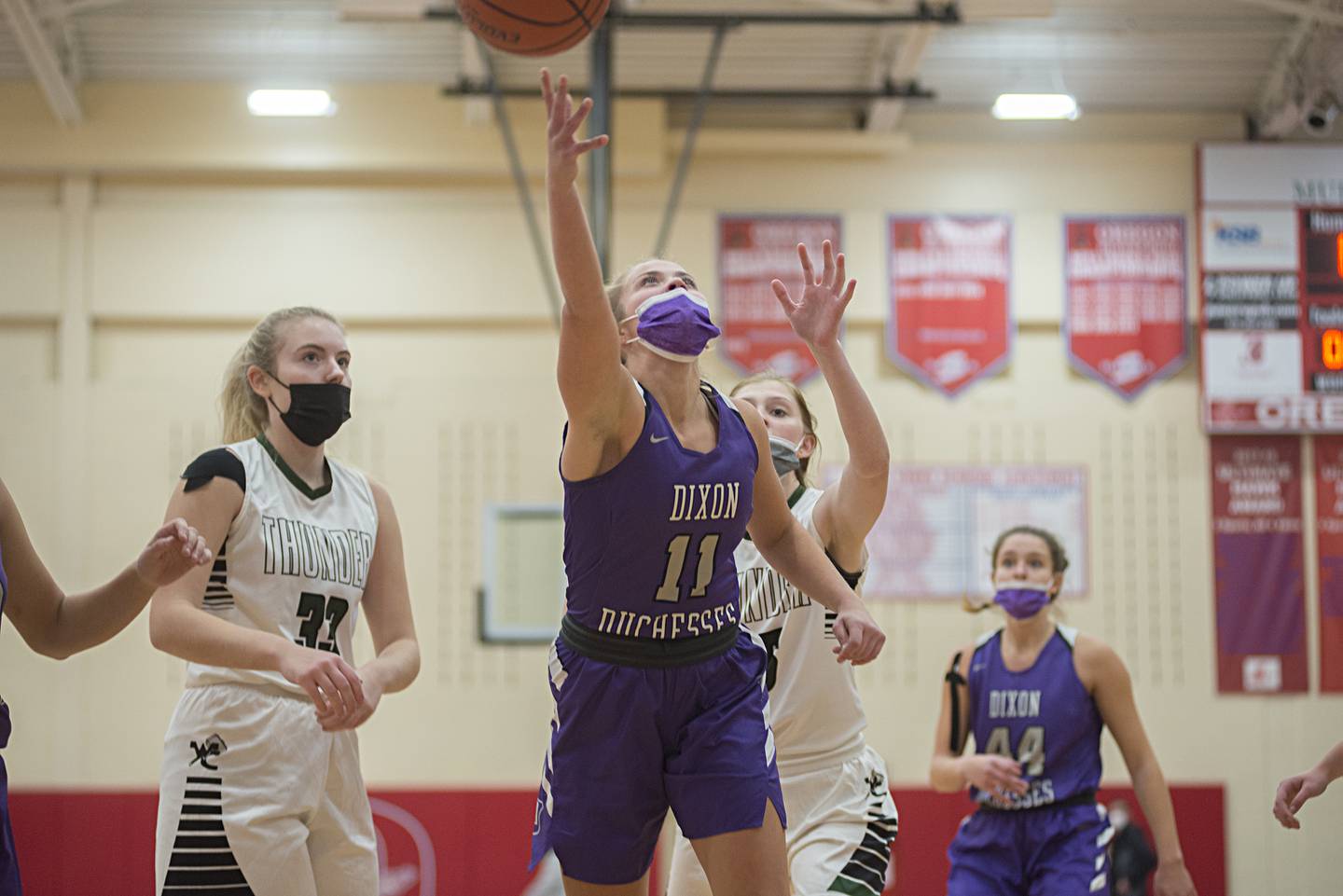 Tourtillott had 11 points, three rebounds, two assists, two steals and a block for Dixon, and Pfoutz added three points, five rebounds, two assists and four steals. Kait Knipple and Pitman also scored three points apiece, with Pitman grabbing five rebounds.
But it was at the defensive end where the Duchesses took the most pride in their conference-opening victory.
"We played together as five on defense, it wasn't just one individual person," Govig said. "We all worked together, there was good help, we were all communicating out there. We've been practicing hard, putting in the work on our defense, and we figured it out and got it down tonight."
Gilbert had 12 points, three rebounds and a block for G-K, while Tetzloff and Trzynka both scored six points; Tetzloff also finished with five rebounds, four steals and two assists. Walters had four points and two assists, Boylen added four points and four rebounds, and Poegel chipped in two points, three rebounds, two steals and a block.
Royalty pointed to the work on the glass as a key learning point for his Cogs, after Dixon outrebounded them 48-28; the Duchesses had 24 offensive boards.
"We take away that they were more physical, more aggressive on the rebounding aspect," he said, "so we go back and watch the film to see what we did wrong, see where we can improve, and come out better the next day."