After seven seasons at the helm of the Rock Falls girls basketball team, head coach Eric Wolf has resigned.
The school board accepted the resignation at Wednesday night's meeting.
Wolf guided the Rockets to a 123-74 record from 2014-21, including three 20-win seasons in the last five years. The Rockets lost to Winnebago in the Big Northern Conference Tournament title game in March.
"It was just time," Wolf said. "My daughter is getting older, and I'm ready to spend some more time with my family. I felt that if I can't put my full efforts toward the team or the program, it's just time to go.
"It wasn't an easy decision, and I'm going to miss it, but I feel like after 15 or 16 years as a coach at Rock Falls, including the last seven as head coach, I'm ready to step away and let someone else take over."
Rock Falls was 9-5 in the COVID-shortened season this winter, and won 26 teams in both 2018-19 and 2019-20, claiming a 3A regional title in 2019. The Rockets lost to Winnebago in a 2A regional final in 2020.
"When I started to apply and then got the girls job, my No. 1 goal was to show the girls that hard work pays off," Wolf said. "I'm happy where we are. There are certainly things that I wanted to accomplish that I feel I was unsuccessful with, but I'm happy that this program is respectful and respected around the conference and beyond."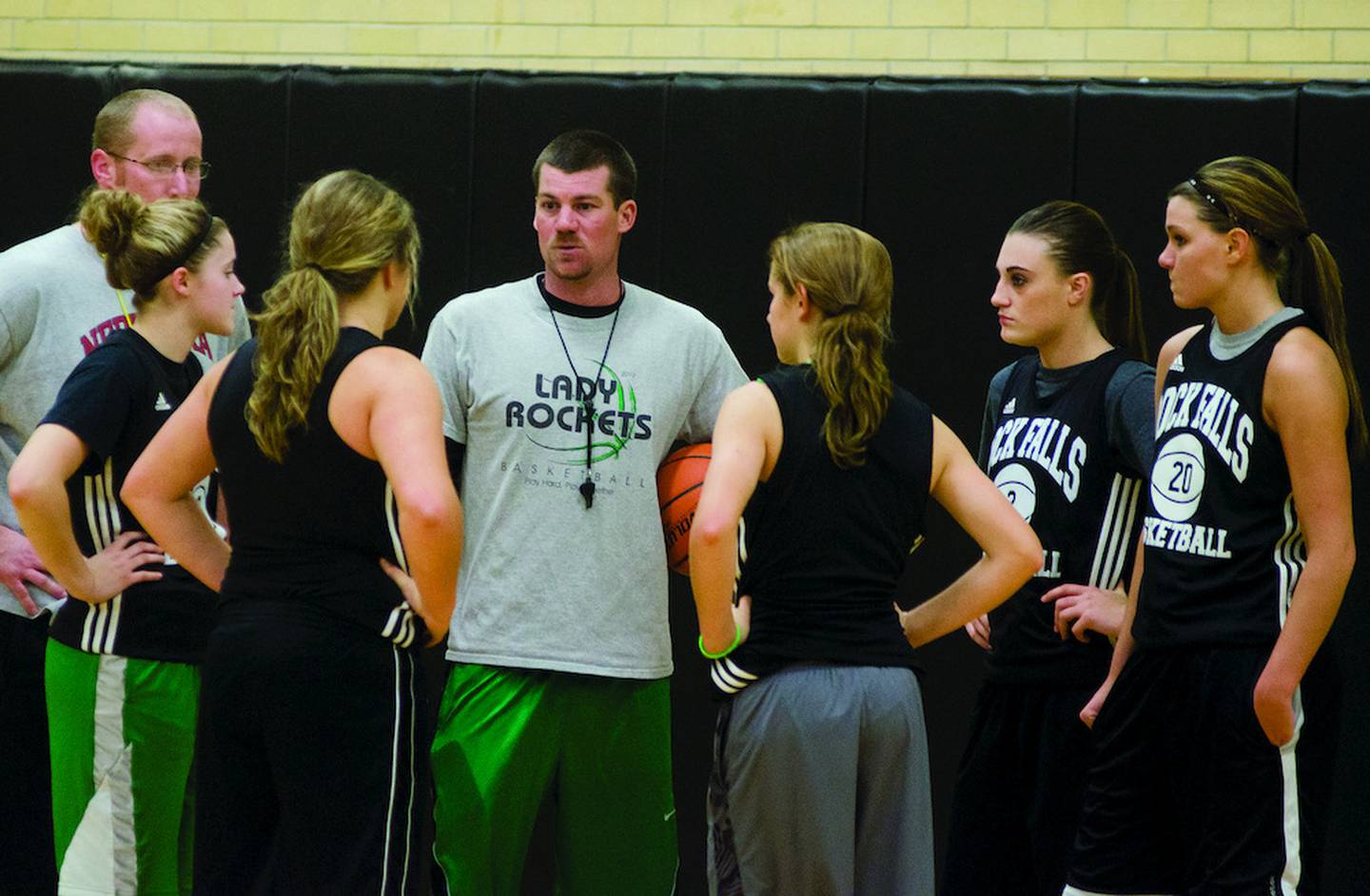 This past school year, Wolf filled in as an industrial arts teacher at the high school. He said it was something he's glad he tried, but he's also happy to return to the family construction business.
"I'm sad to see him go, but I'm happy for what he did for us," said Rock Falls Athletic Director Rich Montgomery, who is already searching for Wolf's replacement. "He did a great job coaching the girls and running the program. But I understand his decision, with his family and his dad's business. You hate to lose a guy like Eric, but we appreciate what he did for Rock Falls girls basketball."
In addition to spending more time with his daughter, Jersey, who's now 5 1/2 years old, Wolf will also continue to work for his father's business, Wolf Construction.
He says that while it's going to be tough to not be in a gym coaching the Rockets, he's also proud of what the team accomplished during his tenure.
"The thing I was proudest of was how all my teams competed at, in my eyes, a high level," Wolf said. "They never complained about the tough schedule or who we played, they just showed up and went out and played hard and, win or lose, came back the next day ready to work in practice.
"People knew who we were and what we were about at Rock Falls, and that's because of the girls. I'm proud to have been their coach."