DIXON – For the first time ever, in 2022 the IHSA will be hosting a state girls wrestling meet.
Friday and Saturday at Grossinger Motors Arena in Bloomington, the inaugural competition will be held.
For teams from the Sauk Valley area, three girls are in contention for a state title.
Representing Rock Falls in the 145-pound bracket will be Ellisa Russell. At 130 pounds, Jayda Rosenow will compete for Erie-Prophetstown, and in the 135-pound bracket, Elizabeth Ruter will wrestle for Oregon.
Russell, who has been wrestling since sixth grade, says she is grateful to have the opportunity this year, and hopefully, in the future.
"Honestly, it feels really good because when I first started off, there was barely any girls," she said. "So it just is very exciting for me to have other girls out there that are wrestling. It gives me a good opportunity to go and wrestle with them."
Russell's coach, Chad Williamson, has watched her progress rapidly from the beginning of her sophomore season to the end.
At first, he said, it was a struggle.
"She had a rough start of it, obviously. Wrestling boys all the time, she ran into some really good boys at her weight class," Williamson said. "When it came down to it, to where we went to the girls sectionals, it was kind of easier for her. She's used to wrestling the boys and the heavy hitters, and then she got to wrestle girls that she mostly outclassed and outperformed. So from beginning to end, huge difference, huge improvement."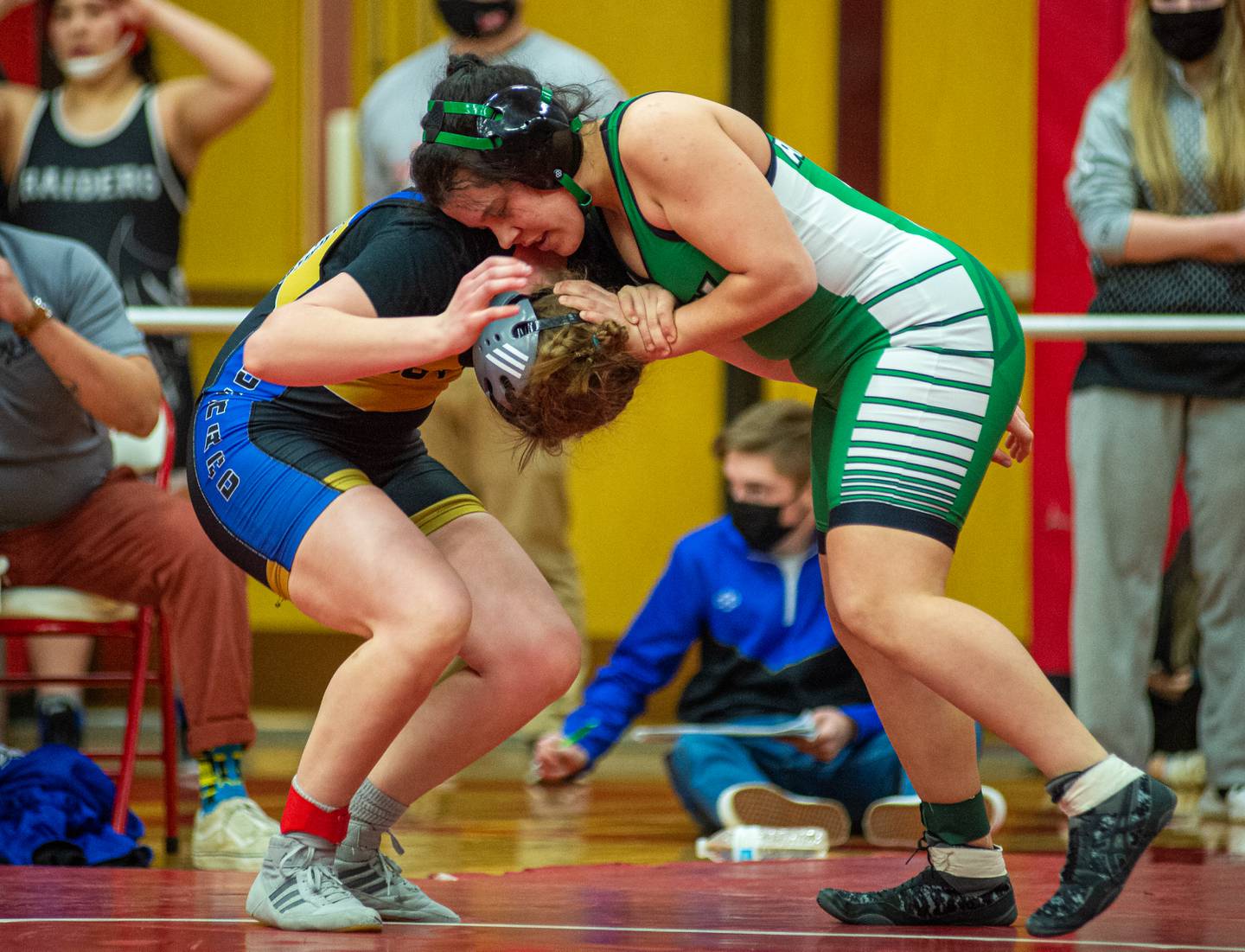 In the days leading up to the state tournament, Russell said she'll be working on her takedowns and bottom moves.
Having made it to state with a third-place finish at sectionals and having an advantage of experience over most of the girls at state gives her some confidence going in. At the same time, she says there's some nerves, too.
"A lot of them, it's their first time wrestling and I've been wrestling since sixth grade, so it's not really my first time. There was my second match for the first round, she was pretty good, she was good competition. Otherwise, there wasn't really competition, just because I've been doing it longer than them," Russell said, of the competition she's familiar with at the tournament.
"My confidence is pretty high since I made it to state to begin with, but at the same time, it's kind of low because I'm nervous, because it's my first time."
Williamson said he advised Russell to just go out and enjoy the moment. Controlling what she can control and keeping her preparation the same is all she can do. The rest will take care of itself.
"Just going out and wrestling, having fun. It's nothing new. All year, we talked about when we would take our lumps from the guys, it's like, you know what, we've still got the end of the year where it's the all-girls state where she can make her statement, and we've just been preparing for that," he said.
"Once we get there, it's a whole new game. It's a whole new season for her down there at state, and she's a part of history. I mean, it's the first IHSA state for the girls they're having, so we've just been preparing like we've been preparing all year to wrestle."
Russell (11-24) will take on Rock Island sophomore Sanaa Hampton (7-10) in the first round. Rosenow, a freshman from Erie-Prophetstown, will take on Berwyn-Cicero Morton senior Karla Topete (14-1). Ruter, an Oregon junior, will face Niles West junior Al Ghala Mariam Al Radi (14-1).