CHAMPAIGN – Brady Grennan saw that Ethan Monson won his consolation semifinal match at 120 pounds in the 1A bracket of the IHSA State Wrestling Tournament on Saturday.
That made the Newman sophomore very happy.
Monson topped Grennan earlier in the quarterfinals, but Grennan got the last laugh by winning the third-place match with a pin late in the second period against the Mercer County wrestler.
"I got beat by him earlier in the tournament, which I think was a fluke on my part," Grennan said. "I'm really happy to get that one back. It means a lot to me."
Grennan was one of three Newman wrestlers to medal on Saturday, with Will Rude taking third and 138, and Carter Rude finishing sixth at 126.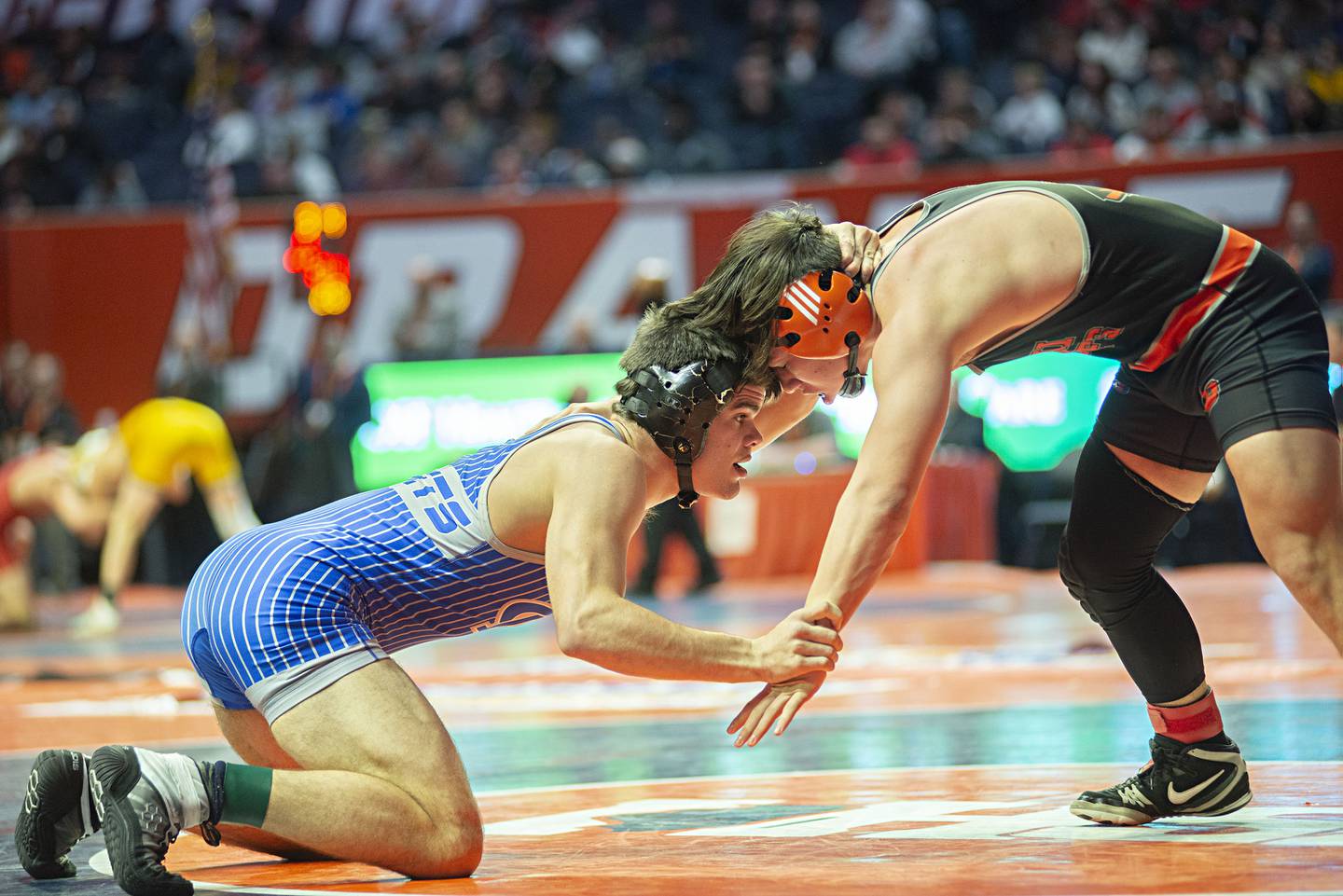 Also in 1A, Polo had a pair of medalists, with Wyatt Doty third at 126 and Daniel Engel sixth at 285. Erie-Prophetstown's Jase Grunder was fourth at 145, and Fulton's Zane Pannell was fifth at 170.
Sterling's Drew Kested had to withdraw from his fifth-place match and finished sixth. He had lost a 3-2 overtime decision to Rochelle's Caleb Nadig in the consolation semifinal.
Coach Kevin Heller said as the match was about to go to a second overtime, an official called an illegal hold on Kested. His reaction led to a misconduct call, which forced him to withdraw from the fifth-place match.
"It's like nothing I've ever seen," Heller said. "In 22 years of coaching, I've never seen this situation. Was it potentially dangerous? Yes, but for both wrestlers. Both had the same leg-lock in. I've never seen an illegal hold off that move in my life. And when it's 2-2 in overtime, and you decide the match, that's the most frustrating part to me. Let the kids decide who wins the match. As an official, please don't decide the match."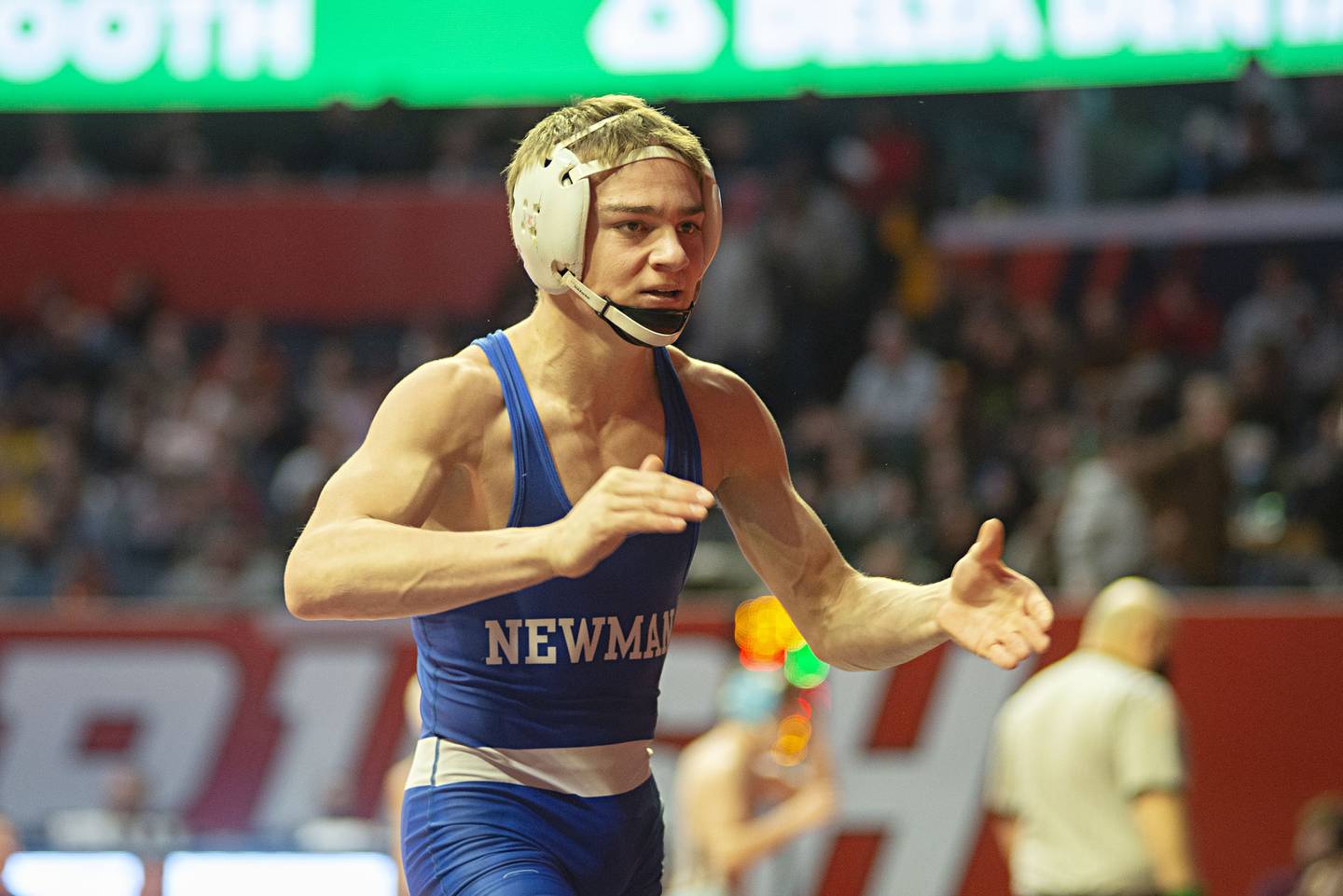 After losing to Monson on Friday night, Grennan had a long road to taking third. He had to win three consolation matches to earn the berth in the third-place match and get another shot at Monson.
With 4 seconds left in the second period, he got his pin – avenging the pin Monson got on him as time expired in the third period of the quarterfinal match.
"Like my coach told me, whoever gets third place is the grittiest kid in the bracket," Grennan said. "It means a lot."
Newman coach Daryl Dieterle said he was happy with how his team performed in taking home three medals.
"Anytime you come home with some medals coming out of this tournament, you can't complain," Dieterle said. "We wrestled well. I don't know what else to say other than I'm tickled to death."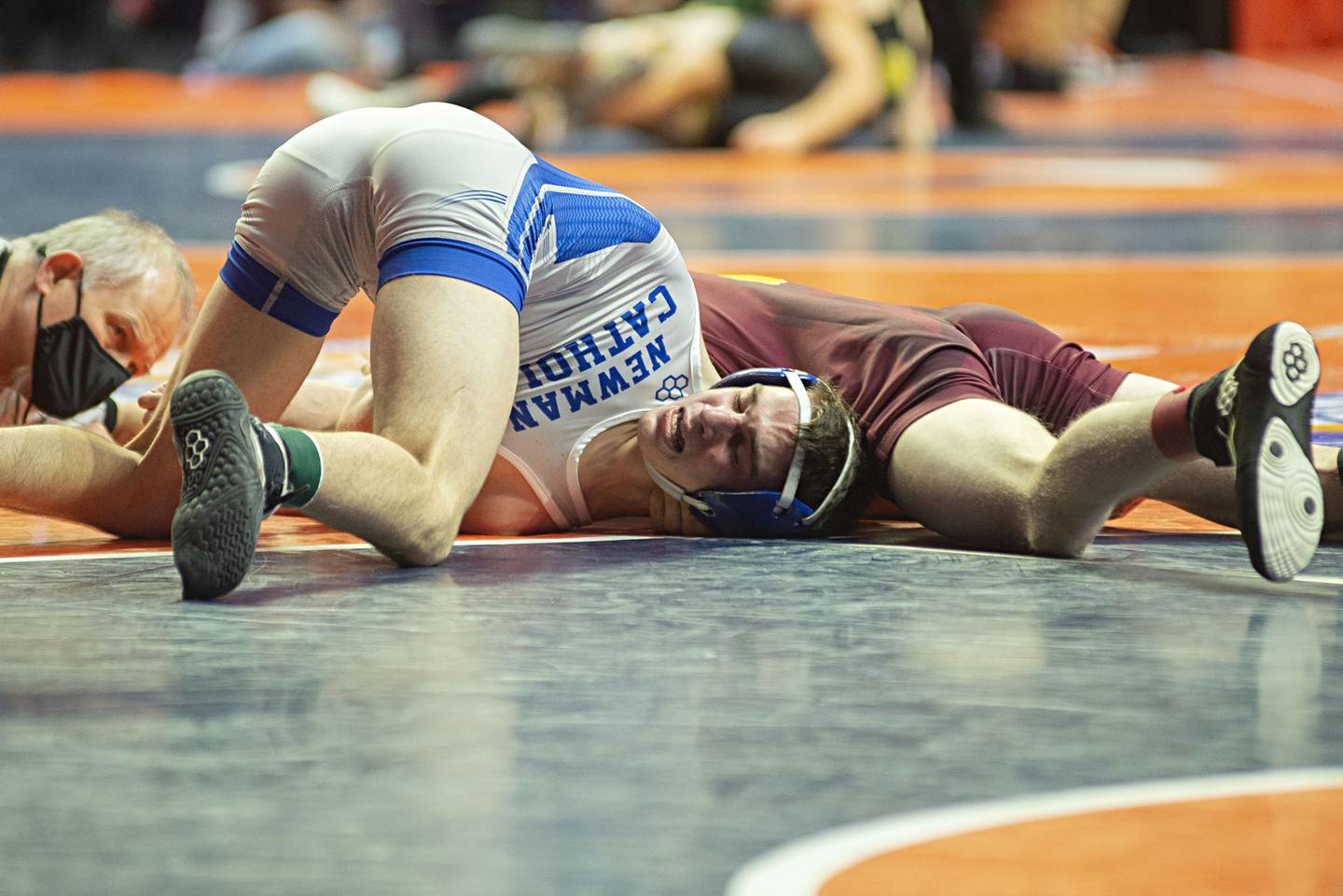 Will Rude picked up an overtime win, 3-1, to claim third over Illini Bluffs' Paul Ishikawa. After losing by two in the consolation semifinal, Carter Rude lost 14-2 in the fifth-place match to East Alton's Jason Shaw.
"To come down here and place as a sophomore is impressive," Dieterle said of Carter Rude. "Just to make it down here is impressive."
Polo brought two wrestlers to the state tournament and both left with medals.
"We brought two and they were both top six. I'm so happy," Polo coach Jesse Culbertson said. "A lot of people see these kids out here and think it's so individual. But with their practice partners pushing them and the kids in the room, it's a team sport. A lot of people don't realize that."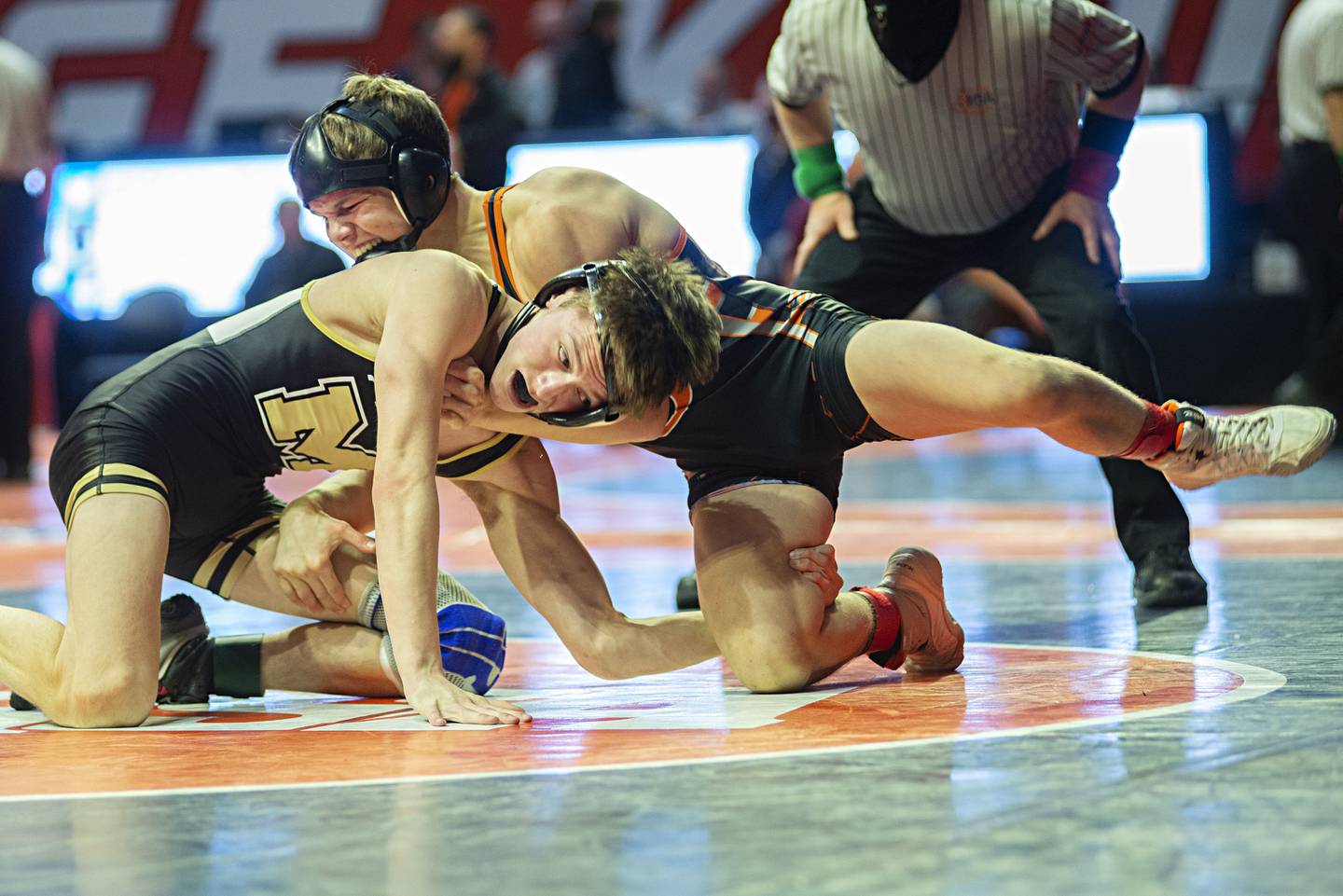 Doty, an Eastland junior, won his third-place match with a late takedown against Carson Bissey of Richland County, holding on for the 4-2 win.
"I knew I got to go, keep pushing him," Doty said. "He was pushing me, we were going at it. I secured my sweep, got the two. Then I knew I had to hold him down, just 10 more seconds."
Engel was pinned late in his fifth-place match, taking sixth.
"Earlier in the season I was out for a month and a half with COVID," Engel said. "I felt like I could have had my cardio up a little better."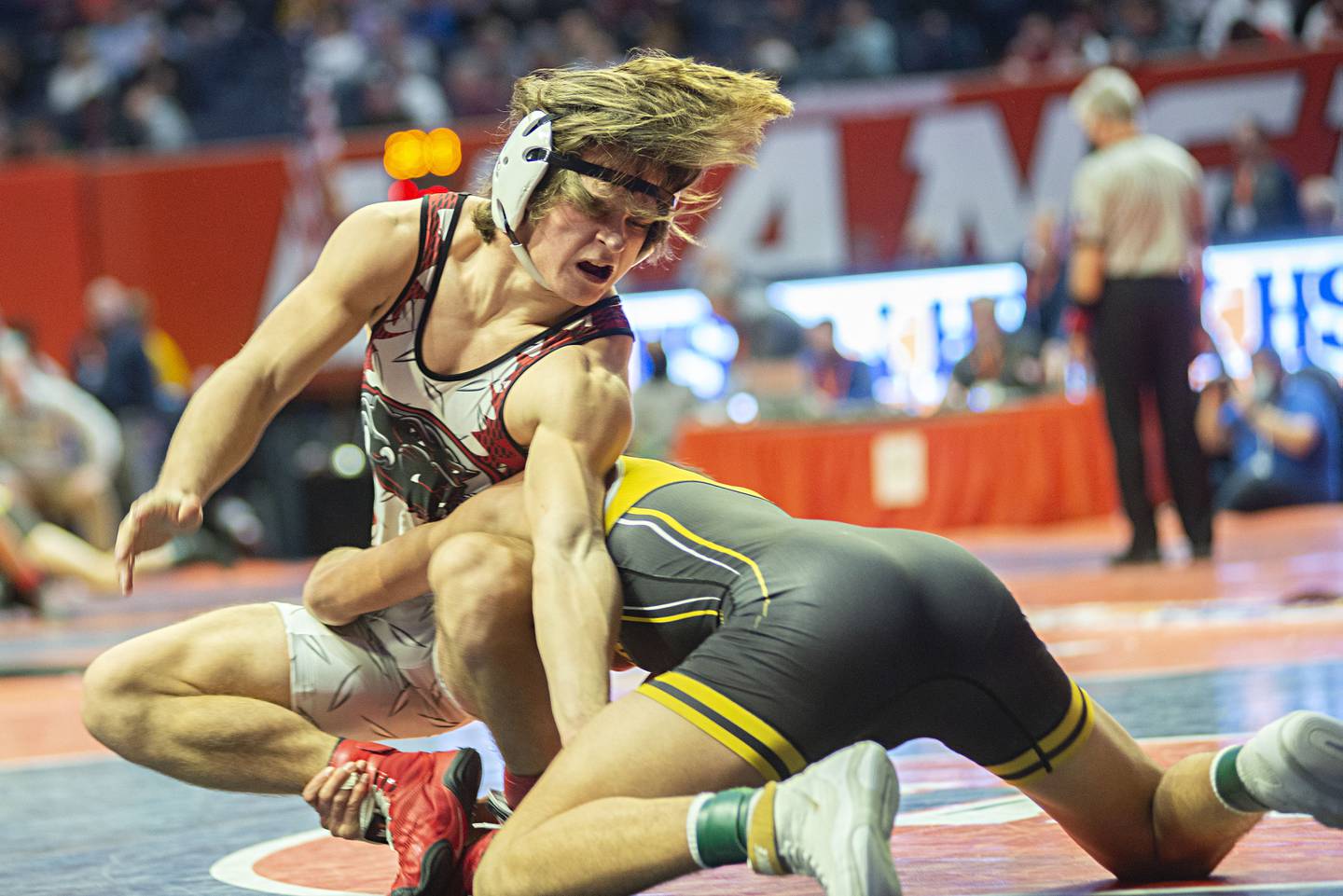 Pauses due to COVID mitigations were common for many schools. Erie-Prophetstown coach Tod McCullough said he was impressed with how his team pushed through multiple coronavirus pauses this year.
Erie qualified three wrestlers, with Grunder taking fourth at 145 after a 6-2 loss to Harvard's Ivan Rosas.
"It's not the performance he wanted," McCullough said. "He had a good performance last round, we thought his emotions would be up. But the kid controlled the pace a little bit. We weren't able to get a good shot on him.
"I know his dream would have been higher. He lost a heartbreaker last night, 1-0. Hopefully he remembers this next year; it's a feeling he doesn't want to have."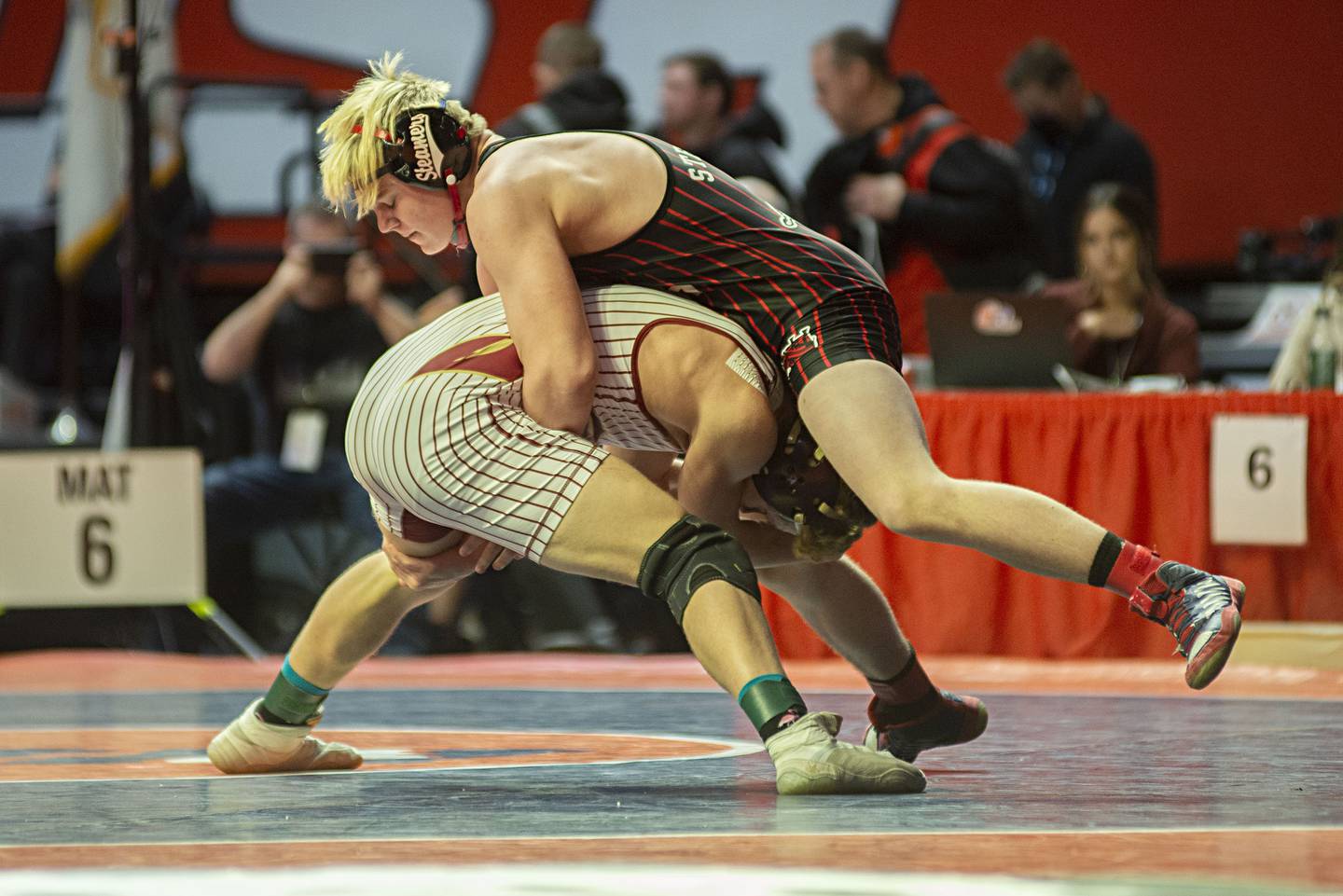 Pannell picked up a pin in his fifth-place match in the third period against LeRoy's Tyson Brent. In the consolation semifinal, he lost a 17-15 shootout to Canton's Joseph Norton.
Three other local wrestlers also wrestled in wrestleback bouts on Saturday, but lost in the consolation quarterfinals to finish 2-2 in the tournament and just miss out on medals.
Sterling junior Tommy Tate lost 10-2 to Geneseo's Anthony Montez at 160 pounds in Class 2A, while Morrison senior Kayden White was pinned by Westville's Rylee Edwards at 182 in 1A, and Dixon senior Justin Dallas lost 9-7 to Hillsboro's Magnus Wells at 220.