STERLING – While they didn't have the final round record they were looking for Saturday afternoon at Musgrove Fieldhouse, the Dixon Dukes wrestling team still took home the title at the 43rd annual Carson DeJarnatt tournament.
Dixon got an individual title from Mitchell White at 195 pounds, but also notched four runner-up finishes, one third place, and six fourths en route to the second championship in three years. Dixon won the title in 2018, then tied for second in 2019 before last year's tournament was canceled due to COVID-19.
Dixon scored 205 points to top runner-up Pleasant Valley (Iowa)'s 197. Sterling took third (174), Newman was fourth (128), and Galesburg finished fifth (125). Fulton placed eighth (55).
The Dukes won just two of their 12 matches in the final round of competition, but the fact that they were in that many to begin with made coach Micah Hey happy.
"One of the team goals before the year was to win a tournament, so let's get it out of the way quick, right?," he said. "I was telling the kids that it's really something special when you only get one guy that wins a title and you still win the tournament, because that means everybody really stepped up.
"We had a really tough last round, but that's because we won every single match in the first round, and almost every single match in that third round to get to those third-place matches. We still have a lot of stuff to work on, but it was all in all a good day – and it makes it sweeter when you win the title after a tough final round."
White was the only individual champion for Dixon, while Sterling and Newman had three each. The Comets ruled the lower weights, as Brady Grennan, Carter Rude and Daniel Kelly won consecutive crowns at 120, 126 and 132 pounds, while the host Golden Warriors got titles from Zyon Westbrook at 106, Drew Kested at 152 and Tommy Tate at 160.
Rude was voted by the coaches as the Most Outstanding Wrestler at the lower weights, while Kested earned the honor for the upper weights.
White's title match at 195 was the most dramatic of the finals. After a scoreless first period, Pleasant Valley's Rusty VanWetzinga started in the down position and escaped for a 1-0 lead, but White returned the favor just three seconds into the third period to tie the score at 1-1.
Neither wrestler could get the upper hand, but a tussle at the very end of regulation ended up with both wrestlers hitting the mat hard and VanWetzinga on top. But time had expired with neither wrestler in control, and they went to a one-minute sudden victory period.
"That third period, my shoulder popped out, and I thought it was over," White said. "But my coaches said the match was still going, I looked up and saw it was still tied, so I knew I had to get it done."
White did just that, using his favorite move to get a takedown of VanWetzinga with 37 seconds remaining to claim the title. White let out a whoop and got a bear hug from his coaches.
"Everybody knows me for it, but I used the lat throw. That's my go-to, really, to get a pin or get that final point that I need to finish the match," White said. "I've won a junior varsity tournament, but this is my first varsity tournament title. I want it to be a good year, and this is a great start."
Four championship matches featured two local wrestlers grappling for the title.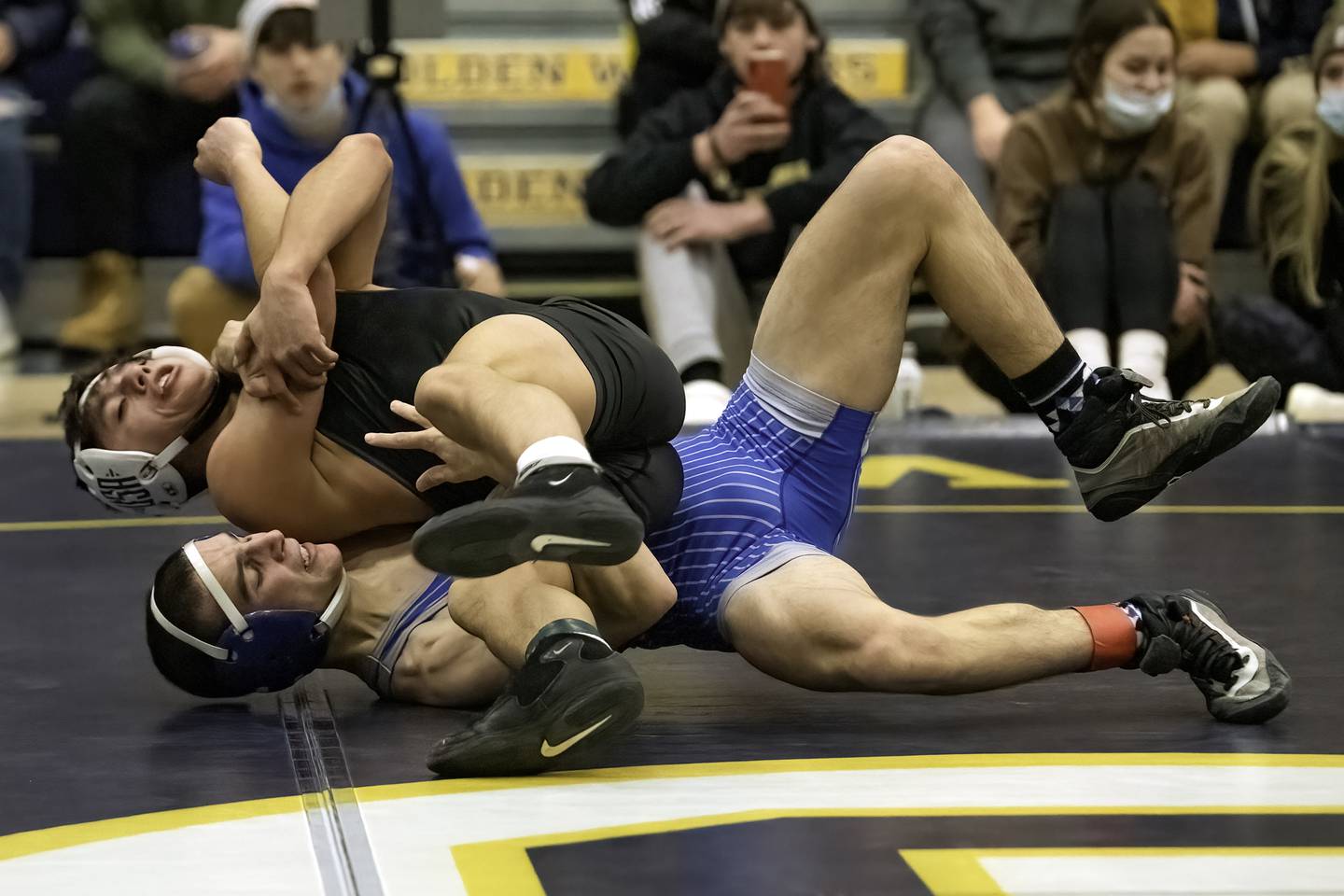 Rude took on Dixon's Chris Sitter in the 126-pound final, with both wrestlers coming out aggressively form the start. But Rude got the first takedown 55 seconds in and didn't let Sitter back up, winning by pin in 1:41.
"I know that he's quick and he's strong and he's just going to keep going after me, so I knew I needed to be the aggressor and really slow him down," Rude said. "I thought it was going to be a long match. I realized that I could maybe work some of my turns on top. I just noticed that he was stepping up a lot with his outside leg, so I figured I could probably throw a cradle in.
"But that didn't work, so I switched right off to the half [nelson]. I really don't run the half that much – I just haven't tried it a lot – so I thought, 'Wow, look at that!'"
Sitter said he wasn't in the right head space before the match, and credited Rude for beating him to the punch.
"I just wanted to be aggressive. Whenever I get the first shot, I always do better. It just didn't work out in the championship match," Sitter said. "I got in a bad position, maybe even a bad mindset off the jump, really. I should've just cleared my mind, not been so nervous, not so worked up. I didn't really move my feet as good as I usually do. I stayed still – it's like I froze – and I just need to keep moving in that situation."
Sterling and Dixon battled for championships at 113 pounds and 160. Westbrook pinned Gabe Buelvas in 1:43 at 113, getting a takedown 23 seconds in and riding Buelvas for another minute before finally turning him.
"I felt like once I got on top, he was moving a lot, but I felt like if I could get a [chicken] wing, I could get it done," Westbrook said. "It felt good to win the title, like I did something really good to start my freshman season."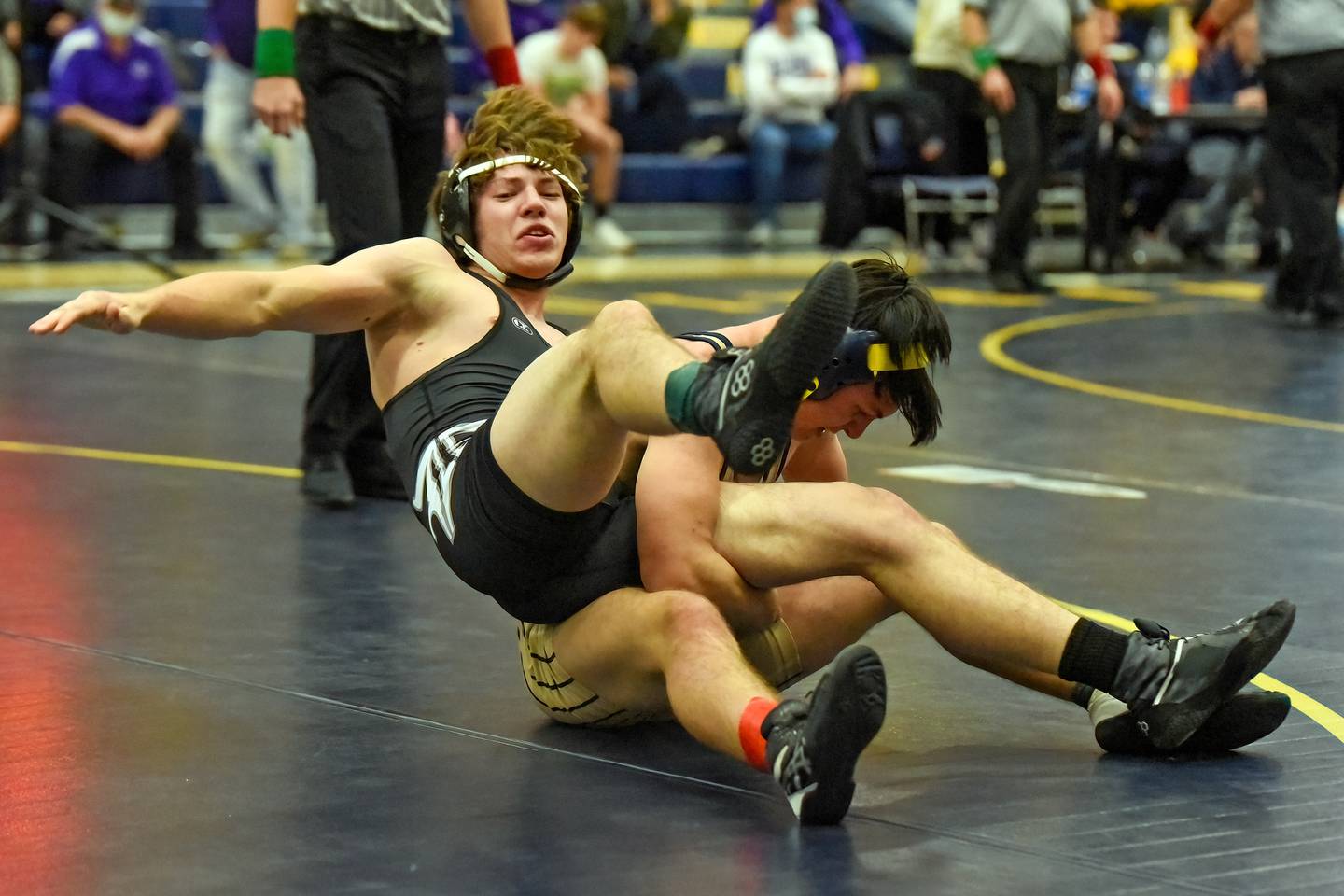 At 160, Tate topped Owen Brooks 6-4. Tate built a 6-0 lead with a takedown in the first period, then a reversal and back points after starting the second period in the down position.
"It was all about me slowing it down and just taking control and wrestling at my own pace," Tate said. "I didn't let him have any chance for a break. I expected he was going to put up a fight, so I just tried not to let him take control of the match.
"It's my first tournament win in high school, so it feels pretty good to finally get a bracket – and it's amazing that I was able to do it at the DeJarnatt."
Brooks didn't make it easy. He scored his own reversal with 38 seconds left in the second period, then added another reversal with 20 seconds left in the third after starting the period in the down position. But a late move didn't pan out in time, and Brooks came up just short.
"I was trying to 'okie' him right at the last second; five more seconds and it might've been a whole different story," Brooks said. "But you win some, you lose some. This is just a learning experience, mostly. It's been a while since we've had a tournament, so I've just got to work on some stuff."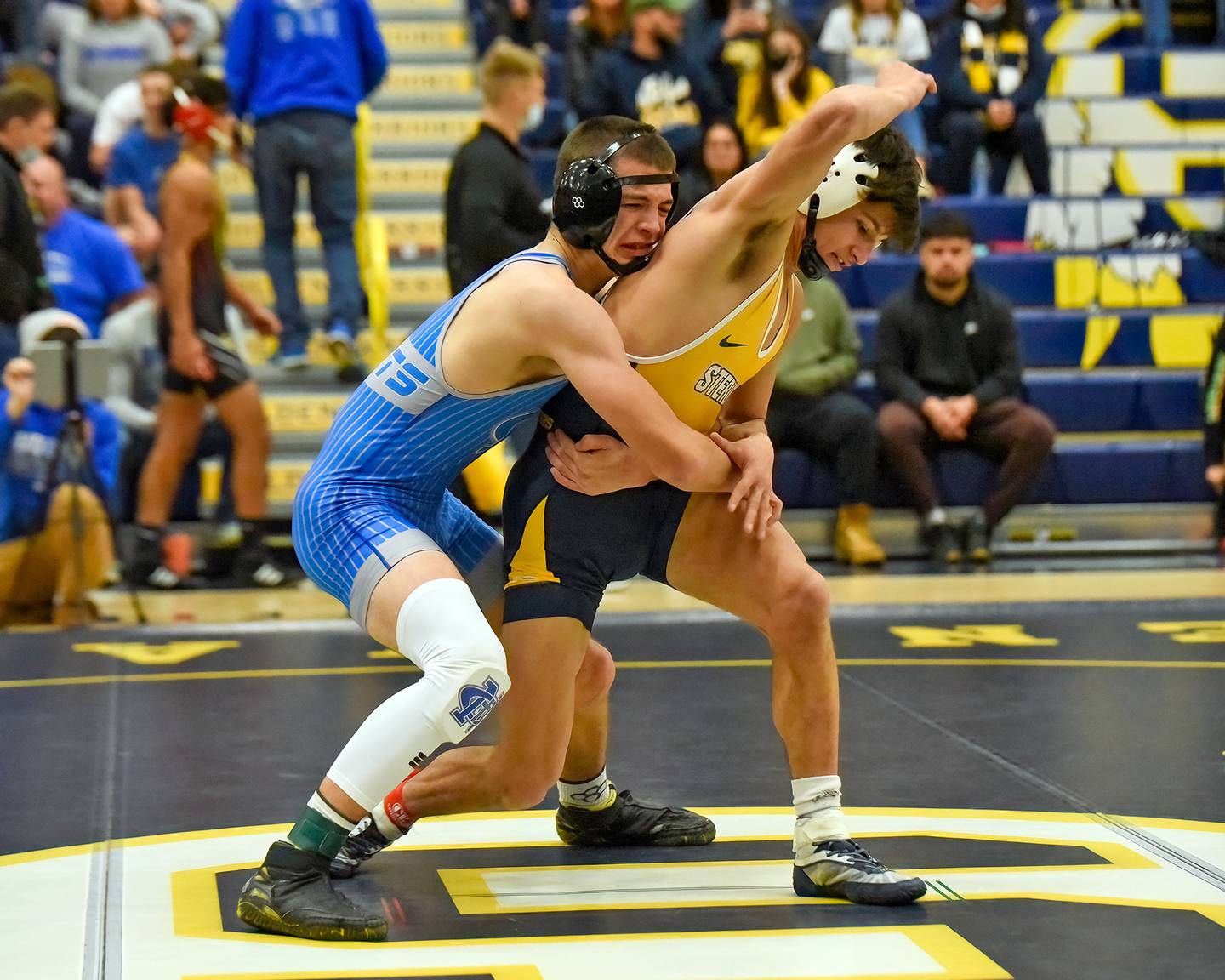 Sterling and Newman duked it out for the title at 152, with Kested taking a 6-0 decision over Mason Glaudel. Kested took a 2-0 lead with a takedown late in the first period, then scored a reversal in the second after starting in the down position.
Glaudel elected to start the third period neutral, and Kested notched another takedown for the final margin.
"I had to get to my offense, constantly keep moving on my feet, go in and out, in and out, in and out," Kested said. "That's what our saying is, just stay on your toes and keep them on their toes, and good things usually come from that.
"It was nice to get out here and actually wrestle a match," he added. "We've had two duals the last couple weeks, and I had two forfeits. These were my first two matches of my senior year, so it feels good to go out there and get a win, definitely."
Glaudel had won a pair of decisions leading up to the title bout, but knew Kested would provide some tough competition.
"I felt like my confidence was up. I was moving my feet, had heavy hands, and that's what got me to the finals, for sure," Glaudel said. "I expected a lot of confidence [from Kested], definitely a lot of shooting, definitely on top with the legs. I just need to get off the bottom."
Newman's other titles came at 120, where Brady Grennan won a 22-16 shootout, and at 132, where Daniel Kelly won an 18-8 major decision.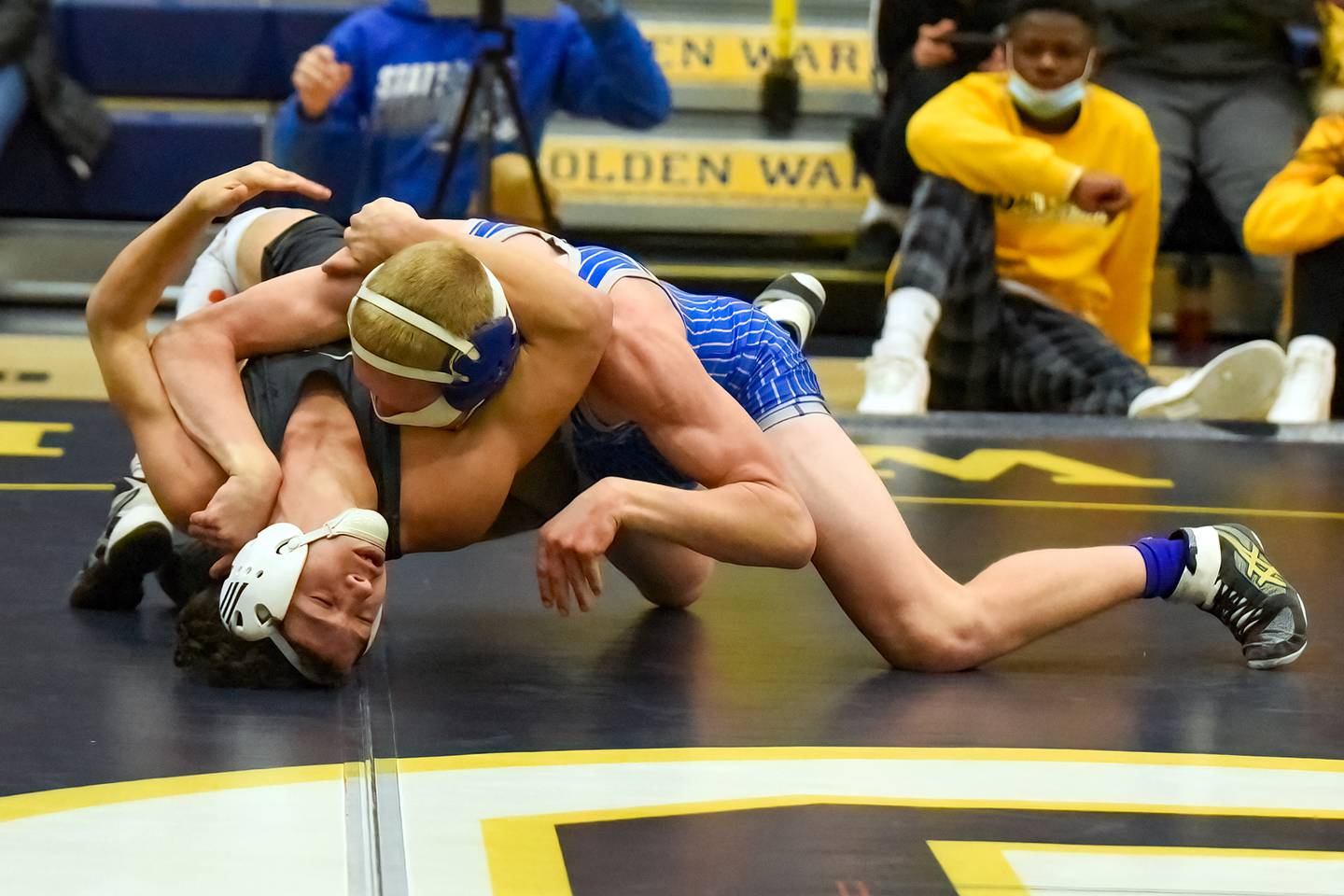 Kelly finished his match with a potentially broken nose. Leading 18-7 in the third, he hit his face on the leg of Galesburg's Santana Castellano and needed medical attention. But he got taped up before his injury time expired, and held on for the final 58 seconds.
"I was just shooting my shots. I needed to stay more under control, but it worked out just riding on top and shooting my shots in neutral," Kelly said. "Right when I shot in [midway through the third], I went right to his ankle and I feel like my nose just busted. But I really wanted to finish out the win, and not have to injury default."
Kelly took control early, scoring a takedown and back points in the first 45 seconds of the match. He then got two more takedowns after Castellano escapes, then scored a reversal and a back point to take an 11-2 lead early in the second. The two wrestlers then traded reversals to end the second period, and Kelly notched another takedown before the injury timeout.
Grennan had to rally from an early deficit in his 120-pound bout against Galesburg's Gauge Shipp. He scored the first takedown, but Shipp scored a reversal with back points to take a 4-2 lead. Grennan then scored a reversal to tie the score, but Shipp got back points early in the second for a 7-4 lead after Grennan started in the down position.
But Grennan turned things around in the final 30 seconds of the second period. He scored a reversal and got three back points before time ran out in the period to take a 9-7 lead, then got another takedown and back points for a 13-7 lead before a Shipp reversal. A takedown and more back points pushed Grennan's lead to 22-11, and he held on from there.
"I was pretty much just controlling the match and trying not to let him roll me, because I know that's what he does most," Grennan said. "I was just really trying to stop his momentum, then once I did that, he was already on his back. It was game over from there.
"This is pretty special to me, because it's my first actual high school tournament – last year we didn't have any – so it's great to win here."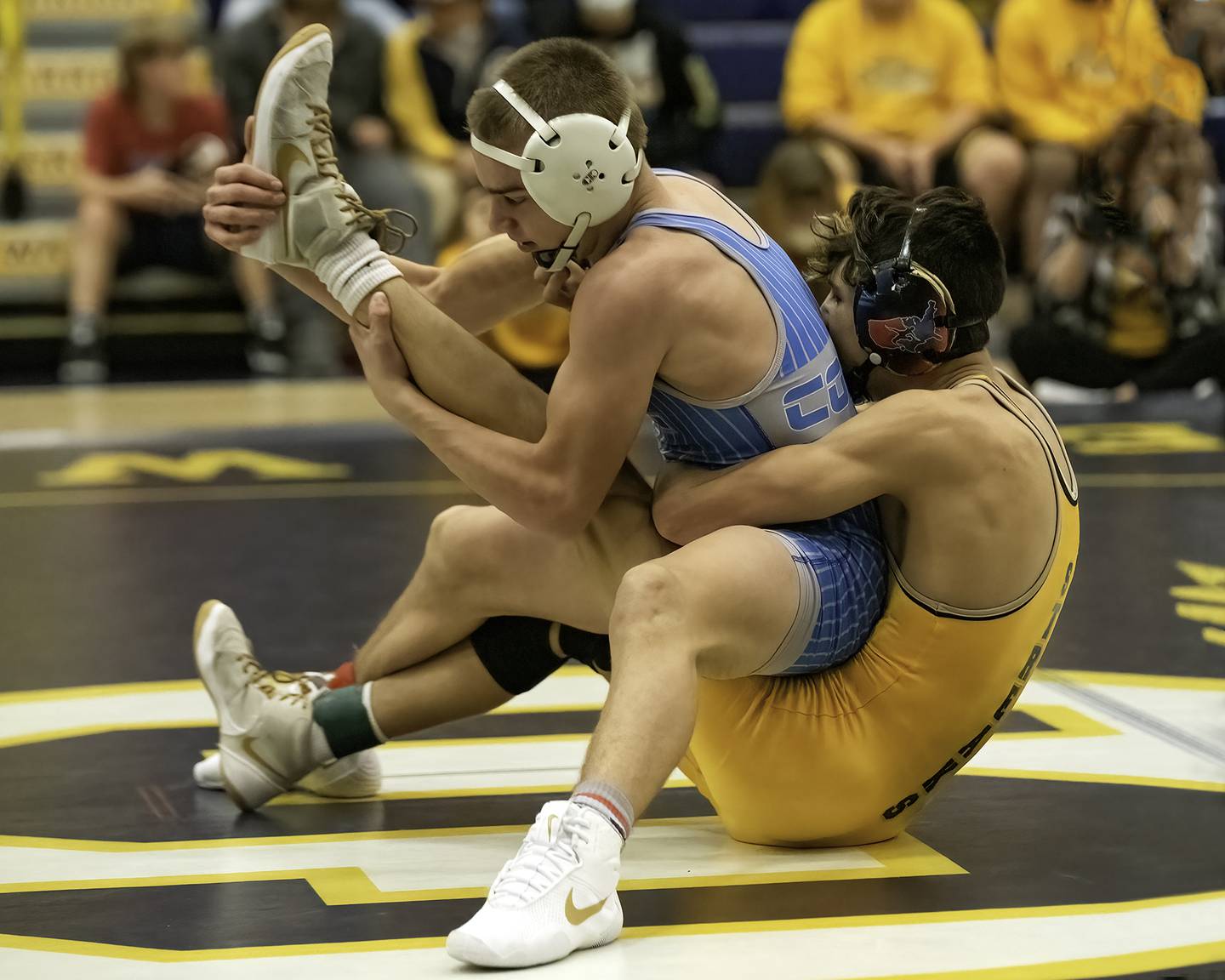 Dixon's Justin Dallas took second at 220, falling to Galesburg's Jeremiah Morris by pin in 5:09. After a scoreless first period, Dallas trailed 4-1 after the second period before mounting a comeback. He got an escape seven seconds into the third period, then recorded a takedown with 1:17 left to tie it 4-4.
But Morris scored a reversal with 50 seconds to go, then got Dallas on his back and finished off the pin.
"The first and second period I was fine, then the third period I started getting a little excited, seeing it was tied up with a minute to go," Dallas said. "I ended up getting ahead of myself, made a stupid mistake and got caught.
"I felt like my endurance was good all day, and then just keeping calm and hitting what I usually do got me to the championship. I went for the legs, tried not to do anything fancy, just wrestle my style and win."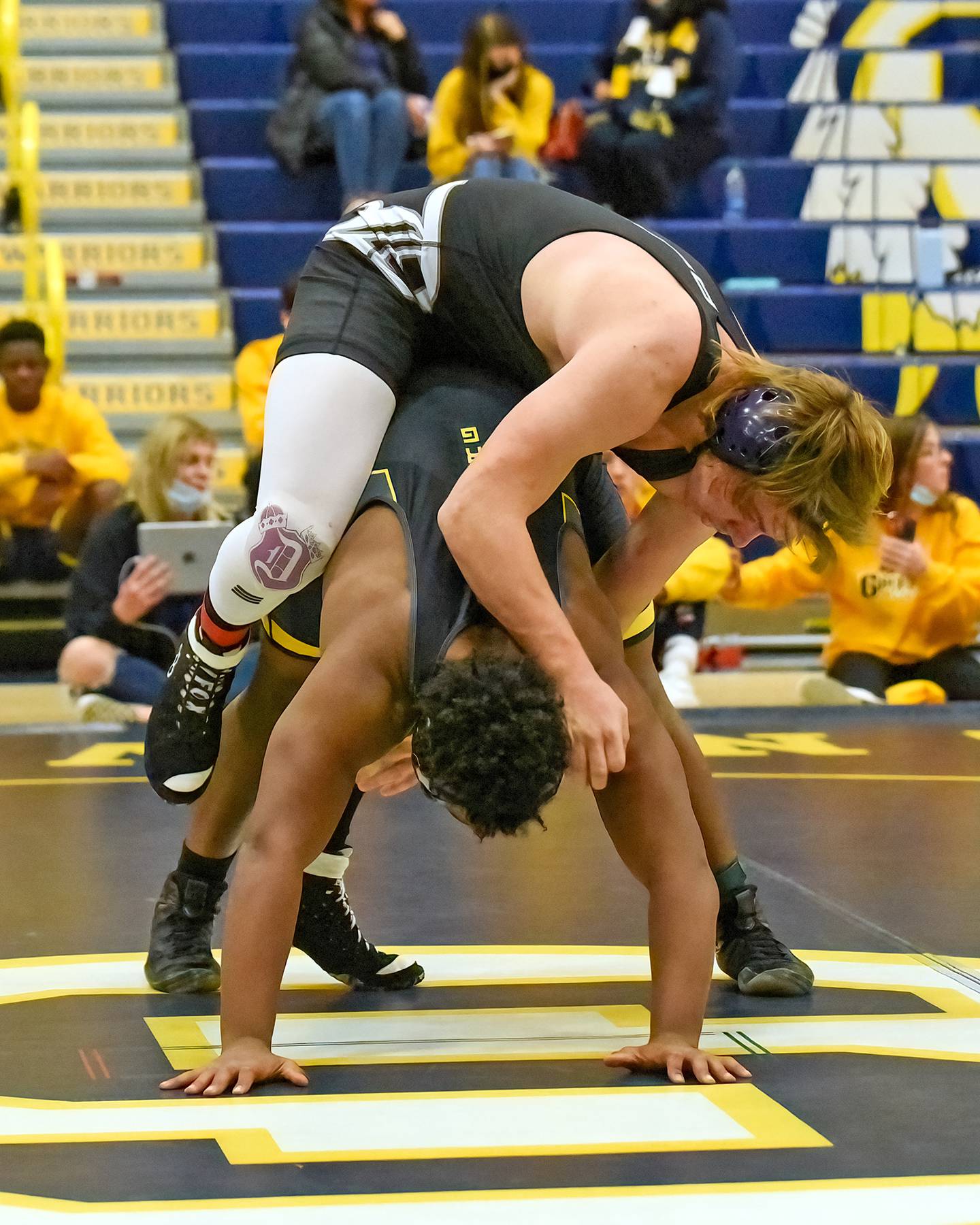 Jacob Renkes added Dixon's third-place finish at 106, while Jayden Weidman (132), Austin Hey (138), Cade Hey (145), Jayce Kastner (152), Steven Kitzman (170) and Brody Potter (182) all finished fourth.
Sterling got thirds from Dylan Ottens (132), Diego Leal (220) and Alejandro Arellano (285), and Nakynzy Canazos-Hodge was fourth at 106. Arellano pinned his way through wrestlebacks, tying Clinton (Iowa)'s Brady Jennings for most pins in the fastest time; both had three pins in a total of four minutes.
Newman's Brendan Tunink (145) and Hunter Luyando (170) also took third.
Fulton had a pair of top-three finishers in runner-up Ben Fosdick (138) and third-placer Zane Pannell (182). Fosdick lost the title bout 2-0 to Pleasant Valley's Holden Willett, with the only points of the match coming on a Willett reversal in the second period.
"He was just combatting everything I did. I'd set up shots and he'd block," Fosdick said. "He had a really great defense and offense. But that's why we come to these tournaments, there's just nothing like this head-to-head competition.
"We're only a week in, so there's always room for improvement. We're not looking for now, we're looking ahead for February. It's just a good opportunity for us early in the season."