CHARLESTON – The IHSA Boys Track & Field State Championships wrapped up on Saturday at O'Brien Field, as Class 1A, 2A and 3A champions were crowned in each event.
Rock Falls' Matthew Marcum was the cream of the crop from the Sauk Valley area, winning the Class 2A state championship in the 300-meter hurdles with a run of 39.59 seconds, edging East St. Louis' Demarlynn Taylor by .3 seconds.
Sauk Valley teams placed top five in four other events at Saturday's final, including three relays.
Dixon's Dre Jackson was a medalist individually in the shot put, hurling a personal-record 16.50 meters on his final attempt of the day to finish fourth in the Class 2A field.
"Whenever you PR by 75 centimeters, that's a big day. It's the best day to do it," Jackson said. "Can't say I was expecting to come out and throw 16.5, but it happened, and definitely no complaints. Huge moment."
[ Photos from the IHSA Boys Track & Field State Championships ]
Newman's Jacob Donald, Wyatt Widolff, Thomas Powers and Lucas Simpson achieved what they set out to do Saturday, placing fourth in the Class 1A 4x800 with a time of an 8:09.09.
Donald got the Comets off to another fast start in the championship, trailing only Rockford Christian's Jonathan Thomas by a step or two after the leadoff leg. Widolff took the baton for the second leg, overtaking first for a time and maintaining second on his final lap before handing off to Powers.
Powers ran a good leg to keep the Comets in the top four, then Simpson outkicked two runners in the final stretch to secure the fourth-place finish.
"I felt pretty good. I kind of got boxed in like the first 100 meters or so, so I kind of tried to maneuver my way around, but I pretty much just tried to stay with the top of the group," Donald said. "It's awesome. I never would've thought we'd get fourth. I think after sectionals, I said we'd get like top 10 or maybe top five, and to be honest, I didn't think we'd get top five. But we got fourth, so that's a win in my book right there."
"I think coming in, we had nothing to lose because we were the fifth-ranked team coming in, and then we go and get seventh or eighth [in the prelims], and then we go and get fourth [in the final]. So I think we did pretty good as being the underdogs here."
Powers went into the championship relay determined to improve on his state prelims time.
"When I get the baton and I'm pretty much in first, every part of my body is not trying to disappoint my teammates," Powers said. "I'm going to be honest: my leg on Thursday was less than everybody else's, so I knew it was up to me to really put us where we needed to be.
"There's a lot of cool things that happen. This is one of them."
As the eighth-seeded team coming into Saturday, Widolff and Simpson were a little surprised by their placing, but more than anything, they were just happy to achieve their goal.
"I'm very satisfied with getting fourth because our goal was to get at least top-five again because at Top Times [Indoor State Meet] we got fifth, and today we got fourth, so I'm just so happy with that," Widolff said. "And we were seeded eighth. I think we all ran very hard and just very impressed with what went down today. Honestly, a little bit [surprised at our placing]. I think this was our goal and we hit it, so yes, it was kind of a surprise."
"It seemed like everyone's leg, the last leg, was running like 1:55s, I just paced myself the first lap, hoping I could keep up with them," Simpson said. "Then at the end, I realized I could pass the two and make us get into fourth, so I really just kicked it in in the final 100. It feels pretty good since we're losing two seniors next year. So we tried to do our best for them, and run our hardest, and run like seniors like them. We surprised ourselves a lot because we thought we were just going to get eighth, but we ran really well today. And we wanted to get to top-five again, since we got that at Top Times, and even PR again, and I think we did that, too."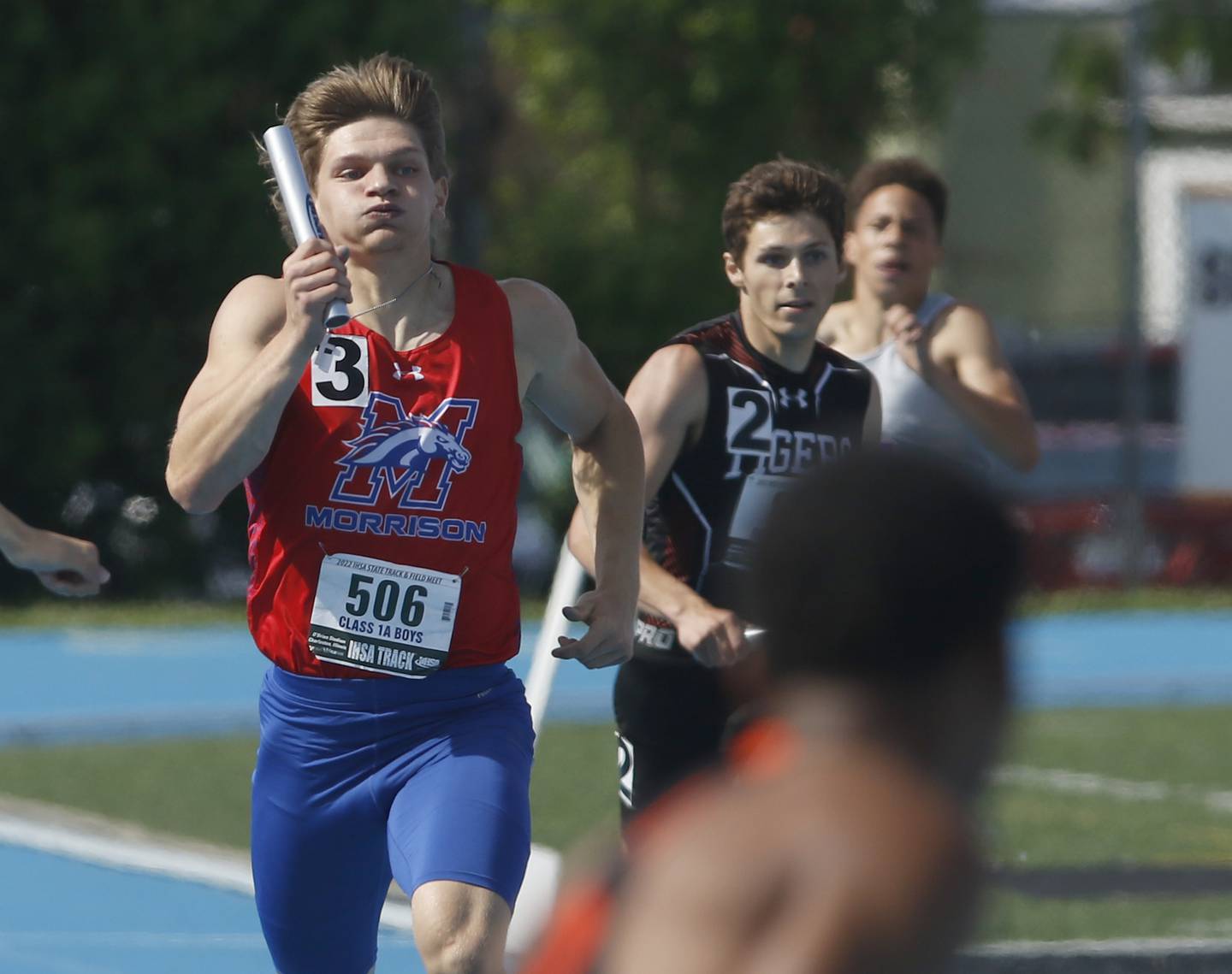 In the Class 1A 4x400, Morrison's Justice Brainerd, Brady Wolf, Thomas Dauphin and Alex Anderson took fourth in a very tight race, finishing .21 seconds behind third-place finisher Rockford Christian.
Although the Mustang relay team was aiming a little higher, it was still pretty satisfied with the final result.
"It's a tough race when you know you have any other team that is really good next to you, so you're really competing for that first spot," Dauphin said. "Obviously, we set our goals high, so we wanted to win, but we got fourth. We're not displeased. We were one of eight teams coming into this, so ... finishing fourth is pretty good."
"It was tight when we got the baton, but when we got to the cutoff we were all in there with the other three teams," Wolf said. "And then on the second lane I passed somebody, but I put myself in a good position, striking distance. I came around the corner with the baton, the handoff wasn't very good, so I think that affected us in the third leg, but I felt like I did all I could and put my team in a good position. We came in 18th and we went fourth, so we're all looking to win it, but fourth is good."
Anderson and Brainerd wished they had run better, but knew they gave it their best shot.
"I didn't run my best. I hit a wall at the 200, and I finished awful," Anderson said. "We came came in ranked 18th, our goal at first was just to make it to the finals, and then we ended up running like a 3:26, and we wanted to take gold home."
"I feel somewhat satisfied, but not satisfied enough. I gave it my all, but I guess I just couldn't keep up. There's so much talent out here and there's so much speed to where it's hard to match yourself," Brainerd said. "You really gotta find that eighth gear and just go when you can go. I can't complain [about finishing fourth]. We came in here ranked, what 18th?, and we finished with the podium. Our ideal spot was top-three, but I'll take top five, still can't complain. It's still somewhat of a Cinderella story."
In the Class 2A 4x800, Sterling's Jordan Britt, Thomas Holcomb, John Cid and Dale Johnson placed fifth with a time of 8:08.68.
"That was the accumulation of our entire season. We ran all-out," Johnson said. "Some of us, it's our last year; not mine, I've still got two years left. One of our teammates is a senior. We were trying to get him placing this year. As a team we did really fantastic. Couldn't ask for much more."
In the 1600 meters, Johnson bettered his state prelims seed time by almost three seconds, running a 4:28.13 for a ninth-place medal finish.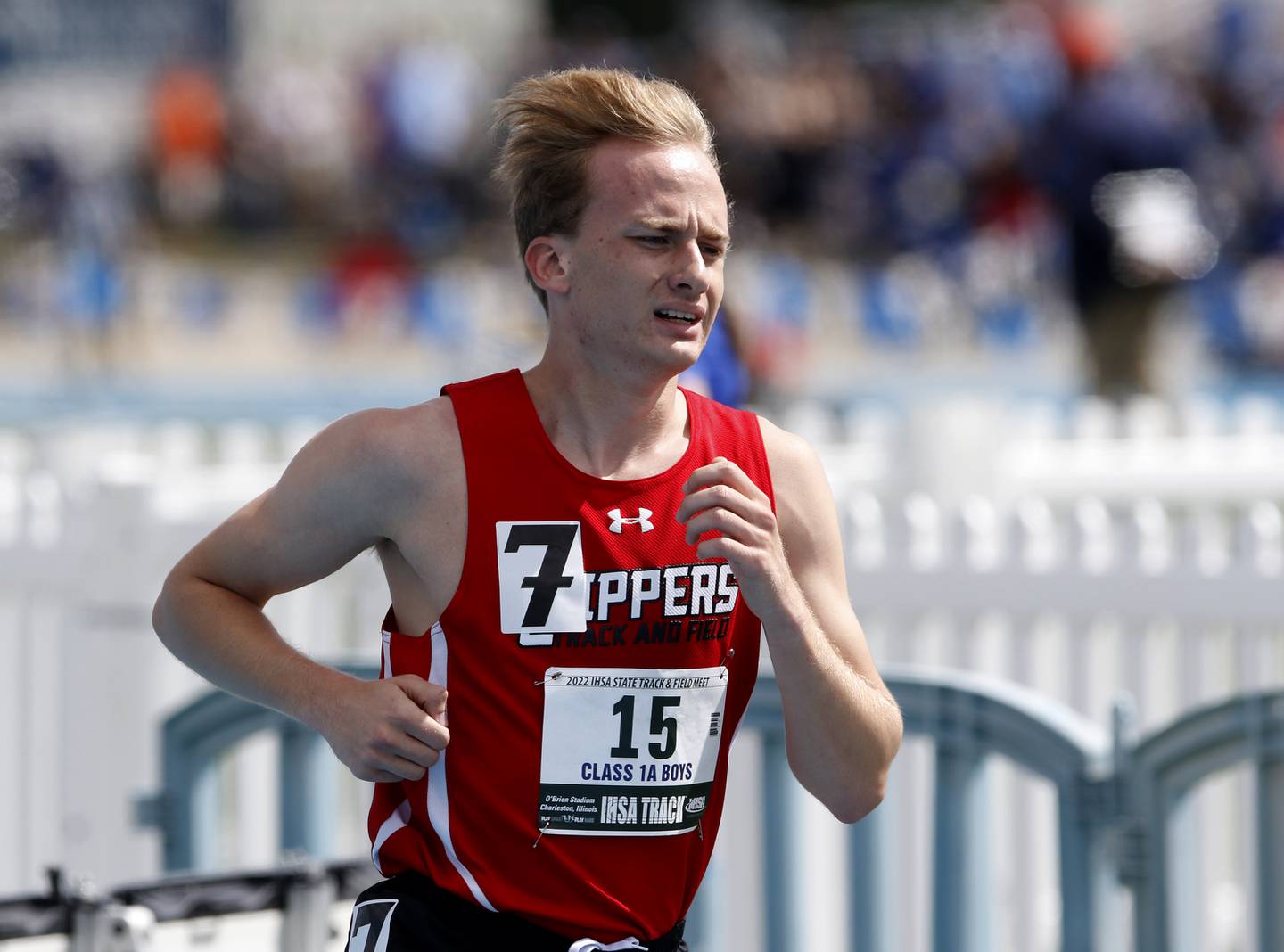 Braxton Froeliger was the lone medalist for Erie-Prophetstown, placing ninth in the Class 1A long jump with a leap of 6.42 meters. The Panthers' Trevor Cobo missed out on a medal, finishing 14th as one of five high jumpers to clear 1.85 meters. Parker Holdorf, the third E-P qualifier, cleared 3.8 and 3.9 meters in the pole vault prelims, but did not make his opening height in the finals.
Amboy-LaMoille-Ohio-AFC's Brock Loftus finished second in the first heat of the Class 1A 3200, running a 10:00.34, but landed in 10th after the second heat and just missed out on a medal.
"I was hoping to go sub-10 today, and then I think I ran 10 flat, which, oh well," Loftus said. "I wanted to medal, too, so we gotta wait and watch the other heat. It's going to be probably very close. Every time I've been here, I was here as a freshman and a junior, then sophomore year, we didn't have it, and I've had horrible races here, so it felt good just to place."
In the Class 1A discus championship, Oregon's Daniel Dominguez placed 10th with a throw of 45.88 meters.
In the Class 2A triple jump, Dixon's Jacob Gusse was a medalist, finishing ninth with a jump of 13.13 meters.