CHARLESTON – The IHSA Boys Track & Field State Championships continued Friday morning at O'Brien Field with the Class 2A prelims, where Dixon, Sterling and Rock Falls athletes fought to keep their seasons alive for one more day.
Out of the nine events featuring local competitors, Sauk Valley athletes qualified for Saturday's state finals in five of them. The qualifying group is made up of four individuals and one relay team.
Rock Falls' Matthew Marcum, the top 2A performer from the Sauk Valley area on Friday, started his day with disappointment, placing 15th in the 110-meter hurdles with a time of 16.08 seconds. Later that morning, however, he came back with a vengeance, blazing a 39.73 in the 300 hurdles for the fastest Class 2A prelim time.
Running in the fifth lane, Marcum rounded the curve in second place, then surpassed the first-place runner on the final hurdle before crossing the finish line. It was a photo finish.
"110s was disappointing, I'm not gonna lie. It was kind of rough, but once I did that, I knew I had to come back on the 300s," Marcum said. "I'm really excited about the 300s. I'm ready for tomorrow.
"I feel like all year long it's been my finish. I'm not a good starter, so the 110s were kind of bad, but the 300s is my race because I can out-endure people."
Dixon's Dre Jackson was another individual qualifier from the area, finishing prelims in sixth place in the shot put with a throw of 15.54 meters. He sits 2.04 meters behind leader JehChys Brown of Centralia.
"Nothing like it. It's just pure joy, pure excitement, competitive. Just looking around, seeing 10 people that could beat me - it just makes me throw farther and it makes me feel better," Jackson said of competing at state. "I feel very comfortable with what I threw today. I don't think I saw too many people above me, so that will put me in tomorrow, hopefully."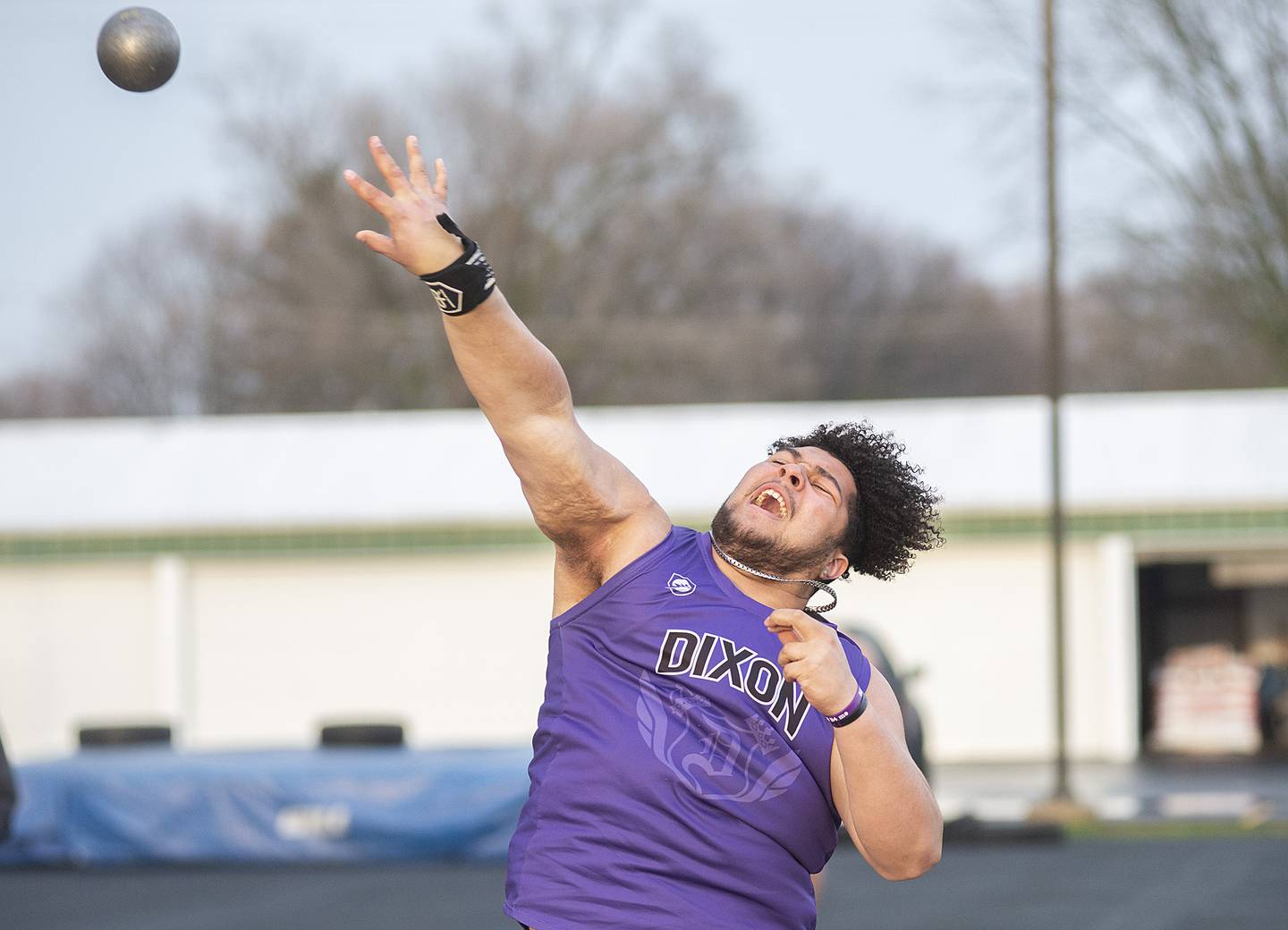 The Dukes' Jacob Gusse is 12th in the triple jump, securing the last qualifying spot with a jump of 12.60 meters. He went .14 meters farther than the 13th-place jumper.
Gusse also ran the 400 meters in 51.59, but didn't advance in the event, finishing 19th.
"Triple, I did OK. I had a good first jump, that was my best one," Gusse said. "Then I scratched on my second one, and I think that kind of got in my head for my third one, and I shorted myself on the board. For my last 400 of the year I wanted a better time than that, but it is what it is and I gave it my all. Just came up a little short.
"It feels good [to advance in triple jump]. I was shocked, but I was super happy."
In the 4x800, Sterling's Jordan Britt, Thomas Holcomb, John Cid and Dale Johnson clocked an 8:13.36, placing third in their heat and seventh overall to reach the state final.
Britt got the Golden Warriors off to a good start, positioning them in second place after the leadoff leg, then Holcomb and Cid ran solid legs to keep them in it, and Johnson ran a good anchor leg to bring home third and the qualifying time.
"My leg of the race was not the best. I got out way too slow," Holcomb said. "I didn't have enough time to make up that slow first lap. I'm very disappointed in myself right now, but as long as we make the finals, I think I've got a second shot and definitely going to redeem myself.
"Dale's finish right there was very important, especially him getting out like that. I feel like I'm going to have to take notes on that, just so I can fall into a pace a little bit faster and kind of just maintain my speed and hopefully bring this team together."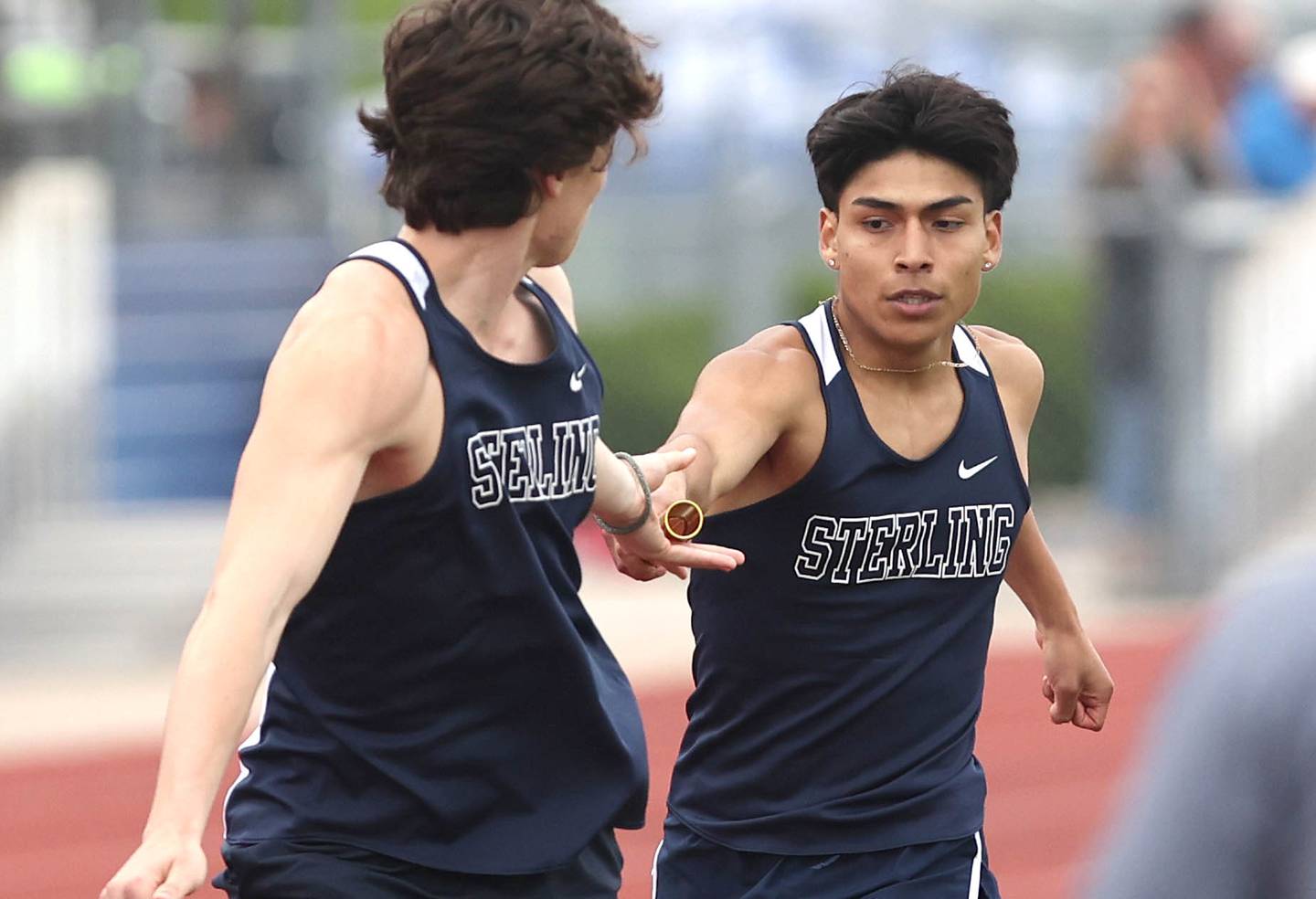 Looking back on his leg of the race, Britt was mostly satisfied, but he sees room for improvement.
"Personally, for me, I ran a good race, but I definitely should've stayed a little more up close in front of the pack," Britt said. "I definitely could've just got us into first instead of second, so that's definitely something I'm going to have to work on. When it comes to finals, placing third, we definitely wanted to win our heat, so I'm a little disappointed with that. But I don't doubt that we can make a comeback and maybe win this thing. I'm not gonna try and jinx us, but I really do believe in my teammates, and I believe in myself."
Cid and Johnson are happy to be moving on, but they hope to improve their times with another opportunity in Saturday's relay.
"My leg felt like everyone was packed in. I need to get better at running in a pack and having people in front of me, so I can get used to the pace, try to get Dale the baton as quick as possible," Cid said. "Placing third isn't horrible, but we have more expectations. We know what we're capable of, and we'll be back at it tomorrow, for sure."
"My race was solid. Our team, we've done a little bit better than that in the past," Johnson said. "We're excited for the finals, and we're looking to be a bit faster for tomorrow."
Johnson qualified later in the 1600, running a 4:31.06 for an 11th seed heading into Saturday, while Holcomb finished 18th in the 800 meters, clocking a 2:01.97.
Fellow Golden Warrior Anthony Amezola took 25th in the shot put with a throw of 12.69 meters.