STERLING – The Western Big 6 Conference boys track and field meet at Roscoe Eades Stadium was suspended about 6 p.m. Friday and later postponed because of lightning.
The meet resumed Saturday morning, with two field events and six track events to go; 10 events were completed by the time of the delay.
Sterling ended up finishing fifth after the completion of the meet, scoring 96.5 points. United Township took the title with 134.5 points, while Moline was second (125.5), Quincy took third (113) and Galesburg placed fourth (99.5).
In the 10 events they took part in Friday, the Golden Warriors had three podium finishes, including two conference champions in their respective events.
In the 4x800 relay, Jordan Britt, John Cid, Thomas Holcomb and Owen Anderson fended off second-place Quincy for the Western Big 6 title, recording a time of 8:18.59.
"It felt pretty good. I was very confident," Holcomb said. "We were all very confident going in it, and we just decided let's win, and let's just keep the lead and maintain. So when I got the baton, I did what I was supposed to and gained back the lead, and honestly, ended up running one of the faster times I've run at 2:02 for a split. It was relatively easy, but now in the opening 100 I just ran, I feel like there's just a lot more to come, even in these next two weeks. I'm ready to bring my team down to state and do what we do best, and run."
"I felt pretty comfortable," Cid said. "I knew once I got the baton that they had a little lead, and I knew I had to make a major move, just so our anchor could have a good shot at bringing it home. And that's exactly what he did, and we got the win and that's all that matters."
"It felt good. It was really smooth," Britt said. "I'm just like a zebra, going through the safari, just cruising, just having fun. Got around the second lap, felt the guy coming, heard him. I was like, 'All right, get to this team, just take it home,' and that's what I did."
Holcomb also had a third-place individual finish in the 800 meters, completing the run in 2:01.20.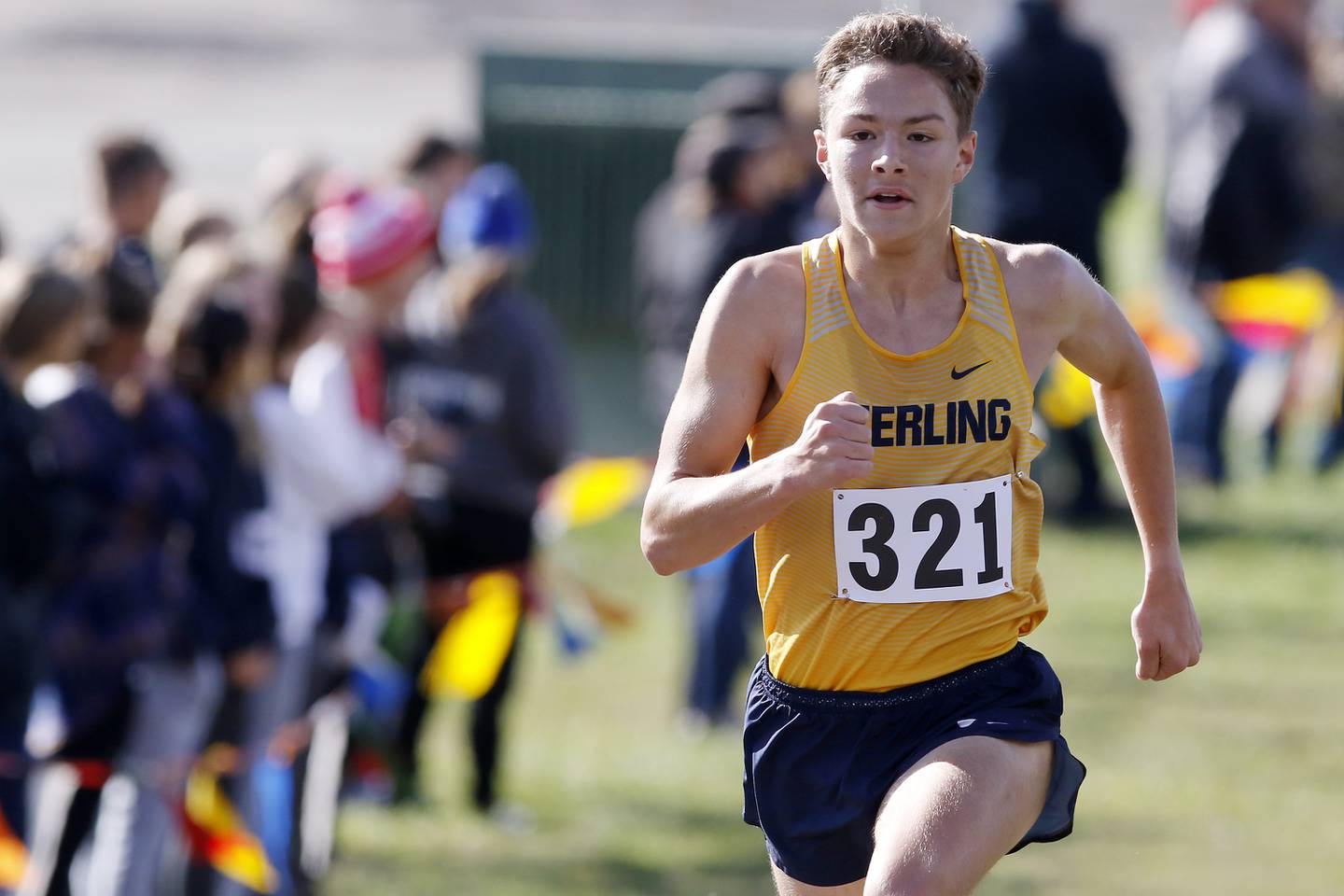 Distance runner Dale Johnson picked up a resounding win in the 3,200 meters, clocking a time of 10:01.10. Quincy's Fiker Rosen took second with a time of 10:19.81.
"I did pretty good," Johnson said. "I got another event I'm focused on later, and I just wanted to win this one, so I didn't push it. It was a good event to score my team some points."
After the meet resumed Saturday morning, Johnson won the 1600 in 4:29.65, while Britt, Holcomb, Cid and Mateo Vasquez placed second in the 4x400 (3:31.10).
Britt added a third in the 400 (51.79 seconds), while Dylan Doss took third in the 200 (23.04 seconds) and Andrew Bland was third in the 300 hurdles (42.39 seconds). Doss teamed with David Tessman, Ayden Schoon and Cale Ledergerber to finish third in the 4x200 (1:33.84).
With the regular season in the rearview mirror and only several events left in the conference meet, the Sterling boys track team is preparing to turn its attention to the next set of challenges: sectionals and state.
Individually and in relays, the Warriors have high hopes for the next two weeks.
"As of right now, today, we had really good times, a few PRs," Britt said. "I really do believe our team can win in our sectionals and place pretty highly at state as long as we just keep working hard and keep having fun."
"I think our chances at sectionals and state are going to be very good, we're going to perform really well," Holcomb said. "Looking at a bunch of the other teams, we know what we're capable of and we know that we can bring home a very high medal."
"Our chances at state, I feel, are amazing," Cid said. "We all know what we're capable of running, what time we can get down to. It's just taking little steps to get there, and hopefully we can bring back home a state title or something to end the season."
Johnson will have a shot to compete at state in both the mile and 4x800 relay, in addition to the 2-mile race.
"I'm feeling pretty good," Johnson said. "We have a pretty good 4x8 team, which I'll probably be a part of, and I'm going to try to make it in the mile, which, right now, I'm looking pretty solid to make it."