DIXON – For four of the seven Dixon and Sterling boys tennis state tournament qualifiers this season, it will be the second time making the trip to the Chicago suburbs. For the other three qualifiers, it will be their first state experience.
Dixon senior Lucas Healy falls into the former category, qualifying in singles last year and reaching the second round after defeating Jerseyville's Logan Schultz 6-3, 6-1; he dropped his next tow matches. Fellow Duke seniors Logan Moeller and Leith Elbzour also qualified in the doubles bracket last year, but lost their first two matches.
With another shot at the state title in their final year, the three Dixon seniors are hoping to improve on last year's finish and end their high school tennis careers on a high note.
"I think last year we went expecting kind of just see the same tennis we have around here, and it's definitely a lot different up there," Moeller said. "Everyone is just insanely good, so now we'll kind of know that going in and know we have to bring it right away."
Healy returns to the tournament this time with a doubles partner in senior Owen Grot, a first-time state qualifier. The duo punched their ticket to state at last week's Class 1A Rochelle Sectional after knocking off Moeller and Elbzour 7-6 (5), 6-2 in the sectional final. That title matchup in the doubles bracket helped secure the sectional team title for the Dukes.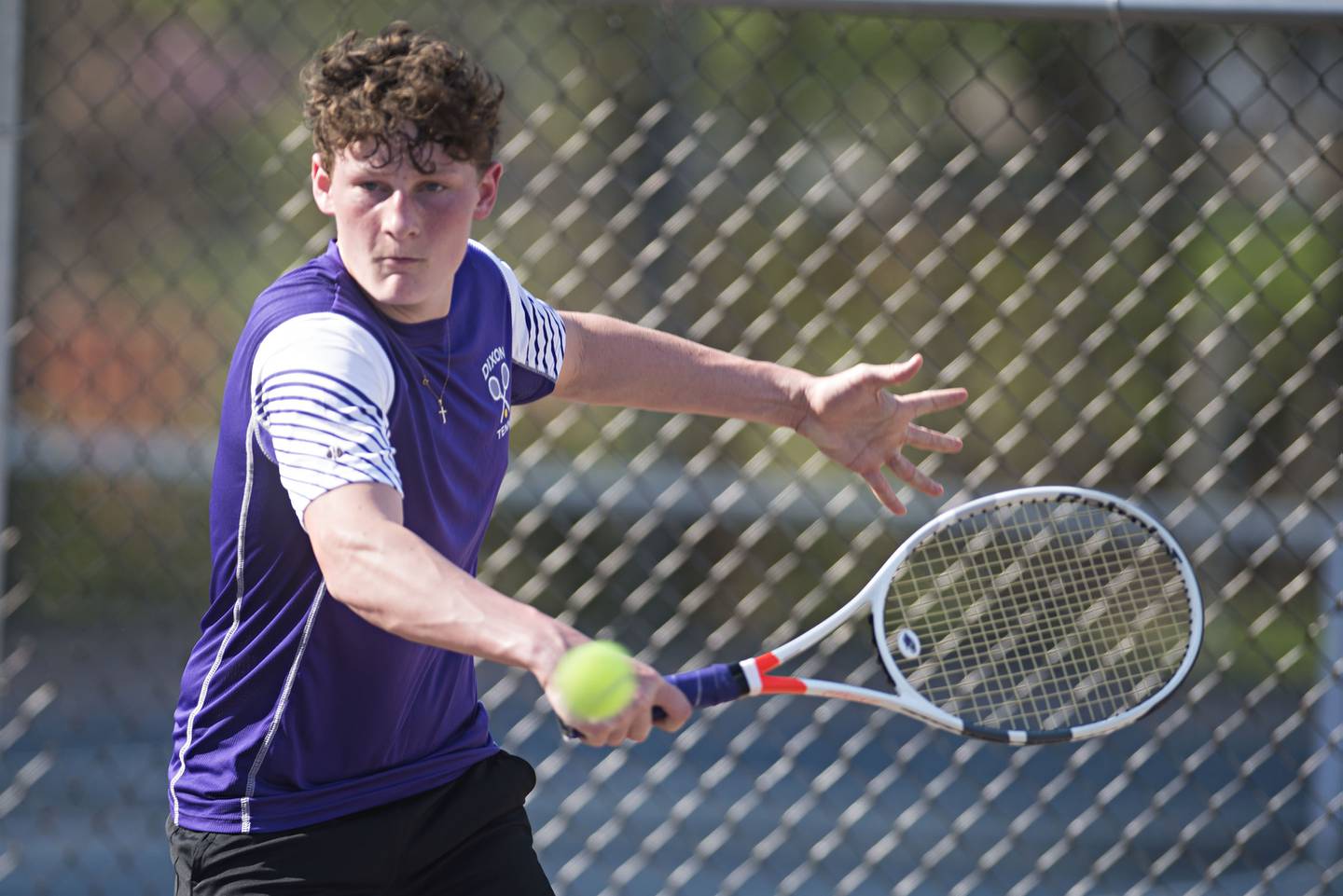 Healy and Grot agreed it was some of the most intense competition they've faced.
"In the championship, the day before, we were hoping it was going to be Dixon-Dixon," Healy said. "Eventually, we both ended up getting to that championship and it was fun, but it was really competitive. We play all the time in practice and stuff, and it doesn't get as competitive as we did. Both teams played their best tennis, disregarding the result."
"Absolutely, for the final, we had to get past Geneseo and they had to get past Sterling to get there," Grot said. "And once we saw that [Logan and Leith] made it, we knew we had to get there, too. When we got there, just reiterating what Lucas said, it was the most incredible tennis either of us has played. It was the best competition between the two of us, and we wouldn't have rather played anyone else."
Despite the loss in sectional championship, Moeller had a good experience competing against his teammates.
"It was definitely weird to play our own teammates, but I'm really glad we got to because I'd rather lose to my own teammates than lose to a different team," Moeller said. "And we got experience playing each other. I'm glad we took the sectional because I think that's the first time Dixon's won since like 1994, or something like that, so it's exciting."
Both of Dixon's doubles teams are aiming to make it past the first round this year. Moeller and Elbzour are looking to redeem last year's two losses, while Grot and Healy are looking to prove what they're capable of as a doubles tandem.
"We're not looking to win it, but we are looking to get a match or two," Grot said. "We're just going to go out there, try our best. We're going to come up with some new strategies and try to represent Dixon tennis as best we can."
"Last year, as soon as we got there, we didn't win a match," Moeller said. "So our biggest goal is to just get past that first round and get a win this year, for at least one round."
Grot and Healy will face Chicago Heights Marian's Nick Kirsch and Jonathon Bolton in the opening round at Palatine High School.
Moeller and Elbzour will take on Olney Richland County's Jarrett Doll and Aidan Weidner in the first match at Rolling Meadows High School.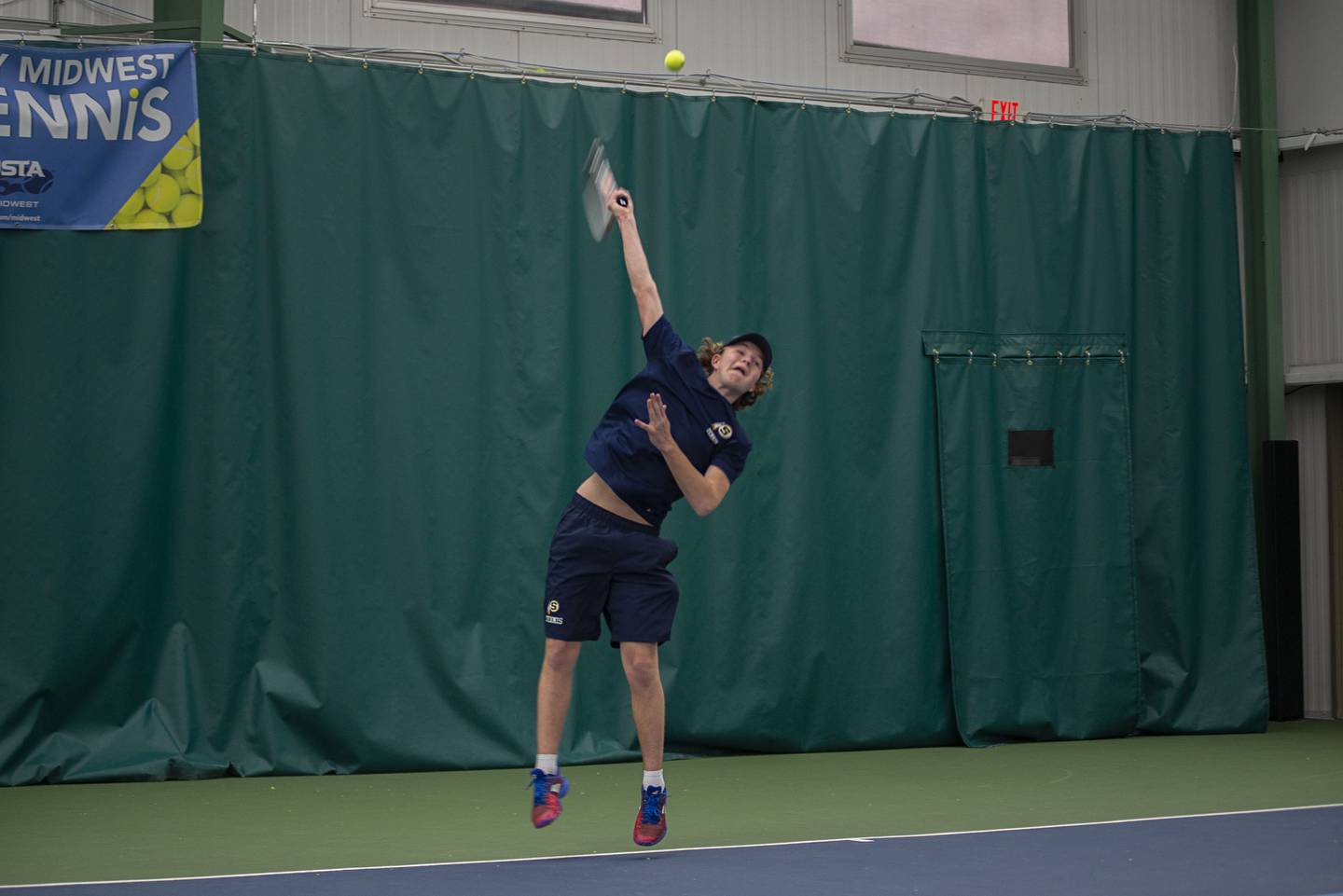 Sterling sophomore Brecken Peterson will be making his second state tournament appearance in the singles bracket, as junior Connor Pham and senior Luke Valentino make their state debuts in the doubles bracket.
Peterson drew Lake Villa's Gavin Murrie in the opening round in a match at Wheeling High School.
"Obviously, state has a bunch of really good players. I'm just looking to go there, have fun and compete. Just trusting my shots and doing the best I can," said Peterson, who won his opening round match 6-1, 6-1 last year, then bounced back from a second-round loss to win 2-6, 6-3, 10-7 in the second round of the consolation bracket before bowing out with a 2-2 record.
"Having been there before, I kind of know what's going on. I had a little bit of success last year, hoping to improve on that and do a little bit better this year."
Pham and Valentino will square off against Lisle Benet's Noah Bobofchak and Andrew Donovan at Palatine High School.
"I feel nervous, but it's rewarding at the time," Pham said of making the cut for state.
"We had a few close matches to get to state, but we were able to pull through," Valentino added. "It was really rewarding to be able to realize we were going to state."
The IHSA Boys Tennis State Tournament runs Thursday through Saturday at various sites around the Chicago suburbs.