Experiencing the state's biggest stage is a rare occurrence, and something every athlete strives for. Having experience on that big stage is something even rarer.
But for the local boys swimmers who qualified for state this year, experience in the season finale is something they have plenty of.
Dixon's Carson Faley and Sterling's Reiley Austin are making their third appearances at the IHSA State Meet this weekend, while Sterling's Skylar Drolema and Michael Garland are making their second trip.
Golden Warriors Braeden Ruiz and Mason Adams will also be swimming at the FMC Natatorium in Westmont on Friday and Saturday, with Ruiz competing in a pair of events.
The past experience at state should prove to be invaluable for the returners.
"I definitely think it will be easier this time," said Faley, a senior who swims for the Byron co-op. "I'm kind of used to it now, and I know the pool well. I've swam there several times, and I've always done great there, so that excites me for this weekend."
The Sterling contingent hasn't competed at the new aquatic center in Westmont, but coach Kyle Ruiz doesn't think that will faze his guys at all.
"I think they're going to come in, and I don't think their goal's going to change at all: they want to go their best times again and cut some more time," coach Ruiz said. "We're excited to swim in a new pool, the FMC Natatorium; we haven't had a chance to swim there, so it'll be a fun meet for sure. I think they're definitely going to go in and attack it with everything they have."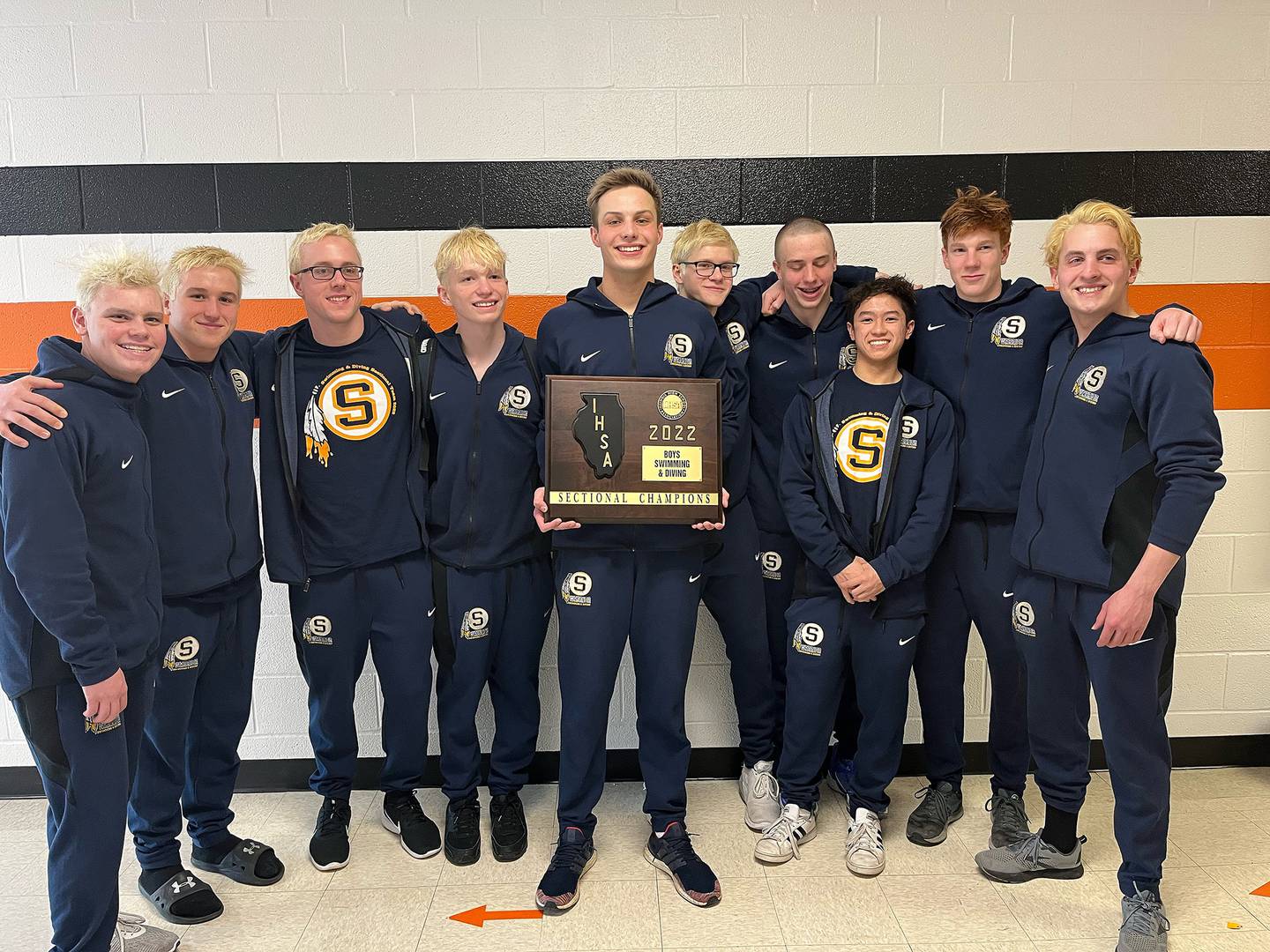 That's what the Water Warriors have done all year, and Saturday at the United Township Sectional was no different. They dominated the 200 medley and 200 freestyle relays, and placed at least one swimmer in the top six in almost every event en route to their second straight sectional title.
Austin, Drolema and Garland will swim on both relays, while Braeden Ruiz will join them in the medley and Mason Adams will take part in the freestyle relay. Ruiz also qualified in the 100 breaststroke, and is ecstatic that he gets to close his career at state with his teammates.
"It's amazing, because this team is the best team I've ever had with anything," he said. "We're all best friends, we all love each other, and it's really awesome to go out in our final year to go to state all together and have a great time together."
The 200 medley quartet is seeded 27th out of 31 teams with a 1:38.01, and the 200 free relay team is seeded 26th out of 30 at 1:28.18. Ruiz is seeded 39th out of 42 in the breaststroke in 59.50 seconds.
The top 12 times in prelims advance to Saturday's finals, with the top six in the championship finals and the next six in the consolation finals.
It's the third straight season the Water Warriors have sent their medley relay to state, but the first time in the 200 free relay.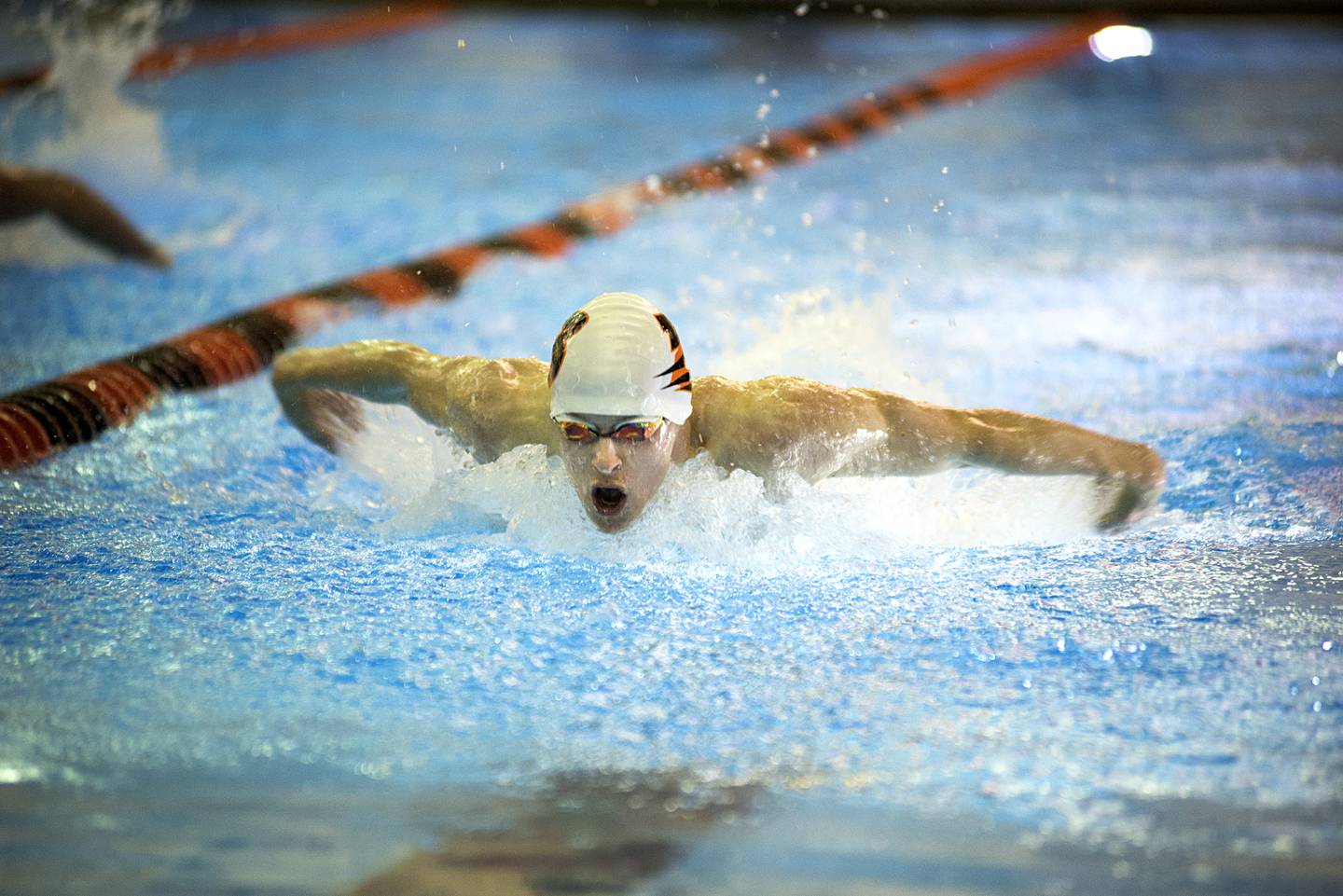 Faley is in the same boat as his buddies from Sterling, having qualified for the 500 freestyle for the third straight state meet, and in the 200 free for the second consecutive time.
He's seeded 10th out of 31 swimmers in the 500 free after smashing the sectional and Byron pool record in 4:37.06 on Saturday, and he sits 20th out of 35 in the 200 free at 1:43.06. He says the key to improving on his seed in both events is to focus on the little things and let the big picture sort itself out.
"It's all about making sure everything is smooth, even the small stuff," Faley said. "The turns are the big thing I'll focus on, especially in the 500, because there are so many of them. If I can cut a tenth [of a second] there, that's significant."
In addition to his fellow club swimmers from Sterling, Faley will also be joined by Byron co-op teammates Levi Schamper and Nathan Bell. Schamper is seeded 34th out of 34 swimmers in the 100 butterfly (52.98 seconds), and Bell is seeded 41st out of 42 in the 100 breaststroke (1:00.15).
All of the Sterling and Byron swimmers will do their best to appreciate the opportunity they have to swim at state, even more so after last year's event was canceled because of the COVID pandemic. They'll also take a moment to soak in the atmosphere and experience.
But in the end, it's all about performing well on the biggest stage, and that doesn't all come down to the physical act of swimming.
"We just have to keep the energy up," Drolema said, "just have good practices, make sure we're on top of things, and just go into state like we did the sectional, with all that energy we need."
"Just keep doing what we're doing, keep resting more, and just mentally prepare," Garland added. "That's really the key."