STERLING – Despite fairly even possession during Tuesday night's Western Big 6 soccer match between Sterling and Alleman, the Pioneers took advantage of their opportunities in a 4-1 win at Roscoe Eades Stadium.
Sterling senior Yamaan Alkhalaf provided the goal for the Golden Warriors on senior night, collecting a loose ball in front of the Alleman goal and rolling it home with 8:13 remaining.
"I was just running up and I saw my teammate try to pass it in. It was ahead of me, but the goalie messed it up, and I was just there to push it in," Alkhalaf said. "Especially in a conference game, it felt good. Then we got the momentum going after that."
[ Photos of Sterling vs. Alleman boys soccer ]
The game was played between the 20-yard lines for most of the night, but the Pioneers (8-2-1, 2-2 WB6) capitalized on their chances.
Alleman scored less than five minutes into the game, as Jack Wendt found the net just 4:08 into the match. After an Alleman shot was knocked wide by Sterling goalkeeper Martin Fisher, Wendt corralled the ensuing corner kick and put it in the net.
After even play for the next 20 minutes, Alleman's Isaias Ayala-Garcia tracked down a long pass from Wendt and beat Fisher one-on-one for a 2-0 lead with 15:20 left in the first half.
"I think our midfield did a good job playing give-and-goes and tiki-taka ball to get us the ball up, and a lot of good balls through – like Jack Wendt when he played me that ball, that was a great ball," Ayala-Garcia said. "That's kind of our game plan. We just play in the middle, try to get a good pocket, then feed it and try to run onto it."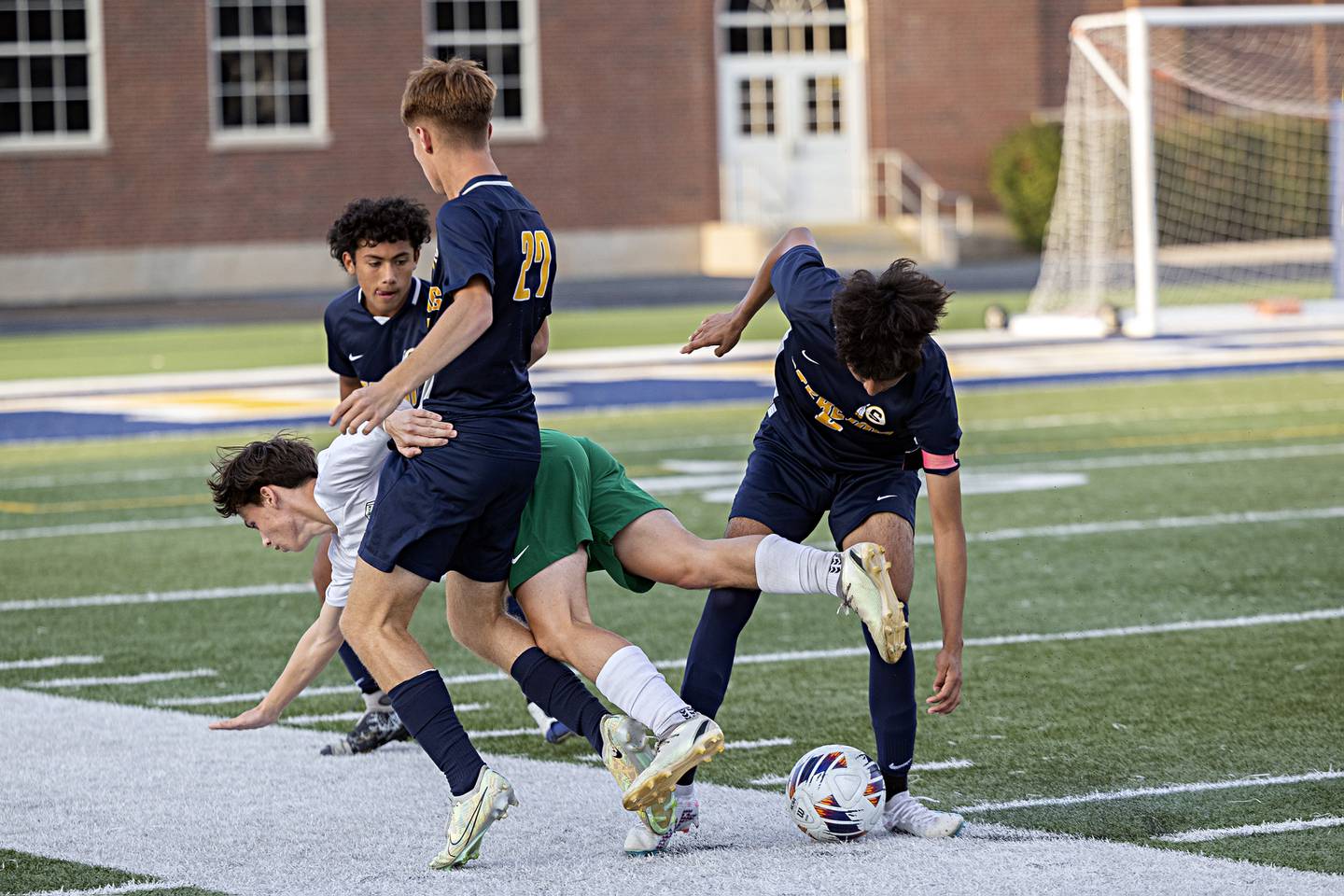 Nine minutes later, it was Kale with a steal just outside the Sterling penalty box, and he made a crossing pass to Ayala-Garcia, who again took advantage of a one-on-one opportunity with Fisher for a 3-0 lead with 6:12 remaining before the break.
Sterling (5-7-3, 0-4) had a few chances in the second half, but couldn't cash in. A collision between Alleman keeper Alex Torres and one of his fullbacks with about 29 minutes to play resulted in an open goal, but the Warriors' shot ricocheted off the keeper and out of bounds. Sterling couldn't corral the resulting corner kick.
"Usually it takes awhile to get the intensity up, but once we do that, it usually starts going well," Alkhalaf said. "Sometimes we lack finishing, but that's something we can work on."
Sterling had trouble consistently connecting on their passes all game.
"The second half, a majority of it was played in our offensive half, but we just couldn't generate many chances. It's something we'll have to keep working toward, and hopefully it comes together in a month when the playoffs start," Sterling coach Brian Cebula said. "It's kind of been theme all season, starting really, really slow and coming into the game late – when it's too late.
"We've got to find a way to start hot from the beginning and not take 30 minutes, 40 minutes, 50 minutes to come into the game. If we can figure that out, we can probably play with most teams. But we kind of shoot ourselves in the foot going down so many goals early and get behind the 8-ball. If we can figure out how to start where we end, so to speak, we'll be in good shape."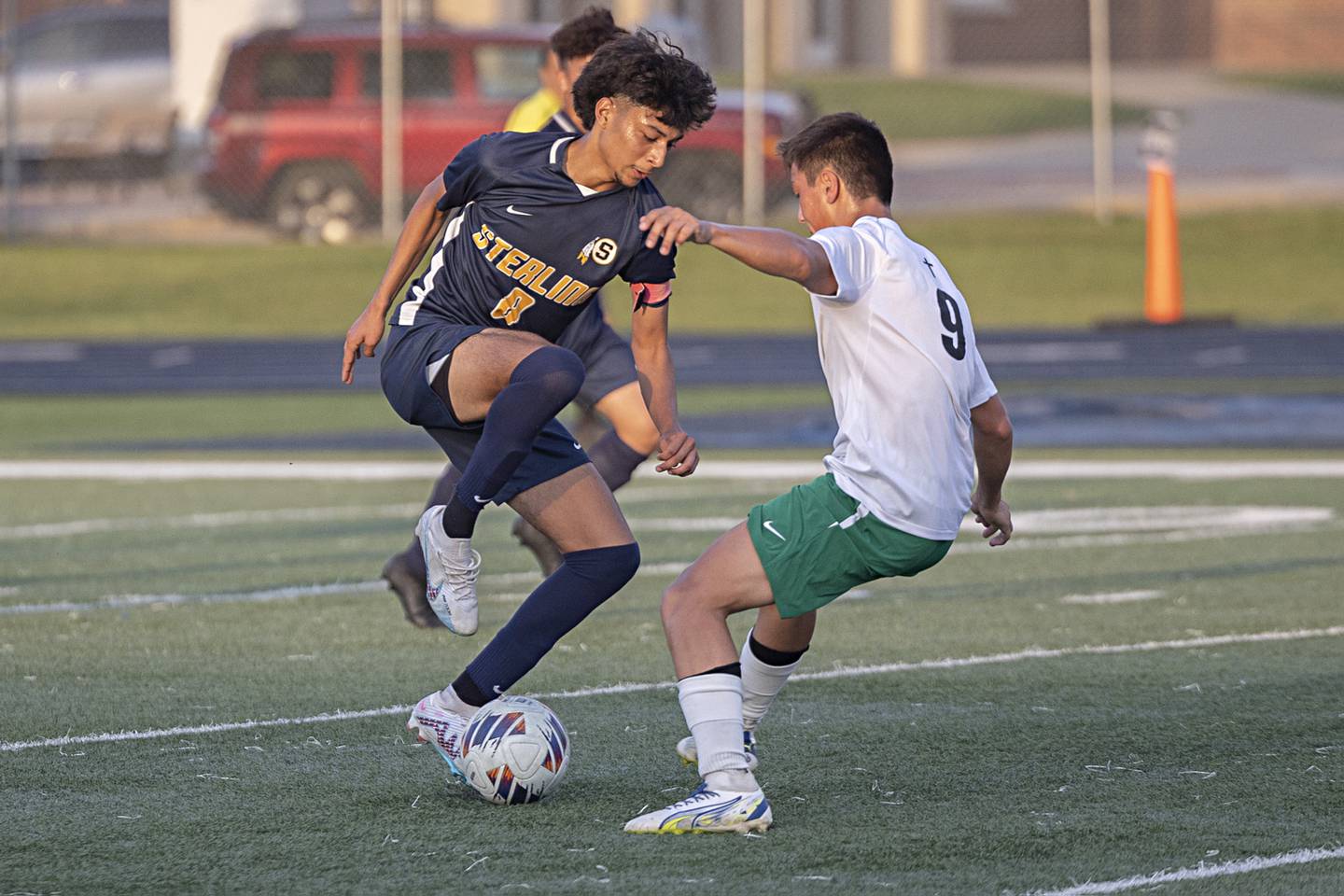 Fisher had four saves in the game, including one from point-blank range with about 22 minutes to play. Alleman's corner kick was headed into the box, and another Pioneer got his head on it right in front of the goal. But Fisher punched the shot away, and one of the Warriors' fullbacks cleared it.
Ayala-Garcia finished off a hat trick for the Pioneers with 15:56 to play. Kale dribbled up the left side on another breakaway, then centered a pass to Ayala-Garcia, who banged a shot into the upper left-hand corner of the net.
"Since we lost Carlos [Ramirez] and Carter [Dietrich] to injuries, it's been kind of tough playing our normal game, especially with Carlos out of the midfield. But now that he was back this game, I think it helped a lot in the midfield," Ayala-Garcia said. "It's a very good sign, how we played tonight. We're very happy to win another conference game, and our goal is to do a lot better than last year and get our best record that we've ever had at Alleman."