GENESEO – Although they came in as a lower seed and played from behind for most of the Class 2A Geneseo Regional semifinal against the Rock Island Rocks on Tuesday night, the Sterling Golden Warriors never gave in.
After two 10-minute overtime periods and a penalty-kick shootout to break a 3-3 tie, the third-seeded Rocks missed their final PK attempt of the game, and the sixth-seeded Warriors' celebration commenced as they secured their spot in Saturday's regional championship against top-seeded Geneseo.
"It feels great. More because it's my last year, but more because I want to do it for my team," Sterling senior forward/midfielder Fabricio Peña said. "I feel really great."
The Rocks went ahead 1-0 in the 28th minute on a Jake Brandt direct-kick goal, but with 37:08 to play in the second half, Peña answered with the first Sterling score, breaking away for an unassisted goal to tie the game 1-1.
Rock Island retook the lead at 2-1 several minutes later, and the Warriors found themselves trailing again up until about the 10-minute mark.
In the 70th minute, Daniel Bermudez buried a penalty kick to tie the game 2-2.
The last 10 minutes of regulation were scoreless, so the teams played two 10-minute overtime periods to decide the winner.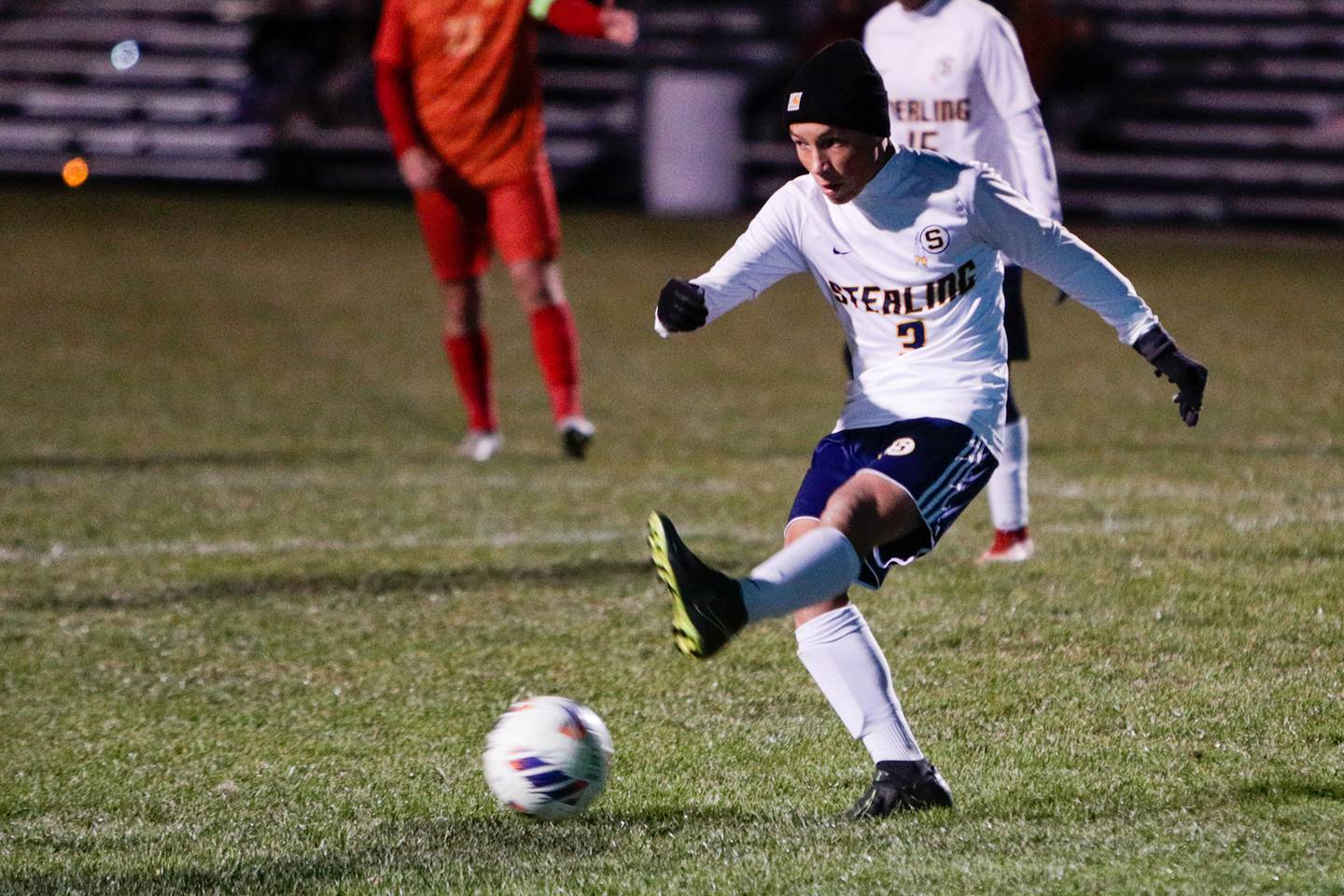 Peña scored the go-ahead goal in the 89th minute for a 3-2 Sterling lead, but the Rocks responded with a goal of their own just a few minutes later, tying the game 3-3.
"At first, I was really nervous. I thought we were going to tie," Pena said. "But then I just scored the third goal and I got a little hyper, and I told my defense to lock in. We did [for a little while], but then we got scored on and, we went to penalties. After that we took care of business, and now we just wait for the game on Saturday."
At the end of the second 10-minute overtime period, the game was still tied 3-3, forcing the game into a shootout situation.
"I was really nervous," Peña said of watching the shootout. "It was the first time for me in high school going through a shootout, and it was really intense. I was nervous, but we did what we gotta do."
Each Golden Warrior took their turn on the penalty kicks, matching the Rocks 4 for 4 on the first four attempts. Both teams missed their next attempt, then Sterling knocked one in and Rock Island missed one wide left to end the game.
"Giving up the goal a little bit early, I told the boys this week, don't let the highs get too high, don't let the lows get too low. We played them a couple weeks earlier, so we knew what they were capable of," Sterling coach Brian Cebula said. "The guys did a great job today. They never let adversity get to them, and came through on the PKs. You never want that to be the deciding factor, but luckily for us today, it came out in our favor. ... We had to go with our third-string keeper. Our second-string keeper got hurt, but he came up big, too. I'm just elated."