OREGON – After both goalkeepers pitched shutouts for 100 minutes of soccer Wednesday evening, it was only fitting that the game came down to them facing off.
Oregon keeper Gavin Morrow hit a Golden Goal penalty kick to send the Hawks to a 1-0 win over Winnebago in their Class 1A Oregon Regional semifinal, and onto the regional final Friday against Genoa-Kingston.
"I didn't really think I was going to get to kick, but it was cool that it happened," Morrow said. "I missed a PK in the first game we had against these guys, and then this time, I actually put it in. So that felt pretty good."
The two teams played to a scoreless draw through through 80 minutes of regulation and 20 minutes of overtime at Oregon Park West, with Morrow and 'Bago keeper Braylon Garrigan trading saves on strong scoring chances by each squad.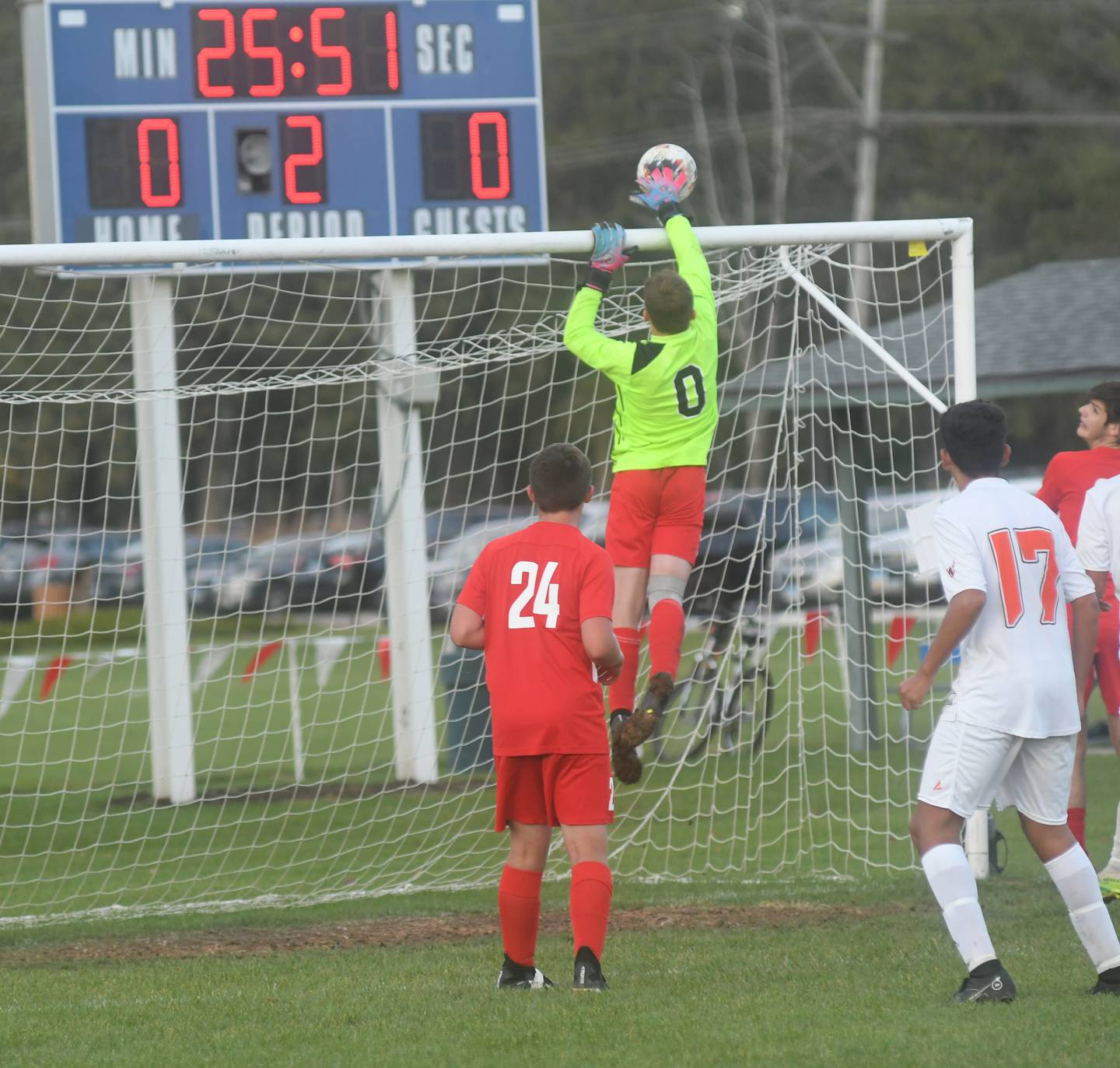 After both keepers kept a clean sheet through regulation, Garrigan made two stellar saves within a minute of each other midway through the first 10-minute overtime period to keep the game scoreless, then both made a couple of stops in the second OT to preserve the tie and send it to a penalty kick shootout.
With darkness descending quickly, the teams tied 2-2 through the first five PKs, then it was sudden death from then on. Morrow stepped up to the ball in the gloaming and shot it past Garrigan into the upper lefthand corner of the net to give the Hawks (12-11-2) a 3-2 lead.
"I always try to go left; that's my spot, so that's where I wanted to go," Morrow said. "I just hit it solid and put it where I wanted."
"I originally didn't put him in, because his knee is kind of bothering him, but I'm glad that I had him as our sixth shooter," Oregon coach Seger Larson said. "A gut feeling, I guess, I don't know."
Morrow then stepped back into the goal with the chance to seal the Oregon victory. Winnebago's Daniel Guzman took the final kick, and it skimmed the goalpost but sailed wide left and high, and the Hawks erupted in celebration.
Oregon players spilled onto the field from the sideline in sheer jubilation, while several of Winnebago's players dropped to the ground in tears after the crushing loss.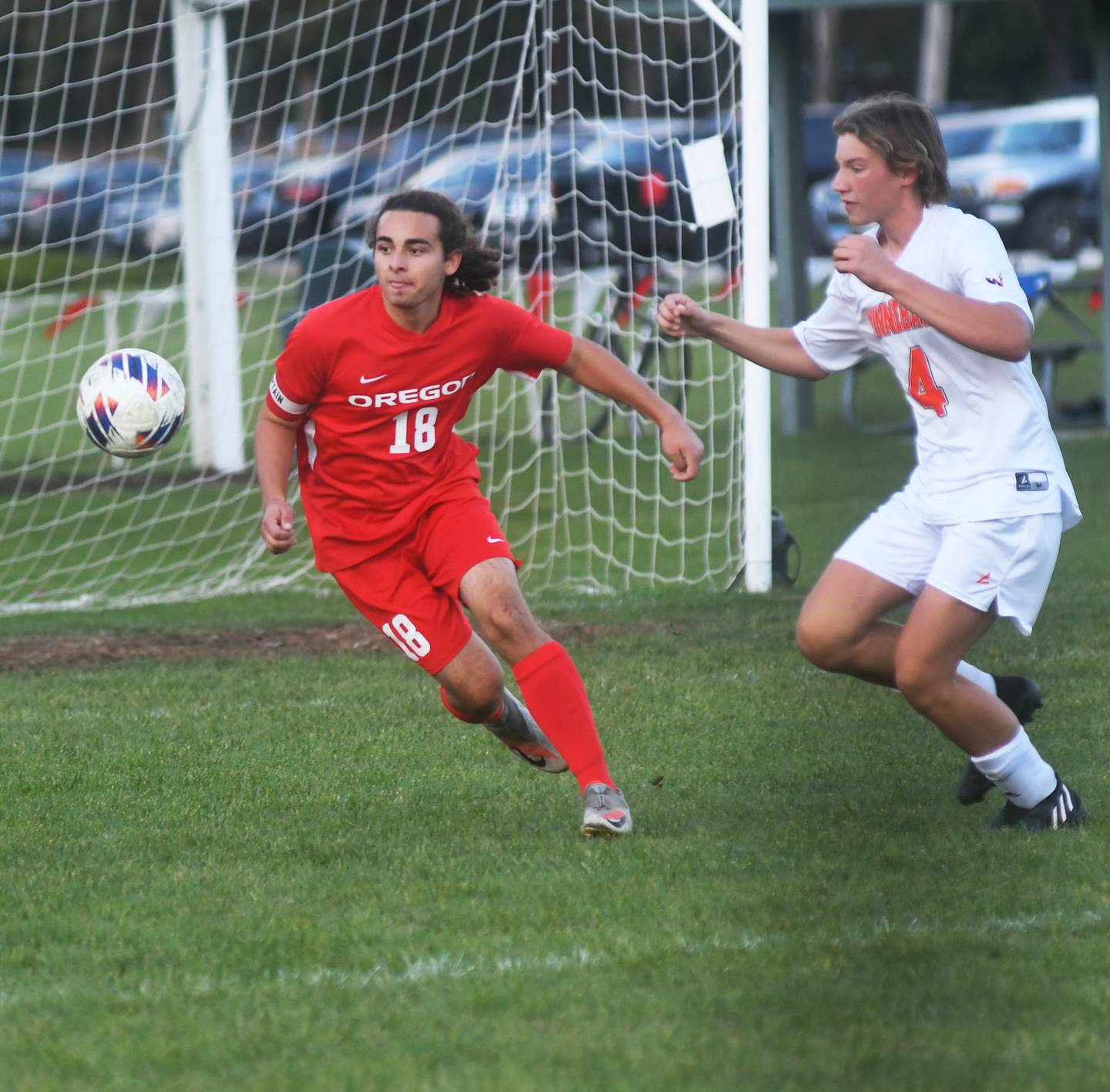 Morrow made a save in the PK shootout, and finished the game with 16 total.
"I try to look for anything where they might give it away," Morrow said of his strategy against penalty kicks. "If they look down at the ball and they look right back up, a lot of times they're looking right where they want to go. Sometimes it's just where their hits have gone before. It's just a guessing game; if you guess, you win, but if you don't guess right, you don't."
Garrigan made two saves in the shootout, and throughout the game made several aggressive plays to grab the ball when it looked like the Hawks would have a scoring chance.
"Everything, no matter where it was in the box, we both had great effort going for the ball," Morrow said. "Especially him, he was diving all around the whole game. He looked really good today."
"Gavin was reading the PKs, he did a great job of saving them, he had some saves in the game, but really, this was just an evenly matched game," Larson said. "And their keeper, he was good all game too. We had chances in overtime, and he made some great saves."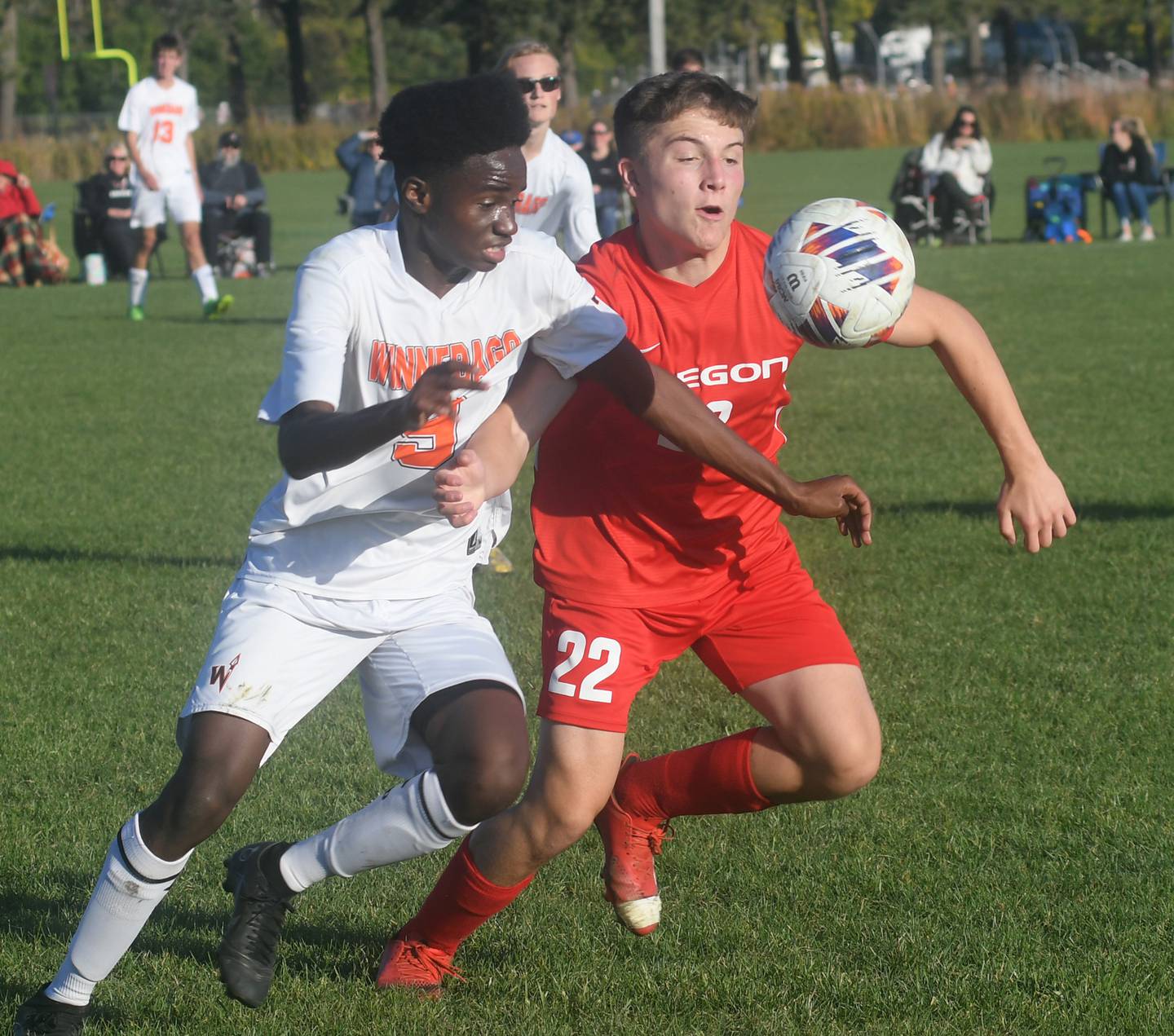 For maybe the first time all season, according to him, Garrigan won a coin toss as a captain and chose for 'Bago to go second in the shootout. Both keepers made saves on the first shots, then Oregon's Cruz Hernandez scored into the upper right corner, but was answered by a nearly identical goal from Winnebago's Brandon Armenta.
After a miss high by Oregon, the Indians took the lead when Henry Snyder snuck it through the hands of a diving Morrow into the lower left corner of the net. But Grant Stender evened it up with a shot into the upper left corner, then a Winnebago shot went off the crossbar. Garrigan made another save on the Hawks' fifth shot, but the Indians' shot went high to force sudden death.
The Hawks will take on top-seeded Genoa-Kingston in Friday's regional title game, after the Cogs beat Byron 4-0 on Tuesday. G-K beat Oregon both times they played this season.
"That's a big win, proud of our guys," Larson said. "Now we get to see if we can shock the world on Friday."