STERLING – Not too many golfers get to play a sectional tournament right in their own backyard, so for a quintet of local guys, Monday's Class 2A Sterling Sectional was a unique experience.
And while none of them played as well as they would have liked at Emerald Hill, all were appreciative of the chance to compete.
[ Photos from the 2A Sterling Sectional ]
Dixon junior Alex Harrison was the top local finisher, shooting an 81 to tie for 20th; he missed a seven-man playoff for the final four state qualifying spots by just one stroke. Still, he wasn't disappointed with his round.
"I'm pretty happy today. I started off kind of slow, but worked my way back up. I'm kind of happy with 81," he said. "My irons were pretty good today, pretty spot-on. My tee shots weren't the best, but my irons were pretty good and that made up for it.
"I know the course well, and it took the pressure off a little bit. I like the course a lot, and it went pretty good today."
His Dukes classmate Steven Kitzman also was pleased to get the chance to qualify for state on a familiar course, but never got his round on track the way he would've liked in shooting an 86 to tie for 40th.
"It was pretty good to have the sectional here. I've played this course a lot, so I know how it runs. That gave me a slight advantage, but I just didn't play too hot today," Kitzman said. "It wasn't too good of a round. I kind of fell apart toward the end, and that was basically it. My first nine holes, I played really good, and then the last nine I just never really got going good."
A pair of Sterling players closed out their season on their home course, but neither advanced to this weekend's state tournament.
Senior Cam O'Brien said the best part about playing at Emerald Hill wasn't even the familiarity with the course.
"It was cool to play here, on the home course. I didn't have to go anywhere, and I got to sleep in," he joked.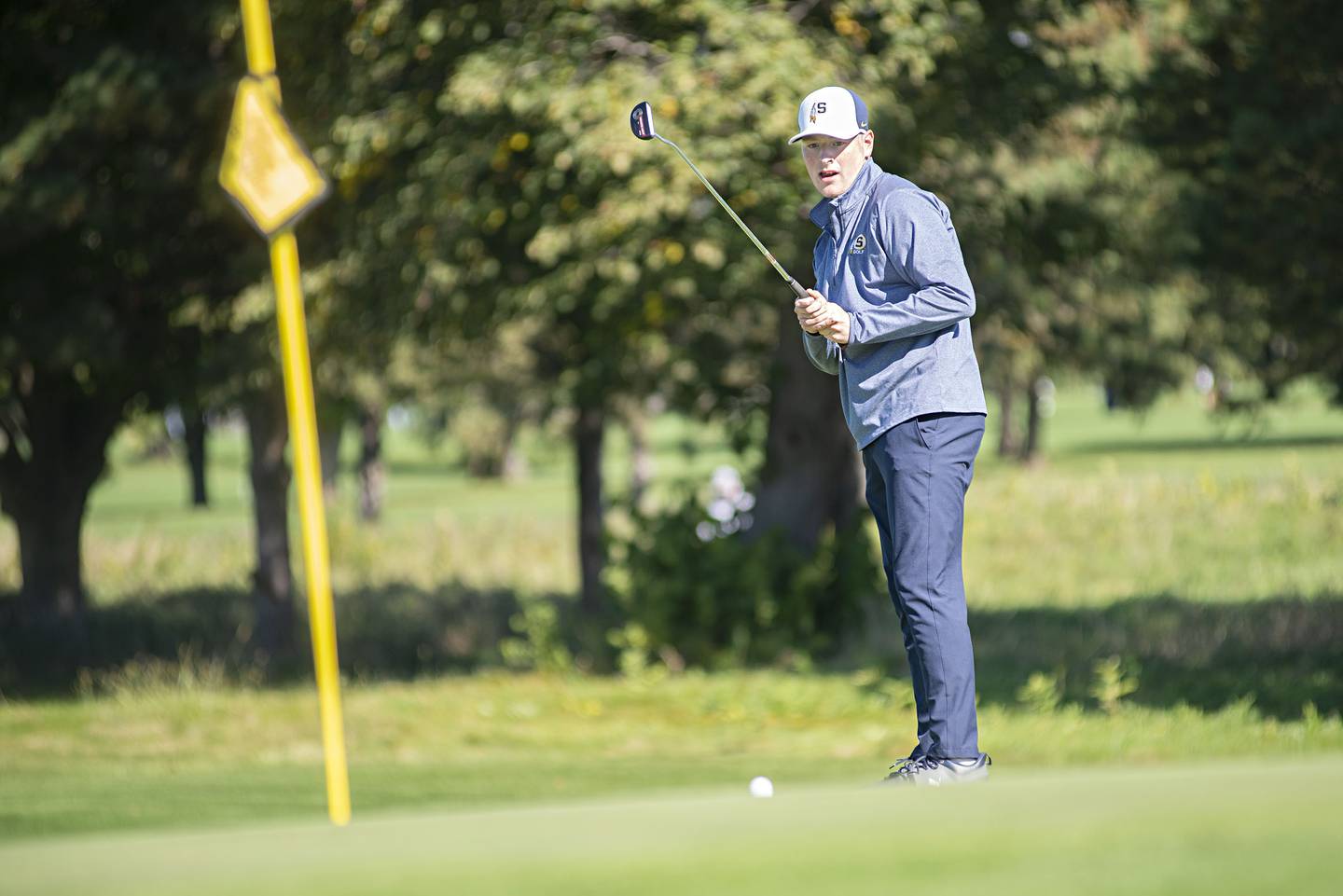 O'Brien shot an 89 to tie for 60th, but got his round going better on the front nine after he started on the 10th hole.
"On the back nine, it didn't go too well, but then I came out to a hot star on the front and ended up shooting 40; I had a 49 on the back. An 89 is fine with me, considering how bad the back nine was," he said. "We usually play better on new courses, and this is a tough course. The greens are fast, and you've got to hit it in the fairway or else you're in trouble."
His Golden Warriors classmate Braden Hartman agreed that while it was a little bit of an advantage to play at home, it still didn't make for an easy round.
"It definitely helped, but it's definitely not the easiest course in the world, either," he said. "Playing here a lot helps as much as it can."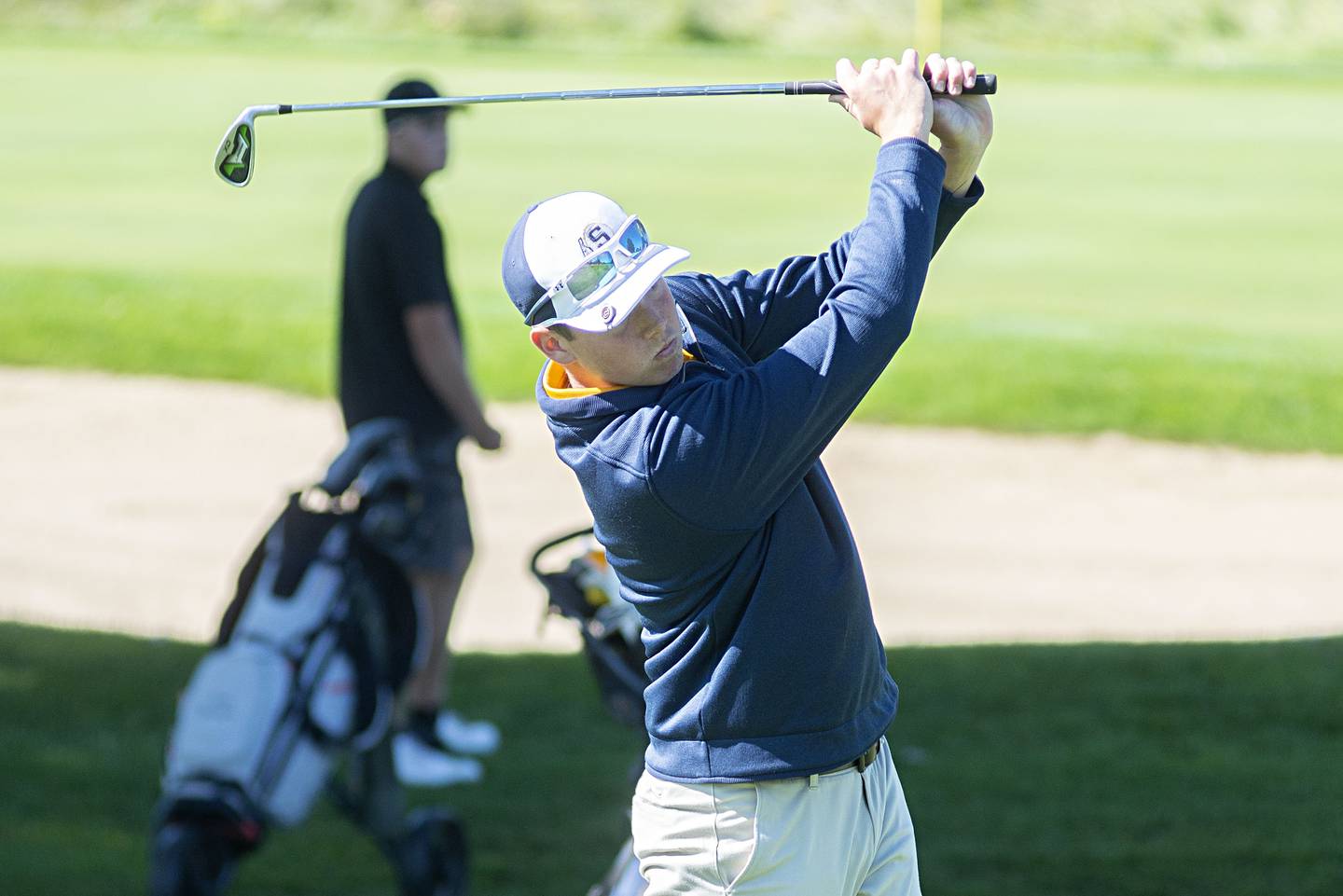 After shooting a 96 to tie for 93rd, Hartman said he wasn't concerned about his score, but more about soaking in the experience as much as possible.
"It was a privilege to play here today, for sure. I've been working all year for this, trying to get as far as you can. Coming out here to the range everyday and playing in practice, you know this course like the back of your hand. You just want to do your best," he said. "I didn't play as well as I thought I could, but it's my last go-round, so I was just trying to enjoy it out here."
Rock Falls junior Carter Dillon also played in the sectional, shooting a 100 to tie for 102nd place. He said after a tough start, he never got on track through the middle of his round.
"I played well in my practice rounds, but today was rough. I started off bad, then the middle was OK – I parred two holes – but then after that, it went downhill again and never came back up," Dillon said. "It made me confident to play at Emerald Hill; after I found out I made it to sectionals, I thought, 'Oh, I know that course, I should play well.' I guess that added a little bit of pressure, knowing that I should do good.
"But I got into the middle of the round and even if I parred out, I knew I had no chance to make it to state, so it was tough. But it's still nice knowing for next year what I have to do to make it to state."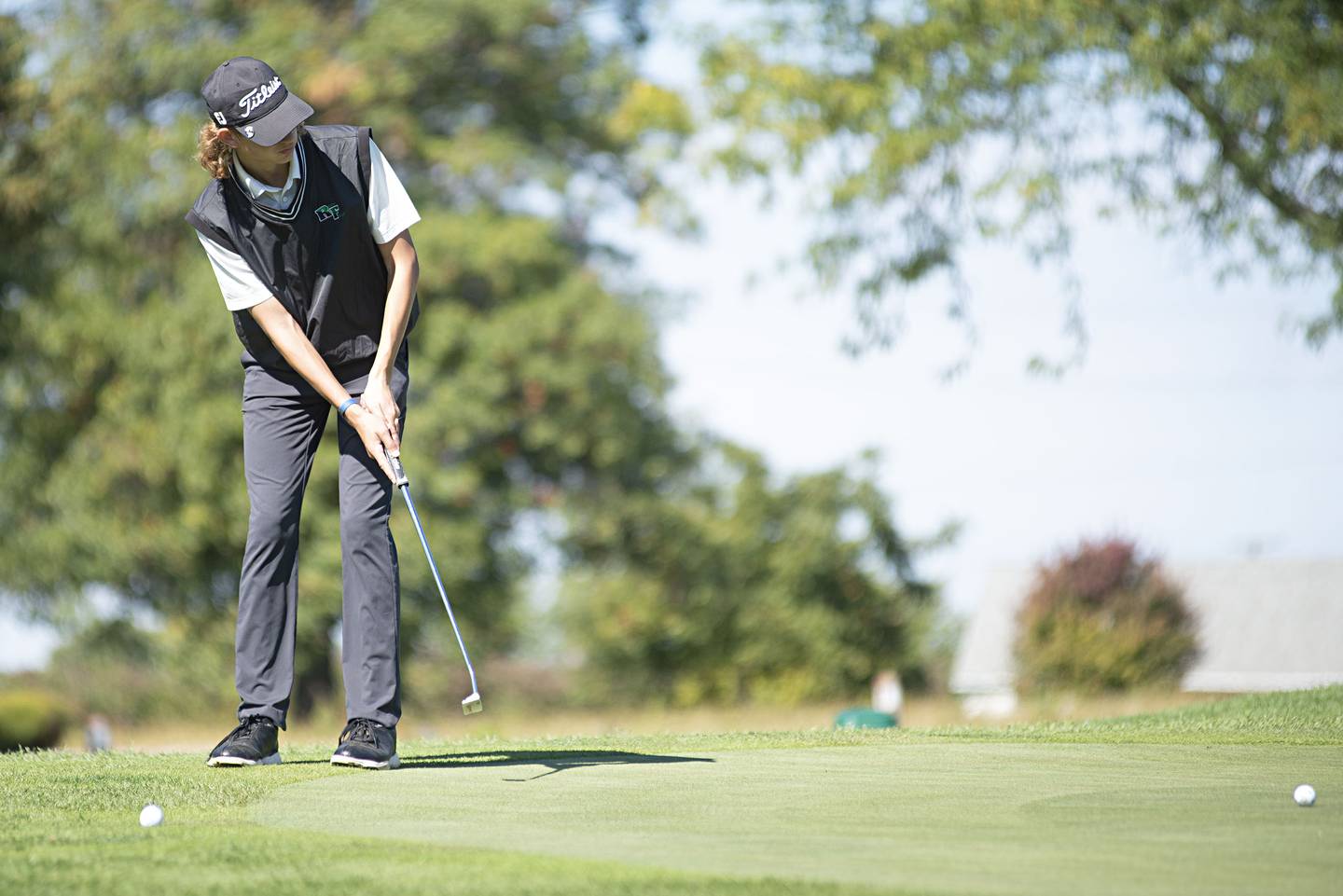 Aurora Marmion sophomore Regan Konen was medalist with an even-par 72, birdieing the par-5 eighth hole, the par-4 12th, and then closing with one final birdie on the par-5 18th. He made just three bogeys and recorded 12 pars; he was 1-under on the four par-5s and 1-over on the four par-3s. Marmion took second as a team with a 321.
Rockford Boylan's Cooper Watt was second with a 1-over 73, and the Titans edged out Ottawa for the third and final team qualifying spot for state, shooting a 324 to top the Pirates by two shots.
Vernon Hills took the team title with a 315, with four golfers placing in the top 12. Kartik Vasudeva tied for fifth with a 77, Henrik Lundberg and Ryan Irvin tied for eighth with 79s, and Dylan Moncayo tied for 12th with an 80.