ROCK FALLS – The Rock Falls boys basketball team was at a clear size disadvantage going into Tuesday night's game against Rochelle at Tabor Gym, but it never gave up, even when it trailed by as many as 28 points in the third quarter.
"I told them at halftime, I said, 'Here's where you show what kind of character you have. Are you going to be a house dog and sit down and lay down when it comes time to fight, or are you going to be a street dog who's going to fight and claw?'" Rock Falls coach Zach Sandrock said. "And those boys came out, they showed heart, and they played like street dogs. They just kept working, fighting, doing what I asked. It's just, we gotta get over that hump and play a full 32 minutes like that."
The Hubs snagged 21 first-half rebounds and led, 41-21, at halftime, ultimately beating the Rockets, 76-59.
Rochelle started the game at a breakneck pace, scoring 22 points in the opening quarter. With numerous defensive rebounds and a few steals, the Hubs created several fast-break opportunities and applied a lot of pressure to the Rockets' defense early on.
"The biggest difference was, obviously, us being small. It was hard to box out on them," Rock Falls guard Ayden Goff said. "We were trying to get in, and every time we did, we just got bodied. So it was hard to come back, but we made a little bit of a comeback."
Guard/forward Eli Luxton hit a top-of-the-key 3 to put the Hubs up, 14-4, with 2:43 to play, and guard/forward David Gerber followed with a corner 3 to make it 17-4 about 40 seconds later. Rochelle closed out the quarter leading, 22-10, with no signs of slowing down.
In the second quarter, the Hubs continued to add to their lead. A Raul Aguirre post-spin layup made it a 31-11 game with 4:47 to play. For the rest of the first half, Rochelle and Rock Falls traded baskets until the margin returned to 20 points at 41-21 at the break.
"I thought we came out slow on the defensive end, and that translates to our offense and our energy and knocking shots down. I thought in the first half, we really didn't have that intensity on the defensive side," Sandrock said. "And then on the offensive side, we were rushing some shots. We weren't getting the ball out of a lot of guys' hands; we were just taking quick ones. And I think we shoot a lower percentage when we're taking a quick shot early in the possession."
For most of the third quarter, the Hubs continued to impose their will, building the lead to 28 points. Toward the end of the quarter, however, the Rockets started to rally.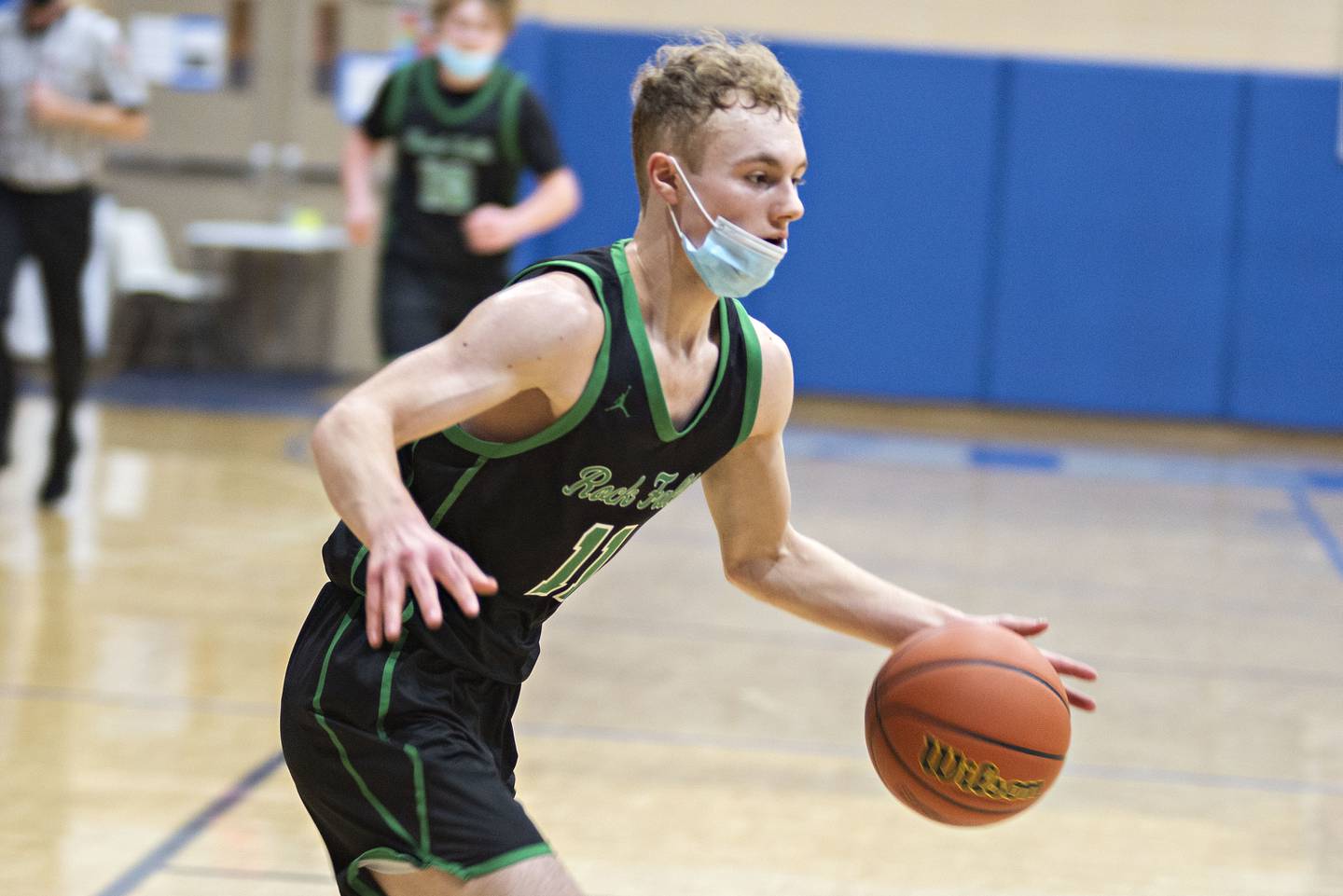 A 3-point barrage led by guard Gavin Sands brought the score within 60-42 at the conclusion of the quarter. Sands made two 3s during that stretch, while forward Chevy Bates, guard Timmy Heald and guard Victor Rivera made one each.
Rivera hit another 3 from the corner off a cross-court pass from guard Booker Cross to pull within 60-47 about 40 seconds into the final period.
Rock Falls was able to build momentum and keep the game within reach until midway through the fourth. With 5:16 remaining, Goff hit a deep mid-range jumper off a Rivera offensive rebound and pass out to the right corner, cutting the deficit to 64-52.
Once the Rockets drew within 12, Rochelle's defense tightened up, forced a few turnovers with deflections and jumped passing lanes, and scored some easy transition buckets to re-establish a comfortable lead.
"It was good on-ball defense. They were pressuring me and Gavin on the perimeter," Goff said. "But it was pretty hard to get by them, and it was hard to run our offense. They jumped everything, they predicted everything, and they did pretty good defensively."
Sandrock credited Rochelle for disrupting passing lanes.
"I thought Booker did a good job of handling the ball. I know we had quite a few turnovers, but we tipped a few balls, kicked a few balls. But I thought we did a pretty good job once we started to get into our open offense, of moving the ball," Sandrock said. "They've got length and size, so it's tough to get past that and make clean passes. And when you can't make clean passes, you can't get open shots. It just makes it all-around tough."
Rochelle guard Adam Kemp helped close out the game with eight points in the fourth quarter, including six free throws in the final three minutes.
Goff finished with 14 points to lead Rock Falls, Cross scored 10 points and dished four assists, Sands and Chevy Bates scored nine points each, and Rivera added eight points. Sands also had three steals.
Noah Brown paced Rochelle with 16 points, Tanner Lager scored 12, Kemp scored 11, and Ryan Simmons added 10.