STERLING – The Moline boys basketball team knew it would need a fast start to hang with Sterling, especially in front of the Golden Warriors' home crowd at Homer Musgrove Fieldhouse.
After a back-and-forth contest Tuesday night, the Maroons pulled ahead late to win, 70-63.
Early on, Moline did exactly what it set out to do, outscoring Sterling 19-5 in the first five minutes.
"We knew Sterling was going to be a good team. We knew they were going to come out fast, so we knew we had to come out first and give the first hit," Moline's Grant Welch said.
After a sluggish start on both ends, the Golden Warriors caught fire, going on a 24-8 run over the next 11 minutes.
JP Schilling hit a top-of-the-key 3 with a hand in his face to draw within 22-18 with five minutes to go in the second quarter. Carter Chance scored a fast-break layup off a steal on the next possession to make it 22-20. Schilling then knotted the score at 22 with a fast-break layup of his own.
Sterling took its first lead of the game at 24-23 on an Andre Klaver midrange jumper with about 2:45 to go. Moline got the lead back briefly at 27-26 until Schilling hit a heavily contested buzzer-beater 3 to put Sterling back on top.
"We played good defense, and it transitioned into offense for us," Schilling said. "We had some amazing transition buckets and got it going with our defense."
Schilling gave the Golden Warriors the spark they needed, scoring 18 points in the first half.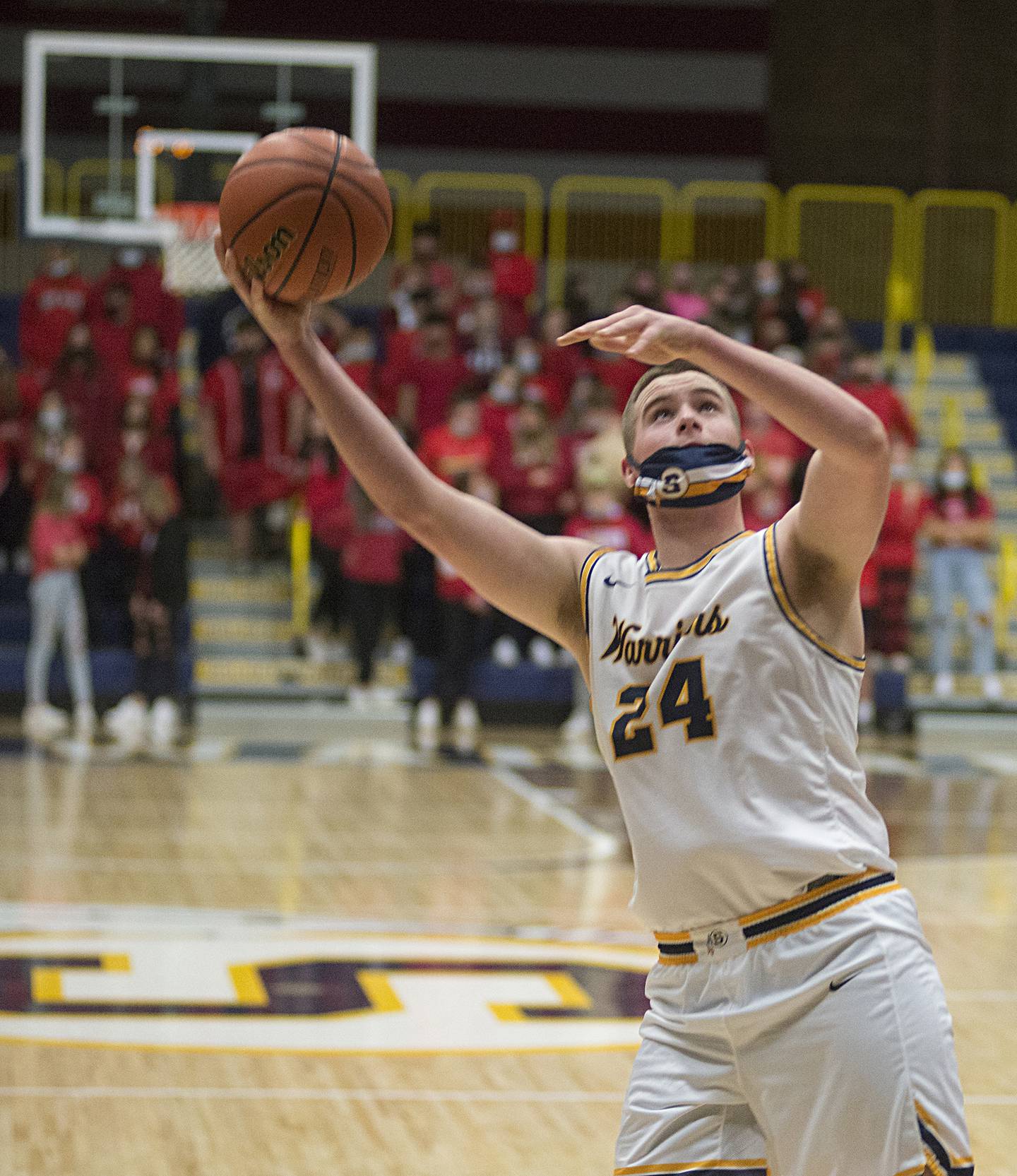 In the second half, Lucas Austin, Tyree Kelly and Schilling shouldered the offensive load for Sterling. Austin scored 10 points of his 12 points in the third quarter to help keep pace with Moline, including three straight baskets to maintain the lead at 36-35 in the first 2:30.
"To their credit, they didn't give up. They came, and [Schilling] was outstanding and Luke [Austin] was outstanding in the third," Moline coach Sean Taylor said. "Those were two hard matchups for us, and they made really difficult shots. I think they kept us from doing what we did to start the game, so give them a lot of credit."
Welch was a big part of Moline's third-quarter surge, as he scored 11 of his 20 points in the pivotal quarter. His 3-pointer off a rebounded free-throw miss put the Maroons up 50-41 with just over a minute to play in the third. The Maroons held a 50-45 lead after three.
In the fourth quarter, Welch hit another big 3 to expand the Moline lead to 60-52 with 5:43 to go.
"We needed him. They had that zone spread out and we needed somebody to step up and be really good in there," Taylor said. "I thought he did a good job, and I thought Trey Taylor did a good job on the baseline for us in the second half."
Brock Harding made it a 64-54 game with a nifty crossover drive to the basket and an off-the-glass finish, then capped the Maroons' scoring at 70 with a pair of free throws in the final 30 seconds.
"I thought we battled back pretty well, but we had some times where they threw some punches and we didn't answer," Schilling said. "We went through a stretch where they hit a couple of 3s and we didn't respond, had a couple of turnovers, and you can't do that against a good team."
Harding and Rob Pulliam combined for 13 points in the fourth quarter to help seal the win for the Maroons.
"Really we just stuck together as a team," Welch said. "Our big thing this year is we gotta compete all 32 minutes, and I think we did that, for the most part. We stuck together and finished it out."
Added Taylor: "I think Grant Welch made some big ones inside, and then stepped out and made two 3s. Harding and Taylor made a couple of 3s for us, and then we were able to make foul shots toward the end."
Welch finished with 20 points to pace Moline. Harding finished with 15 points and 10 rebounds, Kyle Taylor scored 12 points, and Trey Taylor and Pulliam added 10 apiece for the Maroons. Pulliam also had seven rebounds.
Schilling scored 27 points to lead Sterling, while Austin scored 12 to go with five rebounds. Kelly and Klaver added 10 points each, with Kelly grabbing nine rebounds. The Warriors were coming off a come-from-behind win at rival Rock Falls on Saturday, and Schilling said a strong showing against the Maroons will help their confidence keep growing.
"Rock Falls-Sterling, that was a good game. We battled back and learned from it," Schilling said. "And Moline is a really good team, and knowing that we went head-to-head against them, and if we could've done things a little better it might've gone our way, it's definitely a confidence booster."