STERLING – With the way things were going for the Sterling offense in the second half of Wednesday night's home opener against Rockridge, a fitting song to play during a timeout midway through the fourth quarter might have been "Start Me Up" by the Rolling Stones.
Instead, the Red Hot Chili Peppers' "Don't Stop" blared through the speakers – and the Golden Warriors took heed.
Sterling hit its final five shots, including a three 3-pointers to ignite a late surge, and the Warriors rallied for a 45-41 win at Musgrove Fieldhouse.
"We just wanted it," junior point guard JP Schilling said. "We did everything we could to get that win, playing back-to-back nights. It was a good win, and we just turned it up a notch down the stretch."
Trailing 37-29 at the final mask timeout with 3:42 to play, Sterling (4-1) had scored just three points the entire second half to that point; the only point in the fourth quarter was a Kyle Billings free throw two-and-a-half minutes earlier.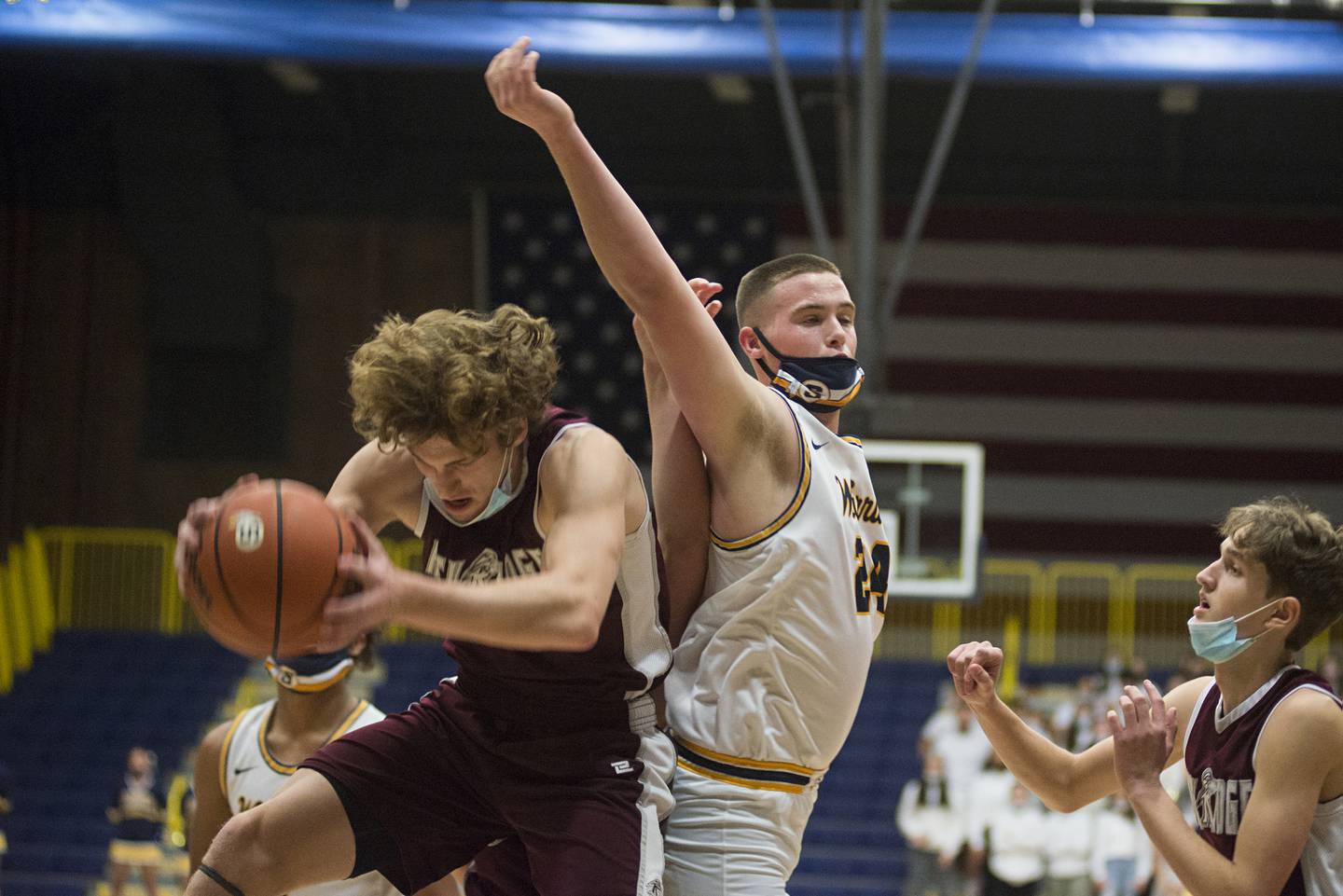 But sophomore forward Lucas Austin nailed a 3 with 3:22 to go to cut the deficit to five, and it was the spark the Warriors needed.
"We just needed that first bucket to open up the basket," Austin said. "We just needed to get back to scoring again. It felt a lot better after that, because their lead kept getting smaller."
"At that point, it made it a five-point game, and we thought, 'OK, there's still three minutes left, we're in this ballgame,'" Schilling added. "That definitely gave us more confidence after that."
Rockridge got a pair of free throws from Caleb Cunico, who entered the game to shoot for Jase Whiteman, who had to go to the bench with a nosebleed.
But Andre Klaver answered with a 3 to cut the deficit to 39-35, then Austin added another 3 after Sterling got a stop on defense to get within one at 39-38 with 2:10 to play.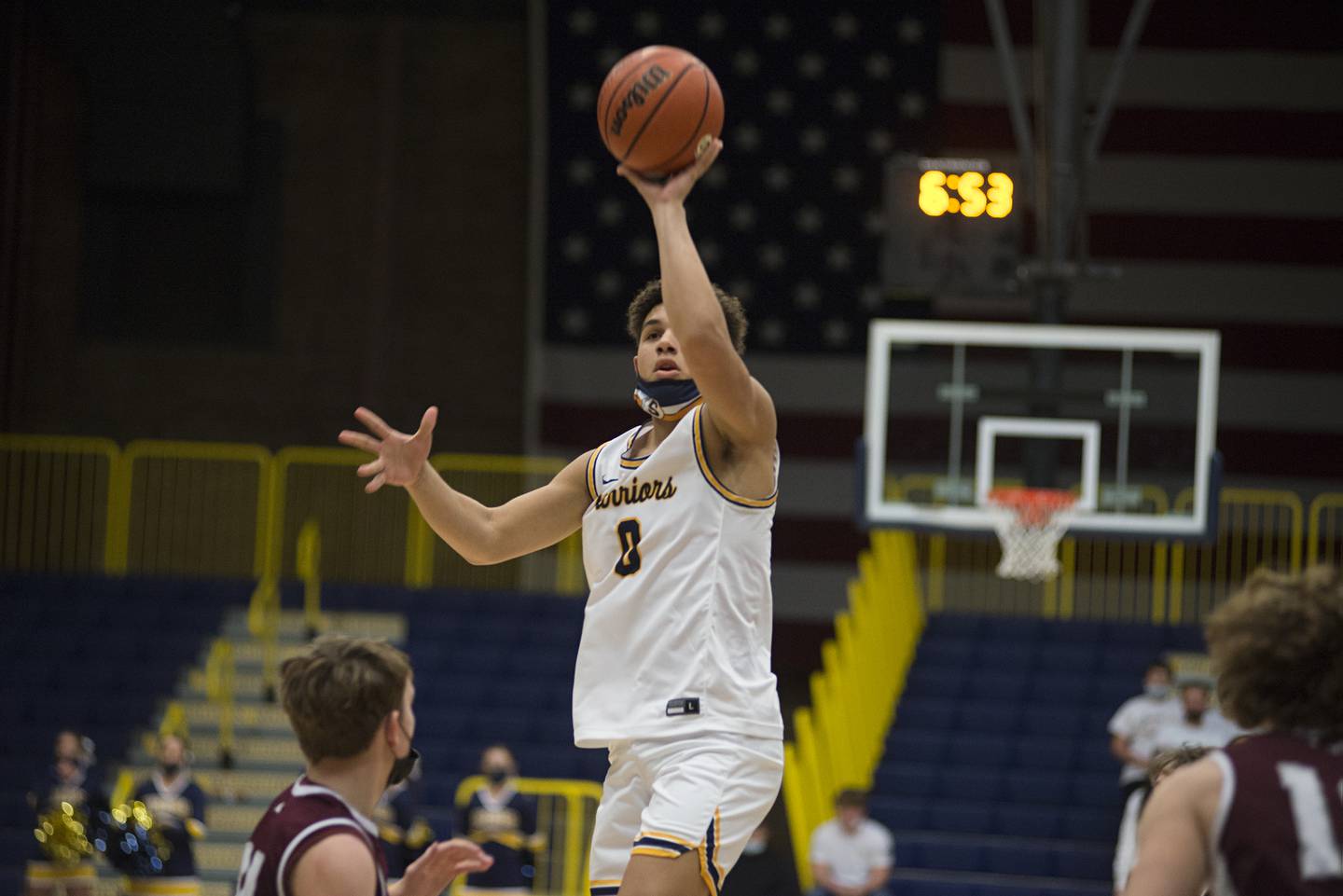 "Getting stops and converting on the other end, that was what did it. The guys just gutted it out," Sterling coach Ryan Vasquez said. "Everything's a little more energetic when the ball goes through the hoop. You could definitely feel it there in the last three minutes of the game, we had some momentum going, and our guys just fed off of it and continued with it through the end of the game."
After another stop on the defensive end, Schilling grabbed the rebound and sprinted up the court, going coast-to-coast for a layup and a 40-39 lead with 1:40 remaining.
"There was a defender and we had a guy in the corner, so I just looked him off, the defender went to the corner, and I got an open layup," Schilling said.
Sterling's defense stepped up again on Rockridge's next possession, and Schilling whipped a half-court bounce pass to Billings for a layup and a 42-39 lead with 1:08 to play. After limiting the Rockets to one-and-done trips down the court with strong defensive rebounds, Schilling and Austin hit 3 of 4 free throws the next two Sterling possessions for a 45-39 lead.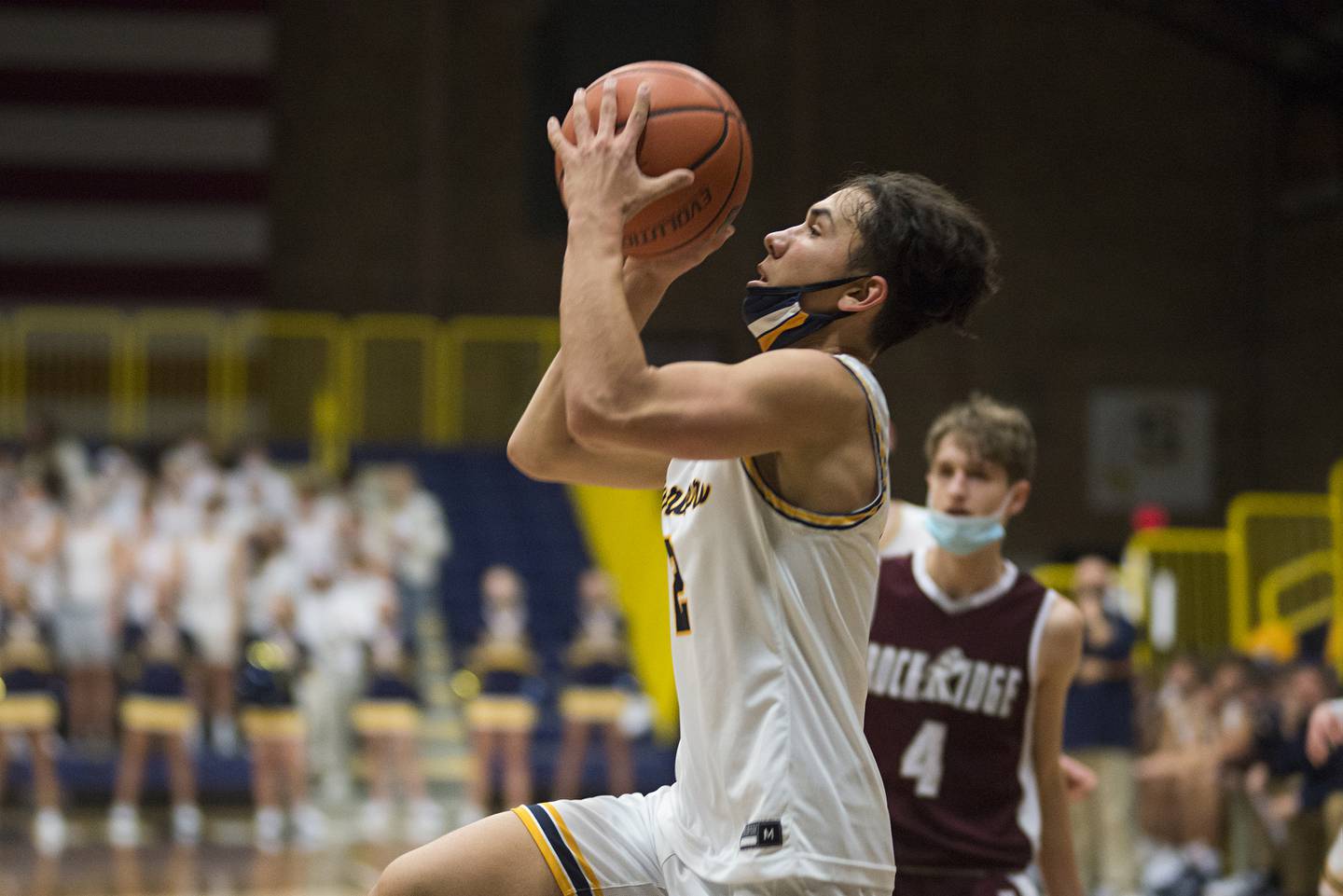 After Austin missed a pair of free throws the next time down the court, Landon Bull scored on a putback with 9 seconds left to make it 45-41. But Schilling burned some time off the clock by outrunning the defense on the inbounds pass, and even after he missed a pair of free throws, Tyree Kelly rebounded one final missed shot by Rockridge as the final horn sounded.
"They did a great job of pressuring us in the fourth quarter," Rockridge coach Andy Saey said. "We weren't ready for the kind of pressure they were going to give, and I thought we panicked a little bit, and they did a good job of sealing the game."
The Warriors did so with a 16-4 run over the final 3:22, after shooting just 1-for-11 in the first 12:44 of the second half. And while they struggled to a 5-for-15 night at the free-throw line, they made up for it by shooting 8-for-18 from 3-point range.
"This team has some guts," Vasquez said. "They've got the never-quit mentality, whether it's practice or a game, and right now they're just continuing to run with that – and that's untouchable."
Austin finished with 15 points, nine rebounds and three blocks, while Billings scored 14 points. Schilling had seven points, six assists, four rebounds and four steals, Klaver added seven points and three assists, and Kelly chipped in two points and a game-high 12 rebounds for Sterling.
"Wins like this, it makes us feel a lot more comfortable," Austin said. "We're so young, and these wins really help our confidence."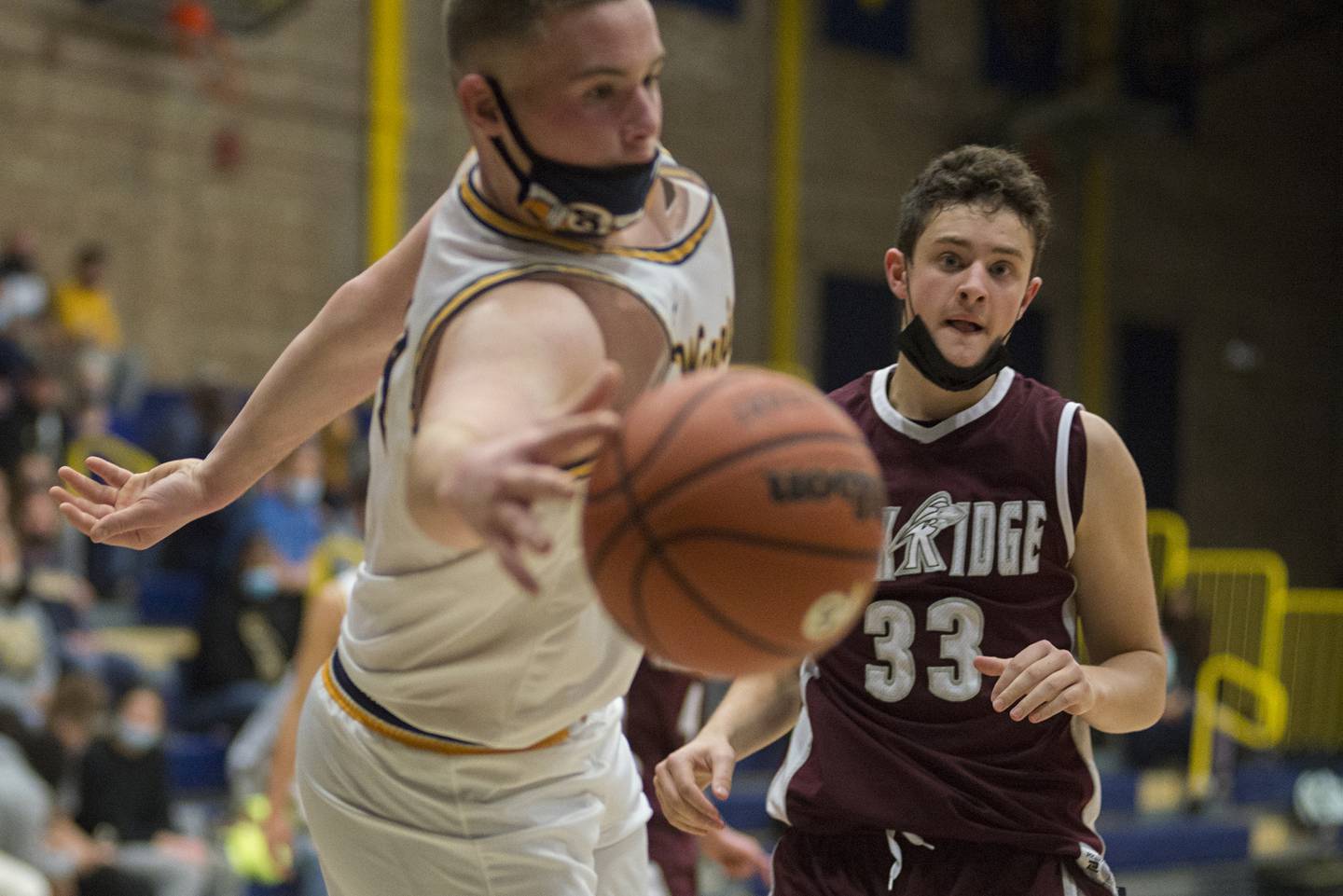 Whiteman had 19 points, five rebounds and three assists, hitting five of Rockridge's eight 3-pointers. Nate Henry added 13 points, seven rebounds, three assists and two steals for the Rockets, who outscored Sterling 18-6 from the 2:50 mark of the second half through the 4-minute mark of the fourth quarter.
"It's tough, because they've got Schilling who's so good at getting downhill and getting in the lane, then they've got shooters and athletic kids around him. So we really just kind of wanted to make it hard to get into the lane, close out on shooters, and we knew we were a little bit outmatched athletically and speed-wise, so we were going to have to kind of scramble around and make things difficult for them," Saey said about the defensive game plan. "But it's kind of just a matter of time before JP gets in the lane, a matter of time before Billings or Austin hits a shot. They're a team that feeds off momentum – that was obvious from the start of the game – so once they hit a couple of shots, they started feeling good about themselves, and I thought we kind of got timid."
Rockridge jumped out to an 8-2 lead in the first 4:10 of the game, but Billings buried three straight 3s and Austin added another from distance to put Sterling in front 14-8. After five straight points from Henry got Rockridge within one, Schilling banked in a half-court shot at the first-quarter buzzer for a 17-13 lead, then Kelly's putback stretched the margin to 19-13 just 14 seconds into the second quarter.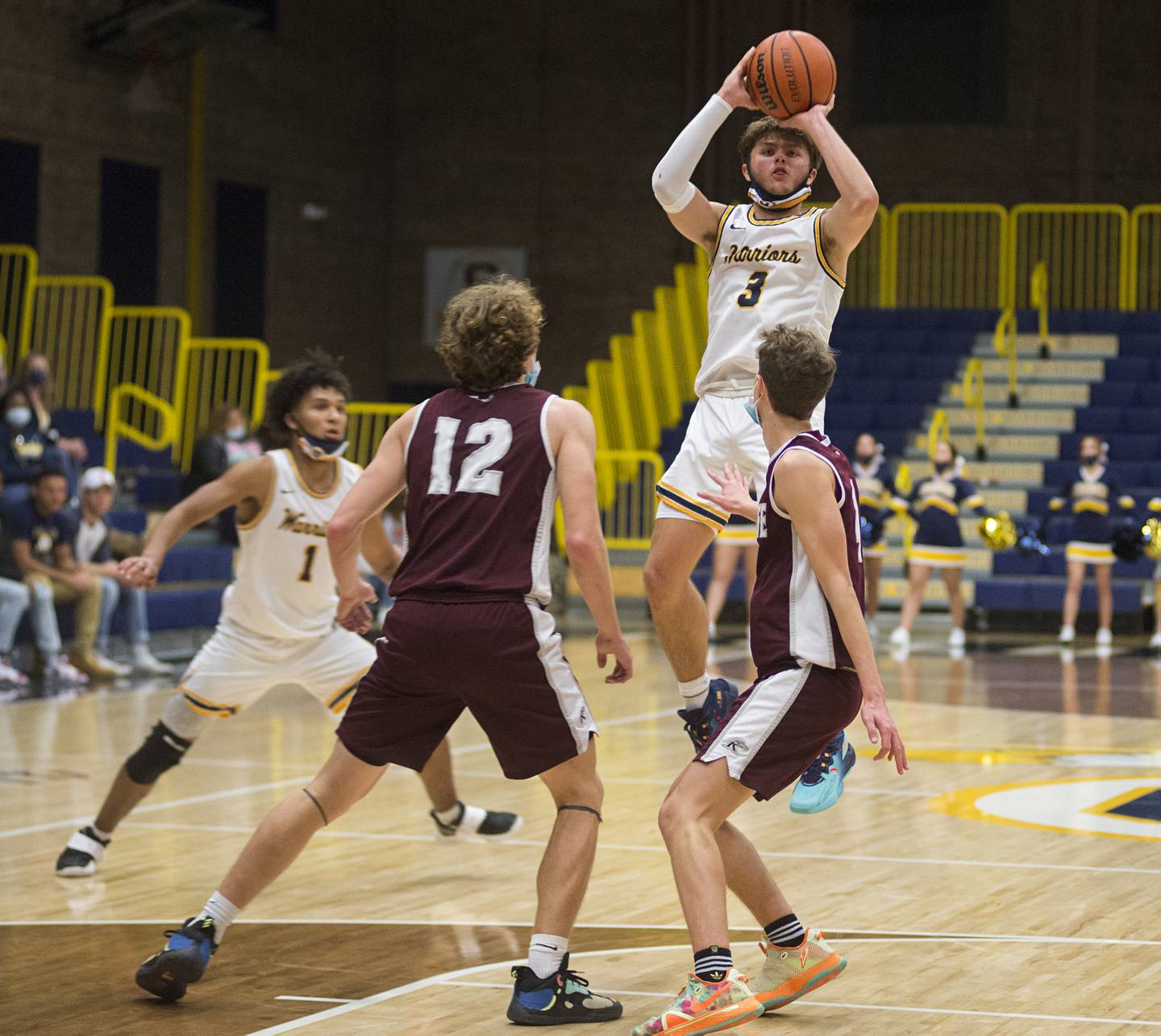 But Whiteman hit a pair of 3s around a turnaround shot in the post from Austin, then TJ Wilson and Whiteman scored on back-to-back possessions to tie the game 23-23 with 1:30 left before halftime. Austin drove the lane to give Sterling the lead 26 seconds later, and the teams traded free throws to put the Warriors up 26-24 at the break.
After the teams started the second half ice cold from the field, Henry and Klaver traded baskets midway through the third quarter before Whiteman and Henry hit 3-pointers to end the period with Rockridge ahead 32-28. Carson Klemme hit a 3 early in the fourth, and Whiteman's driving layup stretched the Rockets lead to 37-29 with 3:59 remaining in the game, setting the stage for Sterling's comeback.
"Sterling's a tough team, and I've got a lot of respect for this program and for Coach Vasquez, and that's why we want to play these games, we want to play tough competition," Saey said. "And I love this gym, so just coming here was an experience, and it was fun for us. We'll learn and get better from it."