ASHTON – The formula for success for the Amboy boys basketball team is aggressive play on both ends of the court.
That was on full display in an AFC Thanksgiving Tournament semifinal Friday night against Kirkland Hiawatha, as the Clippers used drives to the basket and a stingy defense in a 42-27 victory to advance to Saturday's championship.
"I think we just caught them off-guard with our speed and quickness, and our aggressiveness taking the ball to the basket and on defense," Tucker Lindenmeyer said.
After Austin Thomas' 3-pointer gave Hiawatha (2-1) a 5-3 lead 2:55 into the first quarter, Amboy (3-0) tied it with a driving layup from Connor Simpson just 16 seconds later. It was all Amboy after that, as the Clippers went on a 15-0 run over the final 4:49 of the first quarter and first 4:18 of the second.
Brennan Blaine had a pair of baskets in the lane in the stretch, Lindenmeyer drove for a layup, and Eller scored off an offensive rebound. Amboy also hit five free throws, as the aggressive style forced the Hawks to foul.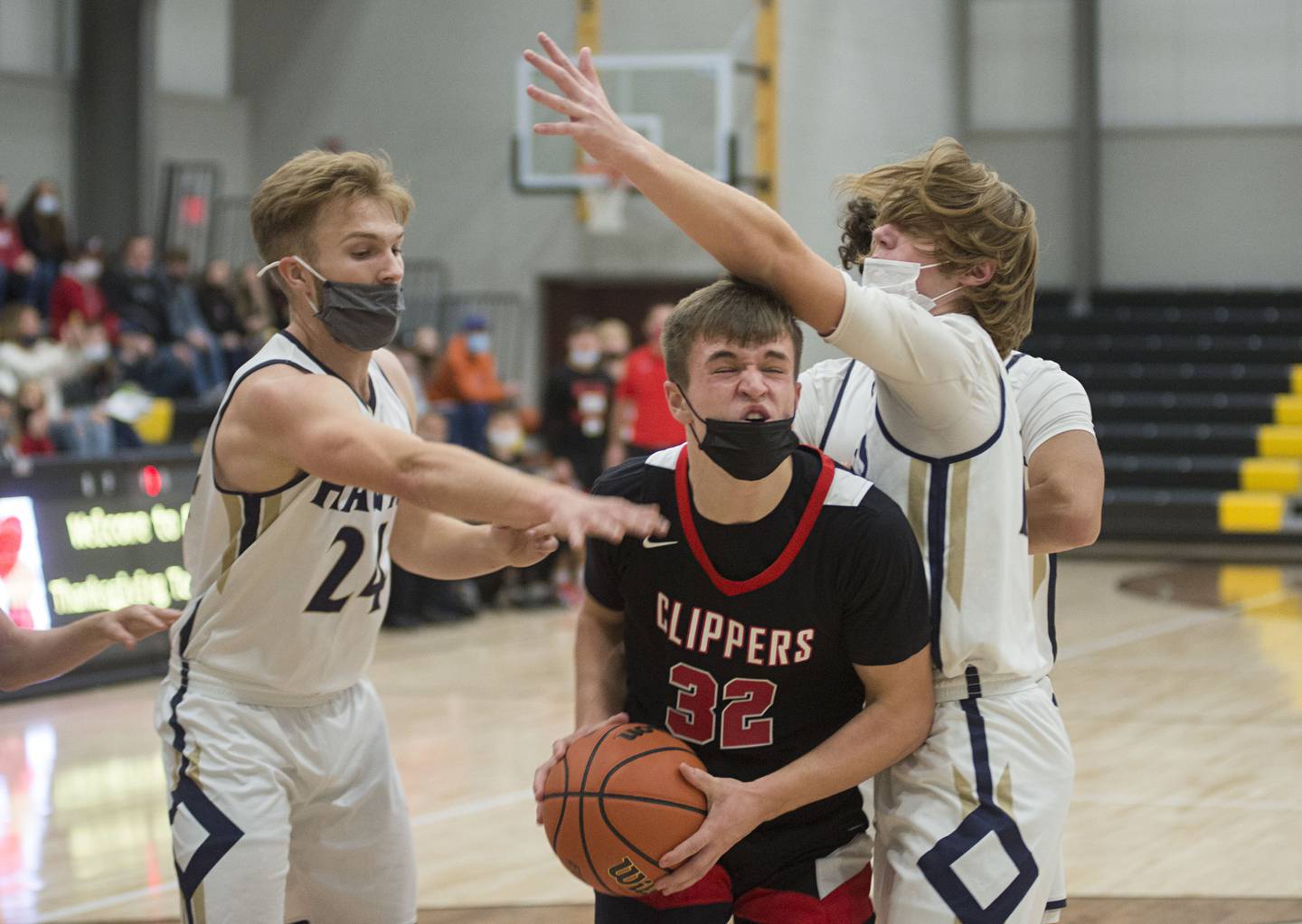 "We started off a little shaky. They scored first, and that kind of always gets a team down, but I'm glad we didn't let that get in our heads. We just kept pushing, put the pressure on them," Eller said. "When the shots aren't falling – we didn't make a 3 tonight – we have to find other ways to score, so we just drove and got to the basket, made some layups and hit some free throws."
Eller ended the first half with a jumper off a pretty pass from Hayden McCoy to stretch the lead to 24-10 at the break.
The Clippers then outscored Hiawatha 10-6 in the third quarter, with Lindenmeyer scoring six points and Kyler McNinch scoring four, with all of them coming around the basket.
"We really stressed going hard to the basket, because we knew their man defense was really spaced out, so we knew we'd have some lanes to drive," Amboy coach Brad Dunlap said.
"We have a lot of energy on our team this year, so being able to keep that energy up and making it work against the other team, I think they felt it," Eller added. "They couldn't score for a while, and we didn't hit as many shots as we wanted, but we ended up scoring, and I'm glad that we finished it off nice."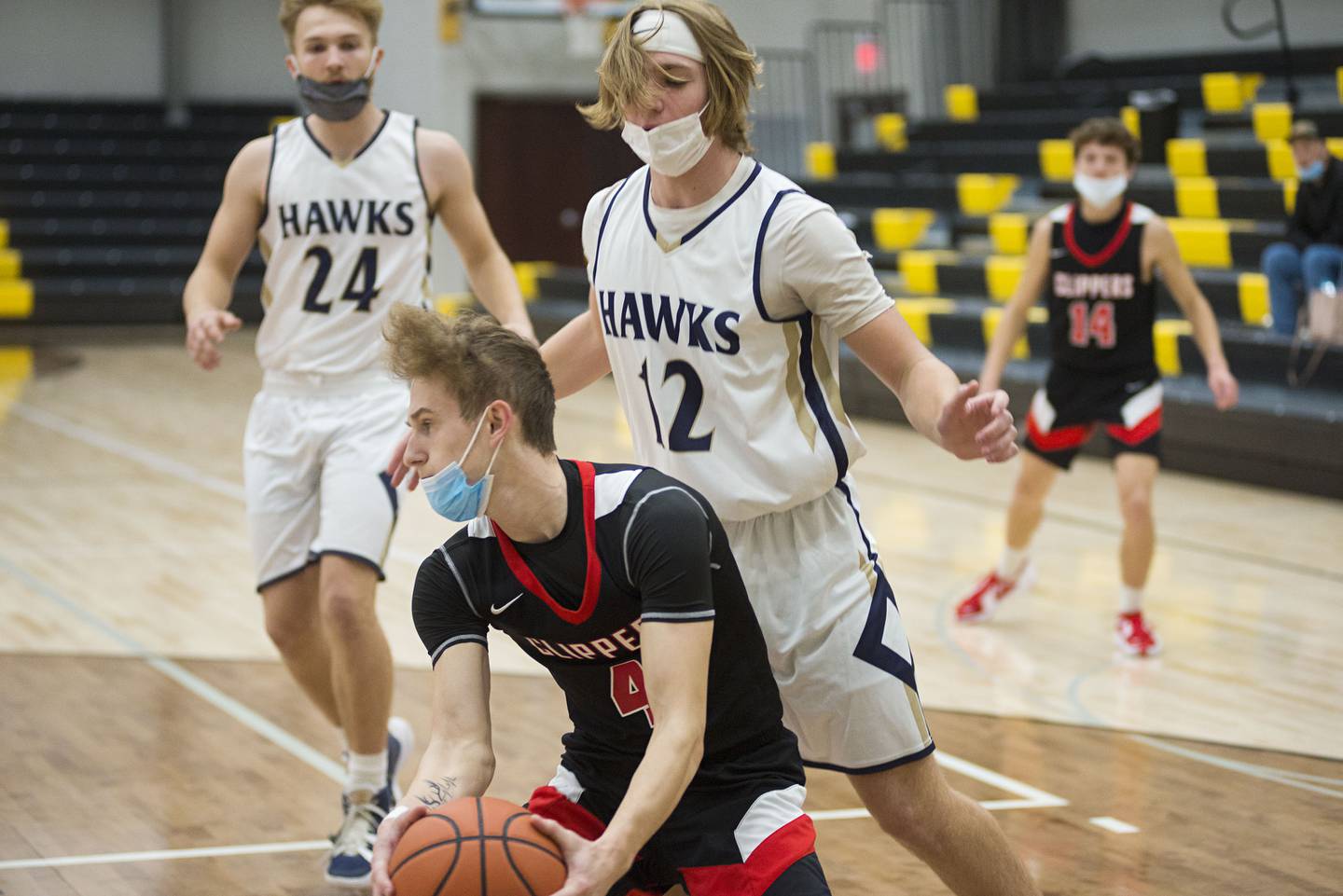 McCoy and Simpson opened the fourth quarter with baskets in the lane for a 38-16 lead with 5:26 to play, and the Clippers substituted liberally the rest of the way.
Offensive rebounds were a big part of the game for the Clippers, as they pulled down 21 boards that led to 16 points. Overall, Amboy outrebounded Hiawatha 48-33.
"Starting the game, our first offensive possession, we had maybe five back-to-back rebounds, so rebounding was huge tonight," Lindenmeyer said. "We got a lot of second chances, more opportunities to get the ball in the basket."
"Offensive rebounding, that's an everyday thing, and every-game thing that we stress," Dunlap said. "Crashing the boards is big, because you never know if a shot is going to go in or not. We don't take any shot for granted, and we go after every rebound hard."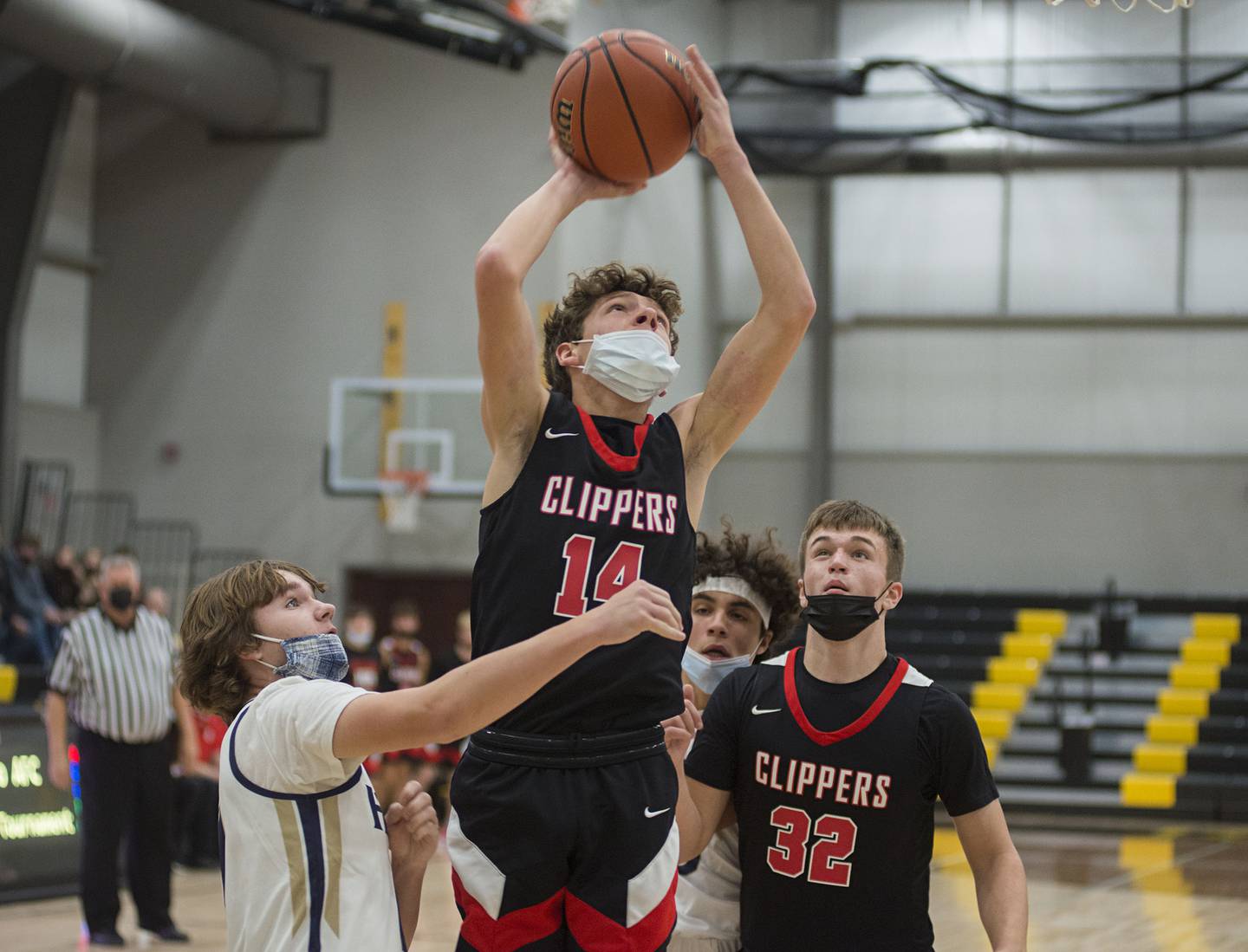 Eller and Lindenmeyer led Amboy with eight points each, and Eller added seven rebounds. Simpson finished with six points, four rebounds and three steals, Blaine added five points, 11 rebounds and two steals, and McNinch chipped in five points, four rebounds and two steals. McCoy had three points, three rebounds and two assists.
Thomas had 17 points, 11 rebounds, five steals and a block for Hiawatha.
For the game, Amboy shot 33.3% (17-for-51) and missed all nine 3-point attempts. But the Clippers held the Hawks to 18.8% shooting (9-for-48), and Hiawatha was 1-for-16 from 3-point range.
"Our kids know that's how we're going to be successful, keeping them under their averages, making them do things they don't want to do," Dunlap said about his team's defense. "We've got a group of guys who have bought in and are willing to do that, and that really helps. We're going to pick up our defense at three-quarter court, full court, and just make the other team really work for everything that they're going to get. And as long as we can finish it with a rebound, we'll be in good shape."