DIXON – Heading into his final season of high school baseball and second year as a varsity starter, Dixon pitcher/center fielder Gage Burdick had a clearer picture of how he wanted to approach offseason training than in years prior.
Honing in on the mental side of the game was near the top of the preseason checklist for the Dukes senior standout, and his work in that department is something he attributes most to an impressive season on the mound at at the plate.
"I kind of had a better vision and knew what I was going to do more in the future, so I really bared down and I was really hard on myself this offseason, whether it was working in the bullpen, hitting in the cages, or just trying to get my mindset there for the season," Burdick said. "And it takes a lot of work, but I think definitely bettering my mental side of the game is what I needed to do to keep that bulldog mentality all the way throughout the season. I feel like I taught myself a lot better this year on how to handle different situations in the game, and in the end, that helped me be the player that I was this year."
That offseason work paid dividends – hitting, fielding, and pitching.
At the plate, Burdick posted area-leading figures in batting average (.532) and on-base percentage (.602), and was second in hits (41) in only 77 at-bats (tied for 17th) as the Dukes' No. 5 hitter. Additionally, he ranked fourth in RBIs with 34, fifth in slugging percentage at .779, and fourth in on-base plus slugging at 1.381. His team-leading 10 doubles tied him for fifth-best in the area, and three triples tied him for second.
On the mound the left-hander was equally impressive, earning an area-high 103 strikeouts in 54 innings (1.9 strikeouts per inning) – 10 more than the next-highest, and 38 more than the third-most – and ranking third in ERA among pitchers with more than 40 innings pitched. He conceded 22 walks, tied for second in the win column with an 8-1 record, and held opposing batters to a .093 average against him.
Burdick capped his high school baseball career with first-team all-Big Northern Conference and Region 4 Pitcher of the Year honors.
For all of the aforementioned accolades and achievements, Burdick is Sauk Valley Media's 2022 Baseball Player of the Year.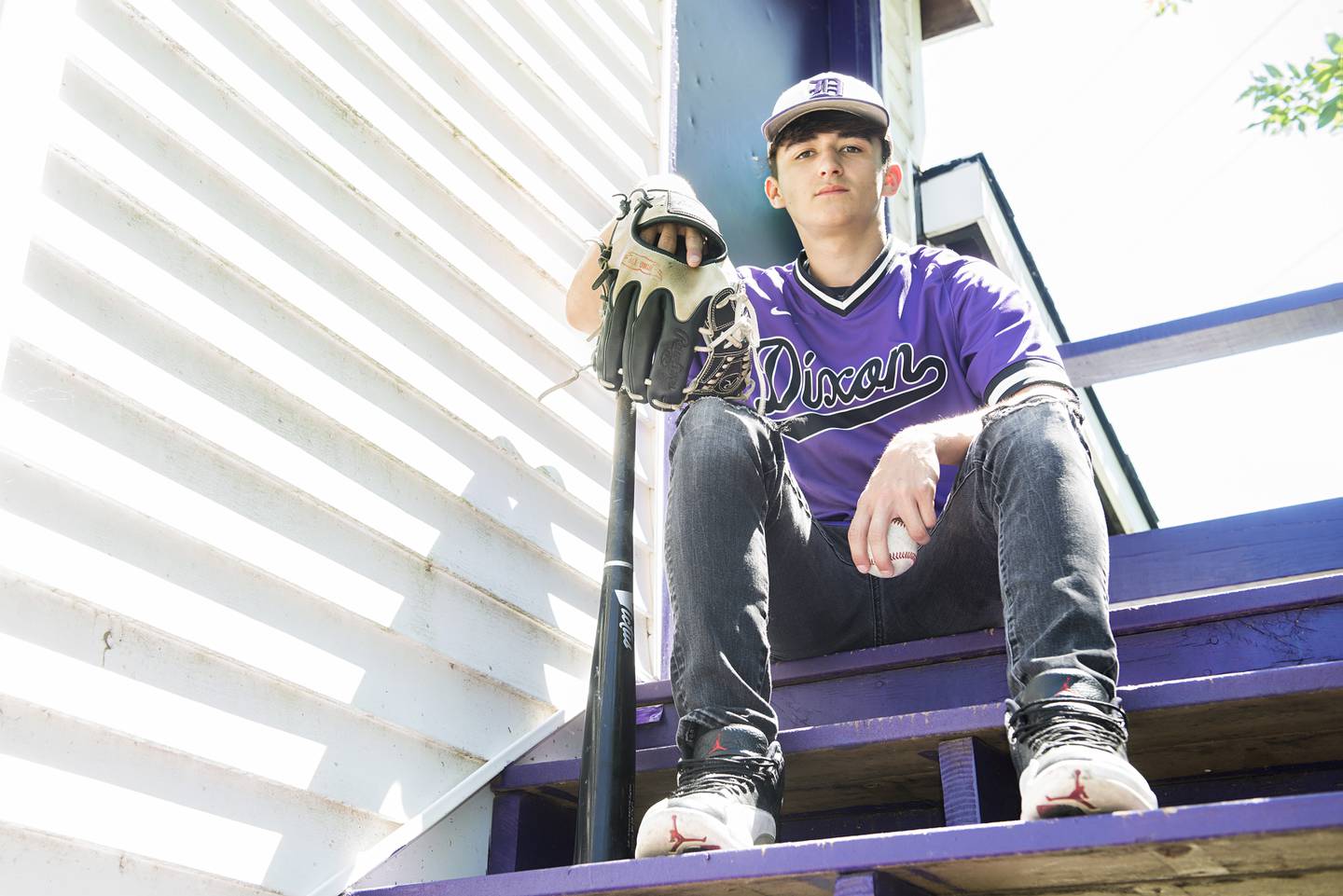 After initially being called up to varsity as a freshman in 2019 and being unable to play as a sophomore in 2020 due to COVID-19, Burdick had to wait his turn to finally see the field.
Ever since he made his starting debut for varsity in 2021, he was a reliable contributor in Dixon's lineup.
"When he was on the mound, I always knew he was going to compete, and we were going to have a chance to win the game," Dixon coach Jason Burgess said. "He had a good rapport with his catcher, Beau Evans. The two really worked well together. He had great command of pretty much all his pitches, and really worked well setting up hitters. There were times I had him just focus on pounding the zone [with fastballs] and not giving the opposition a chance by throwing his changeup or off-speed.
"He has really matured on the field and demonstrated high energy in all situations, whether we were winning or chasing a lead. He has made huge strides these past four years, and I am very proud of his efforts."
Over the last two seasons, Burdick has amassed a 12-2 record, with a 1.33 ERA in 89 1/3 innings. He allowed just 36 runs (17 earned) and 43 walks in two seasons, with a .931 WHIP (walks and hits per inning pitched); opposing batters hit just .132 against him.
One of the driving forces behind Burdick's success at the varsity level was a desire to honor the memory of his best friend, Riley Riggen, who died two years ago.
"On my hat you can see I have "Long Live Riggen for Life." That's my best friend Riley Riggen – he passed away when I was 15," Burdick said. "A few of the boys on the team, we were all really close with him, so just playing for him. We play our hearts out for him and do what we can, and hope to make him proud."
As a team, the Dukes had one of their best seasons in recent memory, finishing with a 24-3 overall record, a 17-1 conference record, and a trip to the Class 3A Sycamore Sectional semifinal. They claimed Big Northern Conference and regional titles for the third year in a row.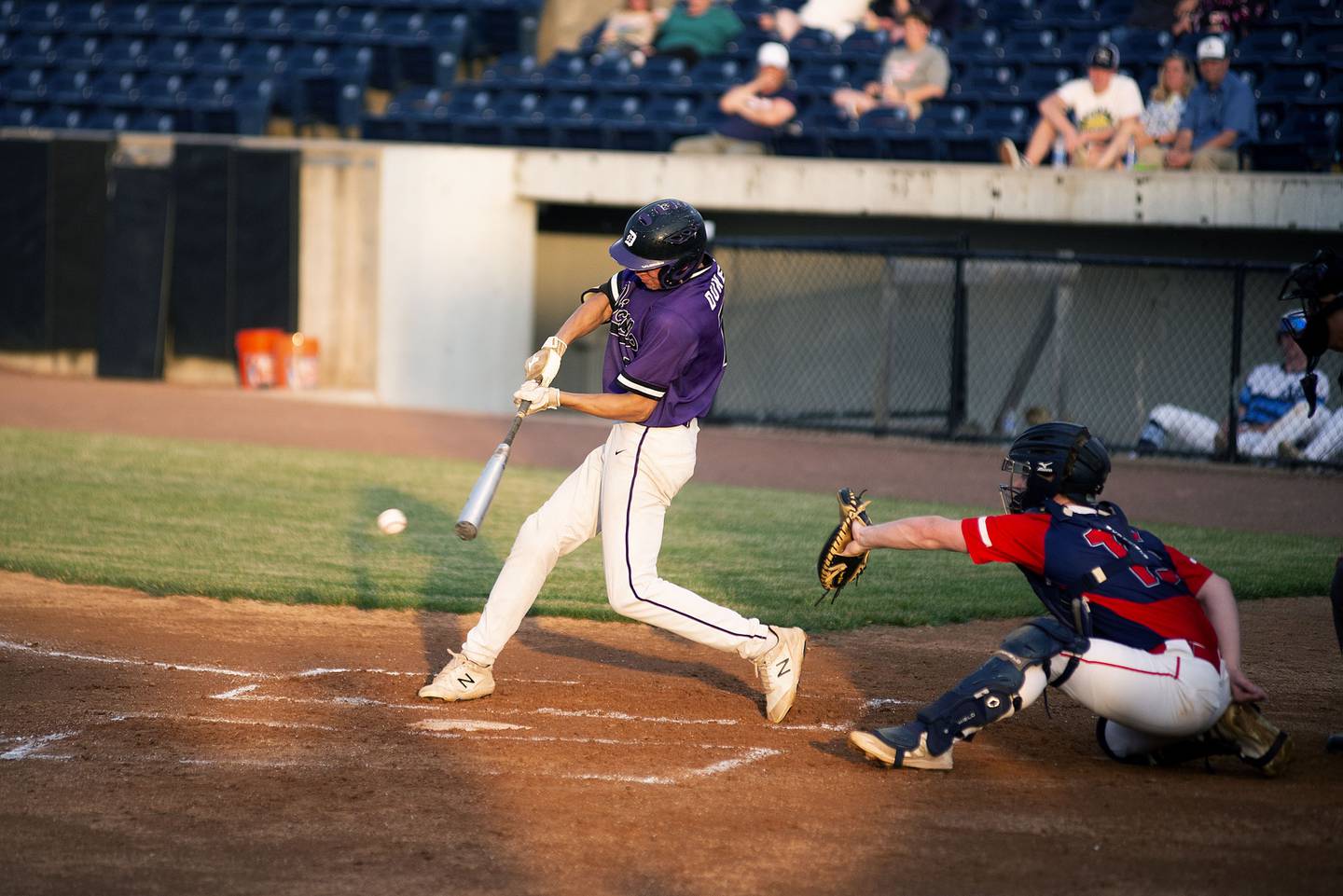 Burdick said he realized quickly that this year's team had a chance to be special.
"You could tell early on in the season, just in open gyms and everything - we all knew what the objective was. Burgess drilled it in our minds, just to stay the course," he said. "We all gotta come together and mesh by the end of the season, and just to prepare us for the postseason - that's what it's all about. And I think him really embedding that in our minds helped everyone come together and play for the same goal."
In the third game of the season, Dixon faced its first real adversity, dropping a tough 8-7 home contest to Rockford Christian. Instead of hanging their heads and getting down on themselves, the Dukes came together and used the loss as motivation. Over the next month-and-a-half, they went on a 20-game winning streak just ahead of the postseason.
"We all were definitely disappointed in that loss, but after that we all regrouped. We just kind of said we needed to get it out of the way early, and then after that, we started to get on a roll," Burdick said. "Kids started to step up and be leaders, and then everyone got hot. The energy in the dugout, we all just started to mesh after that. I think that's when we really realized that we all want to do better."
The Dukes shook off a long wait for the regional to start, after weather pushed both the semifinal and the title game to a Saturday. After a hard-fought come-from-behind victory over rival Sterling in the semifinal that morning – Burdick's RBI single in the bottom of the eighth provided the walk-off win – he pitched a two-hit shutout in the regional championship game while fighting through a severe cramp in his calf.
Dixon's storybook season came to an end in a 15-7 sectional semifinal loss to Kaneland, but that didn't taint the great memories Burdick made in his time with the team, especially last season.
"Some of our best memories were just in the dugout messing around with Burgess at practice, or just loosening him up with some of the things we'd say," Burdick said with a laugh. "We had quite a few funny guys on our team. The conversations in there were pretty wild. The baserunners, our bench jockeys, we love those guys. They did more for us than we could ever ask for. When they get put in, seeing them fall or running the bases or something, getting sniped on the base paths or whatever, it's a good time. It's never a dull moment with this team. And I think this is definitely my favorite team I've ever played with growing up."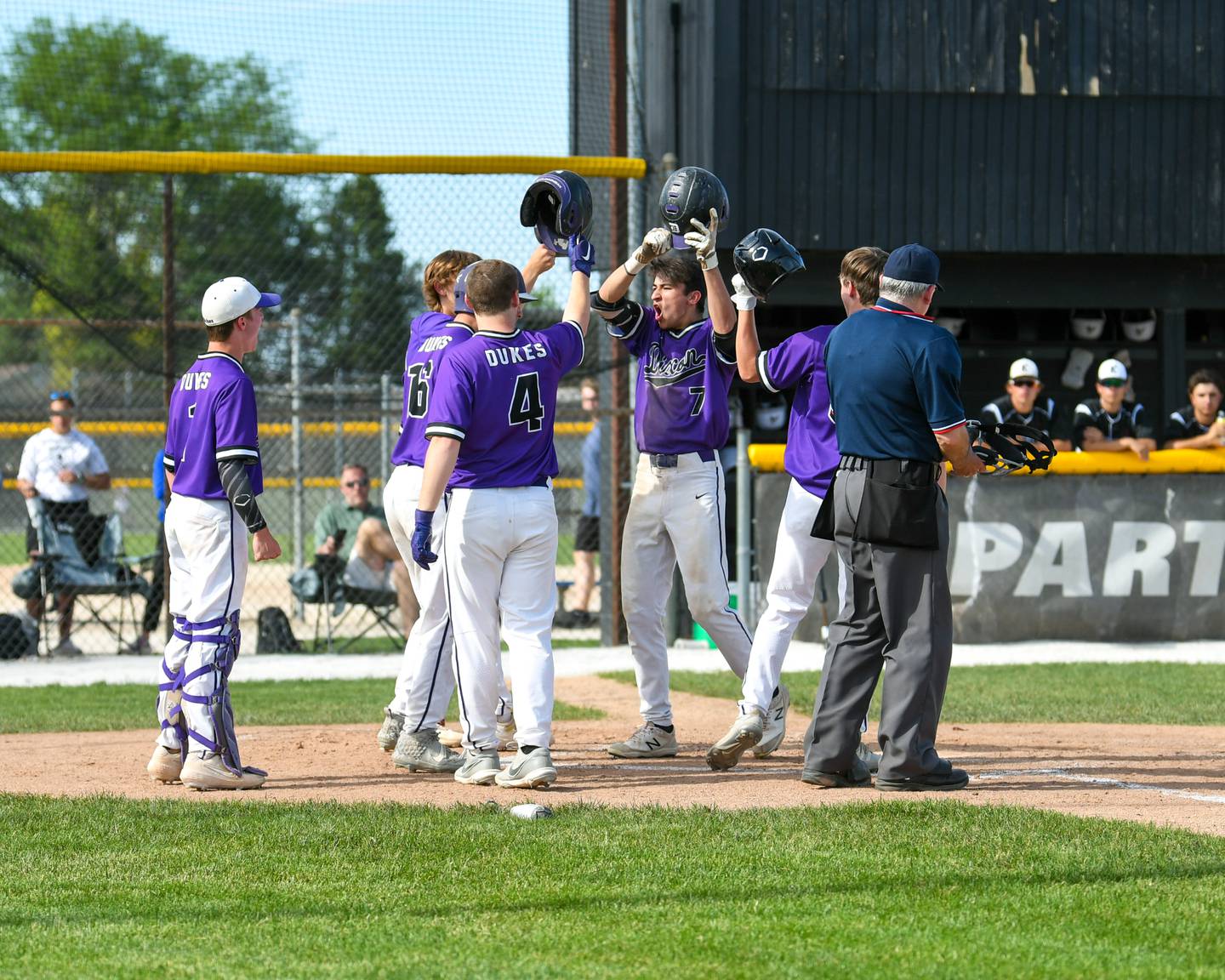 This fall, Burdick will continue his athletic and academic careers at Illinois Central College, a two-year institution in East Peoria. At ICC, he plans to study business and continue pitching and playing center field. After that, he intends to transfer to a four-year university, although he hasn't decided on which one yet.
"I'm going to go [to ICC], just try to get bigger, get more exposure, and just keeping playing the same game that I love the way I love it," he said. "I'm going to do my best to move on and keep playing baseball as long as I can. I never want to stop ..."
"Academically, I'm going there to take business classes, as in the future, I want to major in business and law. Hopefully become some type of lawyer, maybe a real estate lawyer or something. But that's later down the road. For now, it's just sticking to the grind, baseball, keeping good grades in the classroom, just becoming the best person, athlete, student, everything I can be all in one."
Burgess expects his former star pitcher to keep excelling at the next level, both in the classroom and on the diamond.
"I am expecting to see great things in his future. If he keeps up his excellent grades, high energy, and keeps his mental focus, I anticipate great things for his future," Burgess said. "He has continued to set the bar high for future pitchers in our program. He has really done a great job following the past few years of arms we've had. He ranks right up there with some of the top pitchers in our program that I've had the privilege of coaching. He joins the likes of some of our great pitching alumni: Payton Lawrence, Andrew Long and Eli Dever.
"I wish him the best of luck chasing his dreams to continue playing the game that we all love. If he stays the course and believes in the process of the game, he will provide himself with great opportunities to further his success as a student/athlete."