LENA – Just a few inches or a few feet can be the difference in a baseball game, and Newman's Class 1A Lena-Winslow Sectional championship game Saturday saw several occurrences where close outcomes went in their favor.
Two bloop RBI doubles that landed fair just inches from the left-field foul line, a home run that cleared the fence by a couple of feet, and a quick reaction on a line drive snare on defense in a tight situation all helped the Comets win their second sectional title in as many years with a 12-5 win over Warren-Stockton at Lions Park.
The Comets (19-7) move on to Monday's supersectional game at Rockford Rivets Stadium in Loves Park, where they'll face Ottawa Marquette at 10 a.m. to try for their first trip to the state finals. Marquette defeated Putnam County 4-1 on Saturday at the Judson University sectional in Elgin.
"I couldn't be happier for the kids," Comets coach Kenny Koerner said. "They've come together this year, and have worked so hard, and I'm real proud of them. We've got more to do. Last year's super left us with a sour taste in our mouths, and we're going to go for the win."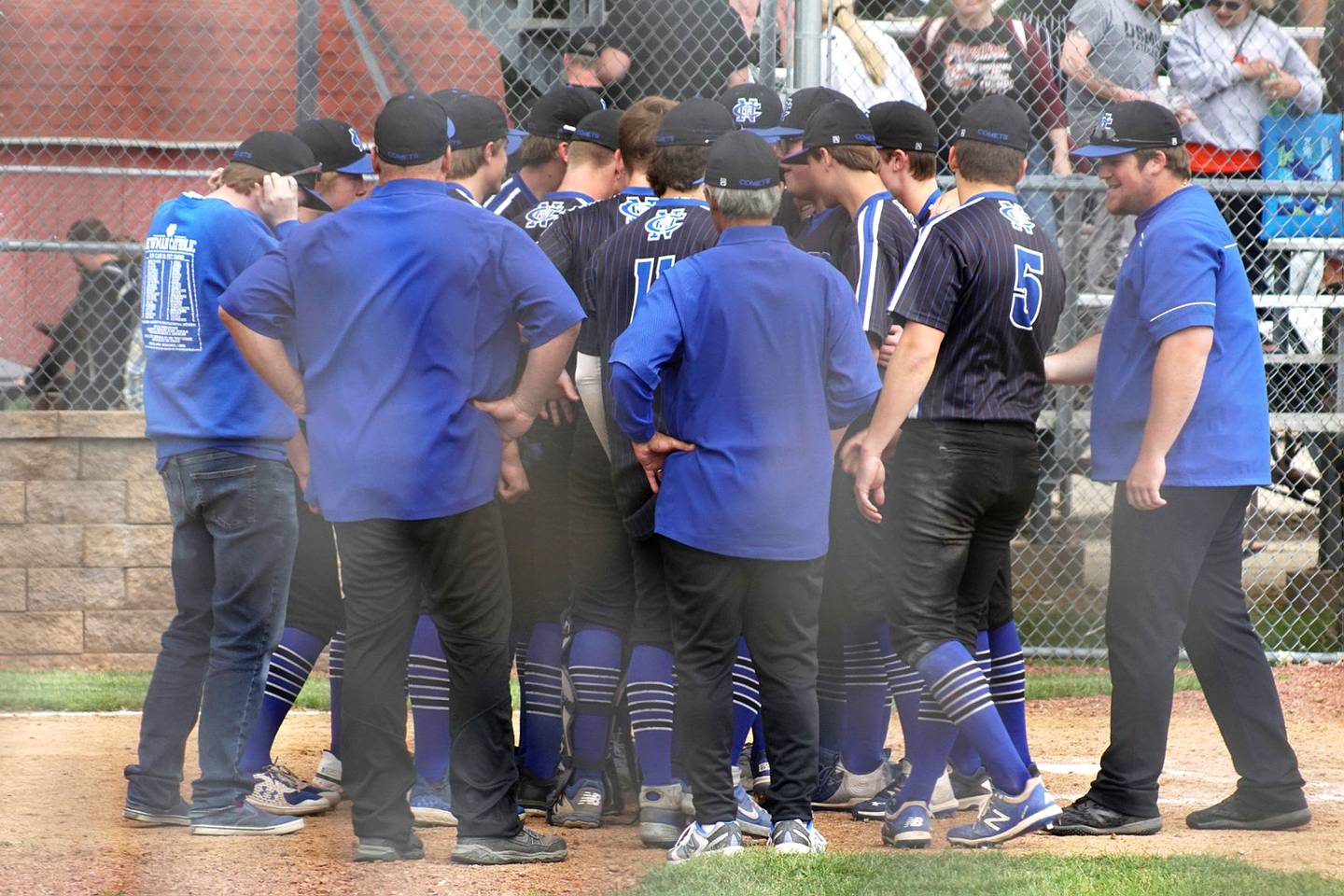 Sophomore Brendan Tunink has never been a part of a sectional loss at all in his young career, and the Comets' right fielder had a big day at the plate to push his team ahead after the WarHawks (20-8) opened with a 2-0 lead early. With junior pitcher and leadoff hitter Kyle Wolfe on first base in the third inning, Tunink took a 0-2 pitch from WarHawks pitcher Alex Marsden and hit a towering fly ball into center field; the ball landed just a couple feet over the 340-feet sign in straightaway center to tie the game.
Tunink finished 3-for-4 with 5 RBIs, driving in the other three runs as the Comets pulled away.
"It feels amazing," Tunink said of winning the sectional. "I'm hoping to go all 4 years, that would be awesome. I was just staying calm and thinking about just driving balls with line drives just to get our team going, and that was it."
The early game-tying homer might not have happened if Comets senior Ethan Van Landuit wasn't alert enough at third base in the WarHawks' half of the second inning. They had the bases loaded with two outs before senior designated hitter Austin Chumbler rocketed a line drive right at Van Landuit to end the inning.
Both Koerner and veteran WarHawks coach Jim Nielsen saw that catch as a crucial moment that could have potentially made the outcome much different if the hard-hit ball hadn't landed in Van Landuit's glove.
"It was a huge play," Koerner said. "We came in after that half-inning and talked about that, and said that there are plays in a game that can change the game. That was one of them: If they get that hit there, it could be a whole different game, and we came back in that next half-inning and capitalized on it."
"We were up 2-0 with bases loaded, and he absolutely drilled that ball," Nielsen said. "It was right at the third baseman and he caught the ball, but, boy, a few feet to the side, we've got two more runs, and who knows, we've got our third-place hitter up and maybe you get five or six. Newman's a really good ball club. They just keep working at you."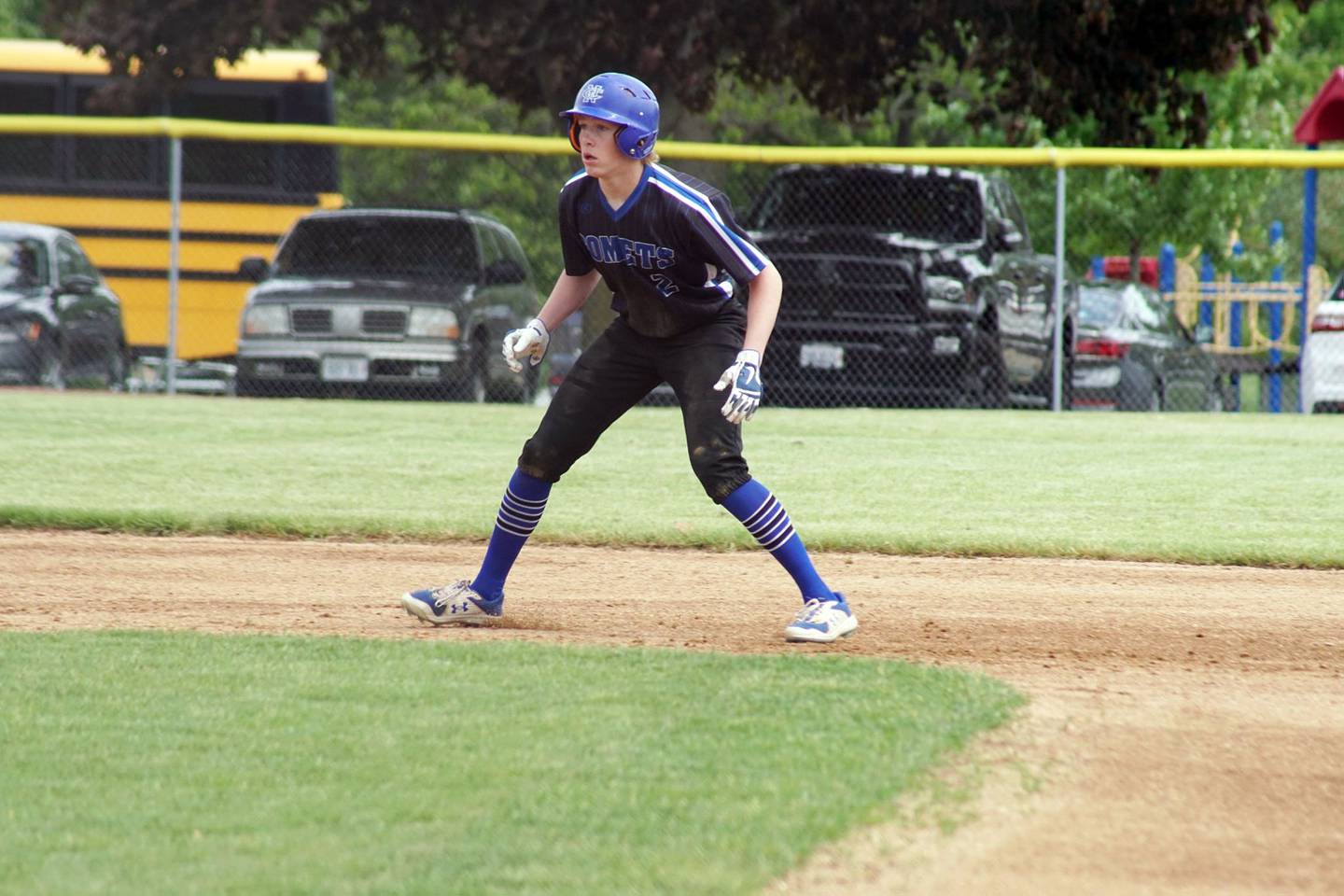 Later in the third inning, senior Mason Glaudel hit the first of the Comets' two bloop RBI doubles that landed just inches in fair territory. That hit put the Comets up for good before they added one more run in the fourth, five in the fifth and two in the sixth; senior Brennen Cook had the Comets' other bloop double in the fifth. Glaudel and Wolfe also finished with multiple-hit games for the Comets.
"We're just keeping the ball rolling and keeping our momentum going," Wolfe said. "Our job's not done, and we'll go out there Monday to do this again."
Wolfe went just a few pitches shy of a complete game, striking out five with tricky off-speed pitches and allowing seven hits in 6 1/3 innings. Van Landuit relieved him and retired the only two batters he faced to end the game and bring the Comets one game away from a state finals appearance.
"I've been thinking with every pitch," Wolfe said. "I tried to set up some kids with some off-speed stuff, and our defense just went 100% on every play."
Brady Broshous led the WarHawks' offense with three RBIs, Drew Mensendike went 3-for-4 at the plate and Marsden, who took the loss, also had a multiple-hit game. Broshous nearly had a long pop-up-like home run in the third inning to left-center field, but Glaudel made the catch on the warning track.
The WarHawks saw their season end at Newman's hands for the second straight 20-win year, having lost 12-3 in a sectional semifinal game last year.
"We had some lapses and it didn't help, because they took advantage every time we did," Nielsen said. "I'm really proud of my team. We've got a bunch of great players and have some seniors we're really going to miss, and they've had a great career. Our team has had a great tournament, but just couldn't get it done [Saturday]."