FREEPORT – When the Dixon and Sterling baseball teams engaged in a slugfest on May 17, both teams were already eyeing their semifinal meeting in the Class 3A Freeport Regional this week.
Then, after waiting three extra days to play the game thanks to Mother Nature, the Dukes and Golden Warriors played a classic rivalry game that took more than the allotted seven innings to determine a winner.
Gage Burdick's RBI single in the bottom of the eighth inning sent Dixon to a 4-3 victory over Sterling on Saturday at Hustle Field, sending the Dukes to the regional title game and ending the Golden Warriors' season.
[ Photos of Dixon vs. Sterling baseball in 3A regional semifinal ]
After Dixon (23-2) tied the game 3-3 with two runs in the bottom of the sixth, neither team had a baserunner in the seventh. A double play got the Dukes out of the top of the eighth, setting up the final half-inning.
Max Clark led off with a single, then Mikey Bivins beat out an infield single on a grounder deep into the hole at shortstop. Burdick smacked the second pitch he saw right back up the middle, and Clark sprinted home as the throw from center field went way over the catcher's head and to the backstop.
"I was just looking to drive the ball in the gap or up the middle, just so I could get my runner around from second to home. That was my whole job there," Burdick said of the final at-bat. "I was thinking Coach [Jason] Burgess is the type of guy to maybe call for a bunt in that situation, but I was pretty sure he was going to let me swing it out, because we had no outs, and just see how it would play."
Clark scampered to the plate and scored his third run of the game, and almost missed home plate in his excitement to join the team celebration mobbing Burdick between first and second base.
"I was just thinking, 'That's ballgame, baby!' as soon as Gage hit it," Clark said. "I knew exactly where the ball was when I rounded third, the center fielder had it, but he overthrew it to the plate – it would've been a play at the plate if the throw was there – but I knew I was going to go hard and try to score."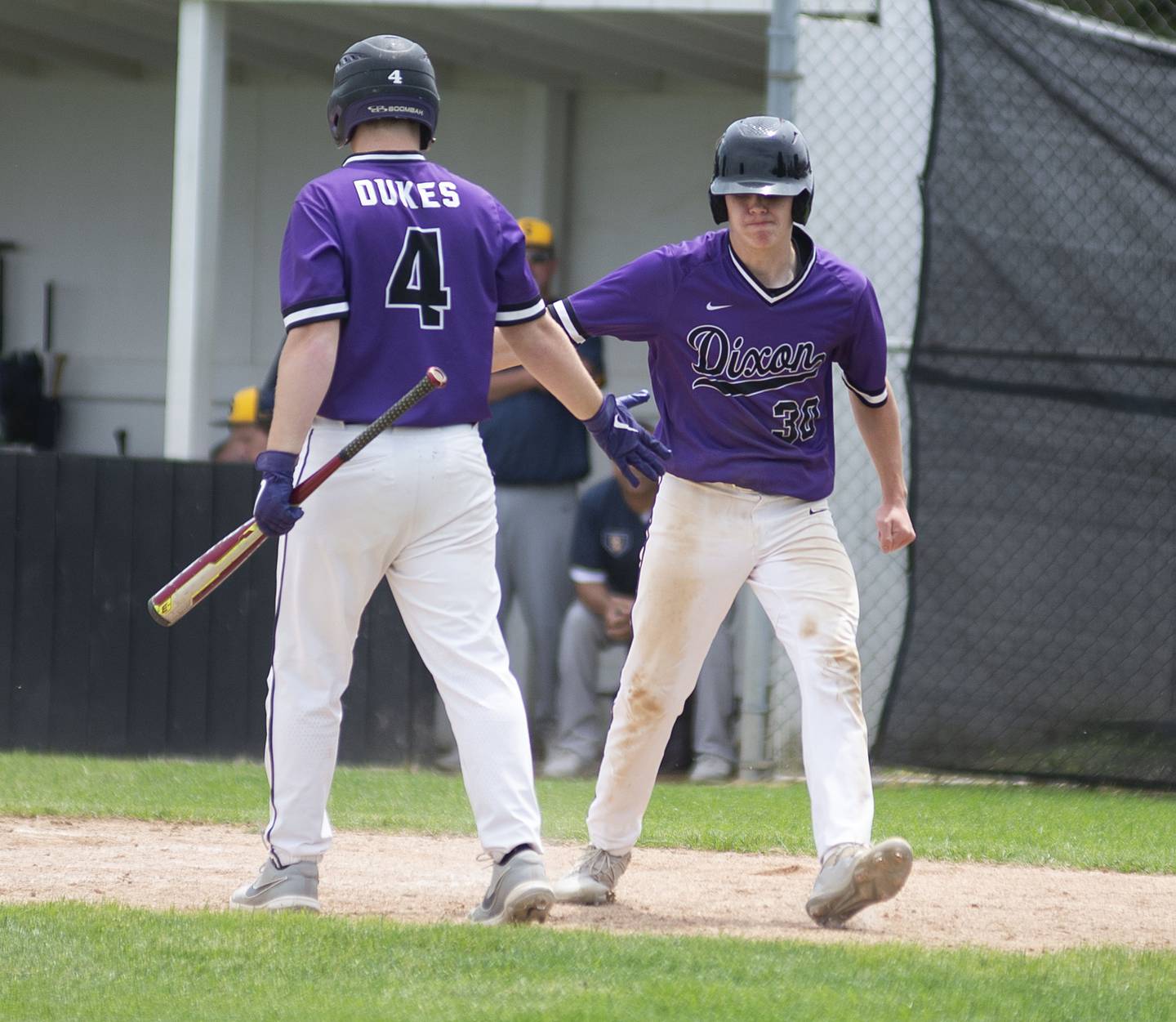 Clark also picked up the win on the mound, pitching three innings of scoreless, hitless relief for starter Jake Gaither, striking out two without a walk. He came on in the top of the sixth after Ethan Janssen's leadoff single and caught a popped-up bunt from the first batter he faced before notching two strikeouts to end the mini-threat.
The only baserunner he allowed reached on a one-out error in the top of the eighth, and that runner was doubled off of first on a line drive to second baseman Trey Scheidegger.
"Just shut the door on them right then," Clark said of his mindset upon taking the mound. "Throw good pitches, get the defense going behind me. I just wanted to completely shut the door on them."
It was a strong finish that finally sent Dixon past the upstart Golden Warriors. After Clark scored on an error in the first inning for a 1-0 lead, Sterling (7-19) answered in the top of the second. Janssen and Gio Cantu both singled with one out, then Janssen scored when Braden Hartman's ground ball was misplayed for an error. Dale Guerrieri singled to load the bases, but Gaither got a strikeout and a fielder's choice grounder to end the threat.
Both Gaither and Sterling starter Garrett Polson held down the opposing offenses until the top of the fifth. Polson doubled to deep center with one out, then Colt Adams reached on a fielder's choice. With two outs, Blake Nettleton hit a fly ball deep to left field, and it carried over the fence for a two-run home run and a 3-1 Sterling lead.
"I just saw it was over the left fielder's head and the wind was blowing today, and it blew out," Nettleton said. "It pumped us up, because we were ahead and that's when everybody knew we could win this game."
"We had a hit-and-run on, we just thought we had to make something happen, and he hit it well," said his father, Sterling coach Darwin Nettleton.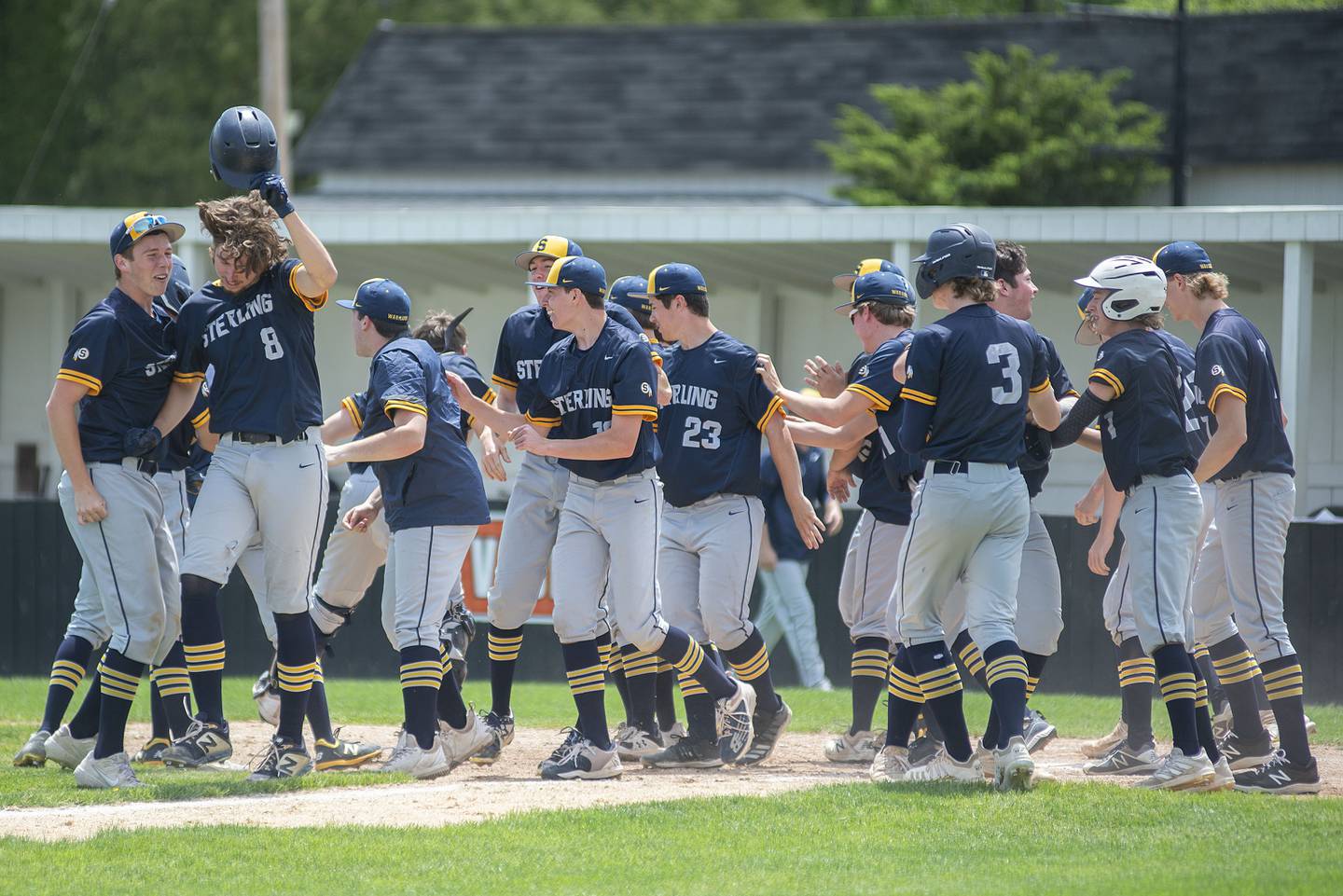 After Polson pitched a 1-2-3 shutdown inning in the bottom of the fifth, Clark came on for Dixon in relief in the top of the sixth and kept the score 3-1.
In the bottom of the sixth, Clark drew a one-out walk, then Bivins was hit by a pitch and Burdick walked to load the bases. A wild pitch allowed Clark to score, then Ethan Van Horn hit a hard ground ball right back up the middle; it glanced off Polson's glove for an infield hit and drove in Bivins with the tying run.
But Polson struck out back-to-back Dixon pinch-hitters to end the threat and keep the score tied 3-3.
"Garrett Polson pitched a phenomenal game, and we had decided we would stretch him," coach Nettleton said. "He was great, we had a couple of timely hits, and unfortunately we just didn't get that last hit. Tip your caps to them, I wish them nothing but the best in the rest of this postseason."
Gaither gave up three runs (two earned) and six hits in 5+ innings, striking out seven and hitting a batter.
Polson allowed three runs (two earned) and three hits in 6 innings, with 10 strikeouts, four walks and three hit batsmen. Adams took the loss in relief, giving up one earned run and three hits in 1+ innings, striking out two without a walk.
"It was a great high school baseball game," Blake Nettleton said. "It just sucks we came out on the bottom. It's never fun losing, and it's especially not fun being a senior losing your last game."
In his first season back as varsity coach after a dozen-year hiatus, Darwin Nettleton had nothing but praise for his Golden Warrior squad led by eight seniors.
"I'm super-proud of every one of our kids. Our seniors gave everything they had, wouldn't trade them for the world," he said. "But this is postseason baseball, and this was a phenomenal game. Both teams had chances – I'm sure Dixon's thinking they could've executed better, and we had a couple opportunities where we might've executed a little bit better. But all in all, just really proud of this team."