LENA – From the start of Friday afternoon's Class 1A Lena-Winslow Sectional semifinal, the Newman baseball team was hitting the ball hard.
That really paid off over the final three innings, as the Comets put up crooked numbers in the fifth, sixth and seventh innings to pull away for a 15-2 win over host Le-Win at Lions Park.
Newman (17-7) pounded out 18 hits and had 13 RBIs from seven different players. Every Comet in the lineup reached base at least twice, and they often pounced on the first strike they saw and hit it hard somewhere.
"We've been hitting first-pitch curveballs and popping them up a lot lately, so we were just trying to stay calm and hunt fastball, and drive it," Brendan Tunink said.
"That's the idea," Kyle Wolfe added. "When we come out here, we're just trying to make something happen, and a lot of the time you get a good pitch to hit on the first pitch, so you've got to be aggressive and attack it."
Four of Newman's five batters hit the ball hard in the first inning, but three of those were right to the Panther defense. The second inning saw the Comets rally with two outs, as Kory Mullen walked, went to second and third on consecutive wild pitches, and scored on Brennen Cook's single.
Wolfe followed with a single down the left-field line, and he and Cook both moved up a base on a wild pitch before Tunink smacked a single right back up the middle to drive them both in for a 3-0 lead.
"Right when I saw Kyle hit, then me, and then Nolan [Britt] and Jaesen [Johns in the first inning], I thought, 'OK, we're scoring a lot this game. We're getting it done,'" said Tunink, who finished with five RBIs and also pitched a four-hitter.
Le-Win (20-7) loaded the bases with nobody out in the bottom of the second on a single, an error and a hit batsman, then the Panthers scored on a grounder that was bobbled at second base for the second error of the inning. But Tunink got a strikeout and a comebacker to limit the damage.
Jake Zeal ripped a solo home run with one out in the bottom of the third to cut the Le-Win deficit to 3-2, and the Panthers threatened again in the fourth. But after back-to-back walks to start the inning, Tunink got another comebacker. He threw to third for the first out, then Ethan Van Landuit fired across the diamond to complete a double play. A strikeout ended the inning with Newman still up by a run.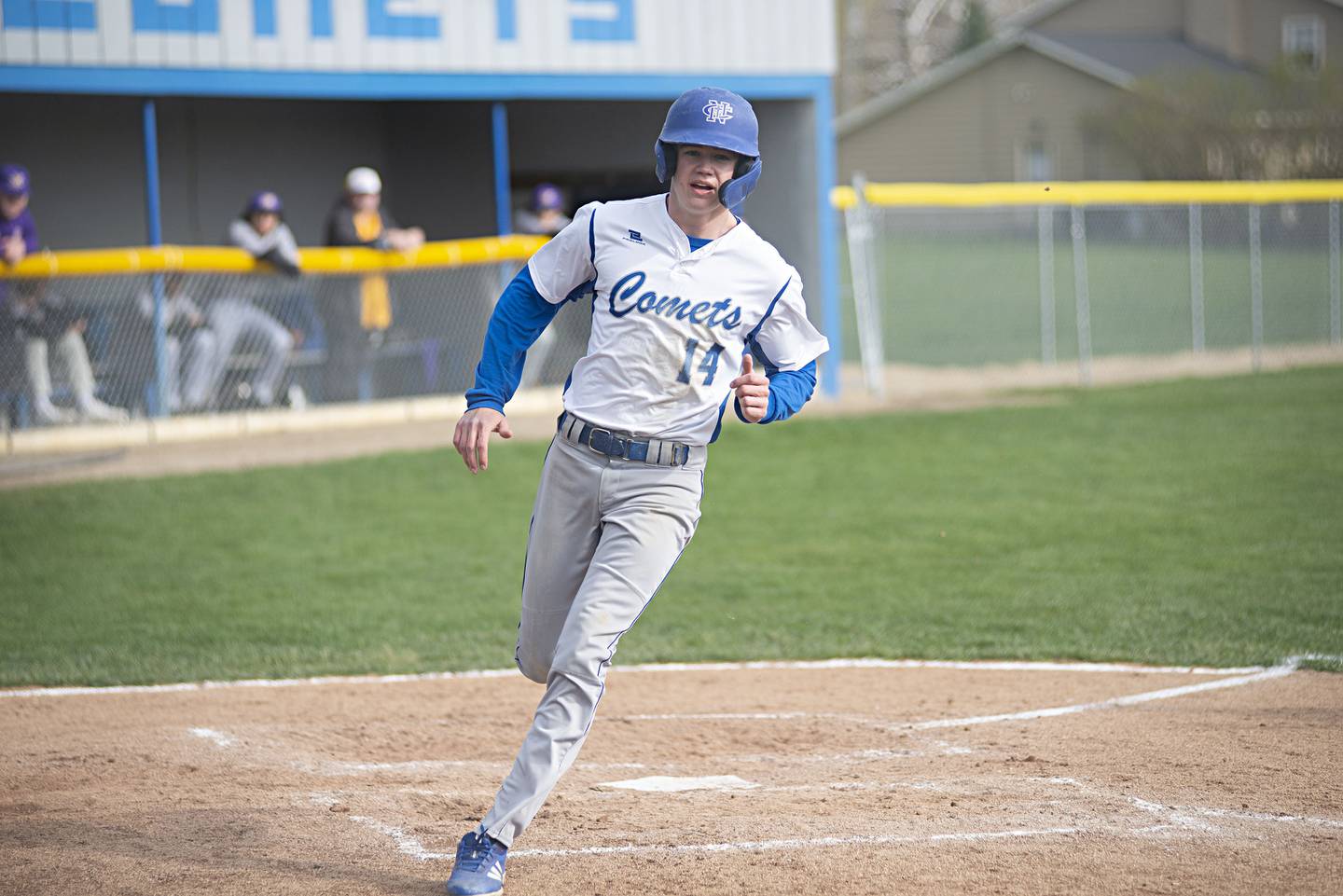 That defensive gem seemed to wake up the Newman bats. Britt led off with fifth with a single up the middle, stole second, then scored on Johns' single up the middle for a 4-2 lead. After Le-Win replaced starting pitcher Zeal with reliever Ethan Fye, he got a flyout and a strikeout, and it looked like the Panthers were going to get out of the inning.
But Mullen, the Comets' No. 8 hitter, crushed a 2-1 fastball deep over the fence in left field for a no-doubt home run, pushing the lead to 6-2.
"It was the perfect count, 2-1, and we've been taught once we get a strike on us, we still have two to go and just keep on swinging that bat and hammering the strikes. It's more about power than contact if you still only have one strike on you," Mullen said. "As soon as I hit that, I knew it was gone. It was no doubt, I started walking down the first-base line.
"We really needed that, too, because after getting out of that inning where they had bases loaded, no outs, they got that solo homer to get within one and it seemed like they had the momentum at that point. But after that, we just completely flipped the switch."
Newman scored four runs in the sixth and five in the seventh, taking that momentum shift and running with it.
"It was a huge momentum change," Wolfe said of Mullen's blast. "Their home run kind of stepped on us a little bit, but then Kory came back and hit his home run, and the rest was history. We just kept smoking the ball after that."
Wolfe and Tunink led off the sixth with back-to-back doubles for a 7-2 lead, then Tunink stole third and scored on a wild pitch during Van Landuit's at-bat. Britt drew a one-out walk, stole second, and scored on Johns' single up the middle, then courtesy runner Jared Carney scored from second for a 10-2 lead when Grant Koerner blooped a check-swing single to right and the ball got past the right fielder.
After sending eight batters to the plate in the sixth inning, the Comets batted around in the seventh. Cook and Wolfe started things with consecutive singles, then pinch-runner Daniel Kelly and Wolfe both moved up a base on a wild pitch. Tunink singled to right-center to drive in both baserunners, prompting another pitching change.
Van Landuit was hit by a pitch from Drew Streckwald, then Britt singled to right to drive in Tunink and move Van Landuit to third. Britt took second without a throw during Johns' at-bat, then Koerner beat out a swinging-bunt single to drive in Van Landuit. Mason Glaudel then beat out a potential inning-ending double play to drive in Britt for a 15-2 lead, before Mullen's hard liner was caught by the first baseman to end the inning.
Wolfe had four hits and scored three runs, and Tunink finished with three hits, two runs and five RBIs. Britt had three hits, drove in a run and scored three times, and Johns also had three hits and a pair of RBIs, with Carney scoring twice. Koerner and Cook both had two hits and an RBI, and Cook scored a pair of runs.
"I don't think they were expecting us to be hitting the ball around like that," Mullen said. "Everyone for us, 1 through 9, everyone was hitting the ball, making good contact. Everything was up the middle, too, not giving the defense much of a chance on any play, really. The bats are really what kept us going with the momentum, and not letting up was a huge part of the game today."
Tunink wasn't letting the Le-Win offense get anything going, either. He struck out 11, walked two and hit two batters, giving up two runs (one earned) and four hits in a complete game. He allowed just one hit and four baserunners over the final four innings as the Comets built their lead.
He credited his mix of speeds and locations as the key to his success.
"Fastball and curveball were really working, and then sometimes I'd throw the changeup just to get them off-balance a little bit," Tunink said. "I just wanted to keep them from being able to hunt fastball and get good contact."
Zeal had two of Le-Win's four hits, including the solo homer, and Maverick Cass had the other RBI on the second-inning ground ball. Luke Benson and Rowen Schultz had the other hits for the Panthers, who never had more than one hit in an inning.
"I think, honestly, the better team won today," Le-Win coach Nick Werhane said. "Newman's a great team, and we knew we were going to pitch to contact, and we knew we were going to have to make plays. We knew they were going to hit, and it was just a matter of us being able to maintain with them and hit the ball equally, and unfortunately we weren't able to do that. We weren't able to capitalize on a couple different situations, and they did, and that's the definition of a better team winning.
"Hats off to them, 1 through 9, they can hit. That's a good team."