STERLING – The Sterling baseball team capitalized on pitching struggles to tie Tuesday evening's game against Dixon, 4-4, in the bottom of the third inning, but the Dukes regained the lead with one run in the fourth and broke open the game with a nine-run sixth on their way to a 16-7 nonconference win at Gartner Park.
Ethan Van Horn gave Dixon a 3-0 lead in the top of the first with a two-out, bases-loaded double to right field. The Dukes made it a four-run advantage in the top of the third on a Gage Burdick RBI fielder's choice, scoring Beau Evans.
"I think it's pretty big," Evans said of getting the early lead. "It just sets our pitcher up to have even more confidence on the mound. Try and be loose, more comfortable. Not have to worry about giving up hits or walks, or anything like that. Stay focusing on the zone."
[ Photos from Dixon vs. Sterling baseball ]
After two scoreless innings to begin the game, the Golden Warrior offense awoke in the bottom of the third, plating four runs to tie it up.
Ryan Dir led off the inning with a ground ball and reached on an error, Daylen Stage drew a walk, and Garrett Polson hit a bloop single to left to load the bases with no outs. A wild pitch during Blake Nettleton's at-bat scored Dir, then Nettleton walked, and Colt Adams drew a bases-loaded walk to score Stage.
Ethan Janssen flew out to center to score Polson next, and Nettleton came home on a passed ball to cap the four-run rally.
With the game tied at 4-4 and one out in the inning, Dixon made a pitching change, as Jake Gaither came on for Kyan Adkins.
In the first at-bat against Trevor Dir, Gaither fielded a ground ball and tossed it to third, then the third baseman threw out Adams at home, and Evans threw out Dale Guerrieri at third for the double play.
"We've always talked to our kids about trying to be comfortable with being uncomfortable. We had a squeeze bunt on, my fault, I told the runner to leave early," Sterling coach Darwin Nettleton said. "Jacob did a nice job on the mound getting it to their third baseman, third baseman made a nice throw to home. That's an out. That's on me."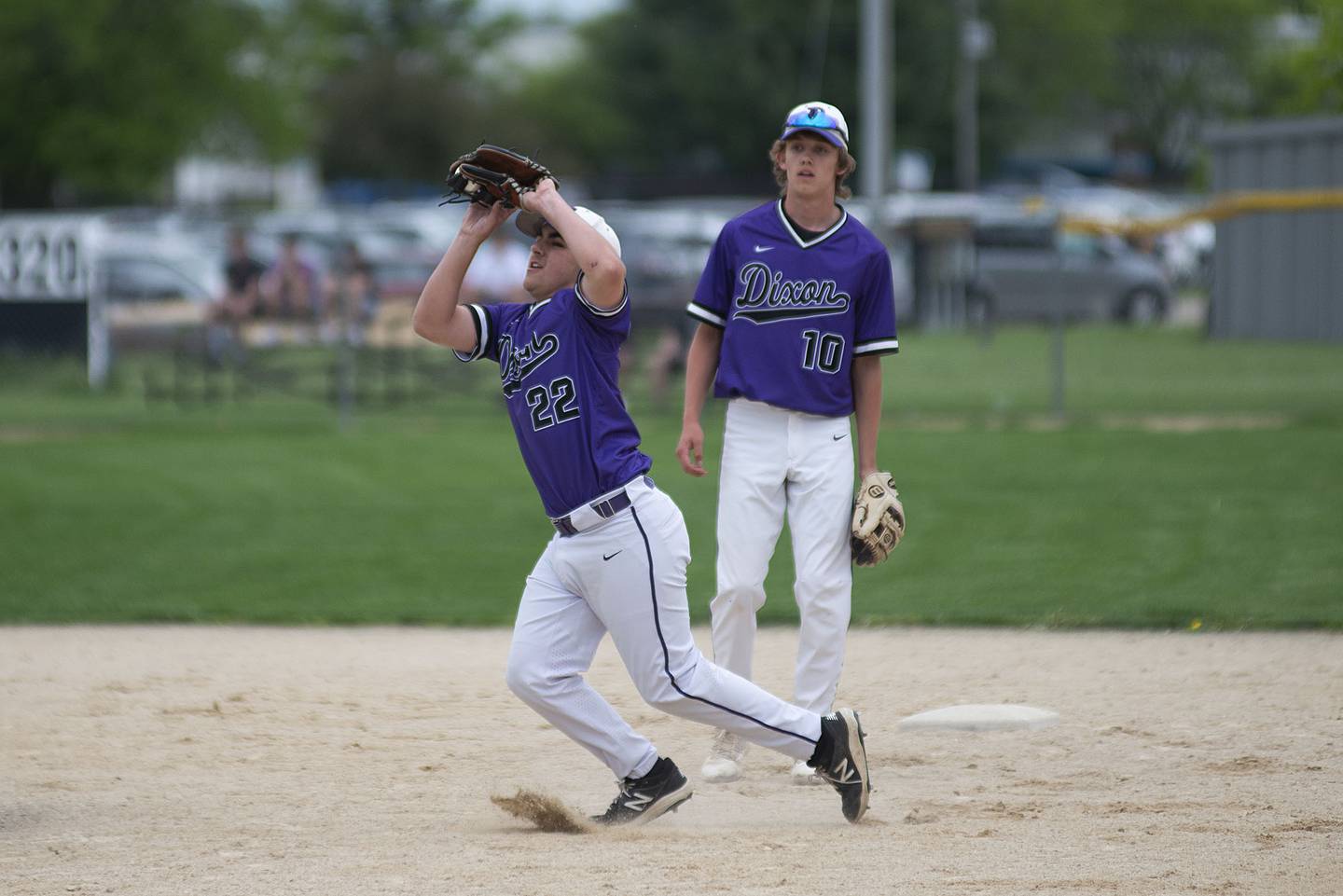 In the top of the fourth, the Dukes regained the lead at 5-4. Quentin Seggebruch started the rally with a single to second, then Trey Scheidegger grounded out to move him to second, and Evans hit a line-drive double to left to bring him home.
Dixon extended its lead to 6-4 in the top of the fifth with a Seggebruch RBI groundout.
"We knew we couldn't settle. When they came back, we had to put up more runs, keep staying aggressive," Evans said. "They're a good team. They've got good arms. It's just staying the course and keep battling through all the innings."
The Dukes turned another double play in the bottom of the inning on a Janssen ground ball to second, then erupted with nine runs in the top of the sixth to put the game out of reach.
Gaither drew a leadoff walk to start the rally, prompting a Sterling pitching change. In the first at-bat against Braden Hartman, Evans singled to left, then Max Clark reached on an error before Gaither came home.
Mikey Bivins flew a two-run double to left for an 8-4 lead, then Burdick bunted a single, and Van Horn grounded a two-run single past second to plate Bivins and Burdick.
After Bryce Feit singled, the Warriors made another pitching change, subbing Janssen for Hartman.
In the first at-bat against the new pitcher, Hayden Steinmeyer flew a two-run single to center, scoring Van Horn and Feit, then Evans followed with another single to center, scoring Lucas Sheridan, the courtesy runner for Steinmeyer.
Max Clark grounded a ball to third next, reaching on an error, before Chris Sitter (the courtesy runner for Evans) scored for a 15-4 Dixon lead.
"It was pretty fun, getting to see everybody else who usually doesn't play get an AB, or get a run, or something like that. That was nice," Evans said of the big sixth inning. "I think that's going to be big for us going down the stretch, is closing out games. Adding a few more runs on just so we can be a little more comfortable, but not too comfortable to the point where we're being lazy, and we're flat-footed."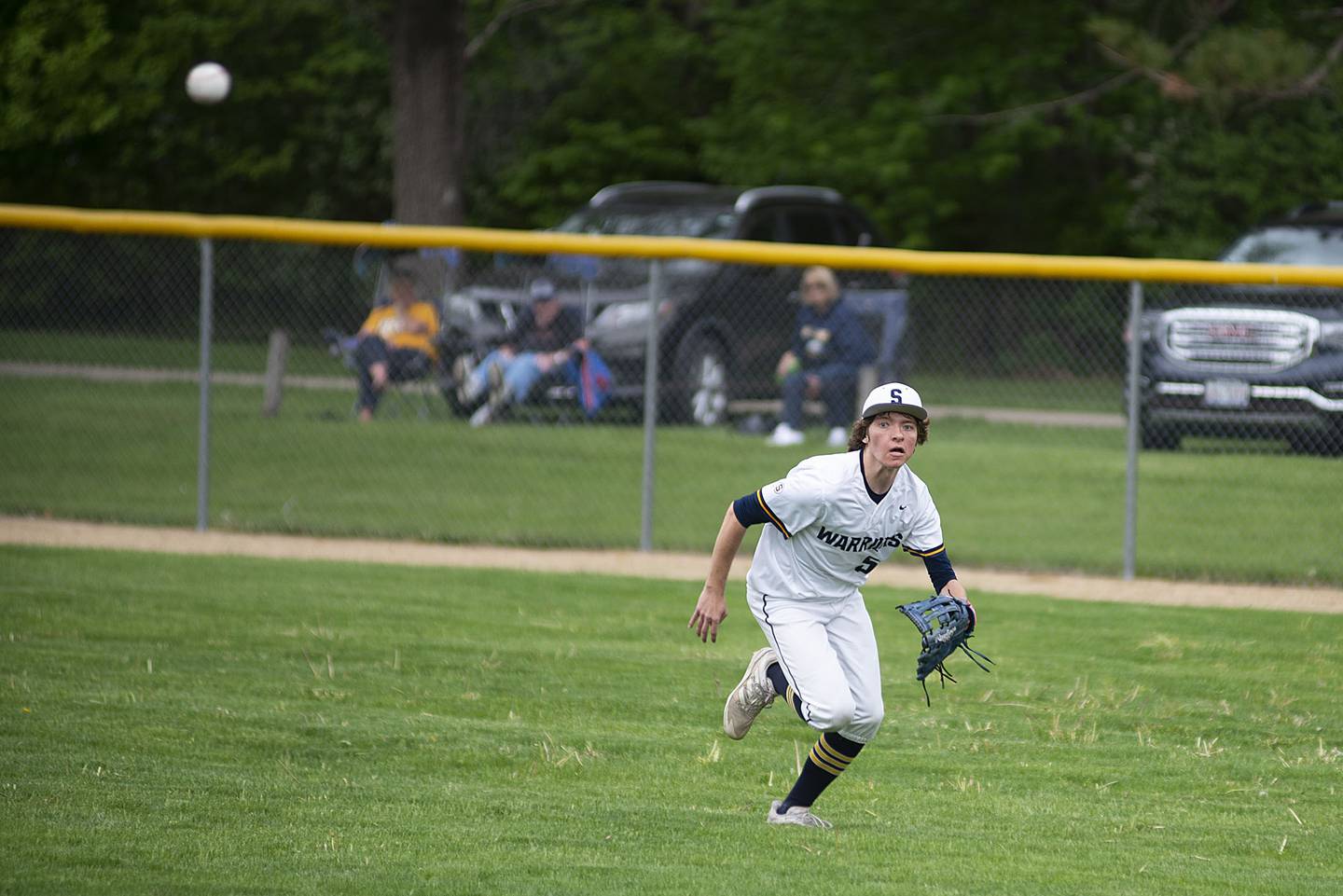 Sterling got three runners around in the bottom of the sixth, as Gio Cantu ripped a two-run double to center, and Polson grounded out for an RBI, but it was too little too late.
In the top of the seventh, Burdick came home for the final run on a Feit single to second.
Leading hitters for Dixon were Evans, who went 5 for 5 with two RBIs; Van Horn, who went 3 for 5 with five RBIs; Bivins, who went 2 for 3 with two RBIs; and Feit and Burdick, who each went 2 for 4 with one RBI. Burdick scored three runs.
Gaither was the winning pitcher. Over 3 2/3 innings of relief, he struck out two, walked three, and allowed three hits and three runs.
"I think it was good. He got put into a pressure situation, especially with runners on and them scoring those runs," Evans said of Gaither's relief pitching effort. "I think it's gonna help him, especially when we get into postseason, so he's comfortable in that situation. But I think he did a good job. He came in, did his job, did what he had to do."
Polson went 2 for 3 with one RBI, while Cantu went 1 for 2 with two RBIs to lead Sterling.
Trevor Dir took the loss, allowing four hits and two runs over 2 2/3 innings.
"They executed really well. We tried to be aggressive, that's kind of how we've lived," Coach Nettleton said. "And I feel bad. I told the kids I feel bad because it's just being greedy [on my part on that bunt double play]. And then from there, we've got some guys now with some soreness. We're playing a lot more, obviously, so we're trying to be good with our arms. We paraded out four guys today, and I thought our pitchers did a nice job, for the most part.
"But Dixon got there in the sixth inning, fifth inning, started hitting baseballs all over. Good team, good program. Coach Burgess does really well with his kids. And we hope that at some point, our kids can find a way to compete at that level."