ROCK FALLS – In a classic Twin Cities rivalry game Thursday, the Sterling and Rock Falls baseball teams battled back and forth for bragging rights.
After the Rockets took an early lead, the Golden Warriors rallied – then Rock Falls came back to re-take the lead … before Sterling grabbed it for good in a 9-7 victory.
The big blow came off the bat of Garrett Polson, whose grand slam in the top of the sixth broke a 5-5 tie and provided the winning runs.
"That's huge, that resilience is what we need," Polson said. "Come playoff time, that's great experience, because every game's going to be difficult like this one, and if you have the resiliency, you have better odds to win."
[ Photos from Sterling vs. Rock Falls baseball ]
The slam finished off an inning that started with some controversy. Ethan Janssen led off with a triple, then Trevor Dir walked and took second a pitch later. A wild pitch during Dale Guerrieri's at-bat resulted in a close play at home plate, and Janssen was called out.
Janssen signaled safe to the umpire and started walking back toward the Sterling dugout, but was ejected.
That seemed to spark the Warriors (7-12). Guerrieri doubled home Dir to tie the game 5-5, then Gio Cantu singled and Daylen Stage walked to load the bases.
"I think we kind of wanted that run back, so it kind of sparked a little fire in us to put some more on the board there," Guerrieri said. "I think we made a couple major adjustments and put the bat on the ball, started to get in a little bit of a rhythm, and once we got the ball rolling, everybody just kind of hopped on the train and we just started hitting."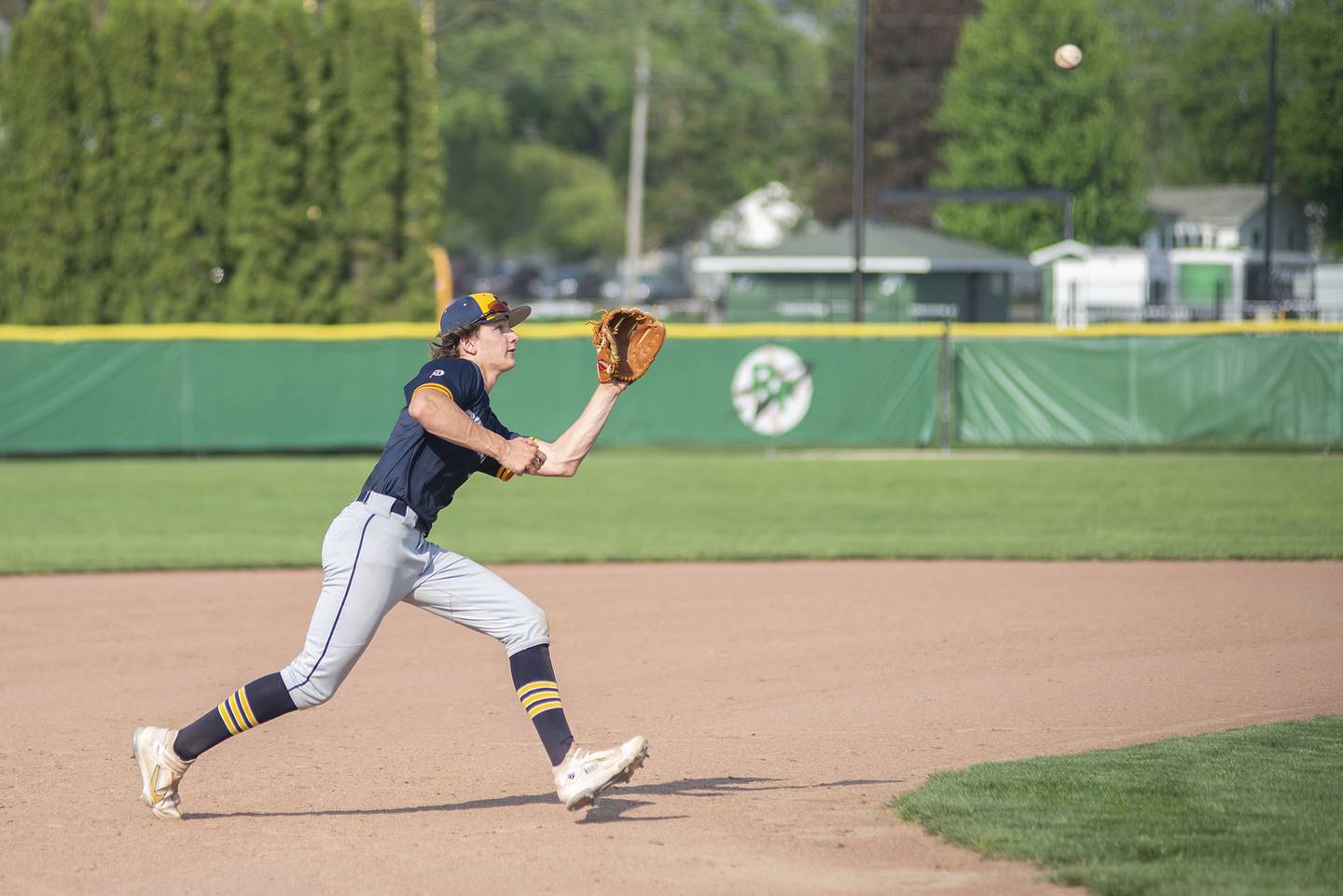 Polson came up and worked a 2-0 count, then swung hard at a low pitch and missed. The next pitch, he took a more controlled cut and launched a line drive over the right-field fence for a 9-5 lead.
"I was just trying to get a good pitch to drive. I saw one the pitch before and I swung out of my shoes a little bit too much. But then the pitch after that, I knew it was the one," Polson said. "I had a good swing – I didn't even have to swing as hard as I did – and got good contact and hit it out."
Rock Falls tried to rally in its final at-bat. Cooper Hewitt led off the bottom of the seventh with a walk, then courtesy runner Brady Dowd went to second and third on wild pitches. After a lineout to first, Aaron Meenen singled through the right side to drive in Dowd and cut the deficit to 9-6.
A groundout to first moved Meenen to second, then Austin Castaneda singled up the middle to plate Meenen and make it 9-7.
"That's the name of the game, resilience and momentum," Rock Falls senior first baseman Brady Richards said. "It's tough, because we're really young, but that's just where us upperclassmen have to step up. We're really trying to help these guys get ready to go for the postseason, play with composure. We've definitely grown a lot this season."
But Sterling reliever Blake Nettleton induced a soft line drive to second for the final out to preserve the victory.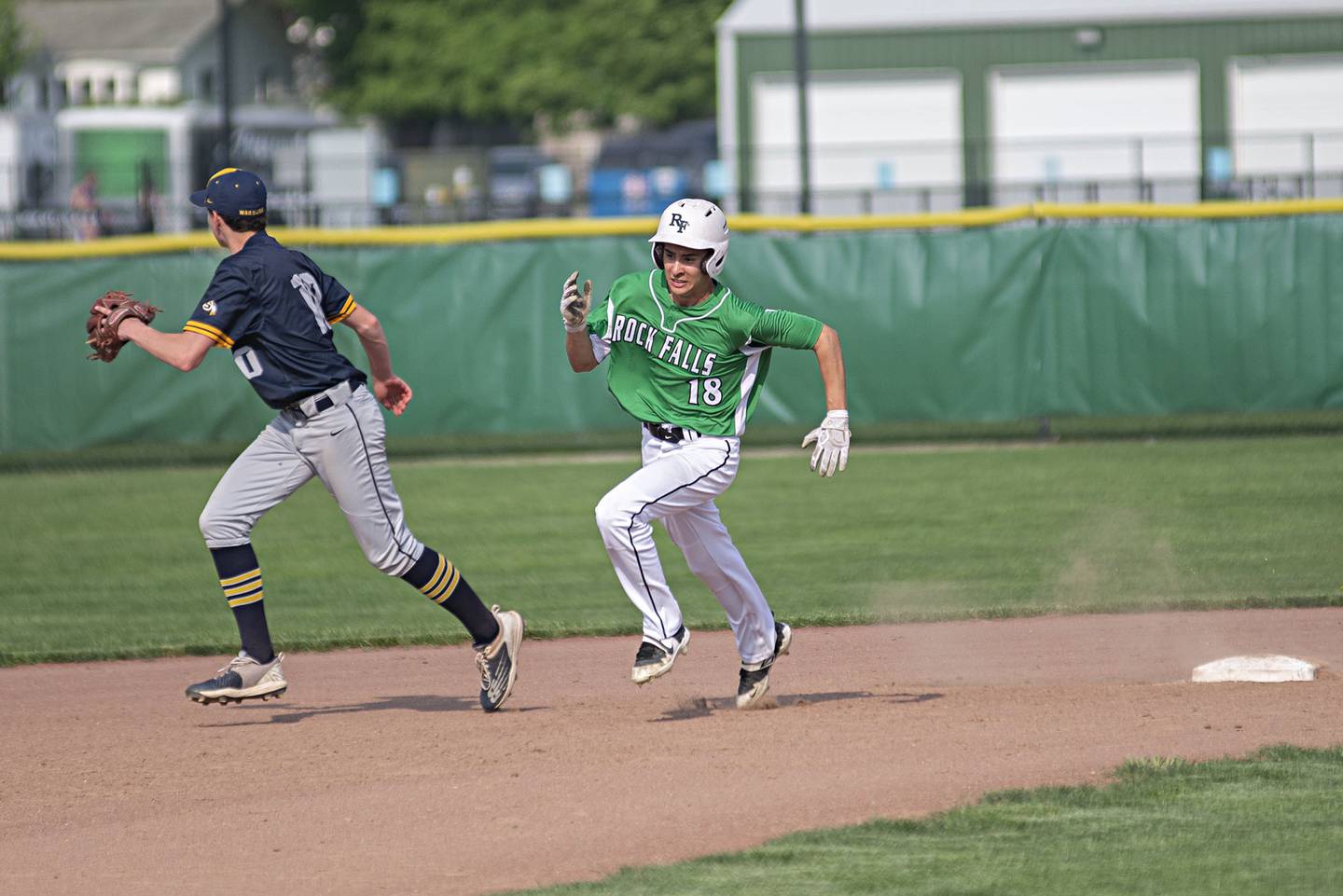 Rock Falls coach Donnie Chappell looked back on a few missed opportunities to get out of innings as a key that put the Rockets in the trail position late.
"I've said it for 20-some years now, but high school games are more lost than won, and if we make some simple plays, it's a different story. Taking nothing away from them, we've just got to catch a couple balls and Garrett doesn't come up in that spot, and that's the one that beat us," Chappell said. "We knew he was their best hitter, that's why we walked him earlier. We've just got to make some routine plays, just a lot of little things that we didn't do.
"But I'm happy that we showed some resilience against a good team like that, we saw some good pitching and we hit the ball well. We've gotten a lot better."
The Rockets struck first, as Gavin Sands singled on the first pitch in the bottom of the first inning, then Dillon Schueler was hit by a pitch and Richards singled to load the bases with nobody out. Timmy Heald hit a sacrifice fly to left for a 1-0 lead, but Sterling starter Braden Hartman got a popout and strikeout to end the threat.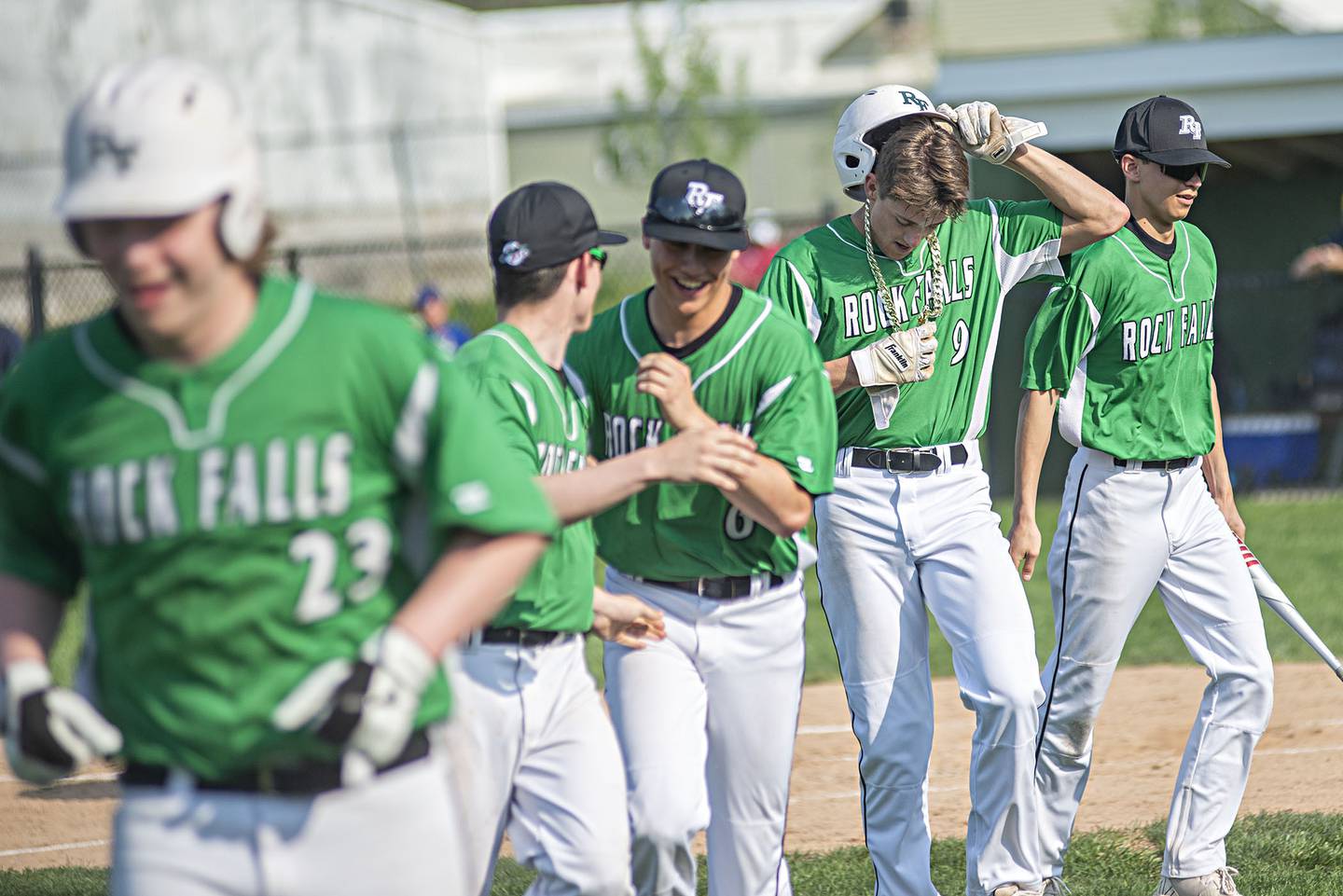 Schueler made it 2-0 with a solo home run to lead off the bottom of the third, and he was cruising on the mound. After allowing single baserunners in the first and second innings, he worked 1-2-3 frames in the third and fourth.
The fifth is where the Warriors made their move. Nolan Stanley led off with a double, then scored on Janssen's single. Dir laid down a sacrifice bunt and reached on an error, and Janssen went to third on the play.
Dir then took second without a throw, and Guerrieri tied the game with an RBI groundout to first. Cantu then singled home Dir, and later scored on Nettleton's bases-loaded walk for a 4-2 lead.
"He was really good, credit to him," Polson said of Schueler. "He had some good innings to start. We just had to shorten up our swings and start making contact; good things happen when you're making contact. You have to force them to get you out."
The Rockets answered in the bottom of the fifth. Richards drew a one-out walk, then Heald was hit by a pitch before Hewitt walked to load the bases. Polson, on to relieve Hartman in the previous inning, got a strikeout before inducing a grounder, but it was misplayed for an error and allowed Richards to score.
Wild pitches during Victor Rivera's plate appearance allowed Heald to score the tying run and Dowd to score the go-ahead run for a 5-4 lead, all after the two-out error.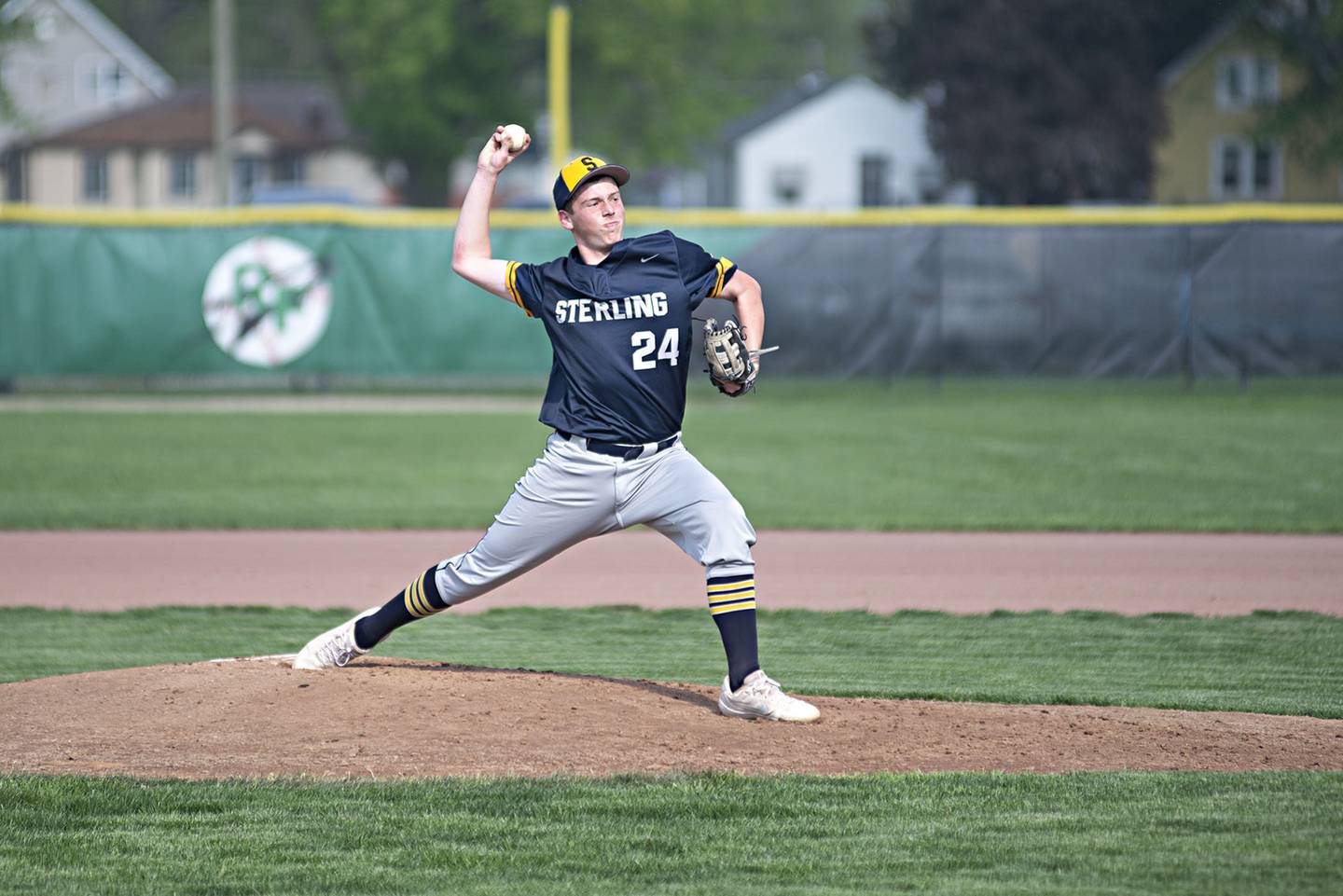 Polson got the the win in relief of Hartman, and Nettleton pitched the final two innings. Hartman gave up two earned runs and four hits in 3 1/3 innings, striking out four without a walk, and hitting a batter. Polson allowed three runs (none earned) and zero hits in 1 2/3 innings, with three strikeouts, four walks and a hit batter. Nettleton gave up a pair of earned runs and three hits, striking out two and walking one.
The pitching-by-committee approach was the plan all along for Sterling.
"We always knew we wanted Braden to stay under 45 [pitches] because we have conference games Saturday, so we want him to throw in those games. And we tried to keep Garrett under 45 so he could throw too," Nettleton said. "Then I think once we got the lead, we just wanted to close it down, that was the major thing."
Heald took the loss in relief of Schueler, and Castaneda got the final five outs after Polson's grand slam. Schueler allowed four runs (three earned) and five hits in five innings, with eight strikeouts and two walks. Heald gave up five earned runs, four hits and two walks in 1/3 of an inning, and Castaneda didn't allow a run or a hit in the final 1 2/3 innings, striking out one and walking one.
Despite the loss, Chappell was pleased with how his team never quit fighting.
"That's a game two weeks ago where we might get 10-runned, because we'd make a couple of mistakes and we'd just fall apart and quit," Chappell said. "Once again, we've got a lot of young players and we're playing with what we have, and it's what we are right now. It's going to pay off in a year or two, and the real season starts Monday anyway."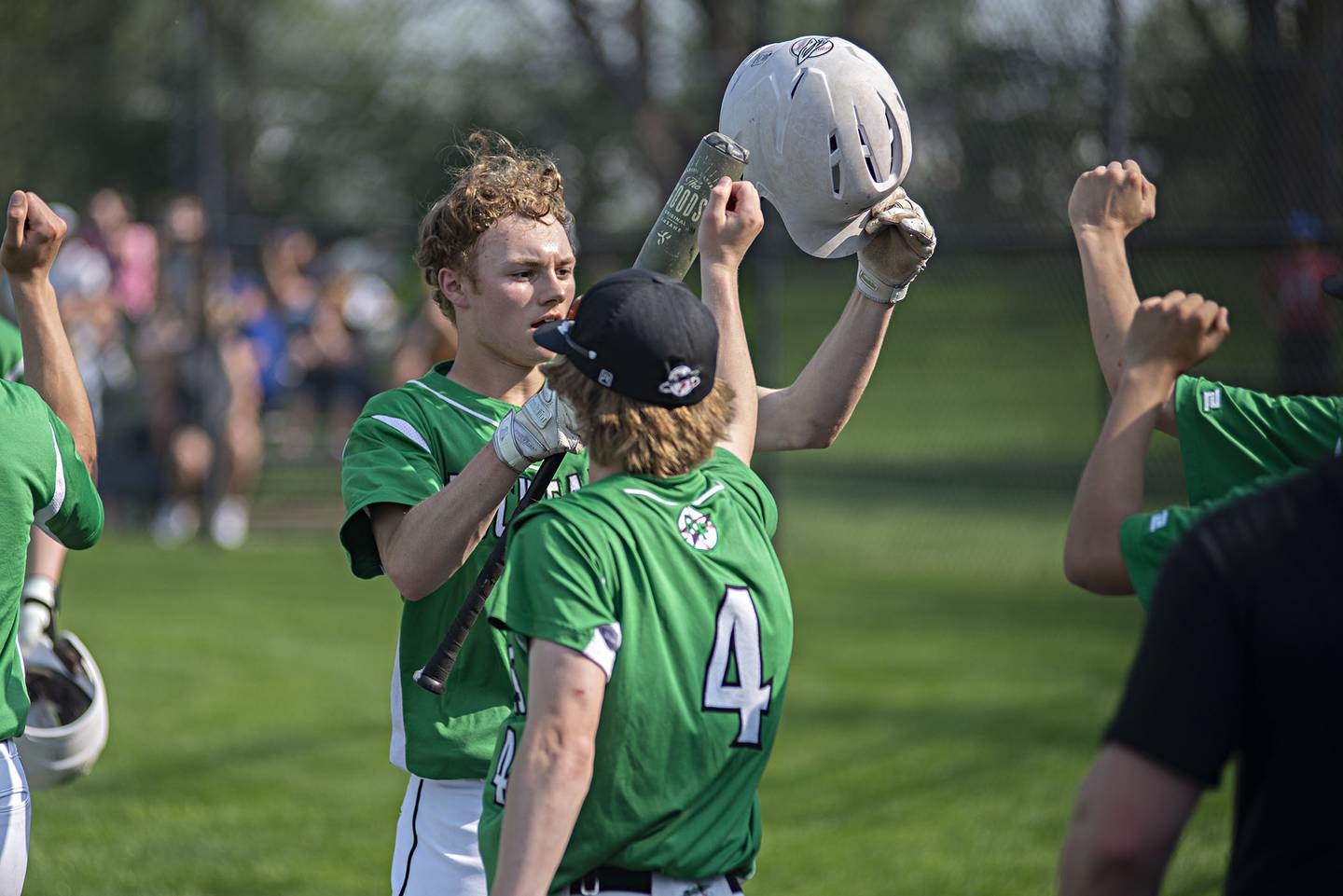 Afterward, both teams talked about the fun of playing their friendly rivals, especially late in the season as a warm-up for the regionals.
"It's really cool. These games have always been close," Nettleton said. "It's a rivalry thing; they'll chirp at us and we'll chirp right back. Neither team quit, and we just kept fighting, and that's the great thing about baseball: you always have another chance."
"It's fun. I got my schedule three months ago and I circled this date. It's fun to play these guys, win or lose," Richards said. "Last year, it was an extremely fun game that went all the way to the seventh. But it's just fun to be able to come out here and compete, and then you go up to your friends afterward and say, 'Hey good game.' At the end of the day, a loss is a loss and a win is a win, and it would've been nice to walk out of here with a win. But it was awesome to play this game, and now we'll look to the playoffs."