DEER GROVE – The Sterling, Dixon and Rock Falls boys golf teams competed in a nine-team field in the Class 2A Rock Falls Regional at Deer Valley Golf Club on Wednesday.
After half-a-day on the links, sectional qualifiers emerged from each local team.
[ Photos: Dixon, Rock Falls and Sterling compete in golf regionals ]
The Dukes finished third with a 330 team score, advancing the team to the Freeport Sectional on Monday. Byron was the team champion with 308, and Geneseo finished second with 326. Byron's Aaron Lorenz shot a 70 to secure the individual championship.
Dixon's Alex Harrison and Byron's Davis Baker tied for fifth overall with a 76. Mason Weigle carded an 84, and Steven Kitzman and Ben Oros each contributed an 85 for the Dukes. Brody Nicklaus (92) and Jayce Kastner (94) also competed for Dixon.
"I felt pretty good. Started off pretty good, had some bad holes in the middle, but I stuck with it and kept her going," Harrison said. "My chipping was very good today. I had a lot of up-and-downs. I had, I think, two birdies on the par 5s. It feels good [to be advancing]. I'm ready to compete in sectionals now."
Weigle was happy to qualify, as well, and hopes to perform better at sectionals next week.
"It was all right. I started strong and kind of stalled out there in the middle, end of the round," Weigle said. "Putting [was probably the strongest part of my game]. I only had one three-putt. I didn't have any birdies, but I made a really long putt on a par 3 to save par, so that was nice.
"It feels great [to move on]. I really hope that we can continue, play a little bit better at sectionals and go to state as a team."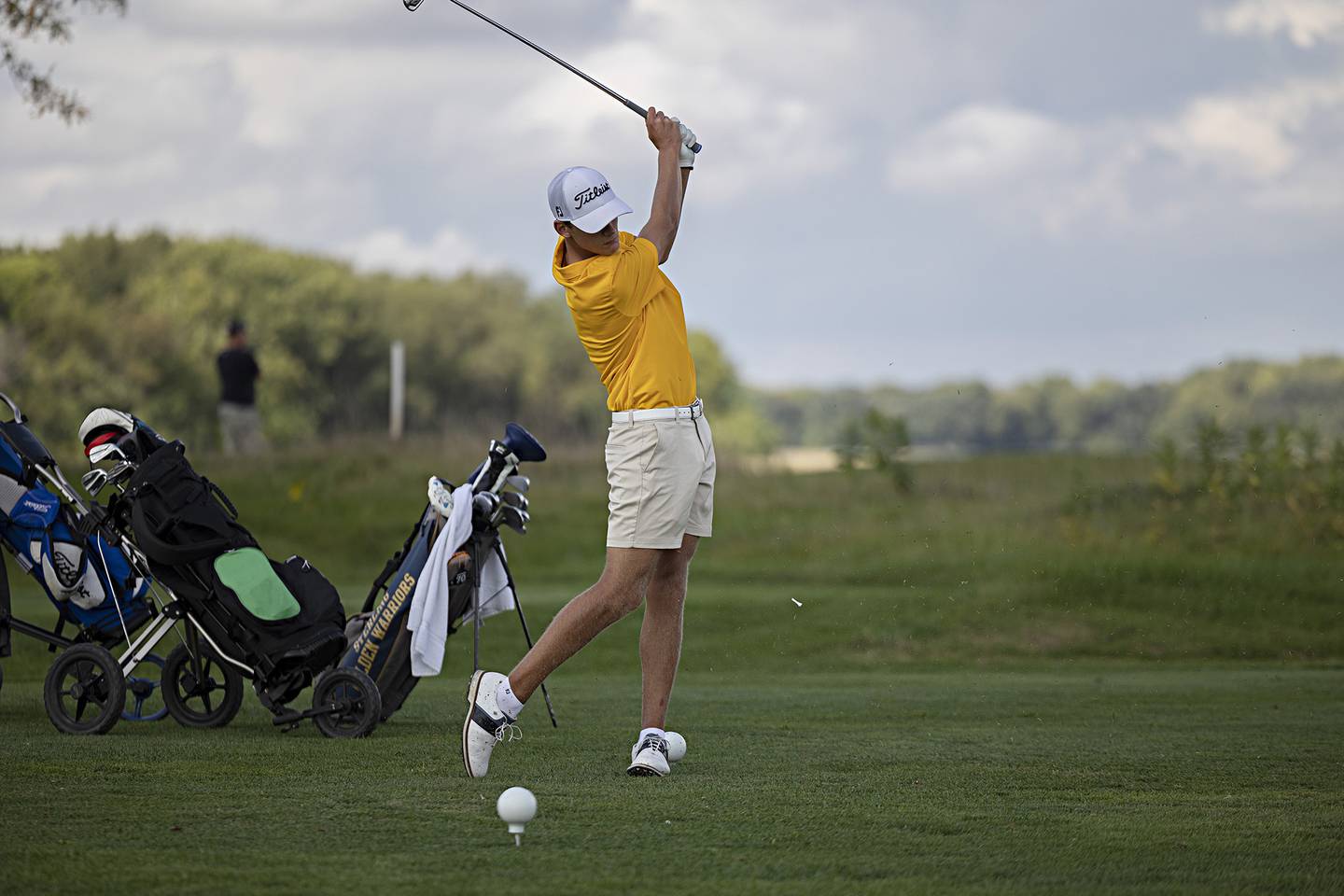 Sterling finished fourth at 354, qualifying three individuals for the sectional. Mason Hubbard led the qualifying group with an 83, while Bryce Hartman shot an 87 and Grant Hartman fired an 89.
Hubbard won the 12-team Sterling Invite by three strokes with a 1-under-par 71 on Saturday. Now, he's moving on to the sectional with two teammates.
"It was kind of a struggle, but I ended up advancing, so that's all that matters," Hubbard said. "The strongest part of my game was probably my chipping. My putting a little bit here and there, but definitely my chipping. It feels great [to be moving on]. I'm really proud of Grant for advancing and myself and Bryce Hartman. We all deserve it, so it worked out."
The Hartmans were on the edge of qualifying for a while, battling a tight cluster of golfers to keep their seasons alive. At the end of the day, Bryce made the cut by three strokes, and Grant made the cut by one stroke.
"It was a rocky start," Bryce Hartman said. "I didn't play very good on the back. I had a couple of bad holes, but we were able to push through it and get it done in the long run. The driver was a struggle at the start. We kind of figured it out a little bit. My approach shots kind of saved me, though.
"It feels good [to advance]. I'm happy for [Mason and Grant]. Going to sectionals was one of my big goals at the start of the year, so I'm just happy to fulfill it."
Grant Hartman exceeded his usual level of play to make the qualifying cut.
"It felt way better than usual. I was playing out of my mind today," he said. "I'd probably say irons to short range [were working best for me]. It feels amazing [to advance to the sectional]."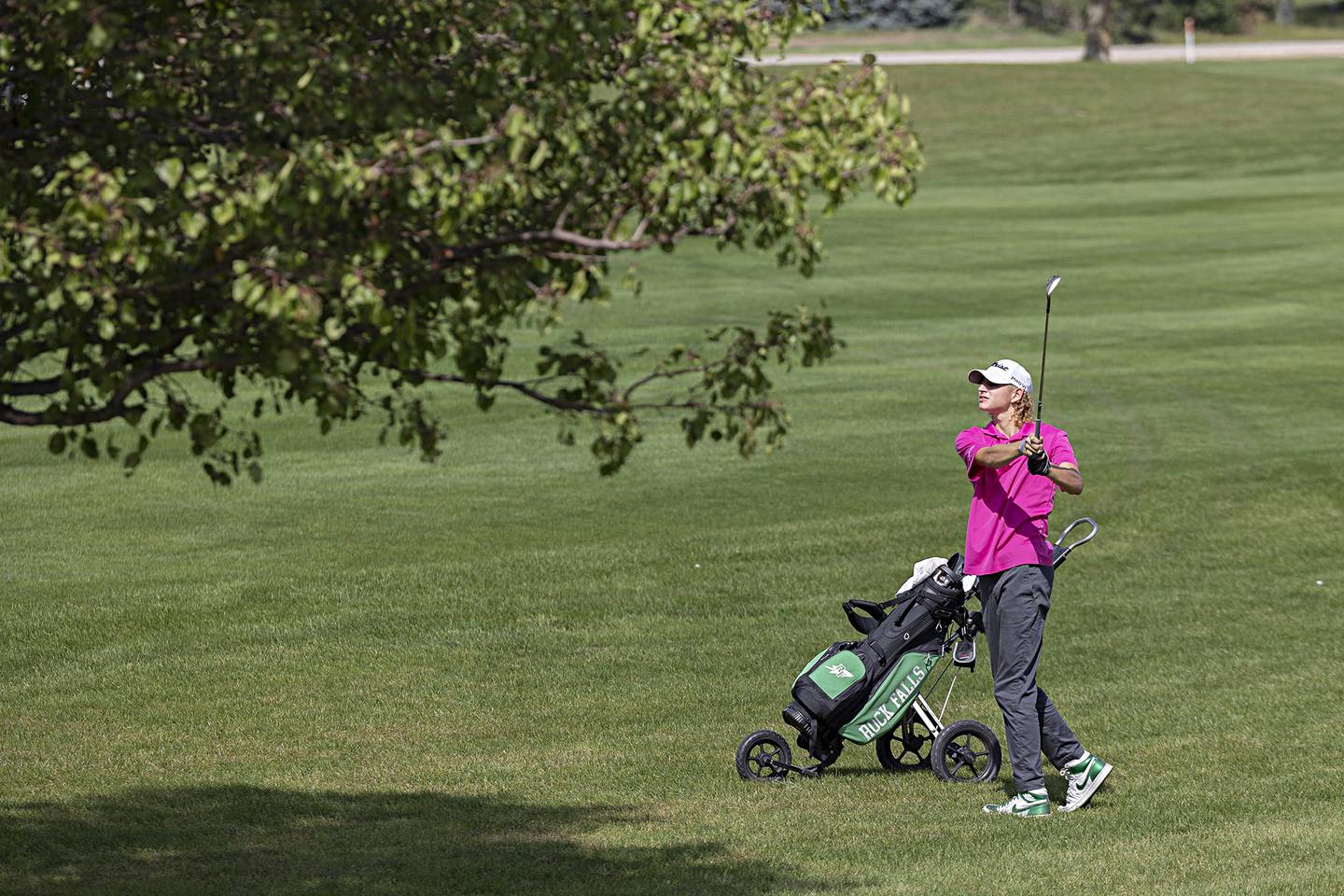 Rock Falls took fifth with a 355. Carter Dillon shot a 78 to finish seventh, and Conner Porter fired an 87 to join him in next week's sectional.
"I played pretty good. I only had one bad hole. I four-putted on that hole, but I'm pretty happy overall," Dillon said. "I had two birdies, and one of them was on a par 3. I put it to like a foot. And then the other one was Hole 4, birdied that one, and I put it to like 3 feet off my second shot.
"It feels pretty good [to advance to the sectional]. It's going to make me not as nervous as last year because I was pretty nervous last year with it being just me."
After narrowly missing the sectional cut last year, Porter was especially glad to advance this year.
"I took an eight and a seven. It was a rough day, but I still advanced in the end, so it was decent," Porter said. "I birdied one time. It was on Hole 3, par 5. [Going with Carter is] better than going by myself, and I missed it by one last year, so it's good to go this year."