The Dixon girls bowling team finished second at the Dixon Regional with a total pinfall of 5,141 pins on Saturday at Plum Hollow, advancing the entire team to the Decatur Sectional. Sterling finished one spot below the qualifying group, taking fifth with 4,862, but qualified two individuals for the sectional. Erie-Prophetstown came in 11th with 4,384.
Grace DeBord rolled a 1,195 series (233 high game) for fourth place, and Allison Coss chipped in a 1,100 for 11th to lead the Duchesses to the sectional berth. Autumn Swift totaled a 1,062, Leslie Pettorini bowled a 909, and Olivia Gingras added an 875.
[ Photos of the Dixon Regional girls bowling tournament at Plum Hollow ]
Hannah Conderman and Olivia Barton advanced as individuals for the Golden Warriors. Conderman bowled a 1,126 for ninth place, and Barton rolled a 1,034 for 15th. Katelynn Garcia-Redmond added an 876 six-game series, Hailey Conderman rolled a 631 in four games, Emily Doss (461) and Loralei Michels (441) both bowled three games, and Shayla Kelly added a 293 in two games.
Lillian McWilliams paced the Panthers with a 980, Hannah Neumiller rolled a 919, and Phoebe DeNeve tallied an 877. Jolene Wells recorded an 875, and Ysabell Hamm chipped in a 733.
LaSalle-Peru won the team championship with 5,804, led by individual champion Olivia Weber's 1,384.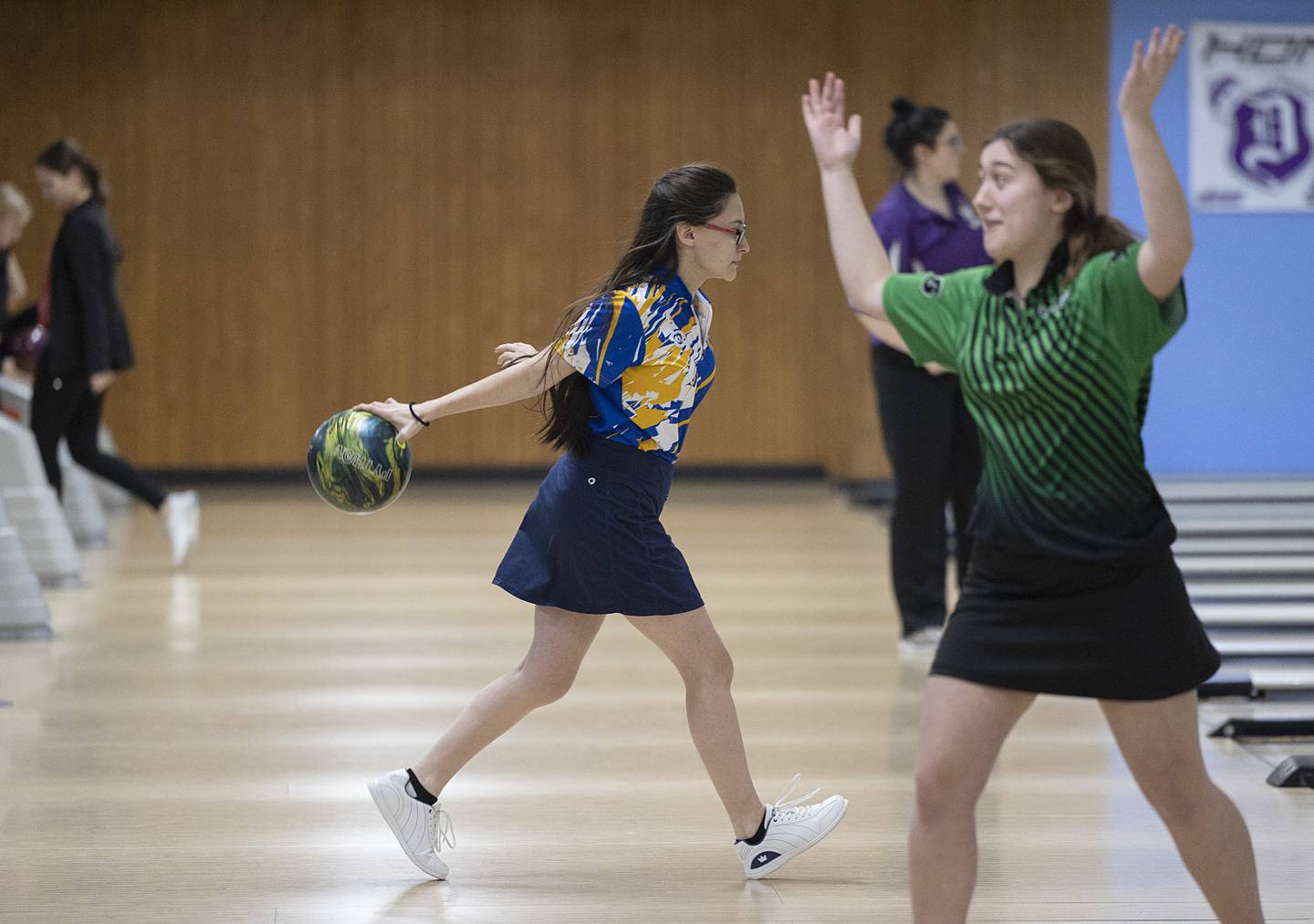 Freeport Regional: Ava Wight bowled a 1,290 series on the lanes at the 4 Seasons to become the first two-time regional champion in Oregon history.
She recorded games of 225, 267 and 224 in the morning, then rolled 205, 185 and 184 in the afternoon to take the title.
As a team, the Hawks totaled 5,024 pins, placing seventh out of 12 teams.
Mackenzie Alford missed the sectional cut by just one spot and a mere 20 pins, rolling a 1,015 series, and Kendra Erhler came up 23 pins short with a 1,012. Kylie Krug tallied an 888, Trinity Hultquist bowled a 703 five-game series, and Ahren Howey added a 116 game.
Hononegah was the team champion with 5,891. The Freeport Regional was the only one statewide with seven teams exceeding 5,000 pins.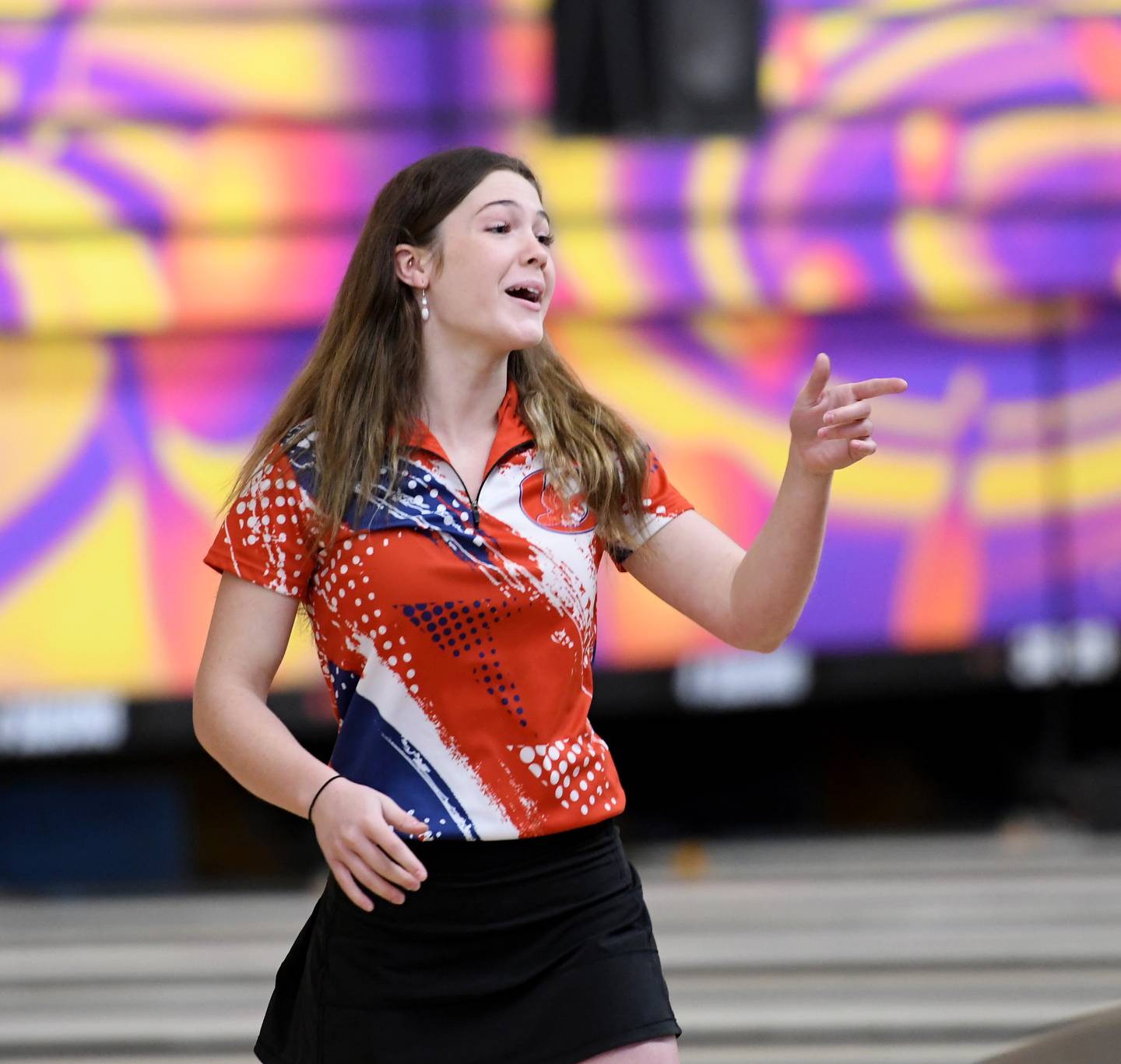 Boys swimming
Sterling 3rd at WB6 Meet: The Water Warriors had five runner-up finishes on their way to third place at the Western Big 6 Meet at the Duis Center.
Galesburg won the title with 326 points, followed by Moline (228) and Sterling (217).
Skylar Drolema led the way for the Warriors with second-place finishes in the 50 freestyle (22.66 seconds) and 100 free (49.75), and he also teamed with Evan Scott, Peter Garland and Conner Porter to take second in the 200 medley relay (1:44.00), and joined Garland, Porter and Connor Pham to finish second in the 200 freestyle relay (1:35.60).
Porter added a runner-up finish in the 200 IM (2:08.28), and was fourth in the 500 freestyle (5:14.69). Patrick Riley finished fourth in the 100 backstroke (1:03.80), and Riley and Scott teamed with Dale Johnson and Jack Graves to placed fourth in the 400 freestyle relay (3:47.73).
Pham added a fifth in the 100 butterfly (1:00.11), and Scott took fifth in the 100 breaststroke (1:07.15).
Boys basketball
Rock Falls 81, Oregon 45: The Rockets scored 31 points in the first quarter of a Big Northern Conference game at Tabor Gym, taking a 31-8 lead and never looking back to top the Hawks.
Devin Tanton-DeJesus led a balanced attack with 16 points for Rock Falls (11-15, 3-3 BNC), while Gavin Sands hit a pair of 3-pointers and finished with 14 points. Aydan Goff had 11 points, Diego Hernandez scored 10, Kuitim Heald hit three 3s for nine points, and Ryken Howard added eight points for the Rockets, who led 45-17 by halftime, and 67-33 through three quarters.
Jordan Croegaert paced Oregon with eight points, while Noah Johnson scored seven and Ryan Harkness added six.
DeKalb 56, Dixon 35: The Dukes scored just 11 points in the second half of a nonconference loss at Lancaster Gym.
Matt Warkins led the way with 10 points for Dixon (17-10), which trailed 30-24 at halftime.
Sean Reynolds scored 22 points, and Davon Grant added 15 for the Barbs, who finished off the game with a 17-8 surge in the fourth quarter.
Ashton-Franklin Center 61, Stillman Valley 60: The Raiders trailed the Cardinals by five points at halftime, but took the lead with a 13-7 third-quarter surge, then matched them point-for-point in the fourth for a nonconference win.
Leaders for AFC were Carson Rueff with 16 points, Jordan Harris with 14 points, and Kaleb Goldman and Noah Danielson with 10 points apiece.
Stillman Valley was led by Owen Dunseth with 22 points, Alex Rahn with 13 points, and Caleb Johnson with 10 points.
Winnebago 44, Eastland 40: The Cougars played the Indians within two points in each of the first three quarters, then got outscored 13-8 in the fourth.
Parker Krogman led Eastland with 22 points, while Trevor Janssen scored seven points and Peyton Spears chipped in six points.
Jaden Horton and Ray Maurchie paced Winnebago with 11 points each.
Rockford Christian Life 58, Amboy 57, 2OT: The Eagles trailed the Clippers 35-31 after three quarters, then forced overtime with a 14-10 fourth-quarter run, and hung on for a double-overtime road win.
Eddie Jones scored 22 points to lead Amboy, Troy Anderson scored 14 points, and Kyler McNinch added nine points.
Josh Burkett and Jack Boes led Christian Life with 20 and 19 points.
Aquin Shootout
Galena 59, Newman 53: After trailing the Comets by five points at the half, the Pirates took the lead with a 22-16 third-quarter surge, then held on for a nonconference win.
Newman junior Lucas Simpson scored 23 points to eclipse the 1,000 points mark for his career, and Nolan Britt added 18 points.
Connor Glasgow led Galena with 27 points, and Parker Studtmann scored 20.
Forreston 65, Aquin 57: Owen Greenfield scored 30 points to lift the Cardinals past the Bulldogs in a nonconference game.
Brock Smith scored 12 points, and Payton Encheff added 11 points for Forreston.
Adam Awender led Aquin with 32 points.
Girls basketball
Dixon 54, Plainfield North 48: The Duchesses won their game at the Kaneland Hoops for the Cure at Maple Park, taking a 33-24 lead into halftime before holding off a second-half surge by the Tigers.
Ella Govig scored 17 points and grabbed 10 rebounds for a double-double, and she also had three assists and three blocks for Dixon (23-5), which saw the lead dwindle to 43-40 through three quarters before widening the gap again in the fourth. Jessie Pitman finished with 15 points, seven rebounds and two blocks, Abby Knipple added seven points and four assists, and Katie Drew scored five points for the Duchesses.
Isabella Garcia hit three 3-pointers and finished with 14 points to lead Plainfield North, while Ruby Davis and Kaitlyn Sedillo each added eight points.
Rock Falls 52, Genoa-Kingston 36: The Rockets built a double-digit lead early on, then answered a run by the Cogs for a Big Northern Conference win at Tabor Gym.
Claire Bickett shot 10 for 11 from the free-throw line and finished with 18 points for Rock Falls (17-12, 6-3 BNC), which led 22-9 after the opening quarter and 29-20 at halftime before pulling away with a 15-6 surge in the fourth quarter. Jacee Sigel hit four 3-pointers and finished with 14 points, Brooke Howard added eight points, and Emily Lego and Taylor Reyna scored six points each.
Ally Poegel paced G-K with 18 points.
Rock Island 50, Sterling 44: The Golden Warriors rallied from a 37-26 deficit to start the fourth quarter, but the comeback came up short in a Western Big 6 game in Rock Island.
Olivia Turner's 12 points paced Sterling (3-24, 0-13 WB6), while Delali Amankwa scored nine, Olivia Melcher added eight, and Kathryn Rowzee chipped in seven.
Kayla Rice hit three 3-pointers and had 18 points for the Rocks, and Tamiah Jamison chipped in two 3s and 10 points.
Oregon 40, Kewanee 26: The Hawks led the Boilermakers 19-16 at halftime, then pulled away with a 15-6 third-quarter run.
Hadley Lutz led Oregon with 19 points, while Mariah Drake scored eight points, and Ella Dannhorn and Mya Engelkes added five points apiece.
Marissa Stevens and Mya Dearing paced Kewanee with 11 points each.
Winnebago 61, Eastland 41: The Indians rolled to a 23-8 first-quarter lead en route to a 20-point nonconference win.
Paige Joiner paced Eastland with 12 points, two rebounds and two assists, Sarah Kempel tallied 11 points and seven rebounds, Karlee Etchberger scored six points, and Jocelyn Green added five points.
Campbell Schrank led Winnebago with 16 points, and Ella Provi, Laney Intravaia and Savannah Klaung added 10 points each.
Men's basketball
Sauk Valley 76, Kankakee 71: The Skyhawks led 36-29 at halftime and held on for a road win, their fourth victory in the last five games.
Atem Agot led Sauk (13-11) with 14 points and six rebounds, while Devon House and Andre Brandon both scored 13 points; House also had seven rebounds. Devares Whitaker finished with 12 points, four assists and two steals, LA Fayne added 10 points and six assists, and Jake Gaither chipped in six points and three assists. Davin Fields-Johnson and Riek Riek both scored four points for the Skyhawks, with Fields-Johnson grabbing seven rebounds and Riek puling down six boards.