,DIXON – A dozen boys teams and 11 girls teams from northern Illinois squared off Saturday in the Oregon Hawk Classic in front of a large and lively crowd at Plum Hollow Family Center in Dixon.
For the four Sauk Valley high schools in attendance, it was a solid day overall, as three girls teams and three boys teams placed top 6 in their respective fields – and one from each field finished third. Three individuals from the area placed in the top 3 as well.
Dixon was the local headliner in the girls field, placing third with 4,936 pins. Grace DeBord paced the Duchesses with a series score of 1,169, and a high game of 222, to finish third individually.
"I feel like I did really well. It's been really great bowling with the team, and having the coaches be able to help me throughout the games has been very beneficial and very nice," DeBord said.
"I think we could do very well throughout the season. As long as we keep our energy up throughout games and don't let certain pinfall reactions get to our heads, then we can do really good."
Second for the Duchesses was Autumn Swift, who bowled a 1,035 series. Leslie Pettorini tallied a 942, Olivia Gingras rolled a 908, and Allison Coss added an 882.
Sycamore was the girls team champion with 5,237, while LaSalle-Peru secured the runner-up finish with 5,171.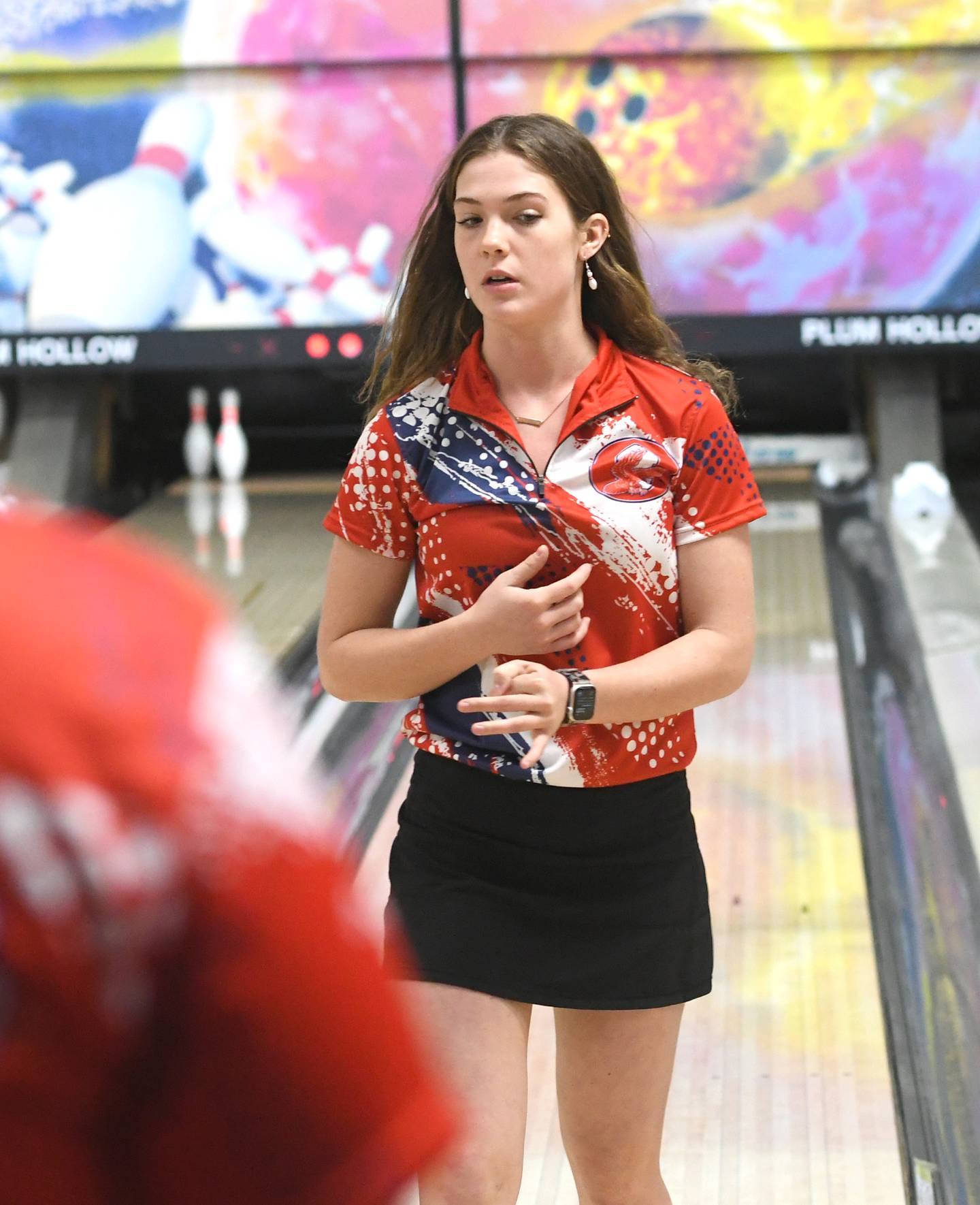 The Oregon girls took fifth with 4,836, led by second-place bowler Ava Wight's 1,205 series. Oswego East's Maya Santeliz knocked down 1,216 pins to claim the girls championship.
"I struggled a little bit in the beginning, but I didn't let it get to me too much in the afternoon. So I kind of pulled through in the afternoon and made a whole lot of pins to get into placing," Wight said.
The Oregon senior saved her best for last, posting a 255 high game to cap the second-place series.
"I actually wasn't thinking too much about bowling," Wight said of the final game. "I was focused when I got up to the lane, but it was a lot of my teammates that helped the energy and everything. So I think that really helped with the momentum, and just to keep going."
After struggling in the last tournament and in recent practices, Wight hopes Saturday's rebound performance is a sign of what's to come.
"I think that it's going to go very well," she said. "My practices haven't been very successful lately, so I was kind of down in my last tournament, but this tournament really helped set the tone for how I'm going to do in the future."
Mackenzie Alford rolled a 1,119 (242 high game), Kendra Ehrler totaled a 924, and Trinity Hultquist tallied an 840 through six games for the Hawks. Alford's series score was fifth-best in the girls field.
Kylie Krug rolled a 620 in five games, and Ahren Howey rolled a 128 in one game for Oregon.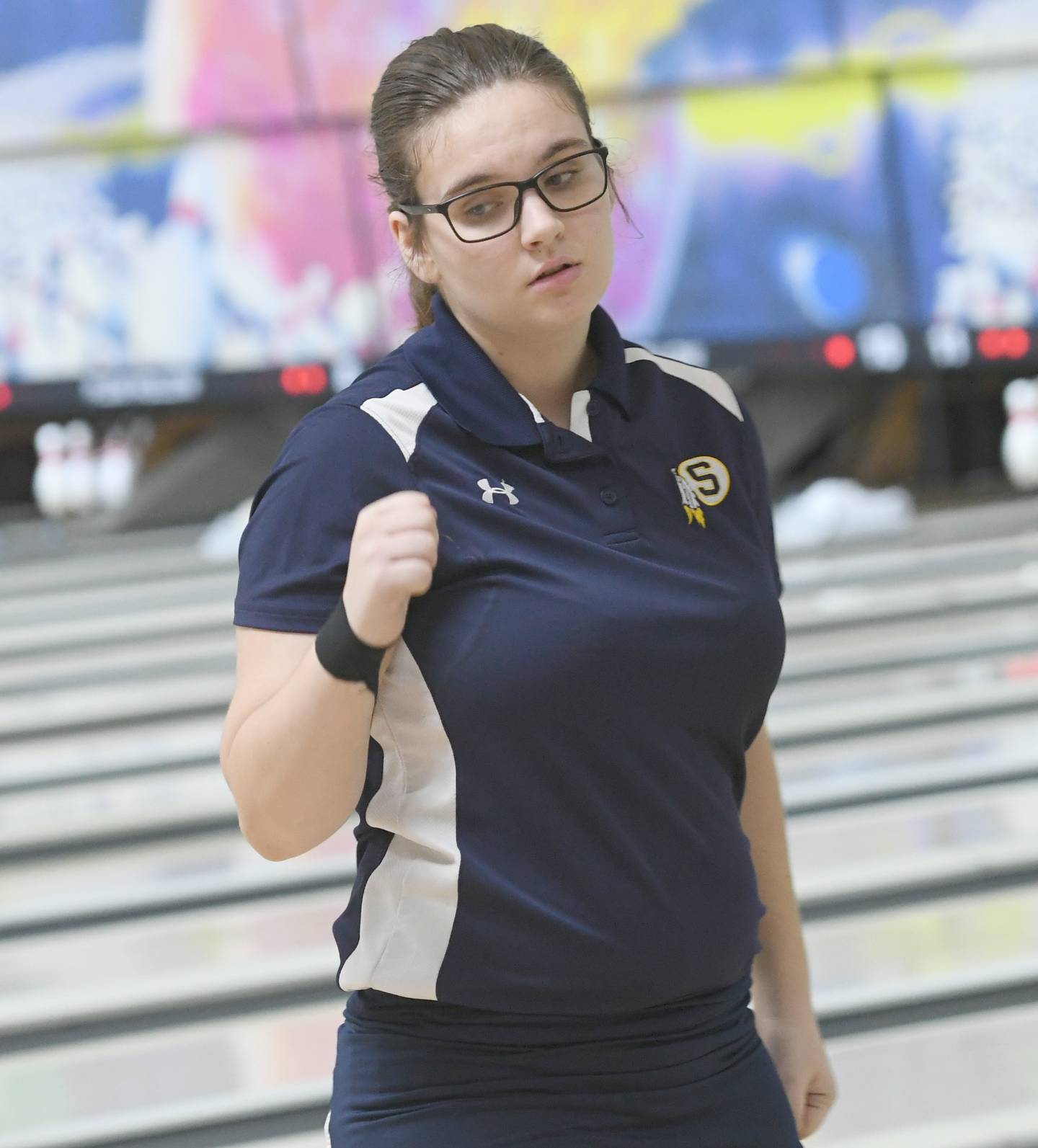 The Sterling girls finished sixth with 4,281. Emily Doss led the Golden Warriors with a 990 series, Loralei Michels rolled a 935, and Hannah Conderman bowled a 924. Katelynn Garcia and Adriana Jenkins added an 828 and a 604.
The Erie-Prophetstown girls finished 11th, totaling 2,248 with three bowlers. Lillian McWilliams led the team with an 809 series, while Jolene Wells bowled a 729 and Phoebe DeNeve rolled a 710.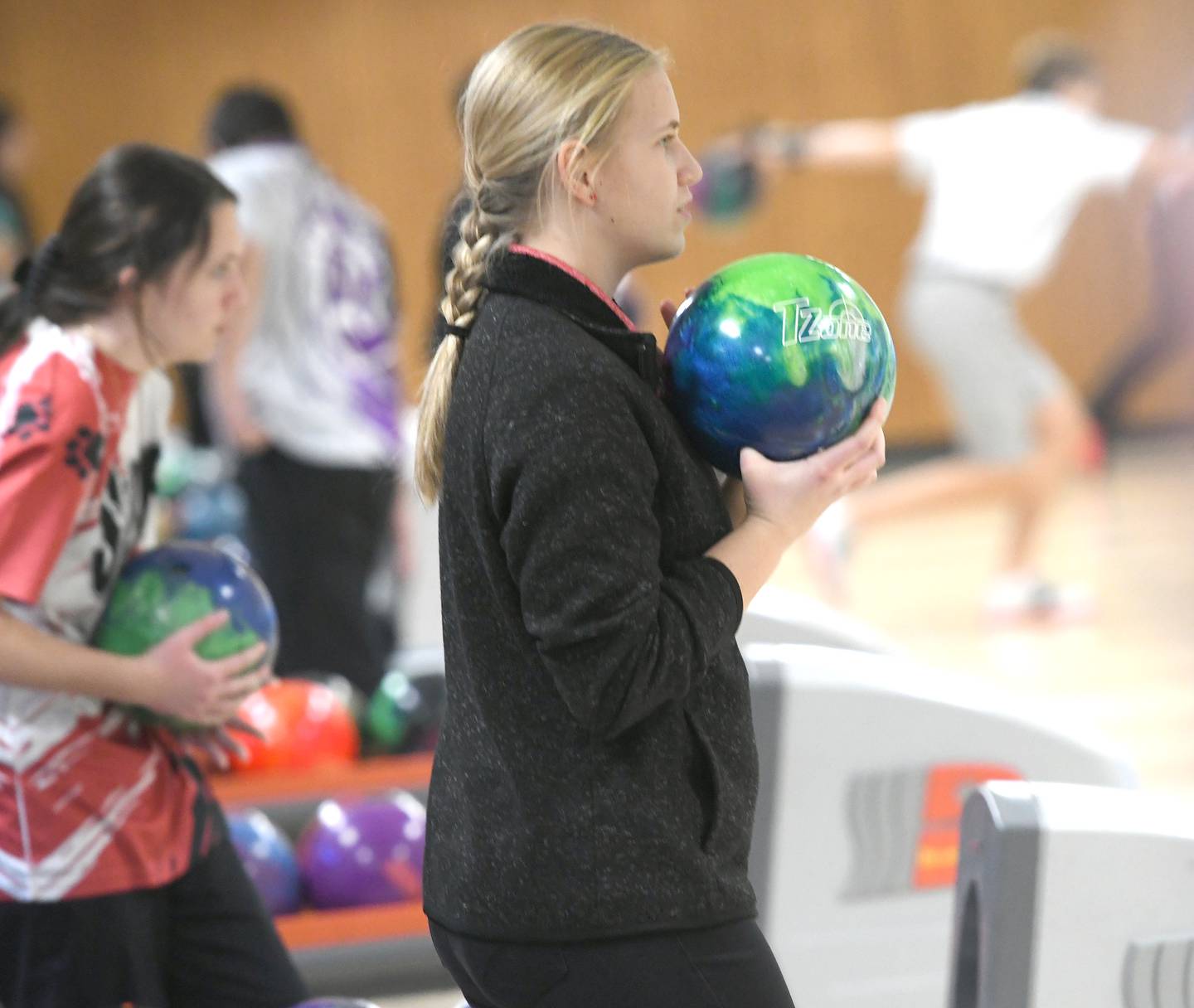 The Sterling boys placed third with 5,389, led by third-place bowler Tristan Oelrichs' 1,196.
Oswego East's Rob Vieira bowled a 1,281 with a 248 high game for the individual championship, and LaSalle-Peru runner-up Chance Hank recorded a 1,219 with a 234 high game.
Oelrichs' high game of 269 was the highest in the tournament.
"Personally, I was really impressed with my performance because I went into it sick, and I didn't think I was going to bowl too well. It was my first time placing as a series, so I'm really proud of myself," Oelrichs said.
"I went into [the 269 high game to start the day] with a positive mindset, knowing I had to do good for the team to do good. I felt good about it going in, and I had a consistent ball the entire game."
With strong finishes individually and in the team standings, Oelrichs hopes the Warriors can carry their momentum forward the rest of the season.
"I feel like from here on out we can always improve, but a third-place finish is really good for us, and a third-place finish is really good for me individually," he said. "I feel like for the rest of the season, we can only go up from here."
Mikah Hernandez and Dylan Doss also broke the 1,000 series barrier for the Warriors, bowling a 1,183 and a 1,065. Shea Hanson rolled a 728 four-game series, Bryce Kooy rolled a 627 four-game series, and Brenden Stanley and Ross Eden added two-game series of 321 and 269 for Sterling.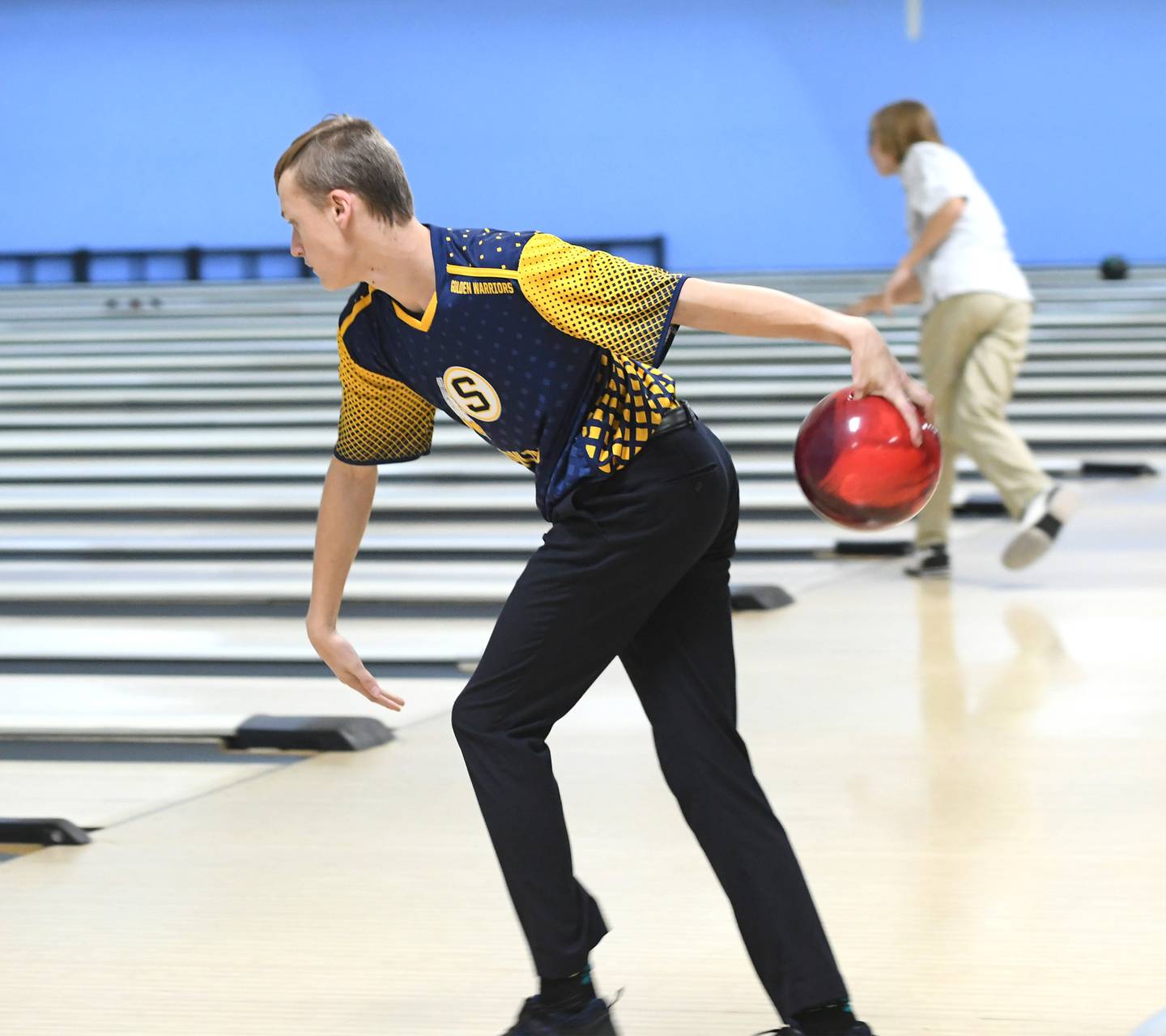 LaSalle-Peru was the boys team champion with 5,815. Oswego East was the team runner-up with 5,552.
The Oregon (red) boys came in fifth with 5,206. Brandon Rowe, Gavvin Surmo and Roberto Hernandez recorded 1,000-plus series for the Hawks, with a 1,128, a 1,077 and a 1,042. Bryan Immel bowled a 695 four-game series, Brady Davis had a 785 five-game series, and Stylar Klapp chipped in a 479 three-game series to round out the Oregon (red) lineup.
The Dixon boys finished sixth with 4,860. Clark Bonnewell and David Laird cleared the 1,000 threshold with six-game series of 1,075 and 1,011. Cody Geil rolled a 988 six-game series, Wyatt Miller tallied a 986 six-game series, and Sam Gingras posted a 684 five-game series. Owen Haverland rolled a 116 in one game for the Dukes.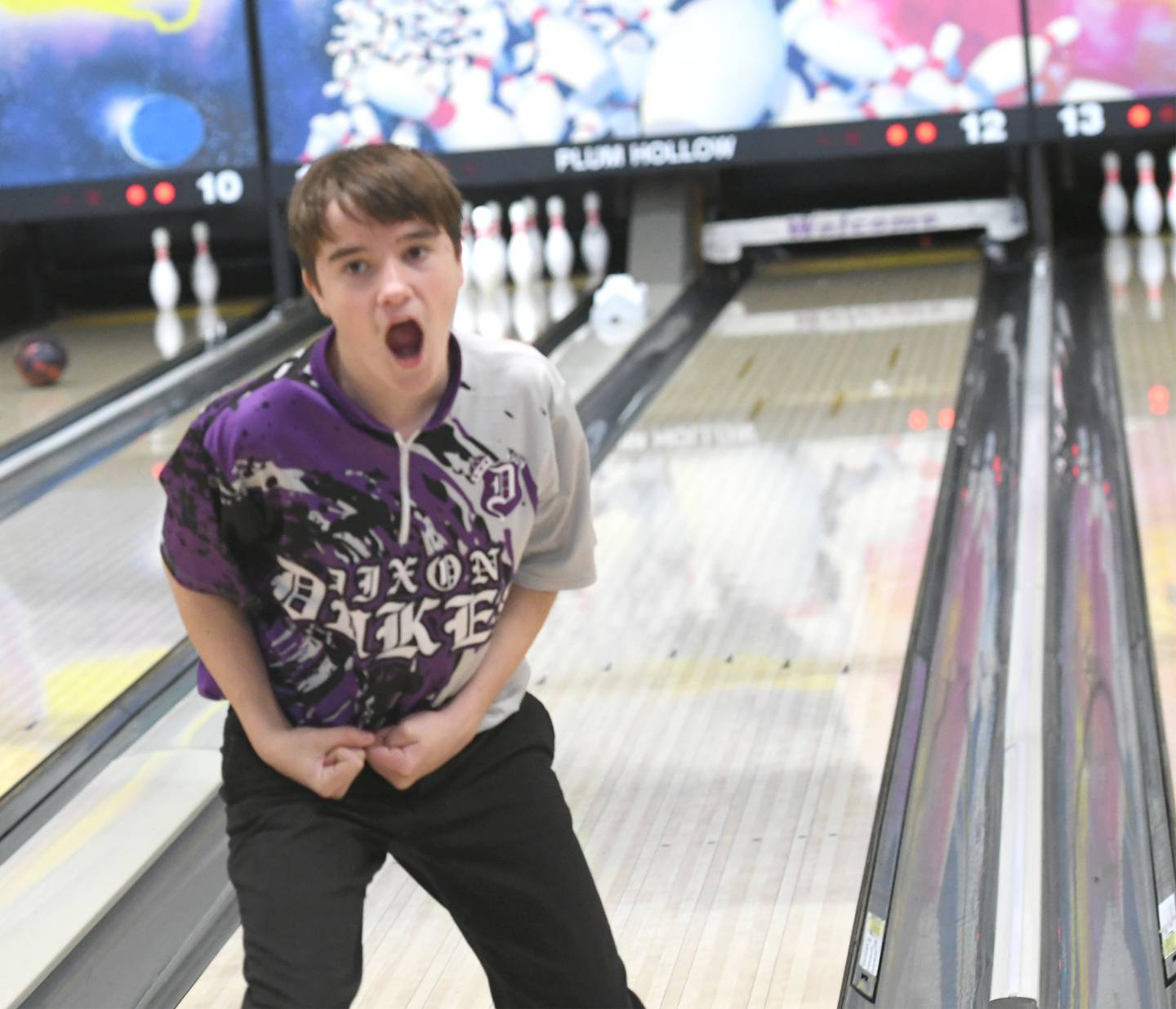 The Oregon (white) boys came in eighth with 4,825. Xander Garcia rolled a 1,077 series to lead the group, while Codey Dunbar and Matthew Stahl chipped in a 998 and 990 in their six-game series. Immanuel Arellano bowled a 470, Sebastian Alford tallied a 446, and Aiden Currier rolled a 389 in three-game series. Caleb Ehrler rolled a 296 two-game series, and RJ Keene rolled a 159 one-gamer to round out the Hawks (white) lineup.
Erie-Prophetstown took 11th with 4,235. Leading the way for the Panthers were Keith Goodson and Bryce VanDeWostine with 951 and 904 series. Shawn Chandler totaled 840, and Robert Winters tallied 821 in six-game series. Dom Bray and Aiden Almanza added 397 and 322 three-game series for E-P.