With an 18-10 second-half scoring advantage, the Oregon girls basketball team rallied to a 37-30 nonconference win over Ashton-Franklin Center Thursday night in Ashton.
Leading the Hawks were Hadley Lutz and Liz Mois with 10 points each.
The Raiders were led by Reese Polk's eight points and Taylor Jahn's seven points.
Bureau Valley 46, Newman 28: Kate Salisbury scored 12 first-quarter points to help the Storm to a 15-2 lead, then a 24-16 second-half scoring run sealed the Three Rivers East win in Manlius.
Salisbury scored a game-high 19 points to lead Bureau Valley. Lynzie Cady and Taylor Neuhalfen added eight points apiece for the Storm.
Jess Johns led Newman with 18 points, 11 rebounds, two steals and a block. Amiya Rodriguez chipped in eight points, three rebounds and a steal for the Comets.
United Township 42, Sterling 22: The Golden Warriors played the Panthers to a six-point halftime deficit, but were outscored 24-9 in the second half.
Kate Rowzee led Sterling with seven points, while Olivia Turner added five points.
Morrison 58, Riverdale 22: Shelby Veltrop and Diana Robbins combined for 42 points to power the Fillies past the Rams in their Three Ruvers West opener.
Veltrop led all scorers with 23 points, while Robbins poured in 19 points. Jordan Eads added eight points for Morrison.
A 29-8 second-half scoring run helped the Fillies pull away.
Erie-Prophetstown 43, Orion 34: The Panthers won their Three Rivers West opener in Prophetstown.
Kennedy Buck had 13 points, and Hannah Huisman added 11 for Erie-Prophetstown (4-2, 1-0).
Galena 70, Eastland 36: The Cougars trailed the Pirates 43-16 at halftime, before falling by 34 points in the NUIC crossover matchup.
Sarah Kempel scored 15 points and pulled down three rebounds, while Quinc Haverland scored seven points and snagged 13 rebounds for Eastland.
Galena was led by Addie Hefel with 24 points, Gracie Furlong with 20 points, and Taylor Burcham with 16 points.
Lena-Winslow 49, Forreston 23: The Cardinals fell behind 15-5 in the first quarter and never recovered, dropping the NUIC crossover game to the Panthers by 26 points.
Brooke Boettner and Jenna Greenfield paced Forreston with 11 and eight points.
Grace Groezinger led Le-Win with 16 points, scoring 10 of those in the first half.
West Carroll 47, Rockford Christian Life 39: The Thunder raced to a 31-10 halftime lead, then held off a second-half Eagles rally for a road win.
Tori Moshure and Karissa Andrews paced West Carroll with 10 points each, Abbey Skiles scored nine points, and Kendal Asay added eight points.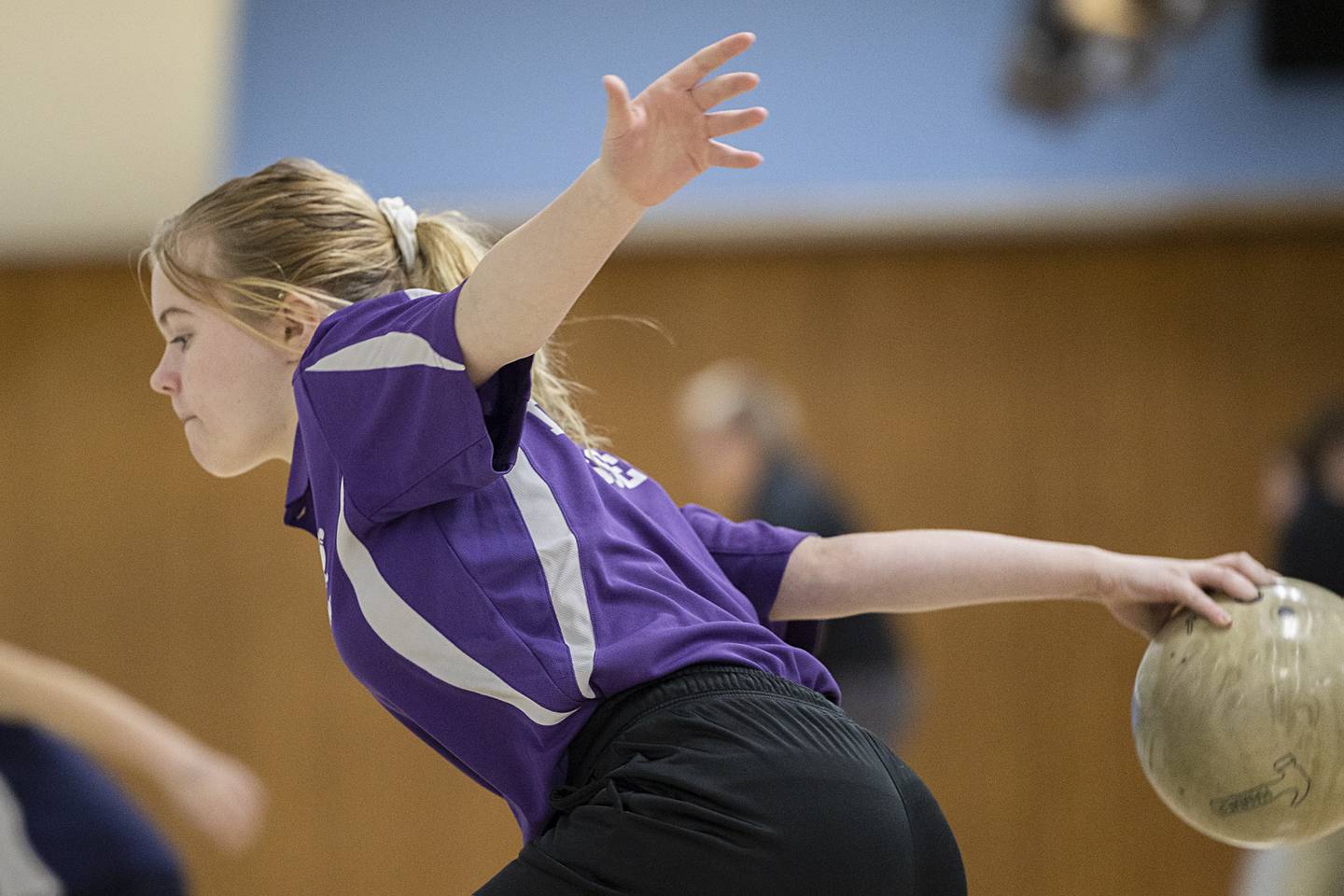 Girls bowling
Sterling 2,599, Dixon 2,380: Hannah Conderman rolled a meet-high 560 series, with a high game of 218, as the Golden Warriors beat the short-handed Duchesses at Plum Hollow.
Hailey Conderman bowled a 445, Emily Doss rolled a 431, and Katelynn Garcia contributed a 430 for Sterling. Loralei Michels and Adriana Jenkins chipped in a 376 and a 357 for the Warriors.
Autumn Swift paced Dixon with a 542 series, while Leslie Pettorini added a 500. Allison Coss rolled a 440, Olivia Gingras bowled a 319, and Addison Cox tallied a 270 to round out the Duchesses' lineup.
Oregon 2,793, Marengo 2,649: The Hawks edged the Indians at Town & Country Lanes in Mt. Morris, led by a 573 series (201, 216, 156) from Ava Wight.
Mackenzie Alford bowled a 531, Kendra Ehrler rolled a 495, and Trinity Hultquist tallied a 426. Kylie Krug and Ahren Howey added a 420 and 348 for Oregon.
[ Photos from Dixon girls vs. Sterling & boys vs Erie-Prophetstown bowling at Plum Hollow ]
Boys bowling
Dixon 2,679, Erie-Prophetstown 2,360: Cody Geil's 558 series (187, 199, 172) led the Dukes past the Panthers in a home dual at Plum Hollow.
Clark Bonnewell and David Laird rolled a 469 and 466 as the second- and third-best performers for Dixon, while Wyatt Miller totaled a 452, Owen Haverland tallied a 428, and Sam Gingras added a 306.
Bryce VanDeWostine's 540 series paced Erie-Prophetstown, while Robert Winters' 415 was next-best. Shawn Chandler bowled a 411, Keith Goodson rolled a 387, Aiden Almanza totaled 322, and Dom Bray chipped in a 285 for the Panthers.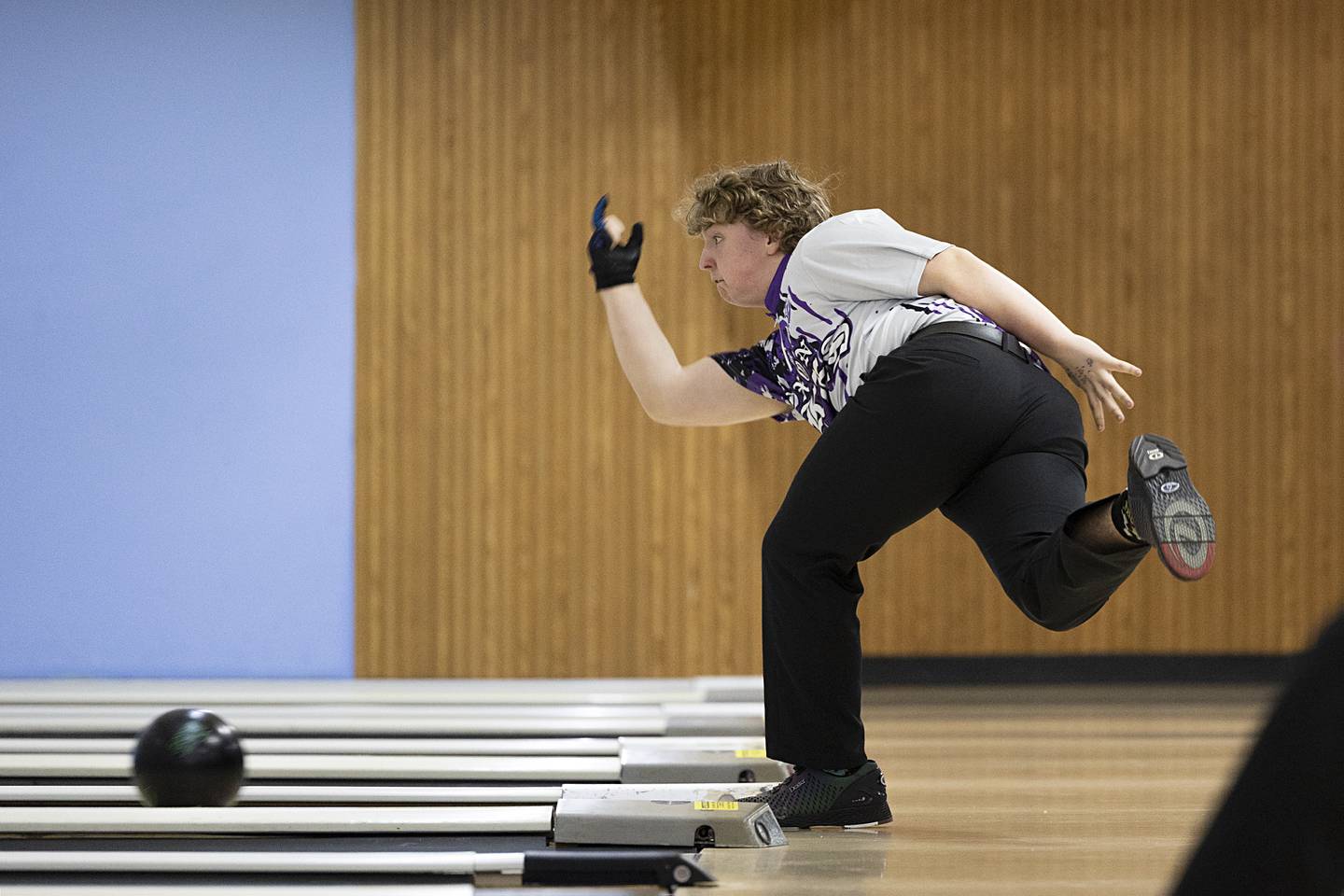 Sterling 3,323, Rochelle 3,278: The Golden Warriors edged the Hubs in a dual meet on the road, getting 500-plus series from all six bowlers.
Tristan Oelrichs, Bryce Kooy and Mikah Hernandez were the highest rollers for Sterling, with series of 587, 582 and 581. Hernandez had the highest single game for the Warriors with a 224.
Brenden Stanley bowled a 532, Dylan Doss rolled a 529, and Shae Hanson added a 512 to round out the Sterling lineup.
Evin Odle and and Andrew Ponell paced Rochelle with a 658 (245 high game) and 631 (258 high game).
Oregon 3,399, Marengo 3,115: Led by a 623 series from Matthew Stahl (276 high game), the Hawks defeated the Indians at Town & Country Lanes in Mt. Morris.
Roberto Hernandez was second-best with a 595 (209, 161, 225), Gavvin Surmo bowled a 574, Brady Davis tallied a 564, and Stylar Klapp rolled a 544. Brandon Rowe added a 499 for Oregon.
Wrestling
Sterling 53, United Township 21: The Golden Warriors earned two wins by major decision, four by pin and one by decision on their way to a home dual-meet win over the Panthers. Sterling also received three forfeit wins.
Zyan Westbrook (120) won a 14-2 major decision, and Landen Kenney (132) won a 16-2 major decision. Dylan Ottens (138) won by pin in 1:18, Thomas Tate (160) won by pin in 2:29, Diego Leal (195) won by pin in 1:15, and Oswaldo Navarro (220) won by pin in 27 seconds. Austin Clemens (145) won a 6-1 decision.
Erie-Prophetstown splits triangular: The Panthers defeated Morrison 45-23, but fell to Princeton 61-18 in a Three Rivers triangular in Erie. The Mustangs fell to Princeton 66-9 in the other dual.
Erie-Prophetstown won three matches by pin and one by decision, and also received four forfeits from Morrison. Samual Kilker (120) pinned Warren Riffle in 1:38, Wyatt Goossens (126) pinned Levi Milder in 45 seconds, and Luke Otten (220) pinned Cameron McDonnell in 1:01. Jase Grunder (160) defeated Logan Baker 7-4.
Goossens, Grunder and Otten picked up three Panther wins by pin against Princeton.
Against E-P, the Mustangs picked up two wins by pin, one by technical fall and one by forfeit.
Zach Milder (132) pinned Michelle Naftzger in 42 seconds, and Brady Anderson (152) pinned Dante Pells in 1:37 for Morrison. Camden Pruis (138) got the technical fall win for the Mustangs against Aiden Jepson (18-3, 5:49).
Logan Baker (160) won by pin against Princeton, and Evan McDonnell (220) won an 8-1 decision.