Dixon junior Katie Drew tied for fifth at the Class 1A Girls Golf State Tournament on Saturday at Red Tail Run Golf Course in Decatur, leading a quartet of local golfers who all finished in the top 30.
Oregon senior Ava Hackman tied for 21st in the girls meet, while Amboy senior Wes Wilson and Newman junior Logan Palmer also fared well at the 1A Boys State Tournament at Prairie Vista Golf Course in Bloomington, tying for 16th and 30th, respectively.
Drew had a birdie and four bogeys in her round of 75 and finished with a two-day total of 4-over-par 148 after a 73 on Friday. She was even par on the back nine Saturday to finish a strong weekend in fine fashion.
"Yesterday, I played really well; I putted well, especially. I hit 14 greens in regulation and had no three-putts," Drew said. "Today, it was just finding fairways and getting on greens to put myself in the best position to get par, or at worst bogey. I had no double [bogeys] either day, so obviously that really helps."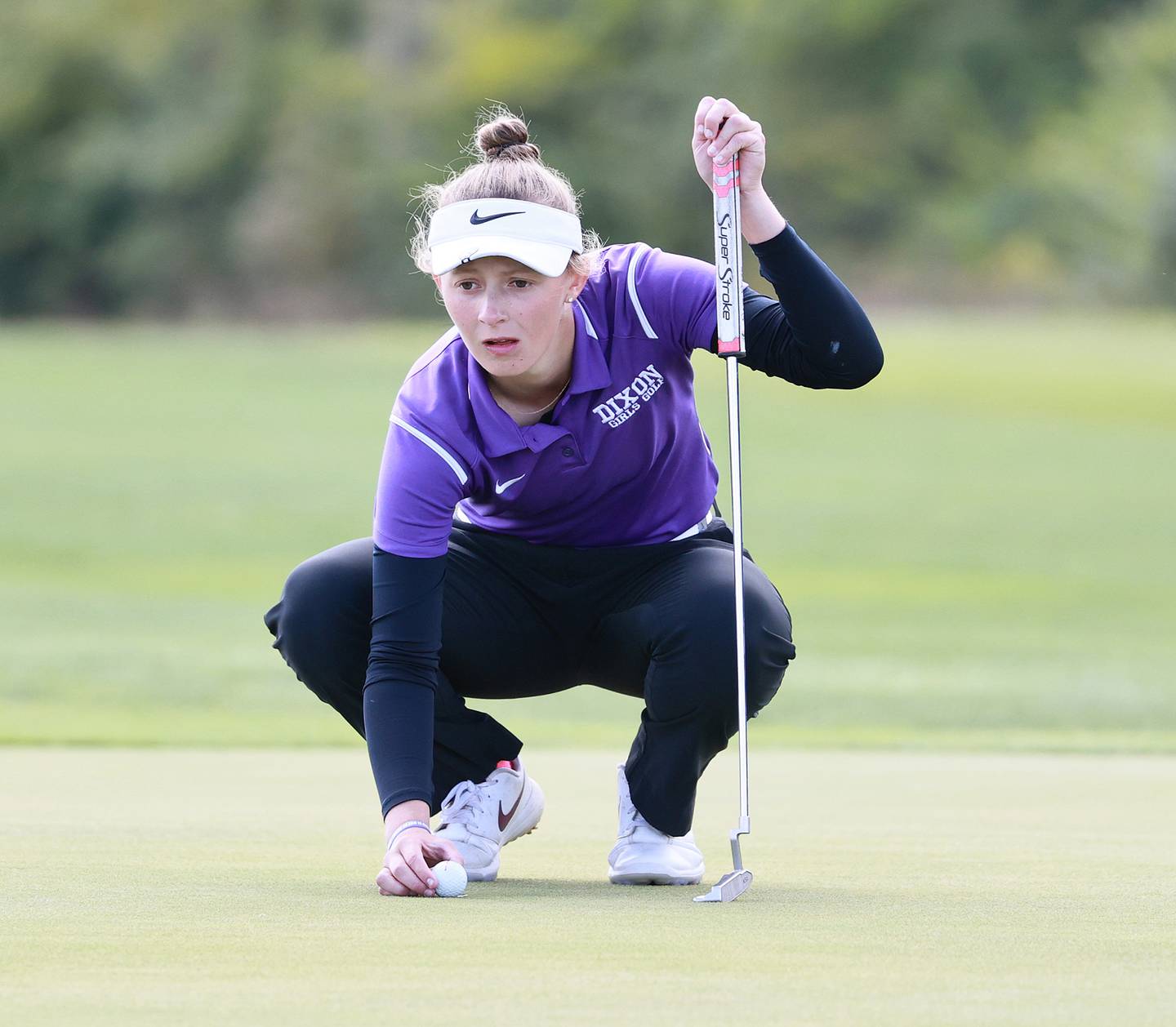 After making the trip to state last year as a sophomore, Drew felt more comfortable with the course. And several summer tournaments gave her the experience to overcome any nerves she felt about being on the IHSA's biggest stage.
"I played a lot of summer tournaments with high-level competition, and that helped me here," she said. "I was also lucky enough to get to play two tournaments at this course, for a total of five days down here, so that was big.
"You just have to trust the work you've put in, trust your game, trust everything that you've done to get here. I've been here before, I believed in myself and just gave it my best."
After last season's trip to state, Drew wanted to use that experience to get back there and finish higher – which she did. Now with another year left and a couple of seniors taking the top two spots this season, Drew can reset her goals to even loftier heights for next season.
"I just have to work hard again this offseason and next year, and come down here and try to finish even better," she said. "I only had a couple of birdies this year, so I want to get some more of those next year and see what happens."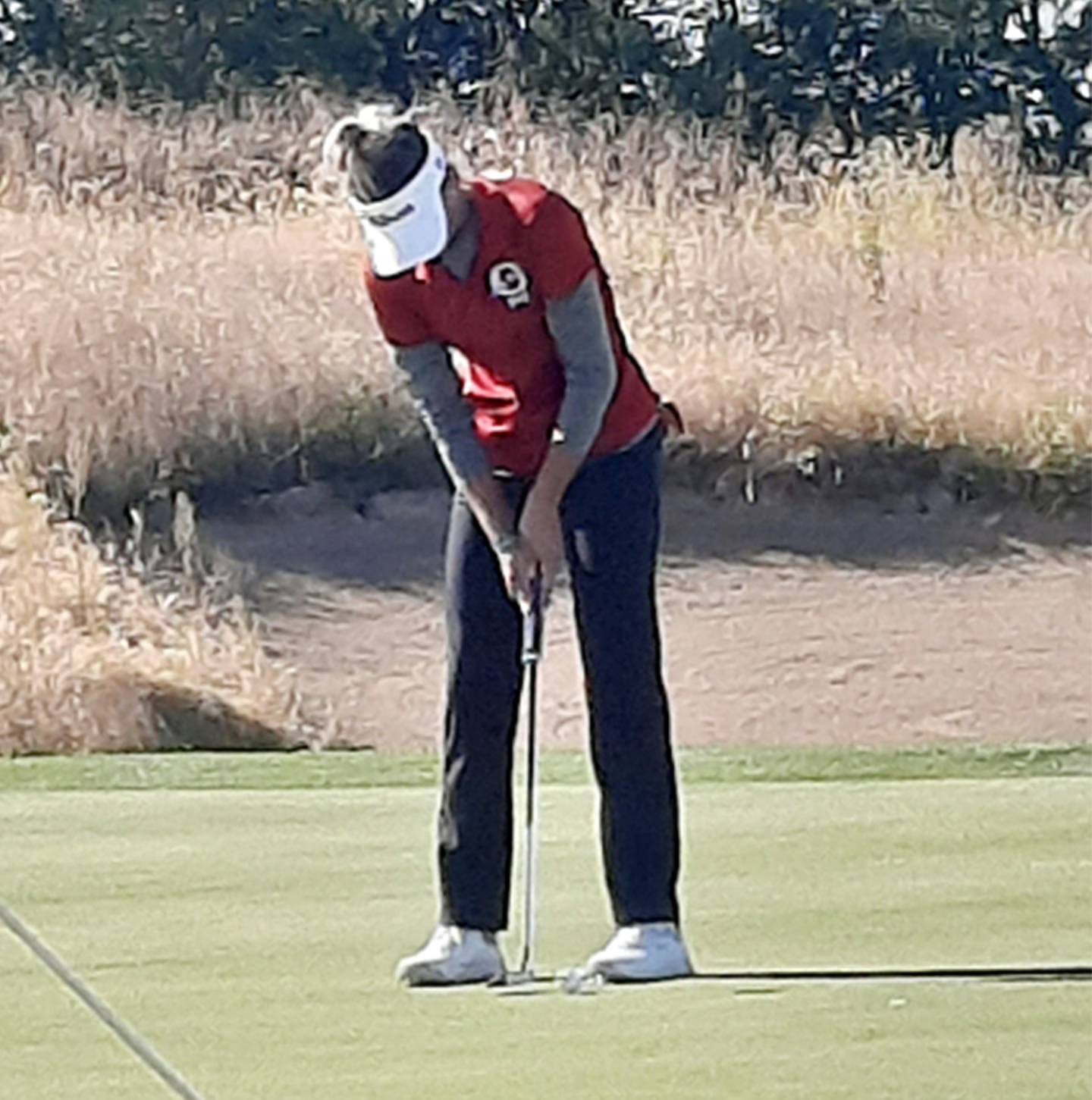 Hackman two birdies, five bogeys and two double bogeys in her round of 79, one shot better than Friday's opening round, for a two-day total of 15-over 159. She made two bogeys and a double in her first five holes, but finished the front nine strong with two birdies in the last three holes, then shot 4-over on the back nine.
"My chipping was really good today, and my approach shots; my putting was all right," Hackman said. "I was definitely calmer than last year after being inside the ropes and playing down here as a junior."
The senior was happy to be able to finish her career at the pinnacle of high school golf in Illinois, and to get to state two years in a row is something Hackman is incredibly proud of.
"I thought both years down here were really fun; just getting down here is amazing, and doing it twice is just awesome," she said. "I think it's really cool to end my career here; it shows how far I've come in the four years I've played golf at Oregon. It shows that all my hard work definitely paid off."
Mt. Carmel senior Madelyn Young won the individual title, shooting a 4-under 68 on Saturday to go with her 3-under 69 on Friday to finish with a 7-under 137; Boylan senior Ella Greenberg was runner-up with a 3-under 141. Mt. Carmel also claimed the team title, shooting a 600 to top Boylan by 35 strokes.
At the boys meet, Wilson followed up Friday's 78 with a 79 to finish at 13-over 157. He had a birdie, six bogeys and a double bogey, and played the back nine 3-over par after a birdie to close out the front nine.
"Probably my putting was the biggest key. I made a lot of longer putts than I normally do, and I only had one three-putt this weekend," Wilson said. "I'm always nervous on the first tee, but after that it's just about playing a round of golf, focusing shot by shot, and that worked well for me this weekend."
The Clippers senior said his trip to the state meet was redemption from a year ago, when he was in good position to earn a berth through nine holes at the sectional meet, only to see a couple of holes get away from him on the back nine and miss the cut to qualify.
"I had two quadruple bogeys on the back nine after I was 3 over on the front at last year's sectional, and it was definitely my goal to get down here and redeem myself," Wilson said. "I'm glad I did so well at regionals and sectionals this year, then played a couple of good rounds at state."
Closing his career at the state meet is something Wilson has been looking forward to for the last few years, and he made the most of the experience.
"This is what I worked for, so I kind of knew what would happen when I got here," he said. "I'm glad it ended at state, and I'm really glad I played well and didn't leave anything on the table when I got down here."
Palmer birdied his opening hole, the par-4 10th, then also had a birdie on No. 8 before finishing his round with a par. He had six bogeys in between the birdies, but finished seven strokes better than his Day 1 83 to shoot a two-day total of 15-over 159.
"I just hit a lot more greens in regulation today and limited the big numbers with the putter. I was around the hole pretty consistently today," Palmer said. "After making the cut, I just tried to have fun, relax and hit some good shots.
"It's a reward to be down here, and I enjoyed it a lot. I just wanted to throw out a good number and have fun with it."
The strong second round left Palmer hungry to make the return trip next year and showed him what he's capable of when he plays his best golf at Prairie Vista.
"Seeing what I did today, it gives me more motivation to know I can put these numbers out and have a competitive chance to place high here," he said. "I definitely want to to be back here next year."
St. Anthony's Joey Trupiano was medalist, winning a playoff against Litchfield's Tug Schwab after both finished at 4-over 148. St. Anthony also took the team title, shooting a 618 to top Chicago Latin by five strokes.