The Newman volleyball team remained undefeated in conference play as it defeated St. Bede 25-16, 25-21 in a Three Rivers East match on Tuesday night in Sterling.
Jess Johns had 11 kills, seven digs and an ace for the Comets (14-2, 8-0 TRAC East), and Kennedy Rowzee added six kills, three blocks and two digs. Molly Olson finished with eight digs, seven assists and four kills, Katie Grennan added 14 assists, three aces and three digs, Addison Foster had 10 digs, and Sam Ackman chipped in five digs.
[ Photos from Newman vs. St. Bede volleyball ]
Moline def. Sterling 25-14, 25-13: The Golden Warriors dropped a Western Big 6 match on the road.
Carley Sullivan had five kills and Kirra Gibson stuffed two blocks to lead Sterling, and Kathryn Rowzee served a pair of aces. Delali Amankwa dished nine assists, and Emma Smith chipped in six digs.
Fulton def. Amboy 25-11, 25-23: The Steamers downed the Clippers in two sets in an NUIC match in Amboy.
Leaders for Fulton (15-4) were Brooklyn Brennan with five kills, 12 digs and seven assists, Miraya Pessman with eight digs and six assists, Ava Bowen with eight digs and two kills, and Resse Germann with seven digs. Reese Dykstra and Annaka Hackett added three kills apiece for the Steamers.
Amboy was led by Courtney Ortgiesen with four kills and two blocks, Tyrah Vaessen with nine assists and three digs, and Peyton Payne with four aces. Elly Jones had three kills, Lexi Ketchum nabbed four digs, and Kiera Karlson added three aces for the Clippers.
Polo def. Ashton-Franklin Center 25-12, 25-21: The Marcos took down the Raiders in an NUIC match in Polo, led by a strong performance from Teah Almasy, who had eight kills, three aces and nine assists.
Bekah Zeigler tallied five kills and three aces, Lindee Poper totaled four kills, two aces and one block, Sydnei Rahn had five kills, and Ellie Wells added 12 assists and three kills for Polo.
Kaelynn Larson had four kills, Taylor Jahn spiked two kills, and Brianna Gonnerman added four assists, five points and two aces for AFC. Rhylee McCaslin added five points and an ace, and Elena Refatllari (5 digs) and Cailin Boyle (4 digs) led the back-row defense.
Forreston def. Milledgeville: 21-25, 25-15, 25-13: The Cardinals bounced back from a first-set loss to secure a three-set NUIC victory.
Jaiden Schneiderman led Forreston (14-5, 7-0) with 15 kills and five aces, and Rylee Broshous added 13 kills, nine digs and an ace. Brooke Boettner finished with 27 assists and four aces, and Alaina Miller led the way with 15 digs.
Leaders for Milledgeville were Marissa Sturrup with five kills, Lydia Faulkner with three blocks, Emma Foster with 10 assists, and Hannah Foster and Lily Smith with three kills apiece.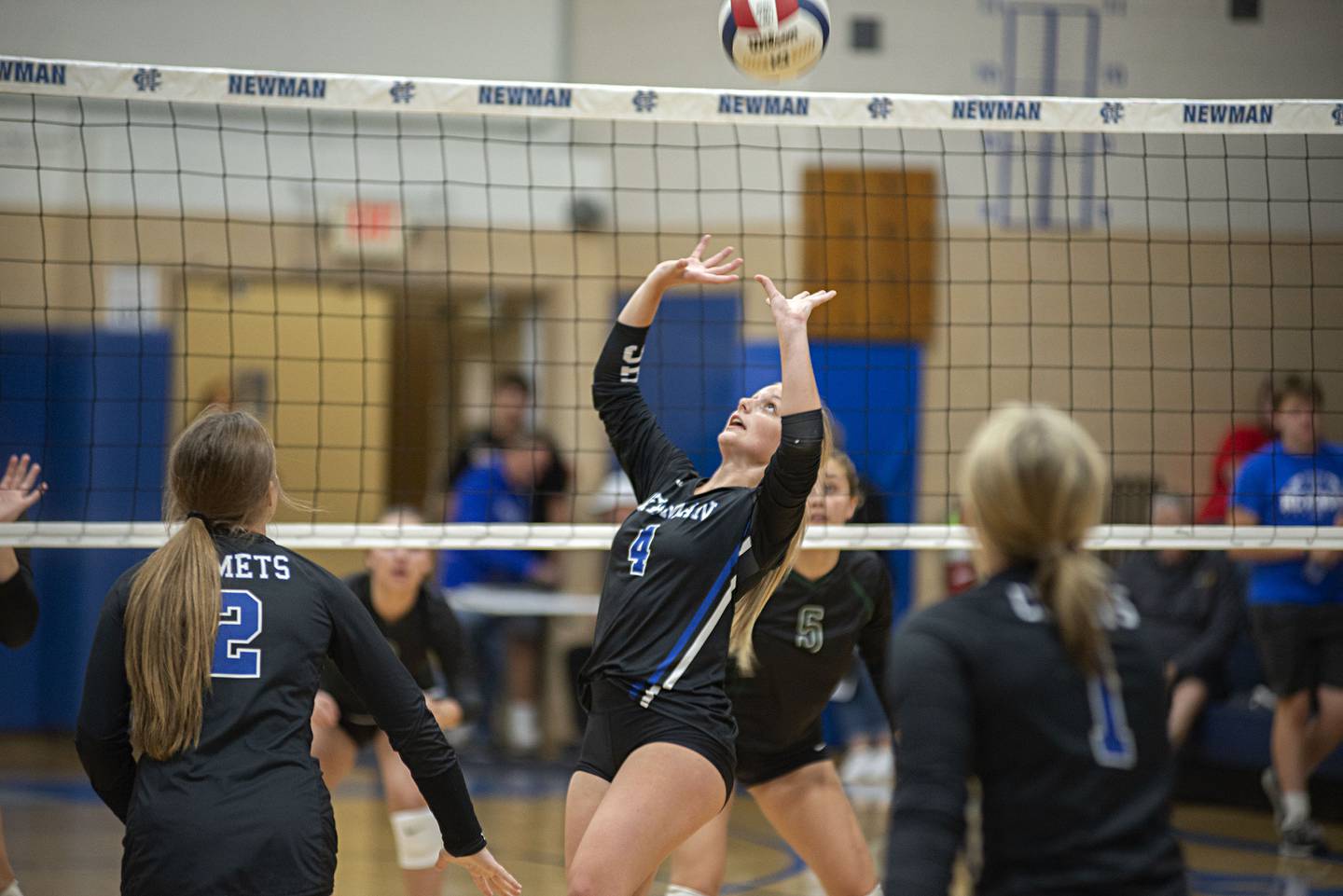 Boys cross country
Three Rivers Conference Meet: Erie-Prophetstown was second, Newman took third, and Bureau Valley finished fourth in the TRAC Meet at Prophet Hills Country Club.
Riverdale won the team title with 25 points, while the Panthers (63), Comets (69), Storm (101), and Mendota (136) rounded out the top five. Riverdale's Tommy Murray (15:41.31), Landis Musser (16:06.56) and Peyton Sand (16:44.78) finished 1-2-3 individually.
Bureau Valley's Elijah House (16:54.22) and Erie-Prophetstown's Charlie Link (17:06.25) rounded out the top five, while Newman's Lucas Simpson (17:11.15) and Lucas Schaab (17:14.44) finished sixth and seventh.
The Panthers also got a 12th-place finish from Lucas Dreisbach (17:36.31) and a 13th from Jacob Gibson (17:41.56), with Victor Bonnell in 16th (17:53.56) and Zane Romero in 17th (18:07.81).
Newman's Ken Boesen finished 15th (17:49.41), while Carver Grummert placed 18th (18:19.22), and Wyatt Widolff was 27th (18:53.94).
BV's Benjamin Roth placed 14th (17:47.75), with Adrian Gallardo taking 20th (18:39.81).
Morrison, which did not field a full team, was led by Isaiah McDearmon in 50th place (20:55.41).
Sterling 23, Moline 34: The Golden Warriors landed three runners in the top five and six in the top 10, as they cruised past the Maroons in a dual meet at Hoover Park.
Sterling's Parker Janssen paced the 36 runners with a time of 16:38.23, edging Moline's Hunter Toye, the second-place finisher, by 0.4 seconds. Jordan Britt was third with a 16:45, and Thomas Holcomb came in fourth with a 17:08.
Brecken Peterson took seventh with a 17:47, Owen Anderson placed eighth with a 17:52, and Connor Pham finished 10th with an 18:01.
Rock Falls 2nd at Walcamp: The Rockets ran to a runner-up finish at the Matt Walter Invite, hosted by Genoa-Kingston.
Anthony Valdivia led Rock Falls with a third-place finish in 16:09.65, finishing behind Hampshire's Owen Cuplin (15:55.72) and Jack Sheets (16:08.00). The Whip-Purs also had the fourth-place finisher, Joel Jones (16:31.41), and scored 27 points to win the team title. Rock Falls scored 59, and Marengo took third with 90.
Jose Gomez was seventh (16:37.68) and Christian Cid took 13th (17:18.93) for the Rockets. Brady Root placed 19th (17:52.46), Gunnar Damhoff finished 22nd (18:03.72), and Victor Rivera was 26th (18:15.37).
Girls cross country
Three Rivers Conference Meet: Erie-Prophetstown ran to a runner-up finish at the TRAC Meet at Prophet Hills.
Sherrard won the team title with 42 points, followed by the Panthers (74), Riverdale (101), Rockridge (101), Princeton (102), St. Bede (104), and Newman (112).
Orion's Olivia Thomsen won the race in 19:43.56, followed by Sherrard's Hailie Shemek (20:23.66) and Princeton's Lexi Bohms (20:52.44).
Jillian Norman finished fifth (21:33.47) to lead Erie-Prophetstown, while Newman's Claire Crisham placed eighth (21:52.06). Morrison's Emma Christin took 12th (22:41.41).
Clara Ashdown (23:45.69), Chloe Slock (23:46.47) and Brooke Lalley (23:47.15) went 18-19-20 for E-P.
Newman's Sophia McCoy was 25th (24:19.25), and Gianna Widolff was 27th (24:42.35).
Sterling 25, Moline 30: Rhylee Wade ran a 19:03 for first place, and Delia Block ran a 20:12 for third in a 22-runner field to lead the Golden Warriors past the Maroons in the Western Big 6 dual meet at Hoover Park.
Wade beat Moline's Alexis Havercamp, the second-place finisher, by 1:01.
Megan Gingrich secured a sixth-place finish with a time of 20:51, Kylie Nicklaus took seventh with a 21:21, and Lainey Zuithoff ran a 21:43 for eighth.
Emma Anderson clocked a 22:34 for 12th, while Lainey Block ran a 22:54 for 13th.
Rock Falls' Ford wins at Walcamp: Hana Ford won the girls race at the Matt Walter Invite, hosted by Genoa-Kingston, clocking an 18:46.91 to top runner-up Alexia Spatz of Richmond-Burton (19:13.78) by almost 27 seconds.
The Rockets took second as a team, scoring 41 points; Hampshire won the title with 31, and Richmond-Burton took third (81).
Ariel Hernandez finished fifth (19:31.56) for Rock Falls, and Kat Scott was right behind her in sixth (19:33.37). Ava Shank was 15th (20:39.34), Brooke Howard placed 16th (20:52.41), and Aniyah Thomas took 31st (23:08.09).
Boys soccer
Quincy 7, Sterling 1: The Golden Warriors dropped a Western Big 6 game on the road. Fabricio Pena scored the lone goal for Sterling, assisted by Angel Rosas.
Mendota 2, Dixon 0: The Dukes suffered a shutout against the Trojans in a nonconference game at Sauk Valley C.C. in Dixon.
Hinckley-Big Rock 3, Oregon 1: The Hawks fell to the Royals in a nonconference game at Oregon Park West. Jacob Vegliando scored the goal for Oregon in the first half.
College volleyball
Sauk Valley def. Highland 3-2: The Skyhawks won an Arrowhead Conference match in Freeport, topping the Cougars 26-24, 22-25, 25-17, 21-25, 15-7.
Tiana Tichler had 19 kills, Nicole Boelens added 13 kills and 14 digs, and Mckenzie Hecht had 10 kills and 14 digs for Sauk Valley (13-11, 3-0). Jaelyn Fitzgerald had 10 kills and four blocks, Maya Gartin added eight kills, and Addyson Kinn chipped in 22 digs. Gabby Jones dished 34 assists, and Cadence Stonitsch added 21 assists.