Morrison led all local teams with three event wins Thursday at the Three Rivers Conference Meet in Orion, while Erie-Prophetstown was the highest-finishing local team in fourth place.
The Panthers scored 69 points to finish behind Riverdale (114), Princeton (102) and Monmouth-Roseville (78). Sherrard took fifth (58.5), and Newman was sixth (57). Morrison placed eighth (47), and Bureau Valley took 11th (21.5).
Alex Anderson won the 400 (51.74 seconds) and Brady Wolf took the 300 hurdles (43.00 seconds) as the only two individual local champs, and they teamed with Justice Brainerd and Thomas Dauphin to win the 4x400 (3:32.01) and take second in the 4x100 (44.66 seconds). Brainerd added a fourth in the 400 (52.90 seconds).
Newman's Wyatt Widolff, Thomas Powers, Lucas Simpson and Jacob Donald teamed up to win the 4x800 (8:43.81), and Simpson, Donald and Widolff were joined by Owen McBride to place second in the 4x400 (3:32.24). Lucas Schaab took third in the 1600 (4:52.68), while Ken Boesen finished fourth in both the 1600 (5:02.33) and 3200 (10:59.04). Kaden Welty added a fourth in the 800 (2:13.38) for the Comets.
Erie-Prophetstown's top finishes were second places by Ben Lantz in the 300 hurdles (43.49 seconds), Parker Holdorf in the pole vault (3.96 meters), and Braxton Froeliger in the long jump (6.22 meters). Lantz was also part of the runner-up 4x200 relay (1:33.70) with Michael Carlson, Jack Minssen and Trevor Cobo.
Carlson, Lantz, Cobo and Froeliger took third in the 4x100 (44.68 seconds), Cobo added a third in the high jump (1.83 meters), and the Panthers were third in the 4x800 (9:09.25) with the foursome of Andrew Bomleny, Wyatt Beck, Lucas Dreisbach and Charlie Link. Caleb Eads finished fourth in the triple jump (11.87 meters), and Froeliger added a fifth in the 200 (23.64 seconds) for Erie-Prophetstown.
Elijah House had Bureau Valley's best finish, taking third in the 800 (2:05.11).
Cardinals 2nd at NUIC Meet: Forreston-Polo finished with 95 points to place behind only Galena-East Dubuque-River Ridge (126) at the NUIC Meet in Lena.
Lena-Winslow/Pearl City (80), Dakota (62) and Pecatonica-Durand (56) rounded out the top five. Amboy-LaMoille-Ohio-AFC was sixth (49), Milledgeville-Eastland placed seventh (33), Fulton finished ninth (19), and West Carroll took 10th (6).
Forreston-Polo's Matthew Beltran won three events, taking the 110 hurdles (15.84 seconds), the 300 hurdles (43.78 seconds) and the high jump (6 feet). The Cardinals also had six runner-up finishes: Brock Soltow in the 400 (53.24 seconds), Payton Encheff in the 800 (2:11.45), Carson Jones in the 1600 (4:55.78), Lucas Nelson in the 110 hurdles (17.78 seconds), Dane Setterstrom in the 300 hurdles (44.47 seconds), and the quartet of Micah Nelson, Thomas Falk, Wyatt Queckboerner and Jones in the 4x800 (8:49.23).
Micah Nelson finished fourth in the 800 (2:12.27), and Devonte King-Black was fifth in the triple jump (11.20 meters) for Forreston-Polo.
Brock Loftus swept the distance races for the Amboy co-op, taking the 1600 in 4:45.82 and the 3200 in 10:31.88. Kyler McNinch was second in the 3200 (11:02.56) and third in the 1600 (5:01.11), and Ian Sundberg took third in the shot put (13.03 meters) and fourth in the discus (35.58 meters). Chandler Pohl added a fifth in the shot put (12.72 meters) for the Clippers.
Kolton Wilk was part of two second-place finishes for the Missiles, as he was runner-up in the long jump (5.61 meters) and teamed with Landon Frederick, Kacen Johnson and Hudson Groezinger to take second in the 4x400 (3:43.00). Kolton Wilk, Gage Wilk, Frederick and Johnson ran to third in the 4x200 (1:36.11), and Johnson took third in the 110 hurdles (17.91 seconds). Groezinger finished fifth in the 800 (2:12.73).
Fulton had a trio of top-four finishers, all in the field events: Daken Pessman was second in the triple jump (12.47 meters), Brock Mason took third in the high jump (5 feet, 6 inches), and Braiden Damhoff finished fourth in the shot put (12.78 meters).
West Carroll's points came from a third-place finish by Raef Pickard-Schintgen in the long jump (5.57 meters).
Baseball
Newman 8, Warren-Stockton 1: The Comets pulled away for a nonconference win at home with six runs in the bottom of the fifth inning.
Brennen Cook and Mason Glaudel both drove in a pair of runs, and Kyle Wolfe added two hits and an RBI for Newman. Brendan Tunink also had two hits, and Nolan Britt and Kory Mullen also drove in runs.
Tunink allowed an unearned run and three hits in six innings, striking out four and walking one. Grant Koerner did not allow a run or a hit in the final inning, and he had a strikeout.
Bureau Valley 2, Hall 1: Sam Rouse struck out 12 in a two-hitter, and the Storm scored twice in the sixth inning to notch a Three Rivers East win in Manlius.
Erie-Prophetstown 6, Rockridge 4: The Panthers built a 5-1 lead through four innings and held off a late Rocket rally to win the Three Rivers West matchup.
Kolby Franks went 2 for 2 with two RBIs, including a home run, to lead E-P at the plate.
Conner Meadows pitched six innings for the win, allowing six hits, four runs (three earned) and five walks, while striking out two. Franks threw one inning in relief, allowing zero hits, runs or walks.
Ashton-Franklin Center 12, Polo 2, 5 inn.: Michael Cochrane drove in three runs and pitched five innings for the win, finishing with nine strikeouts while walking one and allowing four hits and two earned runs to lead the Raiders in the win.
Evan Kopp went 1 for 3 with three RBIs, Dylan Gonnerman went 3 for 4, and Carson Rueff, Auden Polk and Jordan Harris added two hits apiece for AFC.
Logan Nelson went 2 for 2 with one RBI to pace Polo hitters. Carter Merdian took the loss, pitching 2 1/3 innings.
Milledgeville 8, Amboy 2: The Missiles trailed 2-1 after three innings, but rallied with two three-run innings in the fifth and sixth to secure a comeback win over the Clippers.
Ashton Nobis went 3 for 4 with one RBI, and Cayden Akers, Caden Vandyke and Connor Nye each went 2 for 4 with one RBI for Milledgeville. Akers pitched six innings for the win, surrendering three hits, two runs (one earned) and four walks, while striking out six.
Jackson Rogers went 2 for 3 to lead Amboy, while Quinn Leffelman and Haden McCoy drove in one run apiece.
Fulton 2, River Ridge-Scales Mound 0: Drew Dykstra struck out 13 in a one-hitter, and the Steamers scored in the second and third innings to win an NUIC West contest on the road.
Ryan Eads went 3 for 3, and Ethan Price was 2 for 4 with a run for Fulton. Kannon Wynkoop had the Steamers' lone RBI, and Davis Ludin also scored a run.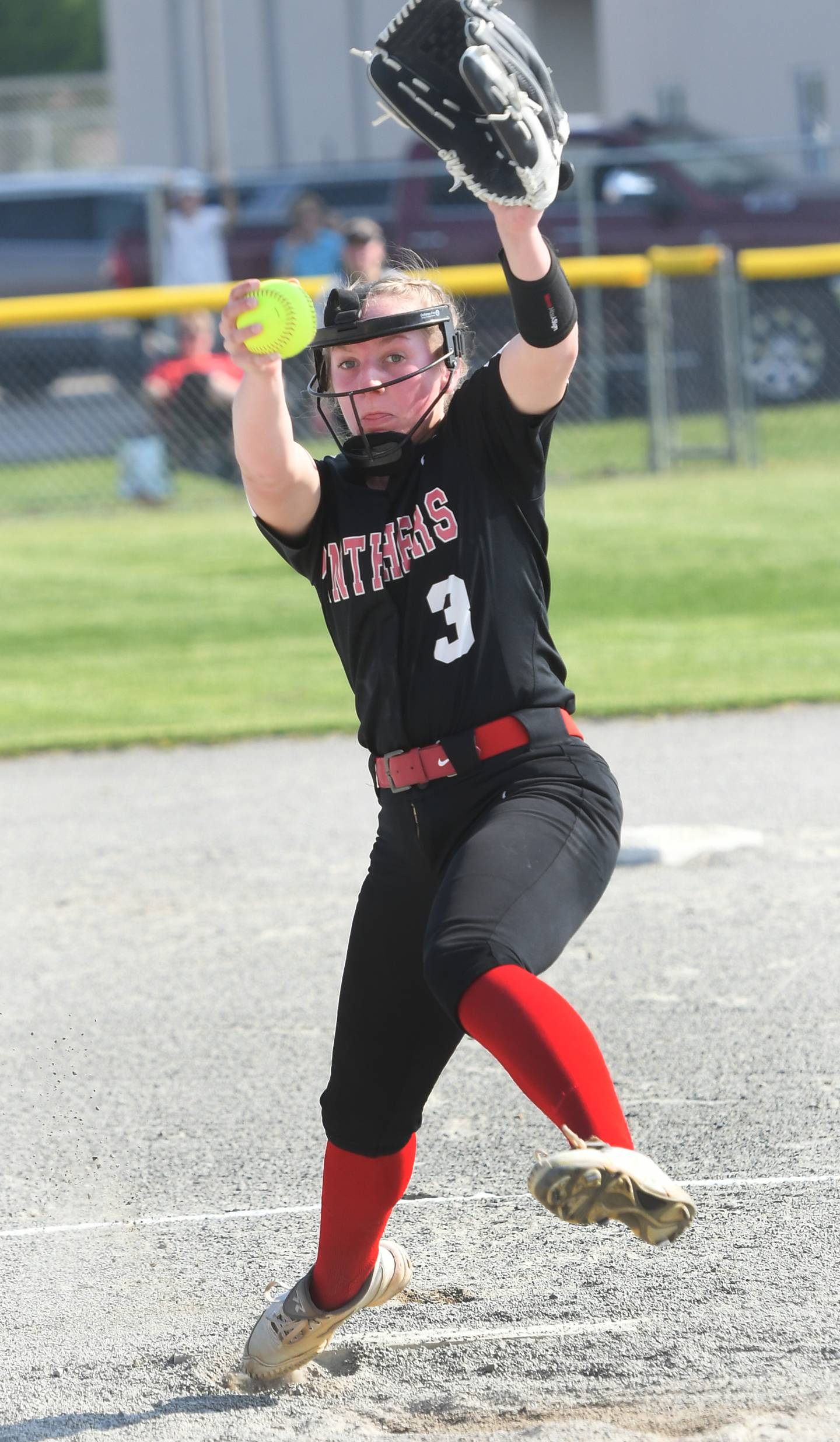 Softball
North Boone 1, Rock Falls 0: Lauren Stefek hit a solo home run in the first inning, and Cami Carter pitched a four-hit shutout with nine strikeouts and two walks to lead the Vikings past the Rockets.
Katie Thatcher, Zoe Morgan, Patty Teague and Rylee Johnson had one hit each to lead Rock Falls at the plate.
Thatcher took the loss despite throwing a one-hitter. She struck out four batters and walked none.
Rockridge 4, Erie-Prophetstown 1: The Panthers fell to the Rockets in a Three Rivers West game in Prophetstown.
Rockridge (25-0) finished 12-0 in league play and won the division title for the fourth straight season. The Rockets have won 55 straight games.
Amboy 11, Milledgeville 0, 5 inn.: Hannah Blanton struck out 10 in a four-hitter, and she also went 2 for 4 with a double to lead the Clippers to an NUIC South road win.
Tyrah Vaessen, Maeve Larson and Kaysi Schaeffer each added a pair of singles for Amboy, and Emersyn Noble and Addison Shaw also singled. The Clippers took control with an eight-run third inning.
Taylor Sarber, Rylee Matthews and Kendra Hutchison had hits for the Missiles. Hutchison took the loss in the circle.
Eastland 9, Galena 3: The Cougars built a 4-1 lead in the first inning and used a three-run fifth to put away the Pirates in an NUIC crossover matchup.
Jenica Stoner went 2 for 4 with four RBIs, Chloe Sweitzer drew three walks and scored three runs, and Jocelyn Green went 1 for 3 with one RBI and two runs scored to lead Eastland at the plate.
Addie Burkholder tossed 10 strikeouts, walked one, and allowed five hits and three runs over seven innings for the complete-game win.
Taylor Hilby went 2 for 4 to lead Galena hitters. Emma Furlong took the loss for Galena, pitching six innings.
Forreston 13, Rochelle 3, 5 inn.: The Cardinals compiled a 5-0 lead through two innings, then tacked on six more runs in the fifth to down the Hubs.
Leading hitters for Forreston were Rylee Broshous, who went 3 for 3 with a triple and two RBIs; Ella Ingram, who had two triples and three RBIs; and Jenna Greenfield and Kara Erdmann, who each went 2 for 3 with one RBI.
Alaina Miller pitched four innings for the win, striking out one, walking zero, and conceding five hits and three runs.
Pearl City 16, West Carroll 1, 4 inn.: The Wolves seized a 10-1 lead two innings into the game en route to a four-inning victory over the Thunder.
Cheyenne Handsaker pitched a complete game for the win, striking out eight, walking one, and allowing four hits and one run. Brianna Stager went 3 for 3 with six RBIs to lead Pearl City at the plate.
Emily Watkins, Abbey Skiles, Tori Moshure and Lacey Eissens each went 1 for 2 to lead West Carroll. Eissens drove in Skiles for the lone Thunder run. Kylee Engaldo took the loss, pitching three innings.
Boys tennis
Newman 3, Rochelle 2: The Hubs gained an early advantage with a singles sweep, but the Comets rallied with a doubles sweep to come out on top in the nonconference dual match.
At No. 1 singles, David Wanner defeated Logan Palmer 7-5, 3-6, 11-9, and at No. 2 singles, Ryan Ward topped John Craft 6-3, 6-4.
James Rhodes and Tyler Bonnell prevailed 6-0, 7-5 over Owen Haas and Peter Forsberg in the No. 1 doubles match, and Koda Brininger and Griffin Moran triumphed 6-1, 6-1 over Alex Gilbert and Jason Zheng in the No. 2 doubles match.
Carson Palmer and Ryan Partington completed the doubles sweep for Newman with a 7-6 (4), 2-6, 10-6 win over John Green and Nolan Fonfara.
Girls soccer
Ottawa 3, Sterling 1: The Golden Warriors closed the regular season with a nonconference loss to the Pirates on Senior Night at Roscoe Eades Stadium.
Sterling will face Boylan at 4:30 p.m. Tuesday in a Class 2A Rochelle Regional semifinal.